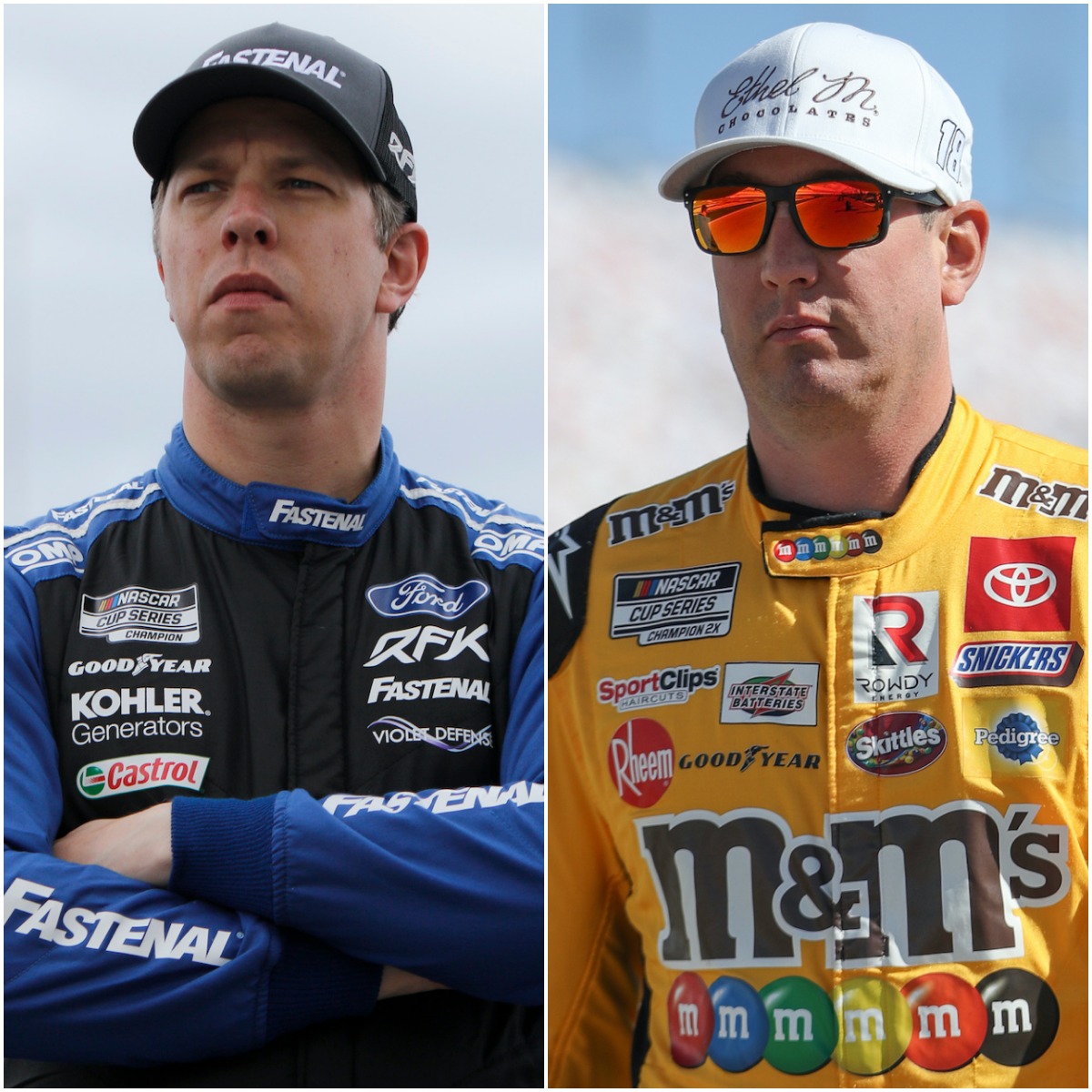 Brad Keselowski Speaks Up for Kyle Busch After Report Suggests JGR Driver Is Not Already Worthy of NASCAR Hall of Fame
Brad Keselowski and Kyle Busch don't send each other Christmas cards. However, you couldn't tell that this week when the RFK Racing driver spoke out on social media in support of the JGR driver.
Brad Keselowski and Kyle Busch have never really seen eye to eye. Just last year, the Joe Gibbs Racing driver got so upset by the then Penske driver that he directed several harsh postrace remarks at him, which got NASCAR's attention and earned the two-time champion a sensitivity training appointment. 
This week, the Roush Fenway Keselowski driver/co-owner showed despite their bumpy past how much he respects the JGR driver when he spoke out on social media about a report questioning Busch's career as already being Hall of Fame-worthy.  
Brad Keselowski and Kyle Busch take shots at each other
It didn't take long for Brad Keselowski to show just what he thought about Kyle Busch. During his first full-time Cup Series season in 2010, he revealed as much during driver intros at Bristol Motor Speedway after he announced himself, then proceeded to say, "Kyle Busch is an ass."
While most fans remember last year's second race at Martinsville for the postrace fireworks between Denny Hamlin and Alex Bowman, Busch was not happy with Keselowski for a last-lap incident and later called him out when talking with reporters.
"Well he drills my ass coming out of 4 for no reason. I mean, where was he going? What was he going to do? Spin me out? He was trying to do a Harvick is what he was trying to do," Busch suggested. "For what? For second place? To do what? He wasn't going to transfer through with that. 
"It's freaking retarded man. So stupid. I don't understand these guys. I should beat the s*** out of him right now is what I should do. But that doesn't do many any good either… I've already had to pay enough fines in my lifetime. I'm sure I'll get another one." 
Busch didn't have to pay a fine, but he did have to attend sensitivity training for the use of an offensive slur.
Keselowski calls out report questioning Busch's Hall of Fame worthiness
There have been plenty of stories about Busch this week after Bristol, where he won his first Cup race in 2022 and the 60th of his impressive career. One story written by the Associated Press featured the headline, "Kyle Busch steadily cementing a Hall of Fame NASCAR career," implying that the 36-year-old is still in the process of solidifying his place in the Hall. 
Numerous notable names spoke up on the story, including Denny Hamlin's crew chief Chris Gabehart, former IndyCar driver James Hinchcliffe, and Keselowski.
"I think that was cemented at 100 wins and 10 years ago," the 2012 Cup Series champion wrote.  
"Most obvious response to a tweet today. #nobrainerHOF," Gabehart replied to Keselowski. 
Keselowski followed up after the reporter suggested that the respondents were giving the headline too much weight, and that the story itself doesn't indicate that Busch isn't already worthy of induction.
"It's so strange how journalists put so little weight into headlines," he said.   
Busch's numbers don't lie
There's really not a debate on the subject of whether Busch is a first-ballot Hall of Famer. The numbers don't lie. 
As mentioned, he's already earned 60 Cup Series wins and won a pair of championships in 2015 and 2019. His race win at Bristol was not only significant because it locked him into this year's playoffs, but more impressively, it tied him with Richard Petty at 18 consecutive years with one win or more in a season.
All those stats don't include what he's achieved in the Truck and Xfinity Series, where he is the all-time winningest driver in both with an astonishing 163 total wins.
Kyle Busch is undeniably destined for the NASCAR Hall of Fame. Brad Keselowski's 35 victories and Cup title will one day earn him a spot, too. Maybe they can go in together. That would certainly make for an intriguing conversation.
Like Sportscasting on Facebook. Follow us on Twitter @sportscasting19.