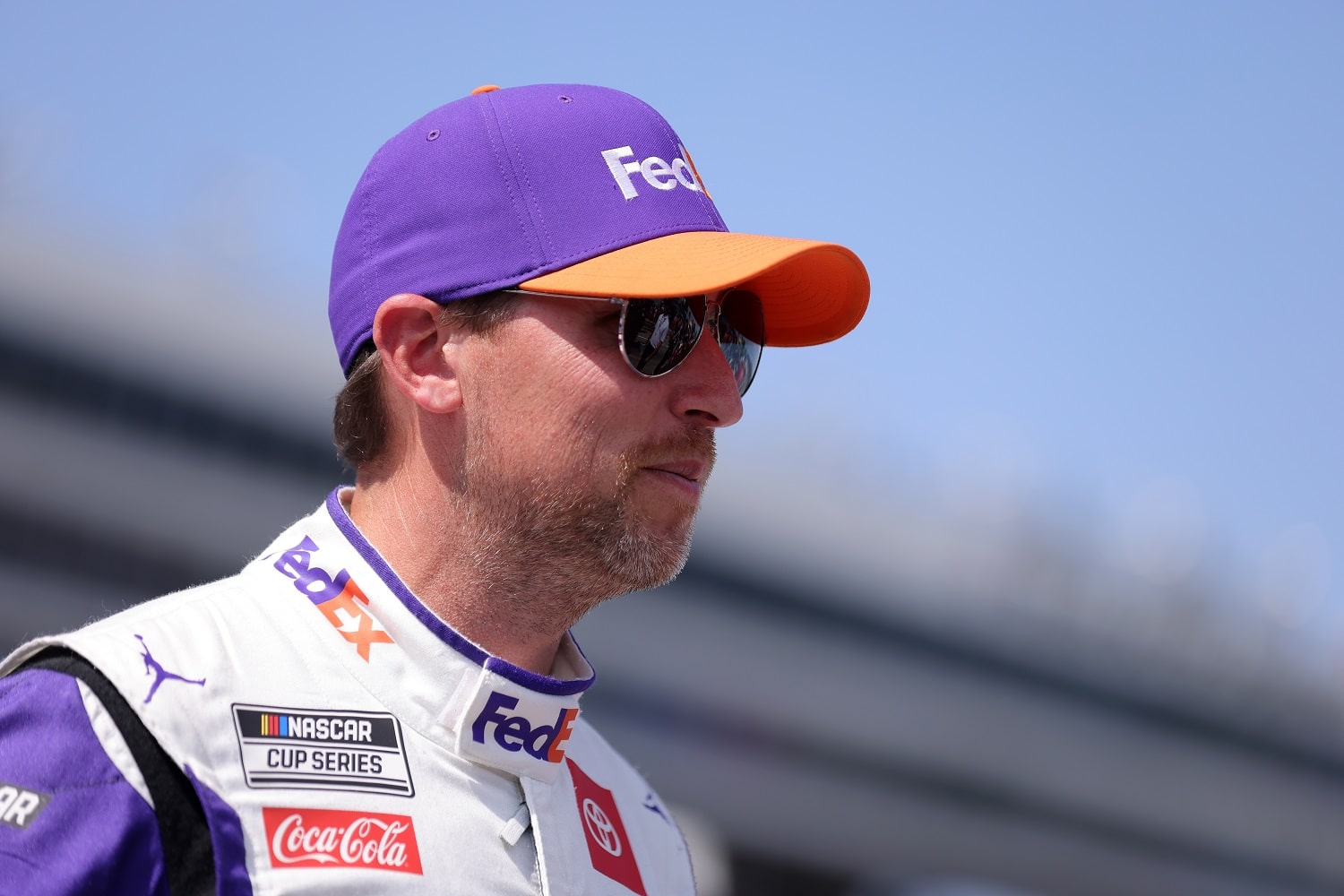 Denny Hamlin Has NASCAR's Attention and Draws His Line in the Sand at Martinsville
Denny Hamlin wants to start over with the Next Gen car, and he thinks an upcoming playoff race could be the impetus to do it.
Denny Hamlin owns 48 NASCAR Cup Series victories, eight finishes in the top five of the final season standings since 2006, and access that not many athletes in any sport possess.
The 41-year-old driver has become very vocal on the issue of safety in the Next Gen car, and it was enough to earn him a visit with none other than the president of NASCAR.
Denny Hamlin called for starting over with the Next Gen car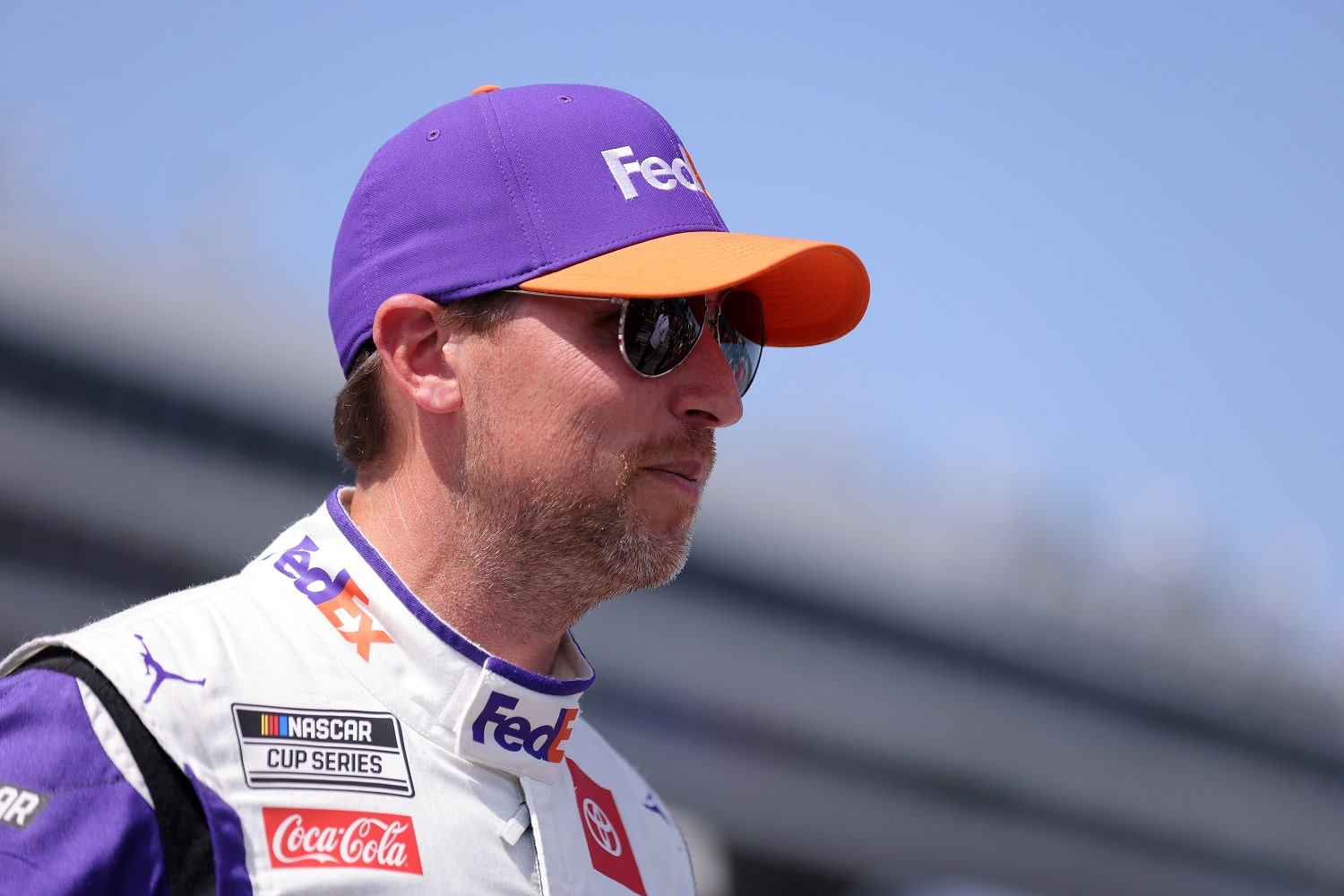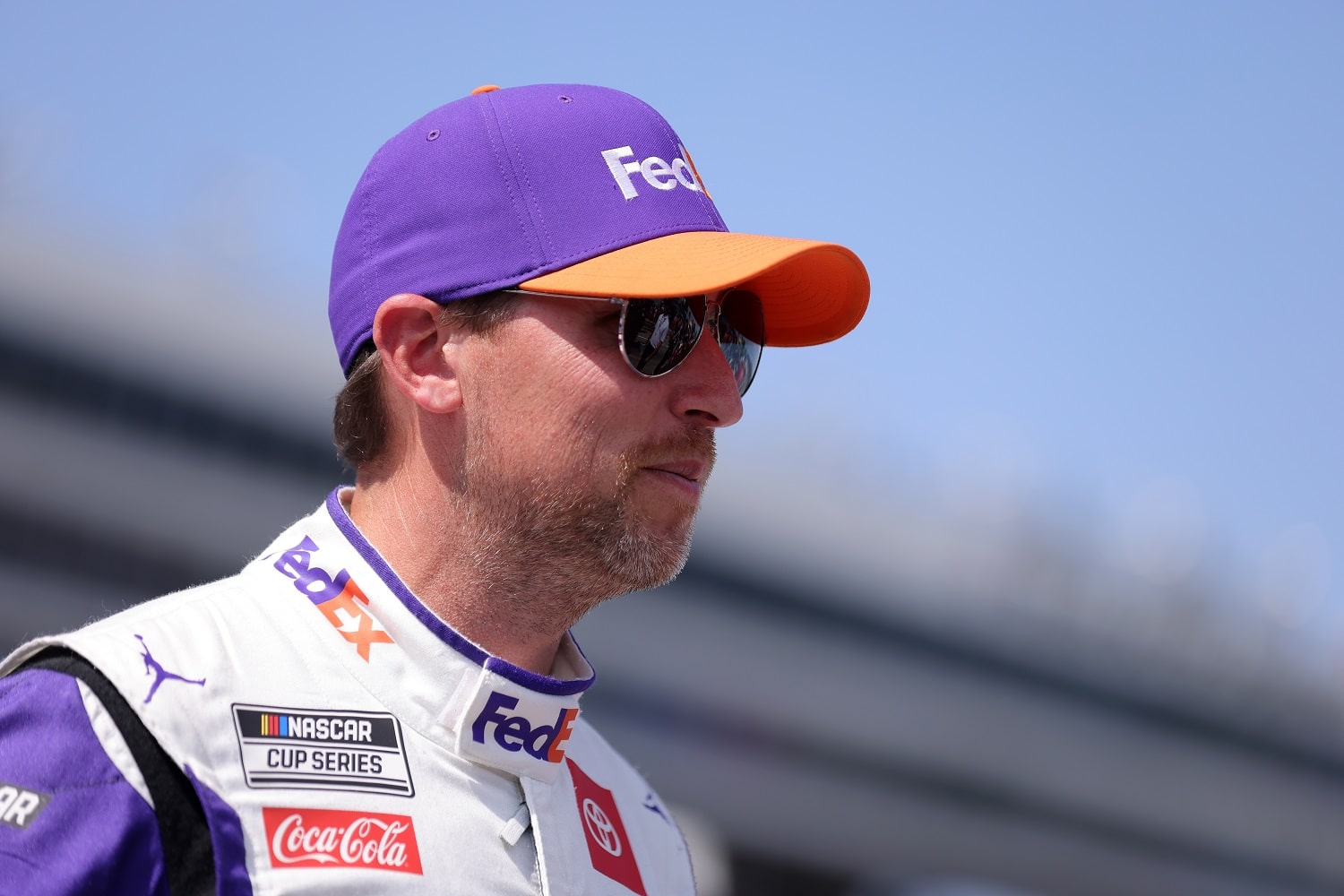 When Denny Hamlin joined the chorus of drivers frustrated by the Next Gen car recently, he didn't hold back. The Joe Gibbs Racing driver said settling for modifications in the model that NASCAR rolled out this year wasn't enough. Instead, Hamlin called for starting from scratch.
His rationale is straightforward. There have been problems with the bigger, heavier wheels from the start. Fires have broken out in cars, sometimes spreading flames into the cabin. Worst of all, two drivers have missed Cup Series races after suffering concussions in competition, and Hamlin bowed out of an Xfinity Series race because of soreness from a hit six days earlier in a Next Gen car.
"The car needs to be redesigned; it needs a full redesign," Hamlin said Saturday, according to longtime NASCAR reporter Lee Spencer of Racin' Boys Scoop. "It can still be called Next Gen, but it needs to be redesigned everywhere — front, middle, rear, competition. The whole thing needs to be redesigned. We've got a Martinsville race coming up and it's going to be tough. This thing is going to be exposed about how bad the race is and that's just part of it."
Martinsville on Oct. 30 has the potential to embarrass the sport because it's the final elimination race in setting the field for the Championship 4 the following week at Phoenix. The last race on a short track, the playoff contest at Bristol, resulted in multiple cars experiencing power steering failures, and passing was again an issue.
Denny Hamlin met with the NASCAR president at Talladega
While some of the biggest names in the Cup Series have gone public with complaints recently, NASCAR has only pushed back hard on Kevin Harvick speculating that "crappy parts" have been at the root of numerous problems.
That's uncharacteristically restrained for the sport. Executives over the years have typically responded to any criticism related to safety by bringing the driver or crew chief voicing such concerns to their trailer for a one-sided conversation, sometimes accompanied by a fine.
In this instance, NBC Sports reported Hamlin confirmed that he met with NASCAR president Steve Phelps before Sunday's race, in which the driver of the No. 11 Toyota finished fifth. If it was a tongue-lashing from the man in charge of the sport, Hamlin disguised it well.
"I don't have any details on it. I'm grateful for Steve Phelps. He is a leader that we need. He is not who I directed any of my comments toward because he's a huge asset for our sport."

Denny Hamlin
This sounds like a change of direction
Figuring out what to make of Denny Hamlin's remarks Sunday is difficult. Referring to his relationship with Steve Phelps as his best with any president of NASCAR seems diametrically opposed to comments the driver made one day earlier.
Asked how NASCAR had misfired with the Next Gen car, Hamlin said, "Bad leadership." Asked how to avoid a repeat, he responded, "New leadership."
Given the tone of his remarks about Phelps on Sunday, it seems likely the previous hostility was aimed at the technical side of NASCAR operations.
Like Sportscasting on Facebook. Follow us on Twitter @sportscasting19 and subscribe to our YouTube channel.
Got a question or observation about racing? Sportscasting's John Moriello does a mailbag column each Friday. Write to him at [email protected].