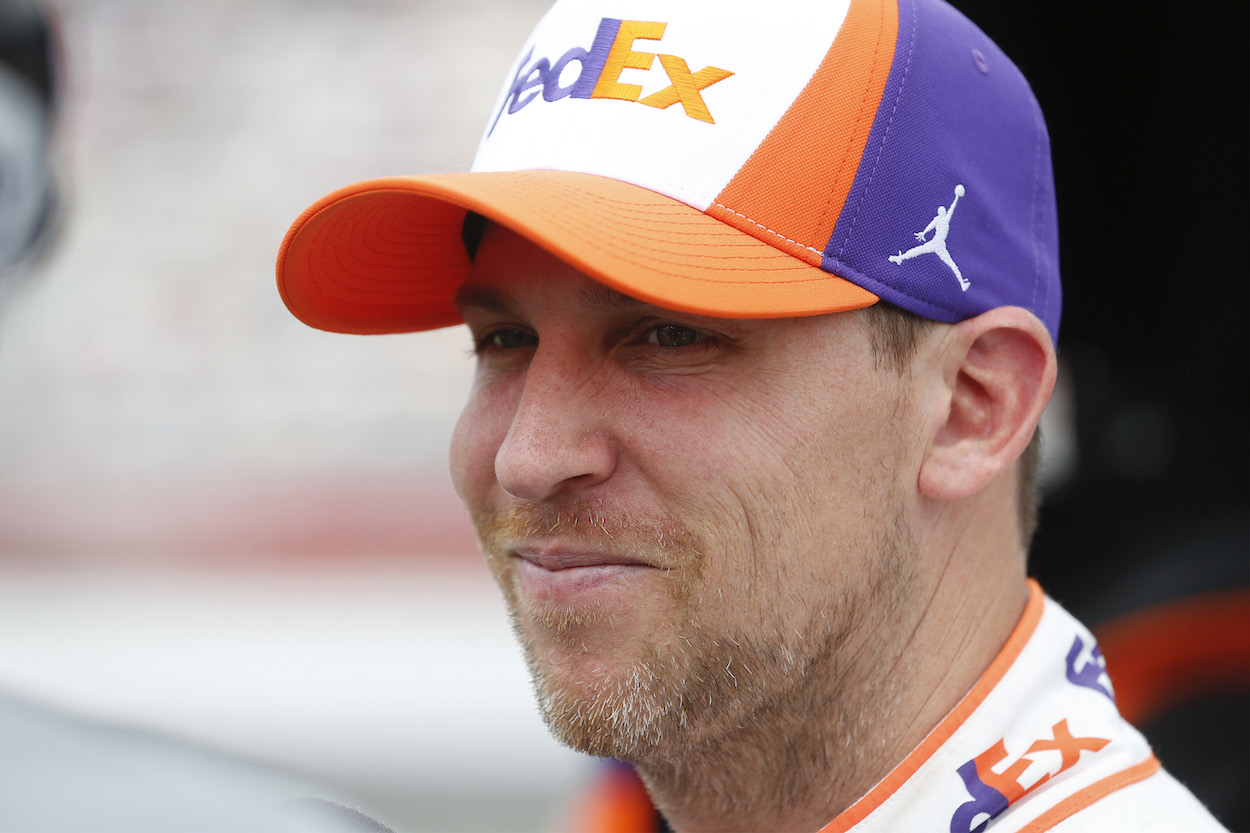 Denny Hamlin Offers Crude Response After Watching Washington Pitcher Max Scherzer Almost Drops His Pants for Umpires to Check for Foreign Substances
Denny Hamlin offered a hilarious yet crude response on Twitter after Washington Nationals pitcher Max Scherzer almost dropped his pants for umpires to check him.
Denny Hamlin has never been shy about sharing his opinion. Whether it's talking about the performance of Bubba Wallace and the 23XI Racing Team or that of an Uber driver, the three-time Daytona 500 winner isn't known for holding back. 
In addition to his strong opinions, Hamlin has a keen sense of humor. This week, he showed that side on Twitter in a comment some likely found crude and offensive when he tweeted about, of all things, Major League Baseball's new policy of cracking down on pitchers and the use of foreign substances. 
Denny Hamlin is outspoken on a lot of things, including Bubba Wallace
Denny Hamlin has had more to say during the 2021 NASCAR Cup Series season than in years past. As co-owner of 23XI Racing with Michael Jordan, reporters regularly ask Hamlin for his thoughts on the new team and driver Bubba Wallace.
Make no mistake about it — Hamlin isn't one to sugarcoat his answers. He's called out Wallace on multiple occasions this season for not working with his teammates.
"The same thing happened at Daytona," Hamlin said of Wallace's unwillingness to work with the other Toyota cars at Talladega. 
Interestingly, he doesn't just reserve his criticism for NASCAR drivers. Back in April, Hamlin took to Twitter to criticize the service he received from an Uber driver during a night out on the town. 
"Dear @Uber. This guy that is driving around Miami south beach is a complete douche bag," he tweeted. It included the driver's profile. Numerous followers fired back at Hamlin for doxxing the driver and not taking his complaint directly to Uber through its app. 
Jokes about Max Scherzer threatening to drop his pants for umpires
There's a saying in sports – "if you ain't cheating, you ain't trying." In MLB, it feels like every couple of years that there's some type of scandal where one player or team is looking to find that added advantage. The latest trending topic is pitchers using foreign substances on the ball. 
While it's been a common practice for decades, pitchers today have started introducing substances that make the ball dance in unnatural ways. Many believe this has resulted in numerous no-hitters (6) and a record-setting pace for number of strikeouts. 
This week MLB handed down new guidance that will require umpires to check pitchers for any foreign substances. On Tuesday night, Washington Nationals pitcher Max Scherzer came off the injury list and was subjected to the first mandatory search of his hat and glove in the first inning. 
In the fourth inning, Phillies manager Joe Girardi requested another check of Scherzer, who showed his displeasure by tossing his hat and glove on the ground and then proceeded to quickly unbelt his pants, indicating to the approaching umpires his willingness to take off his clothes for a more detailed search. 
The video of Scherzer's actions went viral on Twitter. Hamlin saw it and replied.
"Lug nut check," he tweeted. 
Hamlin is good with self-deprecating humor
Hamlin's humorous side has been on display plenty of times in 2021. Following a dominating performance at Richmond, where he lost the lead on the final restart and finished second behind Alex Bowman, Hamlin took to Twitter to share his frustrations on the race. 
"It rhymes with duck," he said. 
At Atlanta, Hamlin got into the back of Kurt Busch during a mid-race restart and sent Busch into the wall, ending his day. During the Joe Gibbs Racing competition meeting the following week, teammate Kyle Busch asked why Hamlin had yet to arrive. 
"Buying your brother flowers," he replied.
Those are just a few of Hamlin's comedic gems on Twitter.
While Hamlin has been known to rub people the wrong way a time or two, his self-deprecating humor goes a long way in showing that he truly understands what he's doing is entertainment and he doesn't take himself too seriously. More athletes could do themselves a huge favor if they took a similar approach.  
Like Sportscasting on Facebook. Follow us on Twitter @sportscasting19.