Denny Hamlin Surprises Fans by Appearing With Someone Who Didn't Have Nice Things to Say About Him in the Past 
Denny Hamlin had statistically one of his worst seasons in years and missed the Championship 4 race for the first time since 2018. Despite those struggles on the track, things appear to have taken a positive turn for the Joe Gibbs Racing driver in his personal life, and he revealed as much recently in photos with someone that caught many of his fans by surprise. 
Denny Hamlin attends 2022 NASCAR awards show with surprising guest
Denny Hamlin will remember the 2022 NASCAR Cup Series season for a variety of reasons, and not all of them good. One of the most bizarre memories will be from Pocono, where he won the race but was later disqualified by NASCAR in a historic move after officials found a piece of tape on his car as part of post-race inspection. 
Hamlin did win twice during the season and made the playoffs, but was eliminated from Championship 4 contention on Ross Chastain's miracle move at Martinsville. The JGR driver was one of the 16 Cup playoff participants invited to attend the recent NASCAR awards banquet in Nashville. 
Before the show, the 42-year-old walked the red carpet with his longtime girlfriend, Jordan Fish. On the surface, that sounds normal. But for his more fervent fans, there's an ugly not-so-distant past between the pair, and that was the last time anyone had seen or heard from her publicly. 
Hamlin blasted by girlfriend in 2021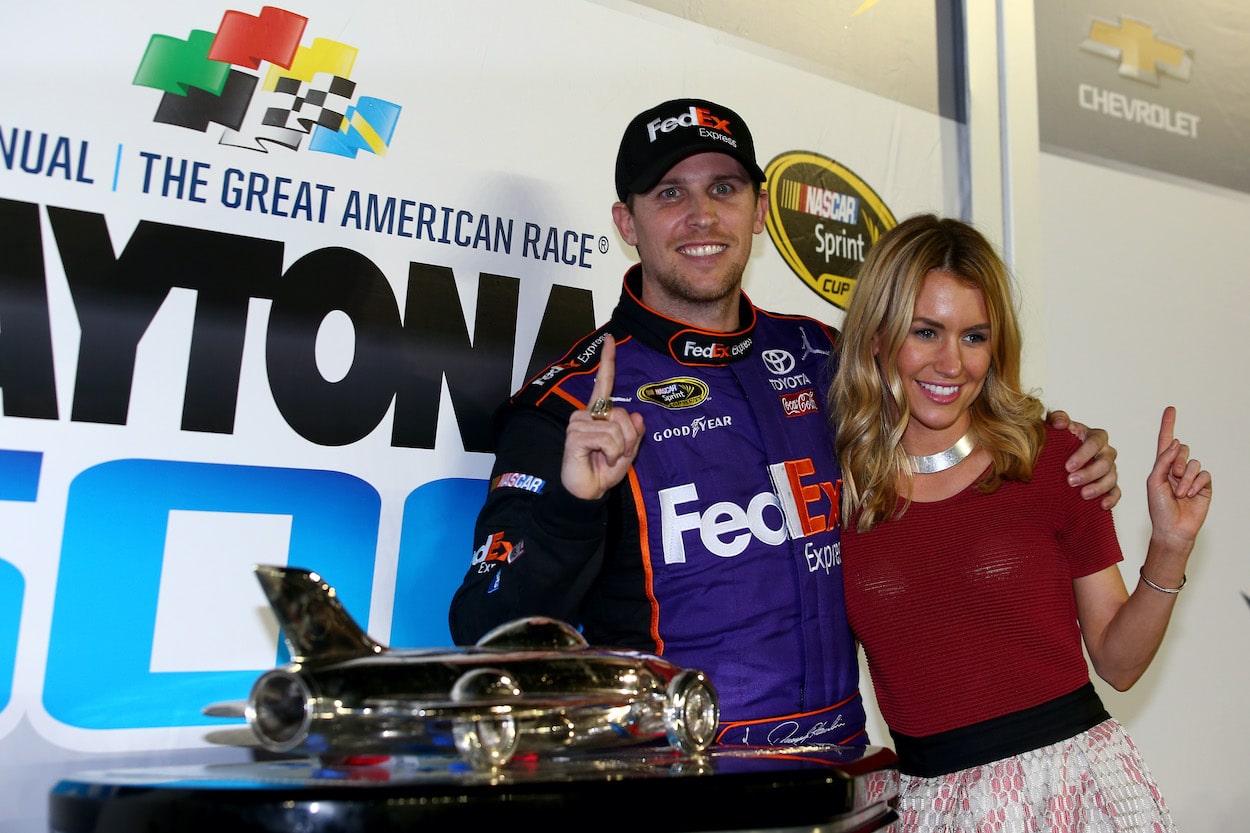 Last year and just days after the regular-season finale at Daytona, Denny Hamlin was put on blast by Fish in several posts on Twitter. The mother of his two children didn't hold back. 
"I have been quiet for far too long.. and I have endured things no one person should EVER have to endure, and today was no exception. @dennyhamlin I hope everyone will finally see you for the person you truly are," Fish's first tweet read. 
"Myself and our children deserve better than what you have given. I cannot believe I ever thought that someone like you could change. Because you cannot. You have a long road ahead of you, and one I graciously no longer will be apart of. Have a great life @dennyhamlin," she concluded.
Fish hid her account at the time. It has since been restored, but the tweets have been deleted.
Fans respond to photos of pair on red carpet
Knowing the couple's recent history, many fans responded to the photos with surprise and disbelief. 
"Thought they were done," wrote one fan, expressing the sentiment of many others.
"After that post a few years ago can't understand this," replied another. 
"No one needs to worry about their personal life. If they are able to work it out let her!" said another fan. "They do have children together and that's what's important."
Those last comments sum it up. Hamlin's personal life is just that, personal. And he should be able to choose to live it however he feels is best for him and his family. And the fans, as much as they feel connected to their drivers, don't get a say in the matter.