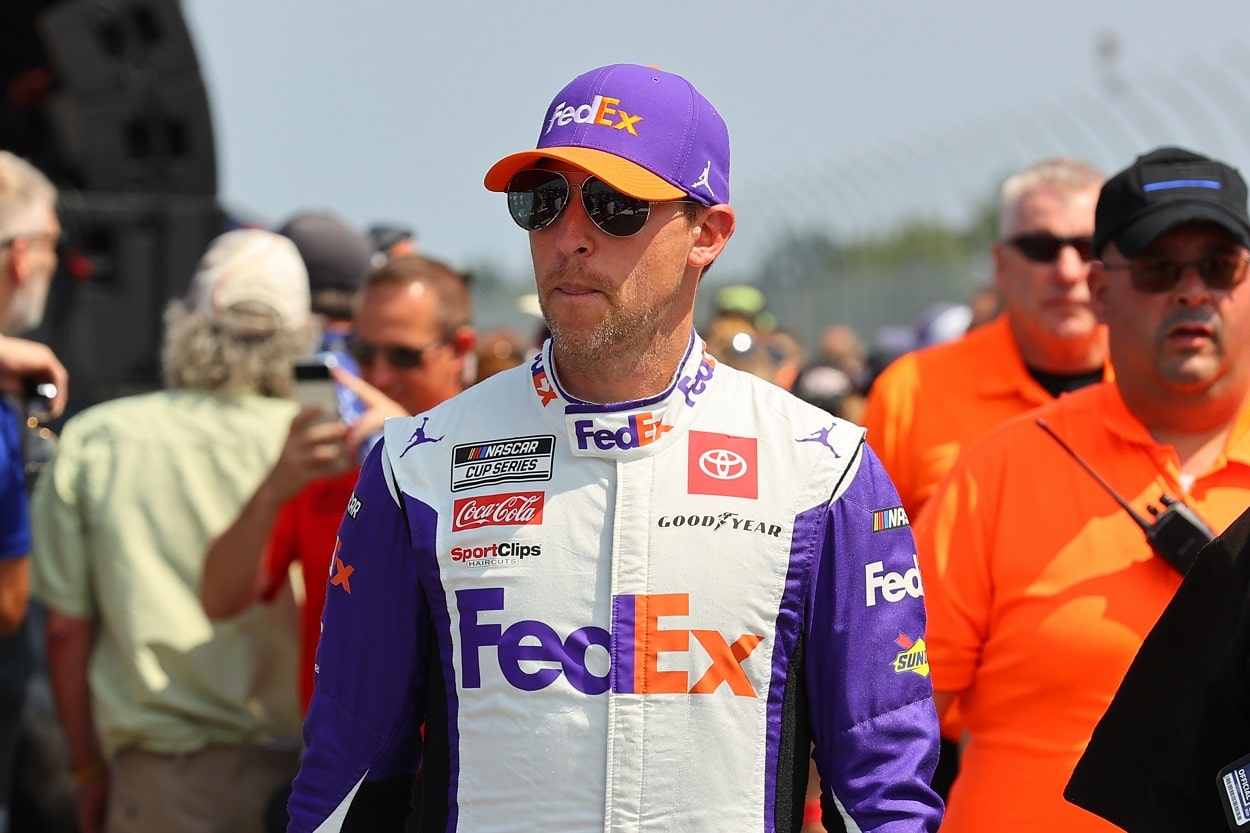 Denny Hamlin Will Undeservedly Be in an Enviable Spot Come NASCAR Playoffs Time
Denny Hamlin is unfairly benefiting from eligibility rules for the NASCAR Playoffs.
Remember back in the good ole days when consistency was king in NASCAR? It's how the late Dale Earnhardt won several of his Cup Series championships and how Matt Kenseth captured his lone Cup title in 2003. And those are just two of countless examples.
To have any chance to race for a championship at season's end, a driver and team had to perform at a high level the entire season – piling up top-five and top-10 finishes and posting few if any DNFs and finishes outside of the top 25 or 30.
Those days are long gone, however. They've been gone since NASCAR rolled out its elimination-style playoff format in 2014 and decided that race wins – not consistency – would trump all else.
How winning has become paramount to consistency in the NASCAR Cup Series
Since 2014, winning a race has been the primary avenue by which a driver earns a berth in the playoffs, as a win automatically qualifies a driver as long as they're in the top 30 in points. 
In 2017, NASCAR introduced the concept of playoff points, making race wins carry even more weight. Now, not only does a victory in the regular season punch a ticket to the playoffs, but drivers begin each playoff round except the championship round with five extra points – known as playoff points – for every win they've amassed up to that point in the season.
A victory in any round of the playoffs also assures any championship-eligible driver advancement into the next round, regardless of how they perform in the other two races in the round where they earned the win. So theoretically, a driver could finish 40th in two of the three races in a round, win the other race in that round, and move on to the next round with no questions asked.
Pretty wild, isn't it? While winning certainly should be rewarded, it shouldn't be the end-all for making the playoffs. Nor should it be the primary basis for driver seeding going into the playoffs or any subsequent playoff rounds.
Some will argue that consistency is required for making the playoffs since NASCAR rules mandate that a driver must be in the top 30 in points to be playoff-eligible, regardless of how many wins they might have in the regular season.
But a driver could finish between 20th and 25th each week and easily still be top 30 in the standings. It's mind-blowing to think that a driver could potentially finish 25th in 25 of 26 regular season races, win the other race and make the playoffs. But that's how the points system is set up, and one driver, in particular, stands to benefit from it in a huge way this season.
Denny Hamlin is unfairly benefiting from the rules for playoff eligibility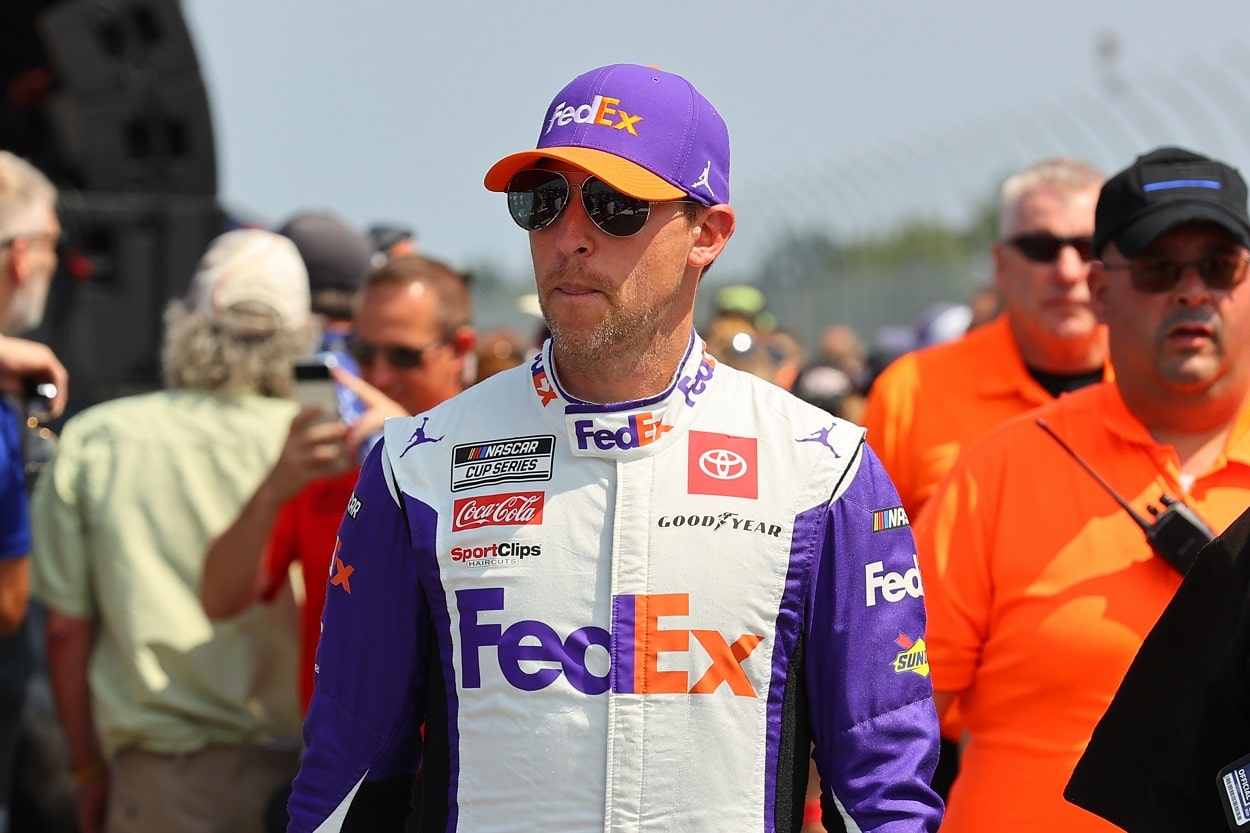 So who's the driver positioned to milk the points system – and its excessive focus on race wins – for all it's worth? Well, look no further than the driver who was disqualified this past weekend at Pocono Raceway after appearing to win for the third time in 2022.
That driver, of course, is Denny Hamlin, whose Joe Gibbs Racing Toyota flunked post-race inspection. As a result, NASCAR stripped Hamlin and second-place-finishing teammate Kyle Busch – whose car failed inspection for the same reason – of not only their finishes but also of any and all points they collected for their original finishing position in the race as well as the first and second stage.
By virtue of leaving Pocono with a zero points day, Hamlin dropped from 19th to 21st in the standings. However, because of his wins earlier in the season at Richmond and Charlotte, he would not only make the postseason, but he'd be seeded eighth out of 16 drivers if the playoffs commenced today. Both his ticket into the playoffs and his playoff seeding, of course, are a result of the races he's won this year.
If playoff eligibility were based exclusively on where drivers finished the regular season in points – as it was from 2004 through 2010 after NASCAR first instituted a playoff format for its premier series – Hamlin wouldn't have a prayer of making this year's playoff.
With just five races left in the regular season, Hamlin is a whopping 128 points behind Kevin Harvick – who hasn't won a race this year and is on the outside of the playoff cutoff looking in. To put it another way: Harvick could skip two races and still be ahead of Hamlin in points.
The difference in points between the two veterans isn't surprising when you consider that Harvick has 11 top-10 finishes this year compared to Hamlin's five and five top-fives compared to Hamlin's three.
Yet Hamlin is locked in the playoffs, and Harvick is all but guaranteed to miss the playoffs unless he wins in the next five weeks.
Where's the fairness in this?
NASCAR must do more to reward consistency
It's time for NASCAR to take a long, hard look at its emphasis on winning versus consistency. Sure, winning is important and should be rewarded. But it's hard to justify a driver with 11 top-10 finishes missing the playoffs while a driver with less than half as many top-10s waltzes his way in.  
NASCAR must fix this before the start of another season. Otherwise, you'll have more Kevin Harvicks being denied entry into the playoffs while more Denny Hamlins slip through. 
And there's nothing about this kind of scenario that's remotely okay or good for the sport.
Stats courtesy of Racing Reference
Like Sportscasting on Facebook. Follow us on Twitter @sportscasting19 and subscribe to our YouTube channel.