The Denver Broncos Have 107 Million Reasons to Regret Making Russell Wilson the Face of the Franchise
Despite showing signs of decline in Seattle, Russell Wilson not only secured a new NFL home, but he also convinced the Denver Broncos to go all-in on him by securing a five-year, $242 million contract extension. 
Needless to say, general manager George Paton should already have a severe case of buyer's remorse. 
What makes the decision to sign Wilson to such a lengthy deal without ever seeing him play a snap as a Bronco even worse is that the team foolishly backed itself into an expensive corner by making the longtime Seattle Seahawks star the face of the franchise. 
Unfortunately for Denver, it will likely cost several years and a nine-figure sum to escape a situation that looks worse by the week.
The Russell Wilson trade has backfired in every way possible for the Broncos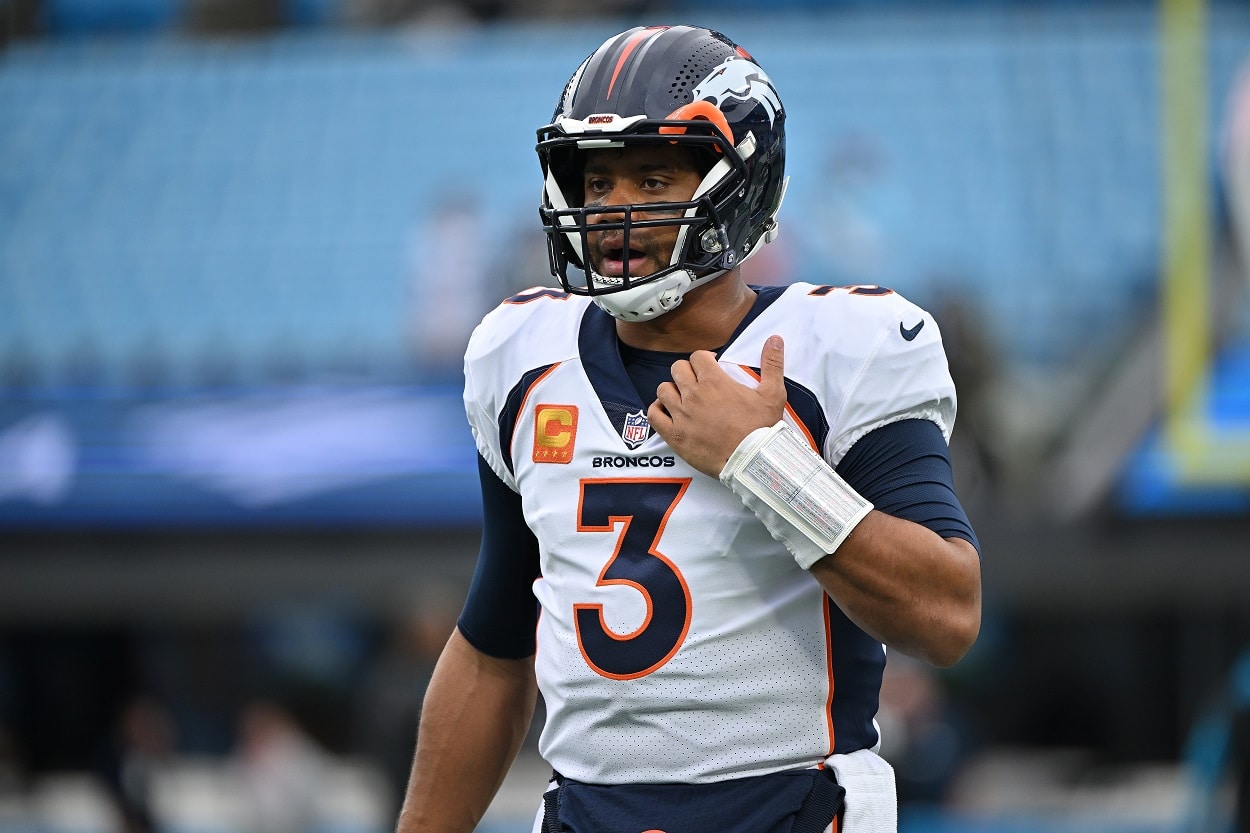 Desperate for a long-term answer at the most important position in sports, Denver made the bold decision not only to trade two first-round picks, two second-rounders, and multiple players to the Seahawks for an aging version of Russell Wilson but also sign him to an extension that included a whopping $161 million guaranteed. 
Coming off his least effective season since 2016 (the only one in which he failed to earn Pro Bowl honors), the future Pro Football Hall of Famer looked poised to remind everyone why he'll be remembered as one of the best quarterbacks of his generation. Yet instead of proving the Broncos correct for betting on a bounceback campaign, Wilson has raised serious doubts about his NFL future. 
With merely eight touchdown passes, a career-low 58.9% completion rate, and a shockingly bad 32.2 QBR that puts him ahead of only Davis Mills and Baker Mayfield, the 34-year-old has been anything but the answer for a Broncos team that entered the season with expectations of competing for a playoff spot. However, rookie head coach Nathaniel Hackett appears closer to being fired than making it to year two of his contract. 
Meanwhile, Wilson has provided almost no return on Denver's investment of both draft capital and financial resources.
The Broncos have a $107 million roadblock standing in their way
Perhaps the Broncos should have waited to see their shiny new toy play a few games before they elected to sign him to a lucrative extension. While nobody could have predicted that Wilson would be leading the league's lowest-scoring offense, he did arrive in Denver with questions to answer about his durability and ability to sustain success into his mid-30s. 
Based on how the first 11 games of the Wilson era have gone, it's clear he faces an uphill battle to justify his expensive contract and the price the front office paid to acquire him. But even if the Broncos wanted to admit defeat, they simply can't. 
And they have nobody to blame but themselves. 
Although Wilson still had years remaining on his contract, the Broncos essentially tied themselves to him through 2025. The nine-time Pro Bowler carries a dead cap hit of $107 million for 2023, an astronomical figure that guarantees he'll be on the roster. 
To make matters worse, Wilson's cap hit jumps from $22 million in 2023 to $35.4 million in 2024. And waiting another year won't significantly lessen the financial ramifications of moving on from the declining signal-caller. An $85 million dead cap charge basically cements Wilson's place as Denver's QB1 in 2024, too. 
At best, the Broncos could get out of his deal in 2025 — if they're willing to absorb a $49.6 million dead money hit that can be spread out over two years. 
Either way, Denver's locked into Wilson for several seasons, and if he continues on his current trajectory, he'll only become more of a problem for a team that looked divided on Sunday.
Could things go from bad to worse in Denver?
Broncos fans hoping for a brighter future better tamper any expectations of a turnaround. After all, the Wilson trade robbed the team of precious draft capital and financial flexibility. 
And if 2022 has seemed like a nightmare come true, the situation in Denver could get even worse moving forward. 
Although they're projected to earn a top-five selection, the Broncos will have to watch the Seahawks utilize their first- and second-round picks in the 2023 NFL Draft due to the Wilson trade. To rub more salt in the wound, the first-rounder they received in the Bradley Chubb deal looks like it'll be at the bottom of the round, given how well the Miami Dolphins have played. 
Plus, the Broncos may have to hit the reset button at head coach. Hackett's dismal debut season in Denver has led to rampant speculation that he could find himself without a job in a matter of months. Pulling the plug after just one year would be a massive admission of failure, but it seems highly probable, if not inevitable. 
Moreover, just how much can the Broncos improve a roster that has obvious flaws? The offensive line features more question marks than established starters. The wide receiver room features too many injury-prone pass catchers who haven't lived up to expectations. And the front seven lacks impact players, especially after dealing Chubb to the Dolphins. 
Ultimately, the Broncos may have entered the season hoping to compete for a Super Bowl title, but there's zero reason for optimism about what lies ahead for Russell Wilson and Co. 
And with 107 million reasons to regret making him the face of the franchise, there's zero room for Denver to get out of an ugly situation anytime soon.
Have thoughts on this topic? Keep the conversation rolling in our comments section below.