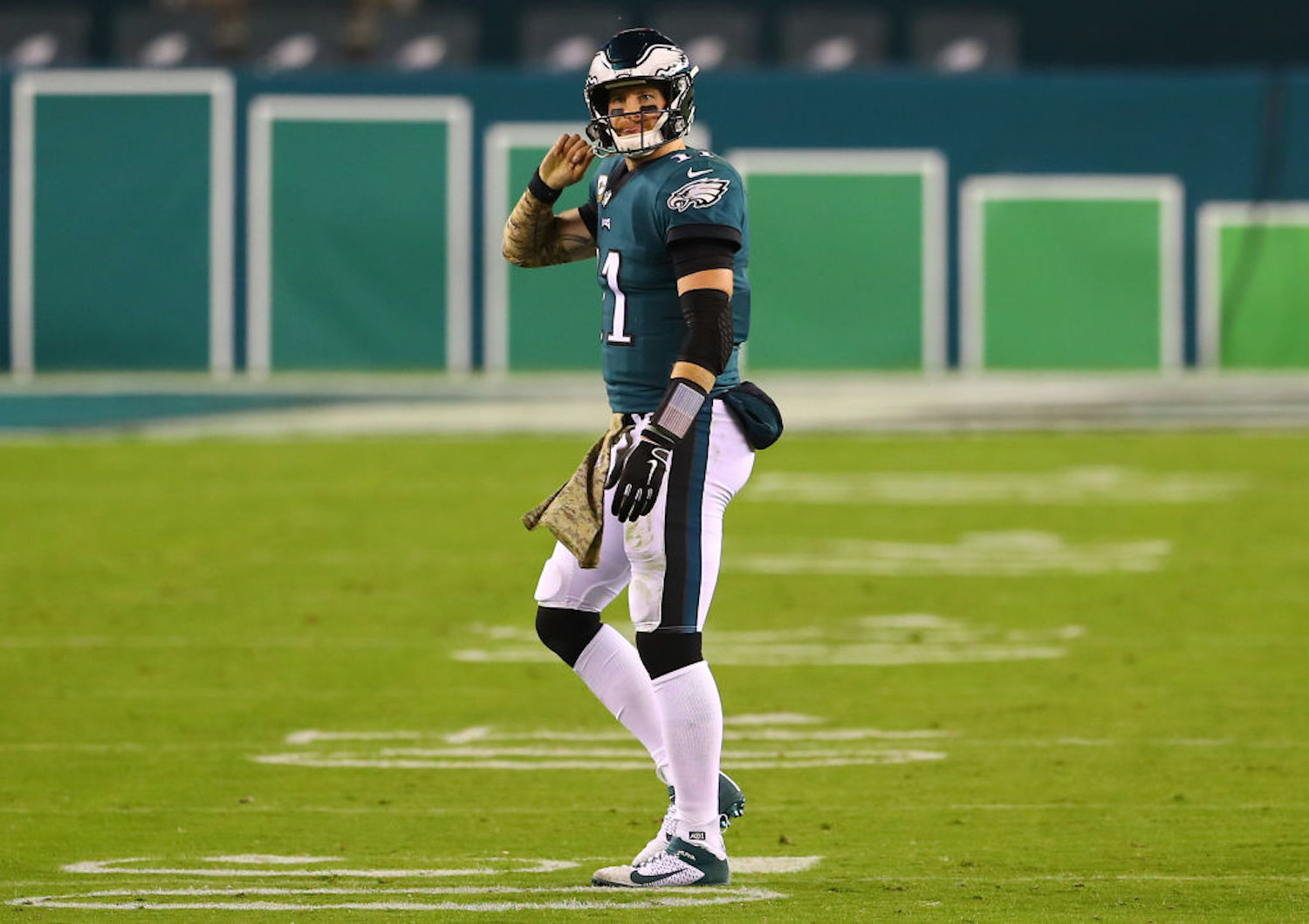 Despite Win, the Philadelphia Eagles Have a Glaring Problem on Their Hands
The Philadelphia Eagles might've won Sunday to secure first place in the NFC East, but Carson Wentz's turnovers continue to kill the team.
The Philadelphia Eagles may have handled the undermanned Dallas Cowboys on Sunday night to take control of the NFC East, but their glaring problem reared its ugly head yet again.
Carson Wentz, who has led the Eagles to a 3-4-1 record to start the season, threw two interceptions and lost two fumbles against the Cowboys' wretched defense. Wentz now has the most turnovers in the entire NFL through eight weeks. If he continues to give the ball away, Philadelphia won't make it very far this year.
Carson Wentz committed four turnovers on Sunday
If you just look at the final score from Sunday night, you would think the Eagles dominated the Cowboys from start to finish. Philadelphia won 23-9, but it was much closer than that all night.
There was only one reason why the Cowboys even had a chance in the game, though, and that reason was Carson Wentz. Wentz committed four egregious turnovers that kept Dallas within striking distance all night. The QB lost two fumbles after holding onto the ball for too long both times, and he threw two terrible interceptions forcing the ball downfield to covered wide receivers.
After the game, Wentz admitted to his poor performance.
"I'm not good enough," Wentz told the Delaware News Journal. "I can be better. I know I will be. Some of these shots down the field, I'm going to keep giving these guys chances and I can be better and put the ball in the right spot. But I'm not going to change my aggressive mentality. We're going to start connecting on some of those big plays."
Wentz has more turnovers in 2020 than 30 NFL teams
Through eight weeks of the 2020 NFL season, Wentz ranks as one of the worst starting quarterbacks in the league. Wentz ranks 30th in passer rating (73.2), 31st in completion percentage (58.4%), and 27th in QBR (49.1). All of those numbers are the worst of his career so far.
Wentz has also coughed up 16 turnovers in eight games this season, which is the highest mark in the league. He has more giveaways this year than 30 NFL teams. Ironically, the only team that has more is the Cowboys.
Wentz leads the NFL with 12 interceptions this season, and he's also lost four fumbles. In 64 career NFL games, Wentz has a jaw-dropping 55 fumbles. If he continues on his current pace, Wentz will pass Brett Favre for the most fumbles in NFL history in just 193 games. Favre played 302 in his career.
Would the Eagles ever bench Wentz?
Wentz has been a turnover machine in 2020, but he's also been great down the stretch in close games. He leads the league with three fourth-quarter comebacks this season, though one of them ended in a tie.
The Eagles gave Wentz $128 million to make winning plays in the fourth quarter and lead the team to the playoffs. He might not make it look pretty every week, but that's exactly what he's doing this season.
Philly fans far and wide are calling for Jalen Hurts to replace Wentz in the starting lineup, but that won't be happening unless Wentz goes down with an injury.
All stats courtesy of Pro Football Reference