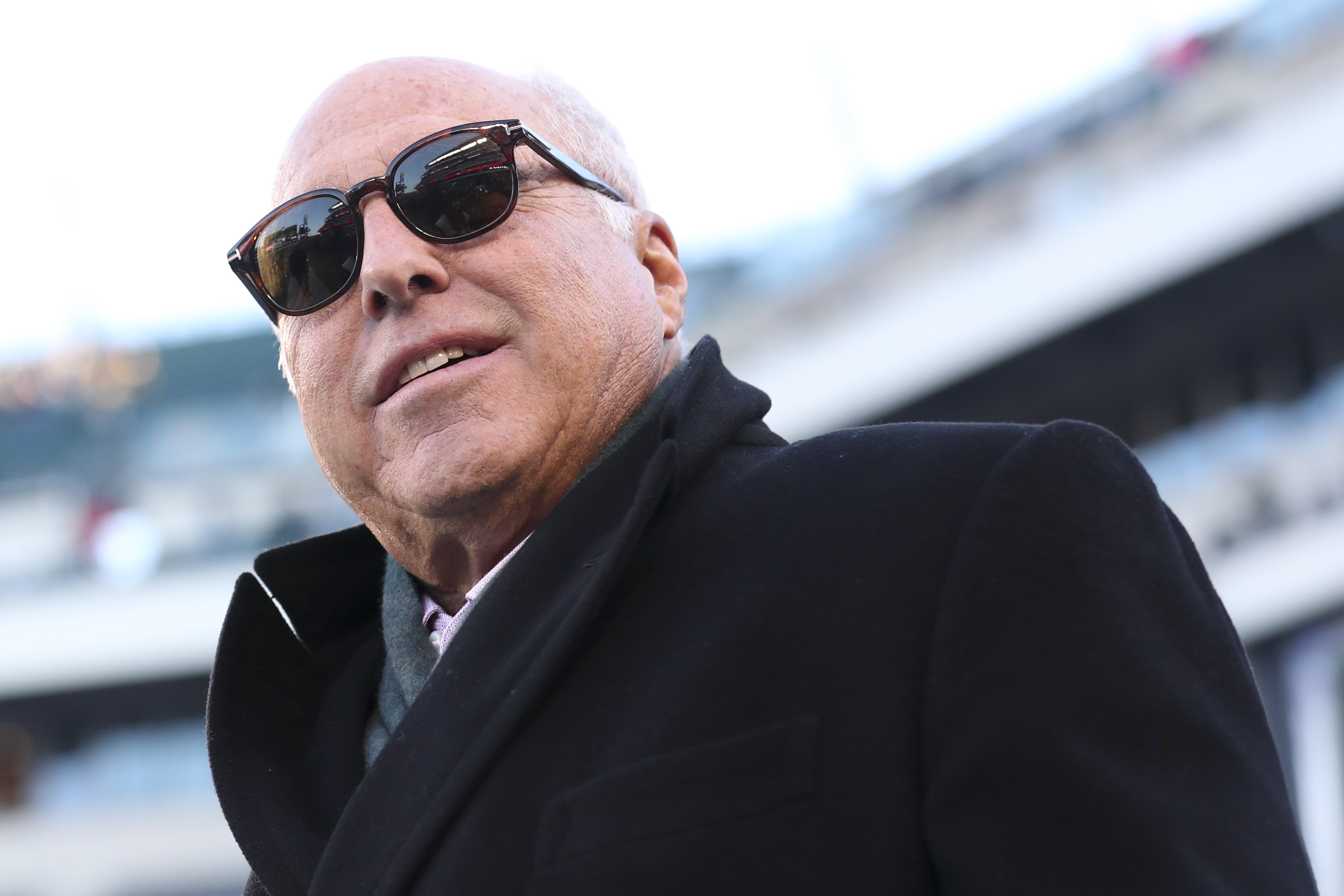 What is Philadelphia Eagles Owner Jeffrey Lurie's Net Worth?
Jeffrey Lurie bought the Philadelphia Eagles in 1994 and has turned the team into a winner. What is Lurie's net worth?
Jeffrey Lurie grew up in Boston. He was a big fan of the New England Patriots, and at one point in his life, attempted to buy the team. When that fell through, Lurie became the owner of the Philadelphia Eagles in 1994. Under Lurie, the Eagles have made two Super Bowl appearances, both against the Patriots. What is Lurie's net worth and how does the value of the Eagles stack up against other NFL teams?
Jeffrey Lurie has turned the Philadelphia Eagles around
Under Jeffrey Lurie's ownership, the Philadelphia Eagles have become winners. This season has been a struggle but since he took over the team in 1994, the Eagles have been to a pair of Super Bowls, winning one. In the 13 years prior to Lurie taking over, the Eagles had won one playoff game.
Lurie hired Andy Reid and the Eagles drafted quarterback Donovan McNabb in 1999 and they became contenders beginning in the 2000 season. The team went 11-5 that season and that began a string of five straight seasons of 11 wins or more. After the 2005 season that saw the Eagles go 6-10, the team never had a losing season again until 2012.
According to The Philadelphia Inquirer, the first time the Eagles made the playoffs in the McNabb/Reid era, Fox Philadelphia had to purchase 1,500 tickets to ensure a sellout. The game needed to be considered a sellout in order to be televised locally. Today, getting a ticket to an Eagles game isn't easy without paying a fortune through the secondary market.
Lurie was very involved with social justice issues this season
Jeffrey Lurie greeted media members prior to this season via Zoom. He spoke for about 15 minutes with reporters and never said a word about football. Like many people, Lurie was concerned about "two pandemics" – the coronavirus (COVID-19) and social injustice. Lurie said he wanted to shoot from the hip and speak straight from the heart.
"There are two real elements of it that I find particularly important," he said, "and one is to take ownership of it and step aside for a moment and listen and listen and listen. Then try to use the gift of elevation, which is a human gift, and take ourselves to a higher level of ourselves and try to figure out what we all can do both as a country, as a city and ourselves and our football team, what can we do to be part of the solution. This has been going on for far, far too long, and it's our history. It's really, really important, though, I think, to feel the pain first and not anesthetize it."
Lurie has become a voice in Philadelphia. He's showing himself as a leader, not just in terms of what type of product he puts on the football field. When Eagles wide receiver DeSean Jackson made some well-publicized anti-Semitic posts on Instagram, Lurie blasted him. "I thought the social-media posts were disgusting and appalling," Lurie said. "I don't think anybody can take it any other way."
What is Jeffrey Lurie's net worth?
Jeffrey Lurie purchased the Philadelphia Eagles from Norman Braman in 1994 for $185 million. According to Forbes, the franchise is now worth $3.4 billion and is the ninth most valuable franchise in the NFL. Despite being ninth overall, the Eagles are last in team value among their NFC East counterparts. The Dallas Cowboys are first overall at $5.7 billion, the New York Giants are third ($4.3 billion), and the Washington Football Team is eighth ($3.5 billion).
The value of the Eagles has gone up 11 percent since last year. Other franchises in the top 10 are the New England Patriots (No. 2, $4.4 billion), Los Angeles Rams (No. 4, $4 billion), San Francisco 49ers (No. 5 $3.8 billion), New York Jets (No. 6, $3.55 billion), Chicago Bears (No. 7, $3.525 billion), and the Houston Texans (No. 10, $3.3 billion). The bottom three in the NFL are the Cincinnati Bengals (No. 32, $2 billion), the Buffalo Bills (No. 31, $2.05 billion), and the Detroit Lions (No. 30, $2.1 billion).
Celebrity Net Worth lists Lurie's net worth at $2 billion. Lurie was born into wealth as his grandfather Philip Smith founded General Cinema Corporation, a major film company worth north of $3 billion.