Detroit Lions QB Tim Boyle May Have Some Ugly Stats but Maintains His Loyal Fan Club
Tim Boyle proved you can achieve anything despite what your stats say. Boyle made his first career NFL start last week as the quarterback for the Detroit Lions and nearly pulled out the Lions' first win of the season.
Boyle and the Lions fell 13-10 to the Cleveland Browns, but Boyle remained consistent. By consistent, we mean he put up poor stats. Ugly numbers are something he's used to, but no matter what, he continues to have his own little fan club.
Tim Boyle made his first NFL start last weekend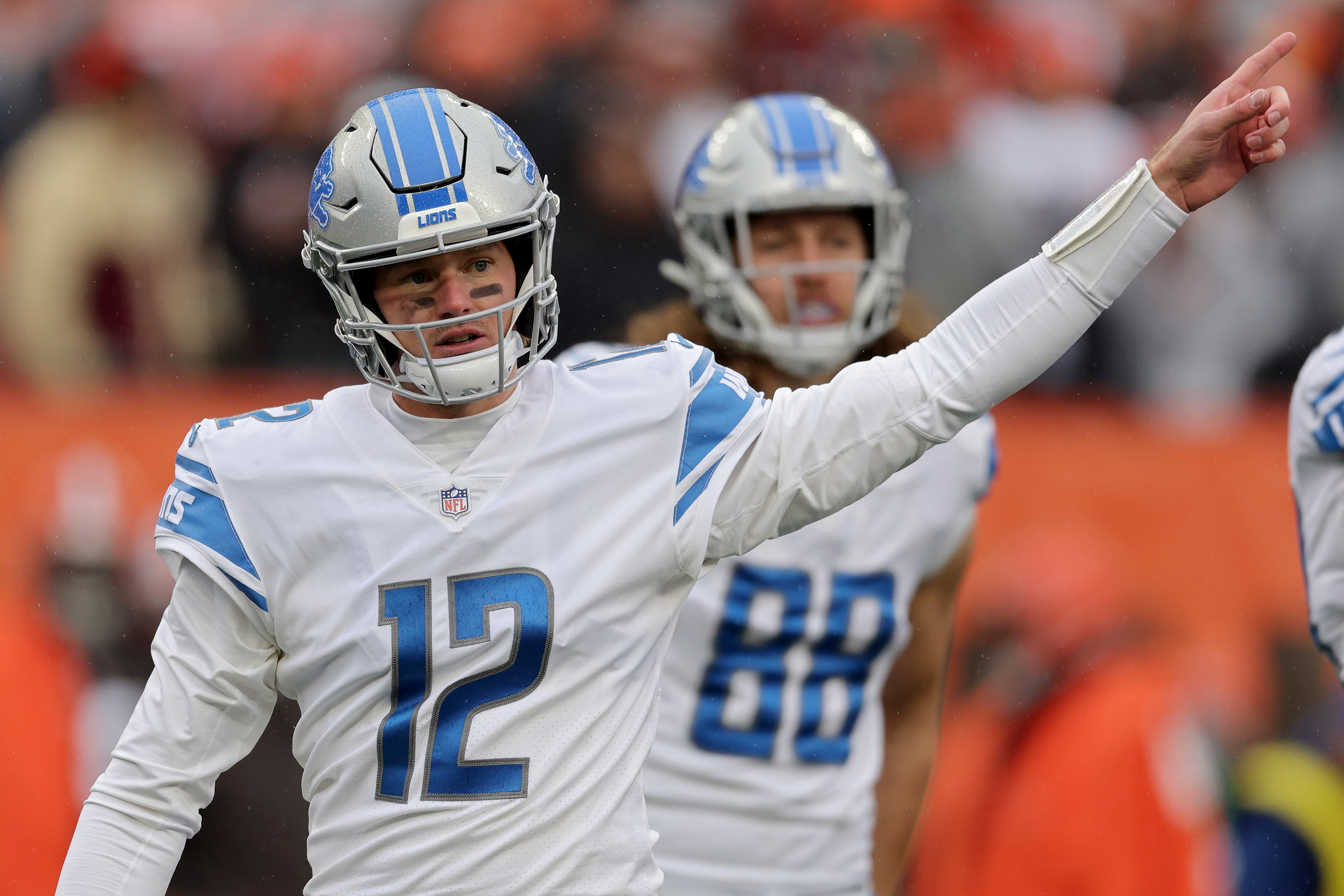 Boyle spent the last two years as a backup quarterback for the Green Bay Packers. In those two years, he appeared in 11 games but attempted four passes, completing three of them for 15 yards. At the end of the 2020 season, Boyle became an unrestricted free agent. He signed a one-year deal with the Lions.
Boyle got his big break when starting quarterback Jared Goff was unable to play last weekend against the Browns. The struggling Lions entered the contest with an 0-8-1 record. Boyle got the starting nod, hoping to pull off an upset on the road and get that first victory.
The Lions hung tough but struggled to move the ball. Detroit, under first-year head coach Dan Campbell, was held scoreless in the first half as the Browns held a 13-0 lead. Detroit got on the board in the third quarter when D'Andre Swift busted free for a 57-yard touchdown run to cut the deficit to 13-7.
Detroit added a fourth-quarter field goal to make it 13-10, but that's how it ended.
Boyle completed 15 of 23 passes but only threw for 77 yards. The Browns also picked him off twice. Goff remains a game-time decision for the Lions' Thanksgiving Day meeting with the Chicago Bears. If he's unable to go, Boyle likely will get his second career start.
Tim Boyle had some pretty ugly college stats
The amazing part of Boyle's career isn't that he made his first start last week, but it's that he made his way on an NFL roster. Boyle's college stats are anything but eye-popping.
Boyle spent the first three years of his college career at UConn. As a freshman, he played five games, going 59-for-133 and throwing for 621 yards. He did not throw a touchdown pass and had eight interceptions. He also had minus 73 rushing yards.
He appeared in nine games as a sophomore, throwing for 335 yards and averaging 4.1 yards per pass. He threw one touchdown pass against three interceptions. As a junior, Boyle went without a touchdown pass in five games. In his three seasons at UConn, Boyle completed 48% of his passes and had one touchdown pass. He threw 13 interceptions.
Boyle sat out the 2016 season after transferring to Eastern Kentucky, where he started 11 games as a redshirt senior in 2017. There, he threw for 2,134 yards and 11 touchdowns. He was intercepted 13 times.
He finished his four-year college career with 12 touchdown passes and 26 interceptions.
Hard work, determination earned Boyle a shot at the NFL, and he maintains a small fan club
Boyle worked hard to get to where he is. He also had a strong recommendation from Mark Elder, his head coach at Eastern Kentucky. Elder told the NFL scouts that his quarterback had all the tools to make it at the next level.
"He's one of those guys," said Elder, per The Athletic, "who has continued to get punched in the face and keep working. Just: 'I'm gonna make this happen.'"
He made it happen.
Last week in Cleveland, he made his first start in front of his parents, his girlfriend, and his own small fan club — a group from Xavier High School in Connecticut, who drive nine hours for the game.
Boyle got some advice from Goff before the game that proved to be true.
"Obviously, an incredible experience for me," Boyle said after the game. "Jared told me earlier in the week that the first quarter in your first (start) is kind of a blur, and he was 100 percent right. It happened quick. You settle into the game."
He also spoke like a true veteran when it came to his performance.
"Overall, a good experience, but at the end of the day, (I) did not play well enough to win, and that falls on me," he said. "A lot of room to grow in that department."