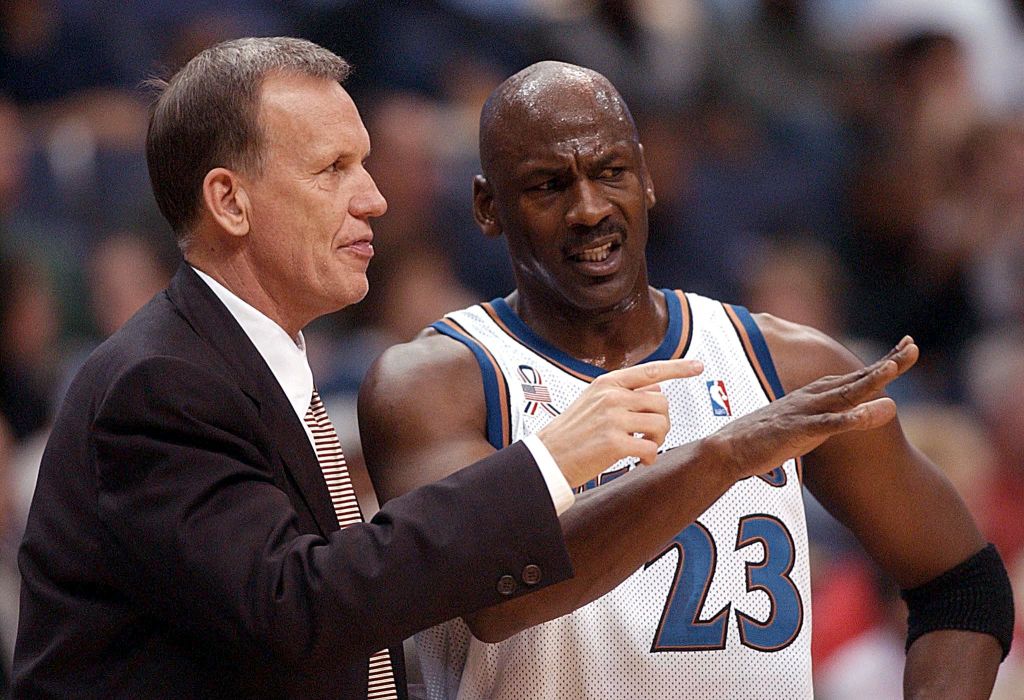 Did Michael Jordan Hate Former Bulls Coach Doug Collins?
The NBA rumor is that Michael Jordan got former Bulls coach Doug Collins fired, but is that how it really happened?
Some people come in and out of our lives over the years. That was the case with Michael Jordan and Doug Collins. They crossed paths multiple times in the basketball world. But what was their relationship like? Did Jordan hate Collins?

Michael Jordan's early years with the Bulls
Fresh off of winning an Olympic gold medal as a college student in 1984, Jordan's first regular-season game with the Bulls was on October 26, 1984. While he managed just 16 points, six rebounds, and seven assists in that game, a win over the Washington Bullets, he went on to average 28.2 points that season. He was also named the NBA Rookie of the Year.

Jordan didn't play much in his second year in the NBA because of a broken bone in his foot. He returned by the playoffs and set a postseason scoring record with 63 points against the Boston Celtics on April 20, 1986. The next season, Jordan became the second NBA player to score 3,000 points in one season, joining addition to Wilt Chamberlain.

The Bulls' coaching carousel during Jordan's early years
After 1976, and including during Jordan's early years, the Chicago Bulls had a string of head coaches who didn't last more than three years. Before Collins, Jordan and the Bulls had already been coached by Kevin Loughery and Stan Albeck. Collins himself only lasted from 1987-1989.
Under Collins' leadership, the Bulls won 137 of their games and lost 109 during the regular season. They also won 13 playoff games, but they lost 17. A popular coach, he was credited with turning around the Bulls. He took the team to the conference finals for the first time after 14 years. Phil Jackson was hired after Collins in 1990, and his tenure lasted until 1998.

The relationship between Michael Jordan and Doug Collins
In 1989 when Collins was fired, there was speculation that Jordan may have been behind it, something Jordan denied. In a TV interview at the time, Jordan cleared the air:

"It was not Doug Collins' and Michael Jordan's relationship, because he and I were getting closer as we spent more time together. When people say Michael Jordan had something to do with Doug Collins' getting fired, that doesn't have any validity to it." 


Michael Jordan
General Manager Jerry Krause confirmed that Jordan had not influenced the decision.

While there was turmoil between the front office and the coaches, in his book There Is No Next: NBA Legends on the Legacy of Michael Jordan, Sam Smith said that Jordan just cared about playing basketball. Smith mentioned that owner Jerry Reinsdorf called Jordan before the Bulls fired Collins to give him a heads-up, but Jordan didn't actually believe the owner would go through with it.

Jordan and the Bulls reach new heights after Collins
The Bulls kept making the playoffs, but the team didn't win an NBA championship until 1991. They then won again in 1992 and 1993. The Chicago Bulls continued to amass NBA championships, winning three in a row again in 1996, 1997, and 1998.

Jordan announced his first retirement in October 1993 but returned to the Bulls in 1995 after several years of playing minor league baseball. In the 1995–96 season, Jordan was the top scorer in the NBA, averaging 30.4 points per game. The Bulls ended the season with a 72-10 record. Jordan retired for the second time on January 13, 1999, after Phil Jackson departed.

Jordan and Collins with the Washington Wizards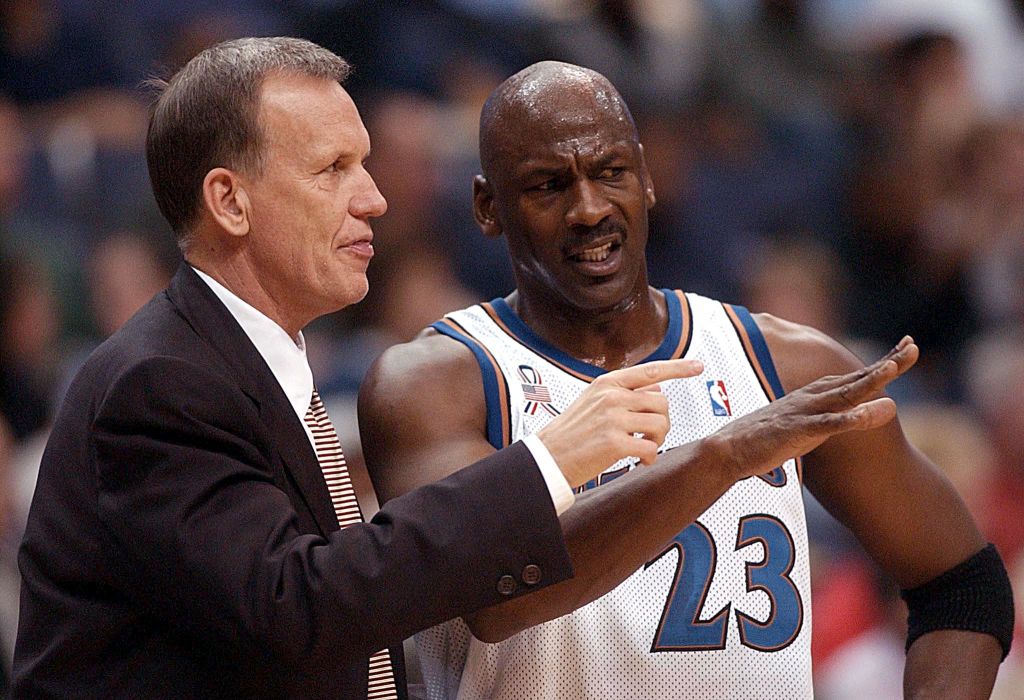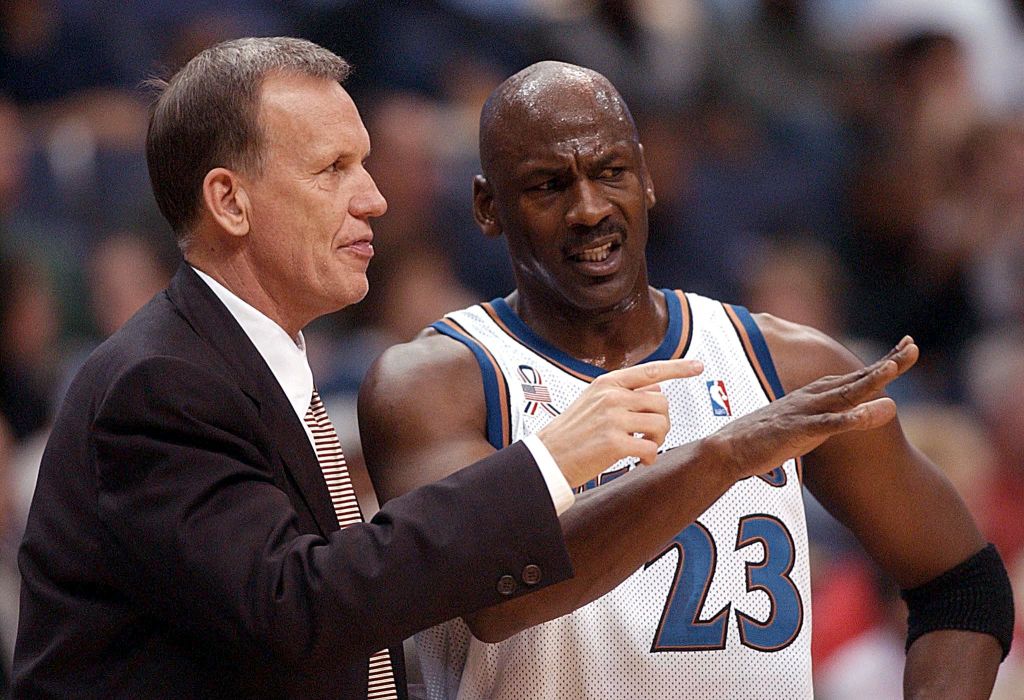 Following Jordan's retirement from the Bulls, he soon joined forces with Collins again. Jordan became a part-owner of the Washington Wizards and also the team's president of basketball operations. 

His second year in Washington, Jordan brought in Collins as the coach and decided to come back out of retirement to play for the Wizards from 2001 to 2003. Collins coached the Wizards during the same period, from 2001 to 2003.

Collins and Jordan both had highly successful careers in the NBA and were linked through both the Bulls and the Wizards. While there was speculation of bad blood between the two, that appears to have just been a rumor, and Michael Jordan hiring Collins as coach seems to disprove it.