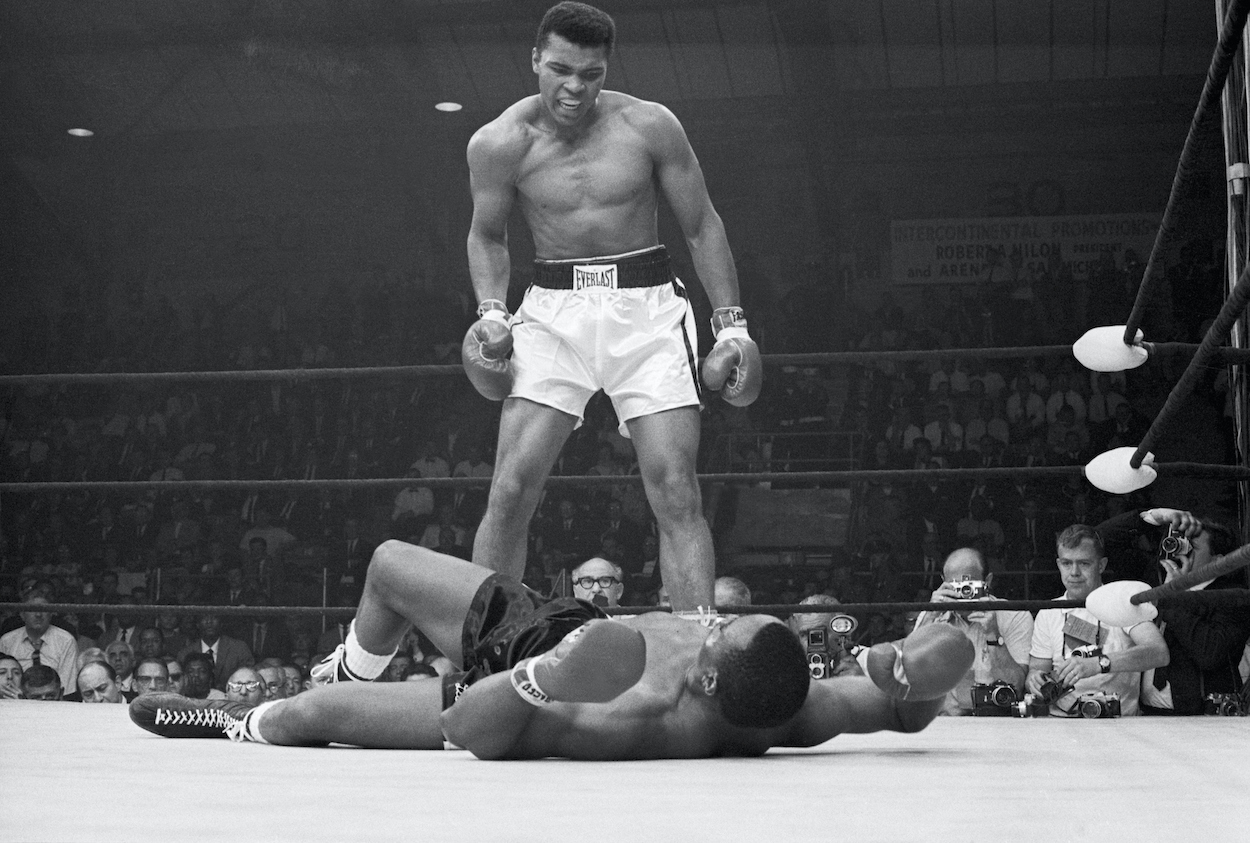 Did Sonny Liston Take a Dive in His Second Muhammad Ali Fight Because He Had Diarrhea?
Muhammad Ali biographer Jonathan Eig shared a new theory as to why Sonny Liston may have taken a dive in the boxers' second bout. In an unearthed, unaired TV interview, Sonny Liston's wife once said that the fighter needed to get out of the ring as fast as possible because he had diarrhea.
On February 25, 1964, a young Cassius Clay took on the World Heavy Weight Champion, Sonny Liston. A 7-1 underdog, Clay shocked the world when Liston's corner threw in the towel at the beginning of the seventh round. A year later, the champ, now going by Muhammad Ali, gave Liston a shot to avenge his loss.
What happened next is one of the most controversial moments in boxing history. Ali knocked down Liston in the first round with what is now known as "the "Phantom Punch." The ref stopped the fight soon after, and the conspiracy theories started immediately following that. An Ali biographer just added one more theory to the mix, and this one is pretty gross.
Sonny Liston conspiracy theories are rampant 
When Muhammad Ali hit Sonny Liston with the Phantom Punch, he stood over his opponent, screaming at him. "Get up and fight, sucka!" Ali yelled, according to the New York Times. It is a legendary moment, immortalized in the most iconic photo in sports history.
The fight ended, Ali retained the title, and conspiracy theories immediately started circulating. Why would Liston throw the fight? Two theories have permeated over the last 50-plus years more than others.
"Liston had ties to organized crime, Mike Puma wrote for ESPN. "In 1952, after serving two years in prison, he was paroled to a team of boxing handlers with ties to John Vitale, a St. Louis underworld figure. Six years later, Frankie Carbo and Blinky Palermo, top Mafia figures in the Northeast, became the majority owner of Liston's contract." 
If it wasn't the Mafia that made Liston throw the fight, it might have been Ali's handlers, the Nation of Islam. In 1965, there was a violent power struggle within the Nation of Islam between Malcolm X and Elijah Muhammad. The former was assassinated a few months before the second fight. The tension around Ali-Liston II between the factions was palpable. 
A Sports Illustrated report from 1991 posits that "two well-dressed Black Muslims showed up in Maine before the fight—Ali had just become a Muslim—and warned Liston, 'You get killed if you win.'"
No one will likely ever know exactly what happened, as Liston died under equally mysterious circumstances in 1971. However, his wife has a much simpler theory as to why Liston took a dive.
Muhammad Ali biographer Jonathan Eig heard a new theory on why Liston took a dive 
Jonathan Eig, the author of Ali: A Life, joined the titular host of The Ryen Russillo Podcast to discuss all things Muhammad Ali. He talked about Ali-Liston II and the Phantom Punch.
Russillo asked Eig about the controversial moment, and the writer shared his personal opinion along with a new theory he unearthed from decades ago.
It looks to me like he's flopping down there. Even the way he's rolling around on the mat just looked like bad acting. So I think he threw that fight, but that's just my gut. I was never able to prove it. The best evidence I found was an interview that never aired – a TV interview – with Liston's wife where she said he had diarrhea, and once he got in the ring, he was like, 'I gotta get this over with as fast as I can.'

Johathan Eig on Sonny Liston
Eig then laughed and conceded that this theory is "not as sexy as the Nation of Islam assassins or Mafia assassins," but it was the closest he came to hearing someone close to Liston give a real reason for the boxer's suspected dive.
How Neil Lifer got the most iconic photo in sports history
Dive or no dive, the moment is etched in history because of photographer Neil Leifer's iconic picture of Ali standing over a fallen Liston. The picture is often cited as one of the best sports photos ever taken. And, the story behind it is as good as the image.
Leifer was a relatively unknown, 22-year-old photog in 1965. Because of his lack of seniority, he didn't get the prime spot next to the scorers' table. Sports Illustrated's senior photographer Herb Scharfman got that prime position and made Leifer take a place across the ring.
The young cameraman also used special flashes over the ring that night to get a vibrant pic, per Slate. It meant he only would get one shot, though, to get the perfect image. On that fateful night, Liston fell right in front of Leifer, and he clicked his camera at the absolute perfect time to create what would become the greatest sports photo of all time.
The best part of the whole story is that when you look at the picture, there is a stunned-looking, older, bald gentleman in glasses holding a camera framed perfectly between Muhammad Ali's legs in the famous shot.
That's Herb Scharfman.
Like Sportscasting on Facebook. Follow us on Twitter @sportscasting19