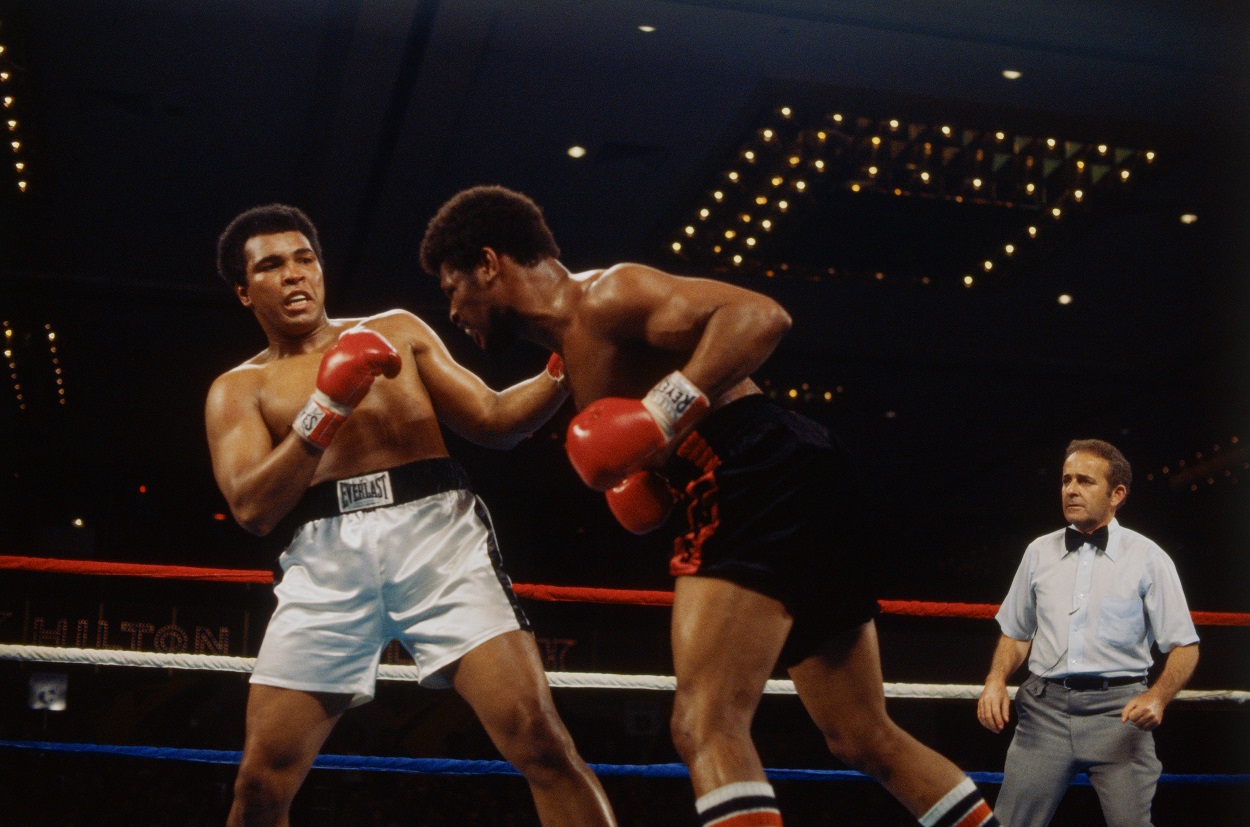 The Conspiracy Theory That Muhammad Ali Purposely Lost the Heavyweight Championship to Leon Spinks Because He Was Scared of His Next Fight
A conspiracy theory says Muhammad Ali lost the heavyweight title in his first fight with Leon Spinks to avoid a fourth fight with Ken Norton.
Muhammad Ali is considered by many to be the greatest heavyweight in boxing history and some have even called him the greatest pound-for-pound fighter to ever live. Ali was the first man to win the heavyweight championship on three separate occasions but an interesting conspiracy theory involving Ali, Leon Spinks, and Ken Norton would have you believe that may have been by design.
Let's dive in, shall we?
Muhammad Ali lost the heavyweight title to Leon Spinks in February 1978
Before we get to the conspiracy portion of things, let's take a look at the actual events that triggered this particular theory.
Heading into his February 1978 fight with Leon Spinks, Muhammad Ali had defended both the WBA and WBC heavyweight titles 10 straight times after winning them from George Foreman in the famed "Rumble in the Jungle" bout in Zaire in October 1974. He'd had his third bouts with Joe Frazier and Ken Norton (more on that fight in a moment) during that stretch and obviously won both but Ali hadn't looked great in the last few fights leading into his bout with Spinks and some even called for "The Greatest" to retire.
Spinks was somewhat of a surprise opponent for Ali as the then-24-year-old had just seven professional fights under his belt since winning the gold medal in the light heavyweight division at the 1976 Summer Olympics in Montreal. Spinks was a 10-1 underdog heading into the bout with Ali, who apparently thought it was going to be somewhat of an easy fight as he clearly wasn't in great shape.
Ali tried the rope-a-dope strategy he'd used against Foreman in Zaire but his older body took quite the beating as young Spinks pounded on him for 15 rounds. It's not as if Ali didn't fight back but he just didn't have enough and lost via split decision in what's still considered one of the biggest upsets in heavyweight history. To this day, Leon Spinks still holds the record for winning the heavyweight championship in the shortest amount of time after turning pro.
The conspiracy theory says Muhammad Ali lost the title on purpose so he didn't have to fight Ken Norton a fourth time
So here's where Ken Norton comes into play. After Muhammad Ali defeated Earnie Shavers in September 1977, the WBC next wanted him to face the winner of the Norton-Jimmy Young eliminator bout that took place in November, which Norton won via split decision. So Ali verbally said he would face Norton for a fourth time but only after he took on Leon Spinks.
So the conspiracy theory says that Ali never had any intention of fighting Norton again and threw the fight against Spinks so he could come back and get his revenge, win back his title, which would make him the first-ever three-time heavyweight champion of the world, and then retire on top.
Ali never hid the fact that Norton was one of the toughest opponents he ever faced. While Ali won two of their three bouts, there are some, including George Foreman, that think Norton won all three. In their first fight in March 1973, Norton broke Ali's jaw in the first round on the way to a split-decision victory. The two met again in September of that year and Norton again gave Ali all he could handle but lost via split decision after a late flurry from "The Greatest" seemed to tip the scales in his favor.
Their third fight in September 1976 at Yankee Stadium was highly controversial as many felt Norton had done more than enough to take Ali's title as he landed more punches and was far more accurate. But Ali was awarded the victory via unanimous decision, which prompted a wave of boos from the live crowd in the Bronx.
So that's where the theory comes in as some believe Ali wanted no part of another beating from Norton, which is why these theorists say he threw the Spinks fight.
Leon Spinks was stripped of the WBC title for refusing to fight Ken Norton and lost the WBA belt to "The Greatest"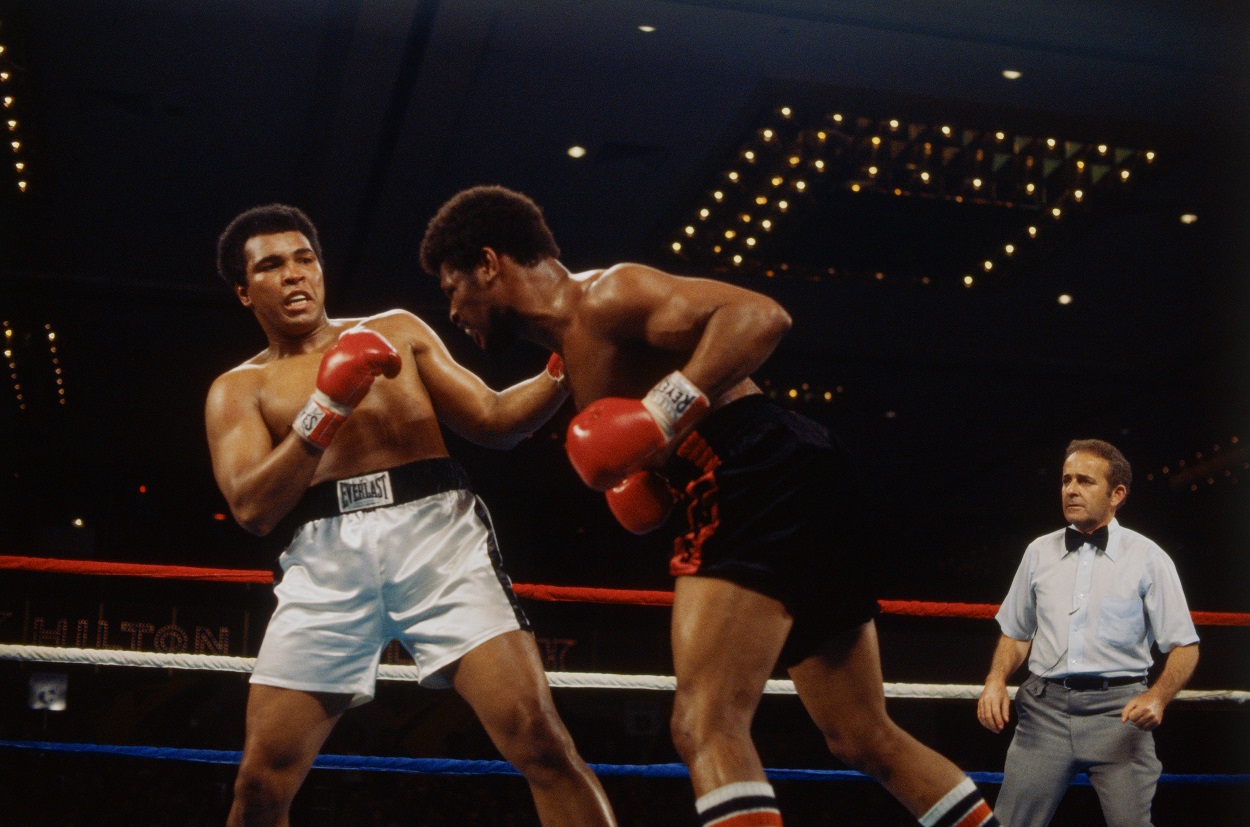 After defeating Muhammad Ali, Leon Spinks was ordered by the WBC to defend that title against Ken Norton, as Ali had planned to do. But Spinks refused and was stripped of the belt, which was then awarded to Norton, who promptly lost it to Larry Holmes in June 1978.
Spinks and Ali met for the WBA title in September 1978 at the Louisiana Superdome in New Orleans, where Ali, who was in much better shape for the rematch, dominated the bout to earn a unanimous-decision victory and became the first to ever win the heavyweight championship three times. He retired a few months later, which feeds right into the conspiracy theory.
Now, personally, I don't buy any of this whatsoever. But conspiracy theories are always fun, aren't they? Besides, Muhammad Ali came out of retirement in 1980 to fight Larry Holmes and then fought Trevor Berbick in his actual final fight in 1981. And does it really sound like "The Greatest" to throw a fight?
Fight records courtesy of BoxRec