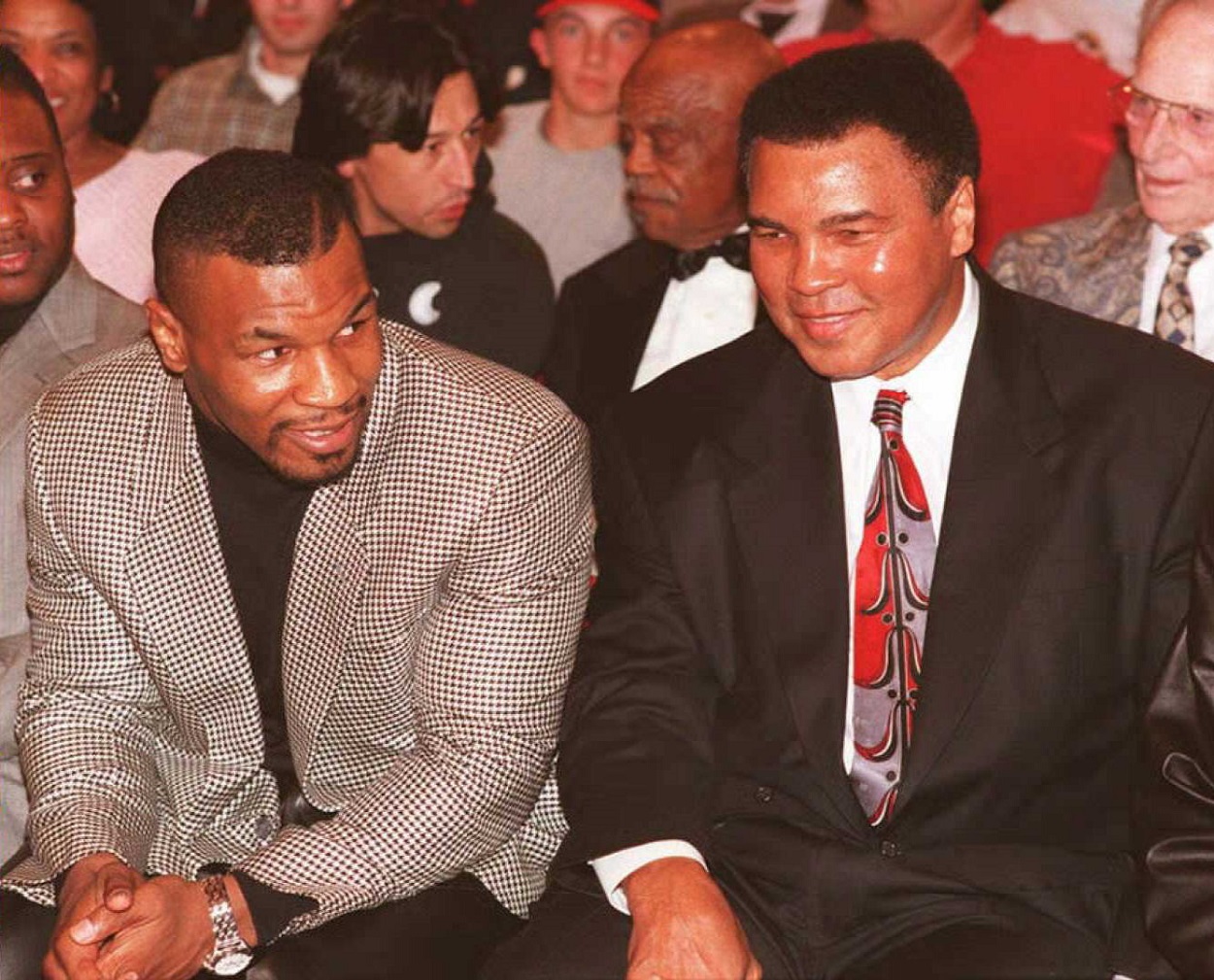 Muhammad Ali and Mike Tyson Fought a Father-Son Duo 24 Years Apart and Got the Same Result…Kind Of
24 years after Muhammad Ali defeated Buster Mathis, a victory for which he was criticized, Mike Tyson defeated Buster Mathis Jr.
Muhammad Ali and Mike Tyson are easily two of the greatest heavyweights in boxing history and certainly two of the most popular fighters of all time. With 106 victories and multiple world titles between them, Ali and Tyson dominated their respective generations (for the most part anyway) but just missed being able to fight one another, although the two legends did share two common opponents.
But there's also another fun connection between the two. In 1971, Ali took on underrated heavyweight contender, Buster Mathis, and 24 years later, Tyson battled his son, Buster Mathis Jr.
Muhammad Ali and Mike Tyson combined to win 106 fights
Over the course of his 21-year professional career, a career that was interrupted for more than three years after he refused induction into the armed services during the Vietnam War, Muhammad Ali amassed a 56-5 record and was the first boxer in history to win the heavyweight championship three times.
He took part in some of the biggest and best fights in history, most notably the famed "Rumble in the Jungle" bout with George Foreman and his incredible trilogy with Joe Frazier, among others. Ali may have held on a bit too long but is still seen by many as the greatest heavyweight in history.
Just a few years after Muhammad Ali called it a career, Mike Tyson took over as the dominant fighter in the heavyweight division and became the youngest man to win the heavyweight title at age 20 in 1986. The following year, he became the first to simultaneously hold the WBC, WBA, and IBF titles and then became the lineal champion by destroying previously undefeated Michael Spinks in 1988 in 91 seconds.
About a year and a half after losing his titles to Buster Douglas, Tyson had a three-year hiatus of his own, only his was for far different reasons as he was convicted of rape and sent to prison. But less than a year after being released, Iron Mike regained the WBC title and added the WBA belt just a few months later. The later years of his career were marred in controversy and he retired in 2005 with a record of 50-6 (no, the Roy Jones Jr. bout in 2020 wasn't official).
Muhammad Ali earned a unanimous decision victory over Buster Mathis in 1971
In March 1971, in just his third fight after the legal issues that took away three prime years of his career, Muhammad Ali famously suffered his first loss in the "Fight of the Century" with WBA and WBC heavyweight champion Joe Frazier via decision. He rebounded by winning the less prestigious NABF heavyweight crown with a TKO victory in July over Jimmy Ellis.
That November, Ali stepped in the ring with Buster Mathis, who held a 29-2 record, his only losses coming against Frazier and Jerry Quarry, who Ali had beaten in his first comeback fight in 1970. Mathis had actually retired from boxing after his upset loss to Quarry in 1969 but returned to the ring after two and a half years for the high-profile fight with Ali.
Ali dominated the 12-round bout and knocked Mathis down twice in the 11th and two more times in the 12th. However, he essentially refused to move in for a knockout, for which he received heavy criticism, out of compassion for his opponent but easily won on points.
Mike Tyson, however, showed no such compassion against Buster Mathis Jr. two dozen years later.
Mike Tyson knocked out Buster Mathis Jr. in the third round of their 1995 bout
Upon his release from prison, Mike Tyson's first fight back came in August 1995 against virtual unknown Peter McNeeley, who was disqualified in the first round after his manager jumped into the ring after seeing his fighter get knocked down twice within 80 seconds.
With the victory, Tyson was named the No. 1 contender to the WBA, WBC, and IBF titles. But before Iron Mike took a run at one of the belts, it was announced he'd be partaking in an additional tune-up fight, similar to what Muhammad Ali did in fighting Oscar Bonavena before his first fight with Frazier. Tyson's opponent for the tune-up in December 1995 was none other than Buster Mathis Jr., who, like his father, was somewhat underrated and came into the fight with a 20-0 record with two no-contests.
But Mike Tyson didn't show the compassion to Mathis Jr. as his idol had for Mathis Sr. Tyson got off to a slow start as Mathis Jr. was able to dodge most of his big shots over the first two rounds. The trend continued into the third but with just over 40 seconds left in the round, Tyson hit Mathis Jr. with a vicious right uppercut and then floored him with another right hand that ended the bout.