Did Timo Glock Deliberately Slow Down and Let Lewis Hamilton Pass for His First Formula 1 World Championship in 2008?
When Max Verstappen dived to the inside of Lewis Hamilton along Turn 5 of the final lap during the Abu Dhabi Grand Prix on Dec. 12, he clinched his first Formula 1 drivers' championship.  
Attempting to explain his runner-up finish, Hamilton and his Mercedes teammates immediately called out the restart before Verstappen's last-lap, title-clinching pass. Hamilton publicly criticized the results as being "rigged" and "manipulated." 
By using such terms, Hamilton also rekindled F1 conspiracy theories. Many similar descriptions explained Hamilton's first drivers' title 13 years ago. 
Lewis Hamilton's maiden Formula 1 title has questions still unaswered
In the moments following the 2008 Brazilian Grand Prix, fans and insiders pointed to Timo Glock as possibly rigging and manipulating the outcome. They feel Glock helped steal the title from Felipe Massa and hand the crown to Hamilton.
The accusations continue to haunt Glock. He told planetf1.com that fans still inquired about his slowing car on the final lap at Interlagos in 2008.
Did he slow down and intentionally allow Hamilton to pass for the extra point he needed to edge Massa for the drivers' title? With Massa cruising to the checkered flag and Hamilton at P6, his associates celebrated along pit road early.
Then Massa heard the news. Hamilton passed Glock on the final rotation despite heavy rain over the last eight laps. Massa was shocked.
Immediately, accusations emanated from Massa's garage area. Conspiracy theories were born.
Glock: 'There are still people out there that think I did it on purpose'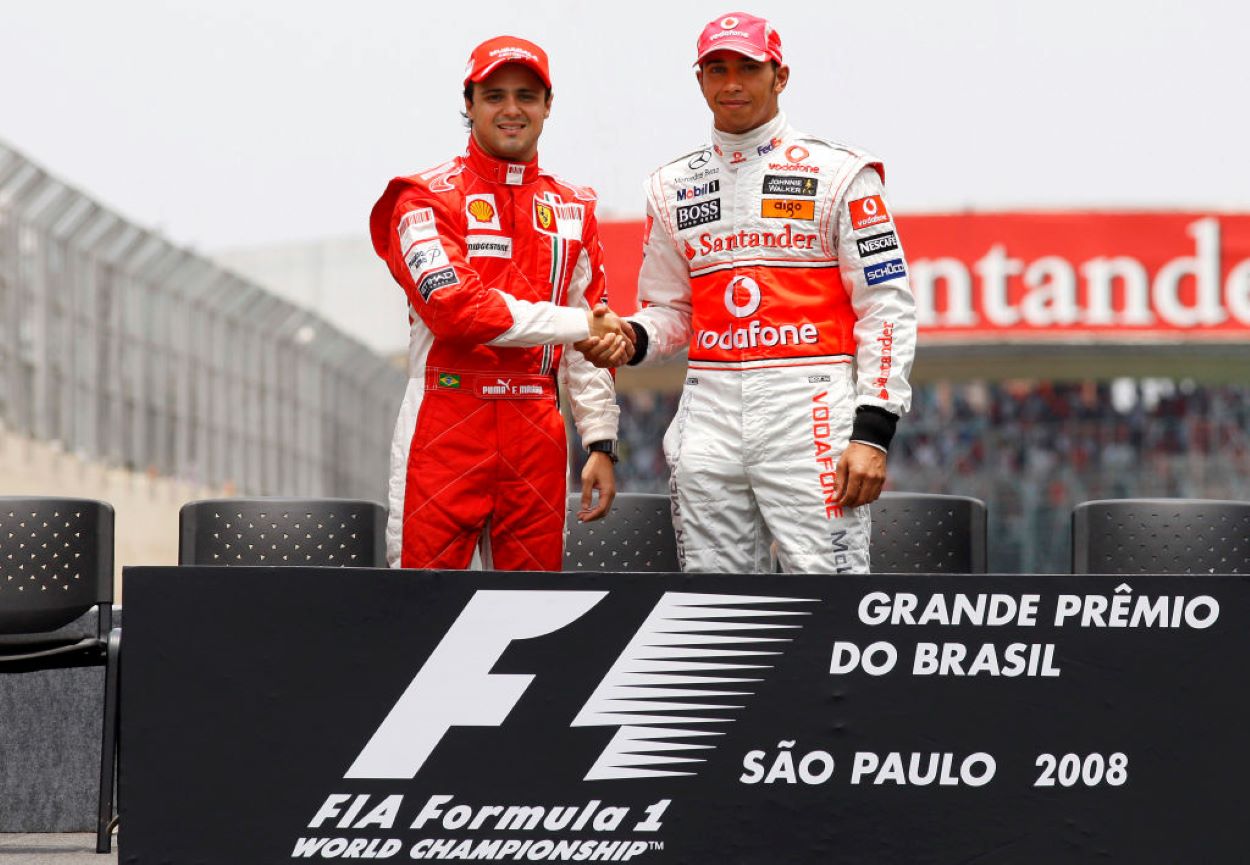 During a recent Sao Paulo GP event, skysports.com/f1 arranged a sit-down with Glock. He said he still receives catcalls from rival fans who believe he deliberately slowed down.
"There are still people out there that think I did it on purpose," Glock said. "I was reading comments where I said we have this interview coming up, that people say 'ah, it's really interesting to see how you explain to Felipe that you let the door open like this and you didn't fight against Lewis.' "
Glock wanted to clear the air and tell his version of the story one more time.
When the rain resumed, most drivers engineered pit stops for fresh tires, but Glock remained on the track on deteriorating tires. The move enabled him to move up and briefly challenge for a spot on a podium. But once the other drivers' fresh rubber gained traction, Glock was overwhelmed.
On the last lap, Hamilton raced in sixth place, one spot away from earning the title during his second full season on the F1 circuit. Before a hometown crowd, Massa earned the race win and prematurely celebrated a drivers' championship.
Glock recalls hearing on his team radio: 'The pit lane is blocked, you need to stay out'
Glock explained why his team elected not to call for a pit stop when it became apparent his machine couldn't sustain enough grip to remain competitive. Ironically, a premature pit-row celebration by Massa's associates played a role. A smooth stop could not be guaranteed, so Glock remained on the track.
Over the team radio, Glock recalled hearing, "… you cannot come in, the pit lane is blocked, you need to stay out."
So, Glock passed the pits and entered F1 infamy.
Hamilton first was forced to deal with Sebastian Vettel to get that vaunted fifth spot. Vettel did not concede track position. When Hamilton's hopes appeared dashed, he spotted Glock's sputtering Toyota.
Hamilton followed Vettel around Glock, securing his first of seven titles.
Glock recalled being surrounded by a police escort en route to the airport following the '08 race. Threatening letters started arriving at his parents' home, "… which were really under the limit," he said.
It's hard to kill some conspiracy theories.
RELATED: Max Verstappen and Lewis Hamilton Co-Starred in a Formula 1 Drama Worthy of a Screenplay
Related post url: