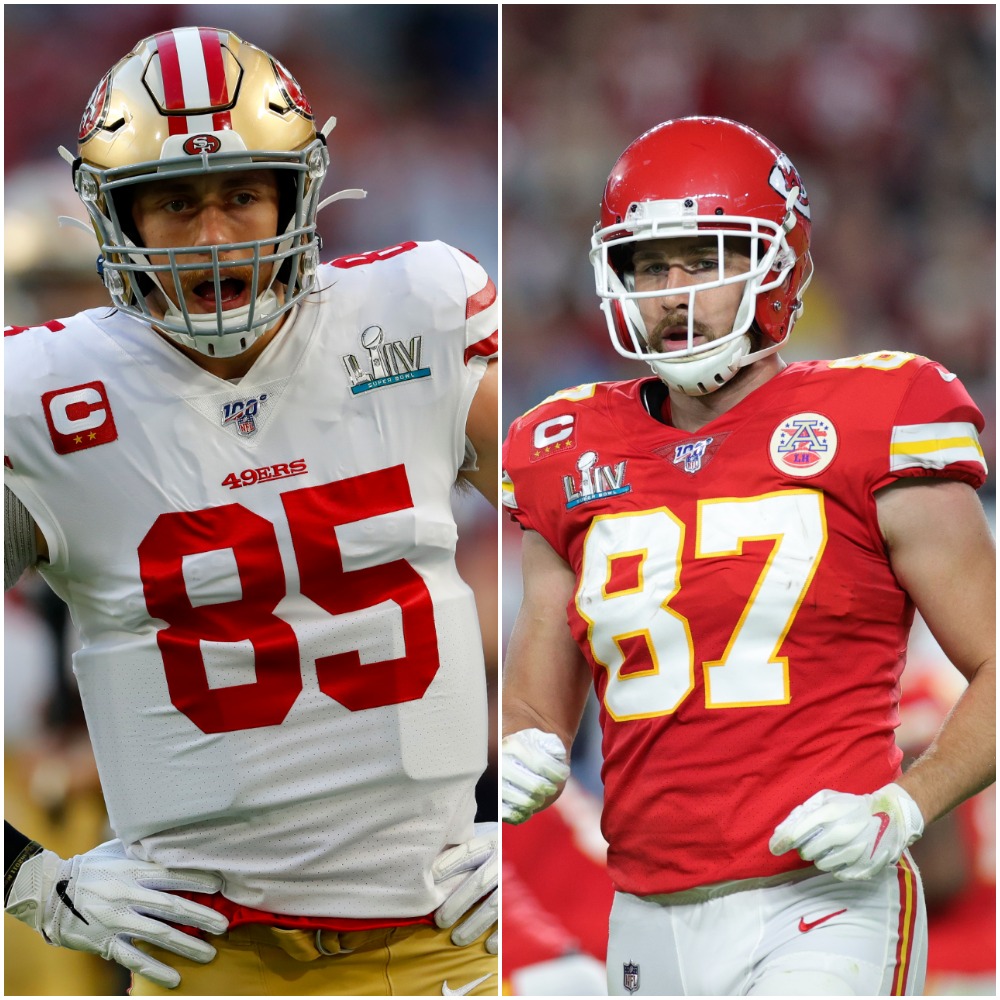 Does George Kittle or Travis Kelce Have a Higher Net Worth?
George Kittle and Travis Kelce are two of the best tight ends in the NFL. Both of them just landed huge contract extensions. Who has a higher net worth?
An NFL tight end is one of the most under-appreciated positions in professional sports. In a tight end's job description, there are two key components that determine success — blocking and receiving. The best in the business excel at both. While receiving and catching touchdowns make the highlights, it's the work in the trenches that sets the best apart from everyone else. 
Tight ends, like future Hall of Famer Rob Gronkowski, take pride in blasting their opponent on the other side of the line of scrimmage. Two other tight ends who are often mentioned as the best in the business are San Francisco's George Kittle and Kansas City's Travis Kelce. Both have been handsomely rewarded for their history of work with large contract extensions. Between the two, which one has a higher net worth — George Kittle or Travis Kelce?   
George Kittle has impressed early in career
It's hard to believe but it was just four years ago that George Kittle was finishing up his college career at the University of Iowa. The San Francisco 49ers selected Kittle in the fifth round of the 2017 NFL draft. 
Since his arrival in San Francisco, Kittle has more than impressed. In his first season, he saw limited action starting in just seven games. He grabbed 43 receptions for 515 yards and a pair of touchdowns. After his rookie year, no one could have imagined the two seasons that followed.
In 2018, Kittle introduced himself to the rest of the league in a big way by hauling in an NFL-record 1,377 yards. That season included a franchise-record 210 yards in a single contest against the Denver Broncos. He also caught five touchdowns that year en route to his first Pro Bowl appearance.
Kittle followed it up in 2019 with another outstanding season where he once again surpassed the 1,000-yard plateau with 1,053 yards. He added five touchdowns and earned Pro Bowl and All-Pro honors.  
Travis Kelce established as one of best tight ends in NFL
Travis Kelce has established himself as one of the best tight ends in the NFL over the last seven seasons. Like Kittle, Kelce had a slow start his first season, mainly because he only played in one contest. Since then, Kelce has been a dual-threat catching passes as well as scoring touchdowns. 
Since earning his first trip to the Pro Bowl in 2015, Kelce has been named to the team each of the last four seasons. In 2016, Kelce added an All-Pro honor to his credit as he caught 85 passes for 1,125 yards and four touchdowns.
After another Pro Bowl year in 2017, Kelce replicated his 2016 effort earning Pro Bowl and All-Pro honors in 2018 and was the beneficiary of a young and unproven quarterback named Patrick Mahomes. Kelce became a favorite target of the young quarterback to the tune of an impressive 103 catches. He scored a career-best 10 touchdowns that season and set an NFL-record in yards gained with 1,336, only to be surpassed by Kelce just hours later. 
Kelce had another Pro Bowl year in 2019, when he hauled in 97 completions for 1,229 yards with five touchdowns. He was also a big reason the Kansas City Chiefs defeated Kittle's 49ers in the Super Bowl.
What is George Kittle's net worth? 
When the San Francisco 49ers signed George Kittle in 2017, the team agreed to a three-year contract worth $2.13 million. With his unprecedented production levels, Kittle was inline for a huge payday. 
That payday finally came as Kittle signed a five-year contract extension worth $75 million. Of the $75 million, more than half of it is made up of guarantees, with $30 million guaranteed at signing, and $18 million in a signing bonus. His average annual salary is around $15 million.
Before the new numbers are crunched and included, George Kittle has a net worth of less than $5 million. That will clearly change now with the new deal.
What is Travis Kelce's net worth? 
In 2013, the Kansas City Chiefs signed Travis Kelce to a four-year, $3.12 million rookie contract that included a signing bonus of $703,304. Kelce signed a five-year extension in 2016 worth $46 million, which averaged out to $9.53 million per season.
With teams handing out new deals to tight ends, one of the game's best jumped into the mix today when the Chiefs announced they agreed to a four-year, $57 million extension with Kelce, which averages out to $14.25 million per year in new money. 
Again, prior to the new numbers, Travis Kelce has a reported net worth of $20 million.
All statistics courtesy of Pro Football Reference. All salary figures courtesy of Spotrac.