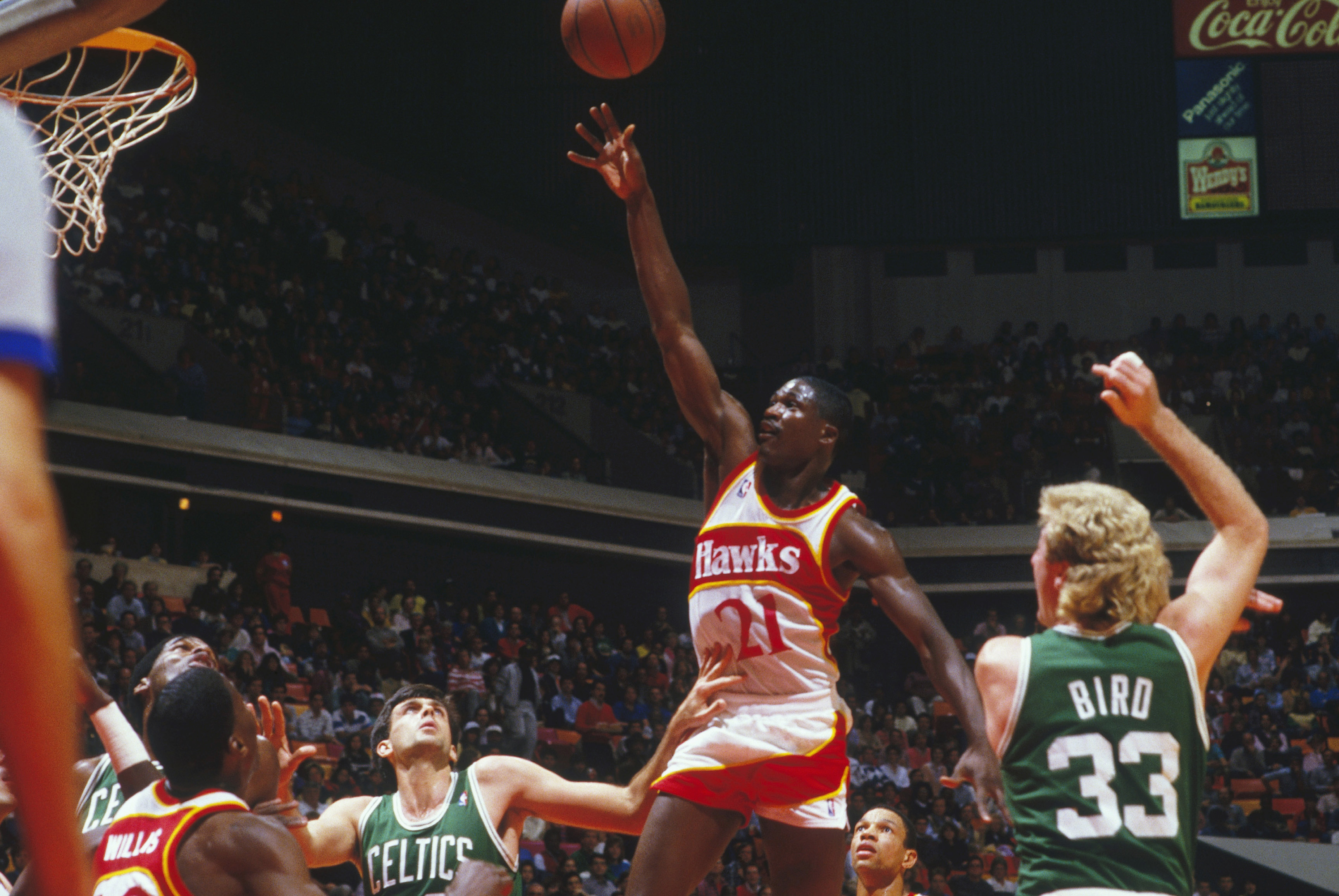 Dominique Wilkins Recalls Paying His Dues Against Larry Bird As a Rookie With the Atlanta Hawks
Dominique Wilkins said he had to pay his dues as a rookie when he faced Larry Bird and the Boston Celtics.
Dominique Wilkins remembers being "pissed" when he squared off against Larry Bird when Wilkins was a rookie with the Atlanta Hawks. He wasn't upset that Bird refused to shake his hand before the game. He wasn't mad that Bird torched him in an ugly welcome-to-the-NBA moment. Wilkins wasn't happy with how Bird addressed him.
Bird was simply being his trash-talking self. Wilkins understands now what it was all about. He knew he had to pay his dues as a young player in the NBA, and it all paid off.
Dominique Wilkins and Larry Bird had an epic showdown in the 1988 postseason
The Boston Celtics sought their fifth straight NBA Finals appearance in 1988. After knocking off the New York Knicks in the opening round, they squared off against Wilkins and the Hawks in the conference semifinals. The Hawks went into Boston for Game 5 and stole a victory, taking a 3-2 series lead back to Atlanta to close things out.
Bird and the Celtics, however, eked out a 102-100 win in Game 6, setting up what turned out to be one of the biggest showdowns between two stars in NBA history. In an epic Game 7, Wilkins did all he could to keep the Hawks in the game by hitting 19 of 23 shots from the floor and pouring in 47 points.
Bird countered with 34 points. He scored 20 of them in a frantic fourth quarter as the Celtics pulled out a 118-116 victory. Bird later said that game goes down as one of the best games to ever take place in the NBA.
"I think I can safely say that, considering the stakes, the seventh game against Atlanta in 1988 was one of the greatest games ever played in the history of the league," Bird wrote in his book Drive: The Story of My Life. "That's a big statement, but I think I can back it up.
"There were only 42 possible defensive rebounds in the entire game. Why? because we shot 60 percent from the floor, and the Hawks shot 57 percent. There were only 15 turnovers between us. In the fourth quarter, each team scored on 17 of 22 possessions."
Wilkins recently recalled paying his dues against Bird
Wilkins recently called his first NBA meeting againt Bird "shocking." During an interview with DJ Vlad on VladTV, Wilkins recalled the initial matchup with the Celtics legend.
"I'm a rookie," he said, "and we small forwards guarded each other back then. You couldn't duck each other. I go to shake his hand, and he put both hands behind his back. I'm saying, 'OK, he's getting his head ready to play.'
"First play of the game, he says, 'I don't know why they got you guarding me, Homes. And he shoots a three. I was pissed. I wasn't mad he hit a three, but did this son of a b**** just call me Homes?
"It set up for a really interesting game because I remember one time I came down and dunked on him. He's laying on the ground — he fouled me — and I'm pointing. He said, 'Hey, rook, I like you. You got (nerve), but I'm still gonna get 30 on your ass.
"He got about 38, but I had to pay my dues. I wasn't upset about that because back then, as a rookie, you gotta pay your dues, simple as that.
"One thing about Larry, he knew who he could get to. My first year when he said that, that was the last time he ever said anything like that to me. One thing he knew is that I was gonna keep coming no matter what. We had a mutual respect. I had a lot of respect for Larry, and I wouldn't take back the years I competed against him. What an unbelieveable player. He backed up whatever he said."