Donovan Mitchell Had to Become a New York Mets Fan for a Surprising Reason
Many young sports fans get their rooting allegiances from their dad. In this way, Utah Jazz star Donovan Mitchell is similar to a lot of us who share a favorite team with our father.
There is one big difference between how Mitchell became a New York Mets fan and how most fans come to a team. Donovan Mitchell's father wasn't just a Mets fan. He was and still is, involved with the team in a much deeper way than most people know.
Donovan Mitchell is an NBA superstar and a big baseball fan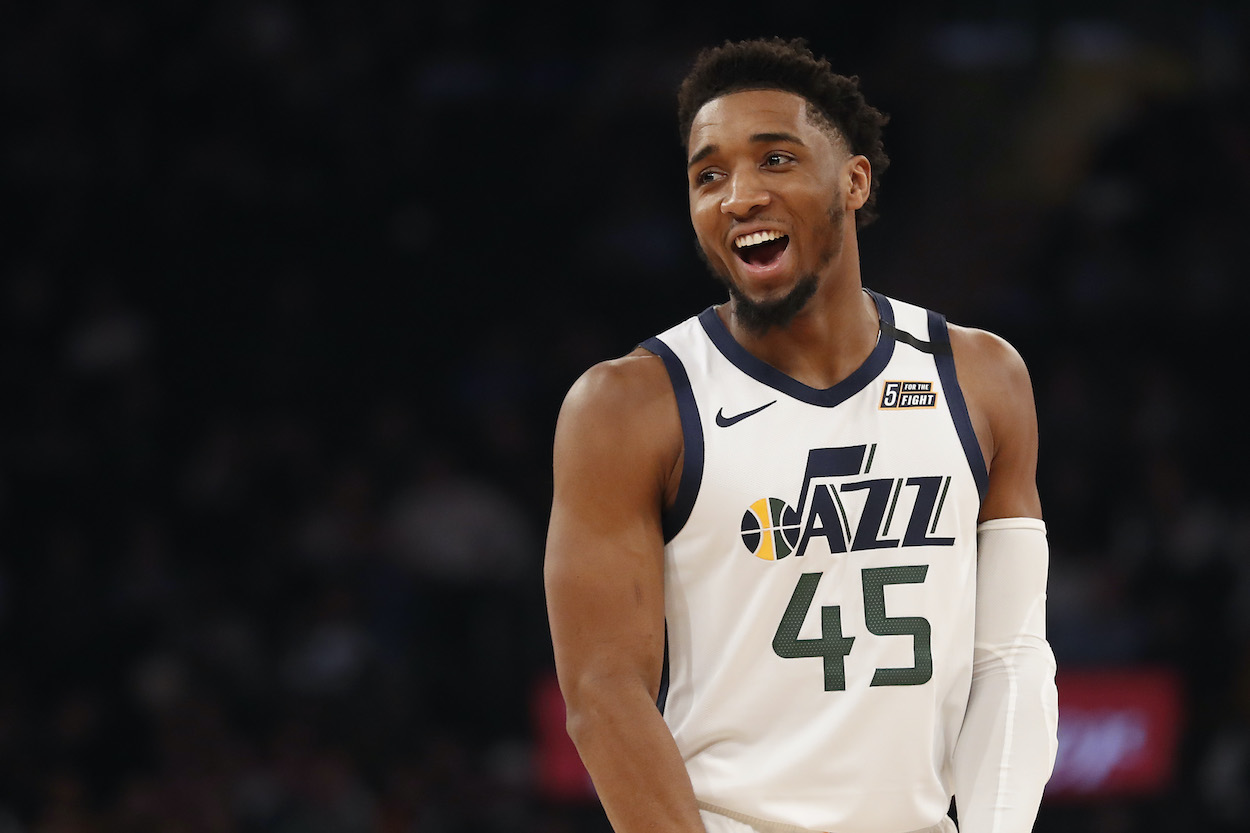 Mitchell is a somewhat unlikely NBA superstar. At the University of Louisville, he only started five games his freshman year before cracking the starting lineup as a sophomore. In his college career, the 6'3" guard only averaged 11.7 points, 2.2 assists, 4.1 rebounds, and 1.5 steals as a Cardinal.
Even without the mind-blowing stats, his athleticism and potential did draw the interest of NBA scouts. The Utah Jazz believed in this potential enough to make him the No. 13 pick of the 2017 NBA draft.
Mitchell rewarded the Jazz by blossoming into an All-Rookie first-teamer and a two-time NBA All-Star. He is now the Jazz's leader, and, in 2021, the team finished in 1st place in the Western Conference. Mitchell averages 23.4 points for his NBA career as well as 5.2 assists, 4.4 rebounds, and 1.2 steals.
While basketball is his primary focus, Mitchell is very vocal about his Mets fandom. The young star has even worn Mets jerseys on his way into games on multiple occasions.
Donovan Mitchell is a New York Mets fan because his dad is a team executive
Donovan Mitchell Sr. attended the University of North Carolina at Charlotte, where he was a star baseball player. The middle infielder and outfielder was talented enough that the Houston Astros selected him in the 14th round of the 1992 MLB draft.
Mitchell Sr. played seven seasons in the Astros farm system, making it as high as AAA. The future NBA star father's career .275 batting average and 259 RBI weren't enough to ever get him to the Big Show.
After retiring from playing baseball in 1998, according to his LinkedIn profile, Mitchell Sr. took a job as a coach and eventually a manager in the New York Mets organization. In 2011, Mitchell moved into the front office, where he has held the positions of Manager and then Director of Player Relations and Community Outreach and Director of Diversity, Equity & Inclusion, the title he holds today.
With a father who drew a paycheck from the Mets for almost his entire life, the younger Mitchell had no choice but to support the Queens franchise.
Mitchell still finds time to tweet about the Mets even though the Utah Jazz are facing the Memphis Grizzlies in a tough playoff series
As the No. 1 seed in the Western Conference, the Jazz are currently facing the Memphis Grizzlies in the first round. Mitchell missed Game 1, his 17th consecutive game on the bench with an ankle injury, and the Jazz lost 112-109.
The Jazz's Mr. Met returned for Game 2 of the series and helped Utah cruised to a 141-129 win. Mitchell only played 25 minutes in the game as he worked his way back from the injury. In that relatively short amount of time, he still put up 25 points to help even the series.
Although locked in a tough playoff battle, Mitchell still finds time for his dad's team. On May 25, between Game 1 and Game 2, the Citi Field regular took the time to tweet a welcome back message to another player returning from injury, Mets pitcher Jacob deGrom.
All stats courtesy of Basketball Reference and Baseball Reference
RELATED: Without Donovan Mitchell, the Utah Jazz Could Face a Historic Upset