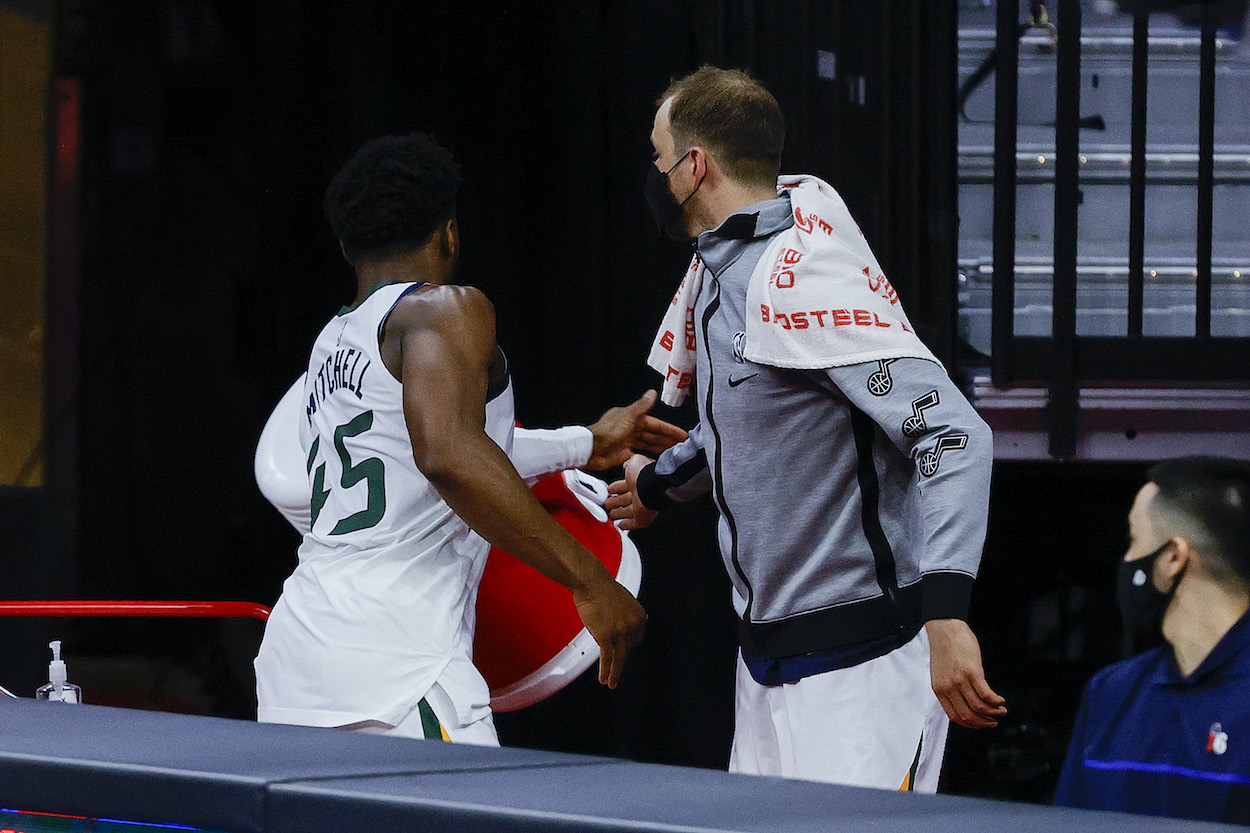 Donovan Mitchell Throws Epic Temper Tantrum, Blames Refs After Getting Ejected and Losing to 1 of His Biggest Rivals
Donovan Mitchell isn't used to losing this year, so when the Jazz fell to the 76ers on Wednesday night he simply couldn't handle it.
Donovan Mitchell isn't used to losing basketball games this year. The Utah Jazz are a league-best 27-9 nearly halfway through the season and hold the No. 1 seed in the Western Conference. So, when the Jazz fell to the Philadelphia 76ers in overtime Wednesday night for their second straight loss, Mitchell had to find someone else to blame.
After throwing a temper tantrum on the court, getting ejected from the game when his team needed him most, and angrily tossing a water cooler that hit a security guard, Mitchell proceeded to blame the referees for the loss.
Donovan Mitchell throws epic temper tantrum after getting ejected
If you didn't catch the Jazz's Wednesday night tussle against the 76ers, you missed a doozy. With time winding down in the fourth quarter, Joel Embiid drained a miracle 3-pointer over the contested arms of Bojan Bogdanovic to tie the game and send it to overtime.
That's where things got interesting.
After a shooting foul was called on Rudy Gobert in the overtime period, Mitchell lashed out at the referees and picked up a technical foul. Embiid trolled him with a playful technical foul symbol as Mitchell walked away to compose himself.
Soon after, Mitchell missed two straight 3-point attempts that would've made it a two-point game, and he decided he had enough. On the ensuing Sixers possession, Mitchell continued to jaw at the refs and picked up his second technical foul of the overtime period. He was ejected from the game after all but handing the win to Philadelphia.
But Mitchell wasn't done.
On his way off the court, the All-Star tossed a water cooler in disgust, hitting a nearby security guard who was just minding his own business. Mitchell reached over and apologized before heading into the locker room.
Donovan Mitchell blames the referees after loss
Apparently, Donovan Mitchell didn't get all of his frustration out on the water cooler, so when he was asked about the loss in his postgame press conference, Mitchell pointed the finger toward the refs.
"It's tough to go out there and see how we fight and compete, and to have a game like that taken from us," Mitchell told reporters after the game. "And I'm never, ever one to blame a ref, to blame an official … But this is getting out of hand.
"The fact that we're just continually get screwed, in a way, by this. We won this game, in my personal opinion … It's getting f—— ridiculous."
You're right, Donovan. Forget about your 35% shooting in the game or the two technicals you picked up while the game was still very much in reach. It was the refs.
Donovan Mitchell doesn't enjoy playing against Joel Embiid
It's not easy to play against Joel Embiid. For starters, he's playing at an MVP level this season, averaging 30.2 points and 11.6 rebounds per game. But where Embiid really excels is in the mental game. If he notices you cracking on the court, he's going to troll you until you reach your breaking point.
Donovan Mitchell just happens to be one of his prime targets.
Back in 2017, Embiid got in Mitchell's head again when he blocked his layup attempt and stared him down on the floor. Mitchell didn't appreciate the showboating, so he jumped up and shoved Embiid to the floor, earning himself a technical foul.
This time around, Embiid forced him into not one, but two technical fouls and an ejection. He even continued the fun on Twitter after the game.
The next meeting between these two will be appointment television.