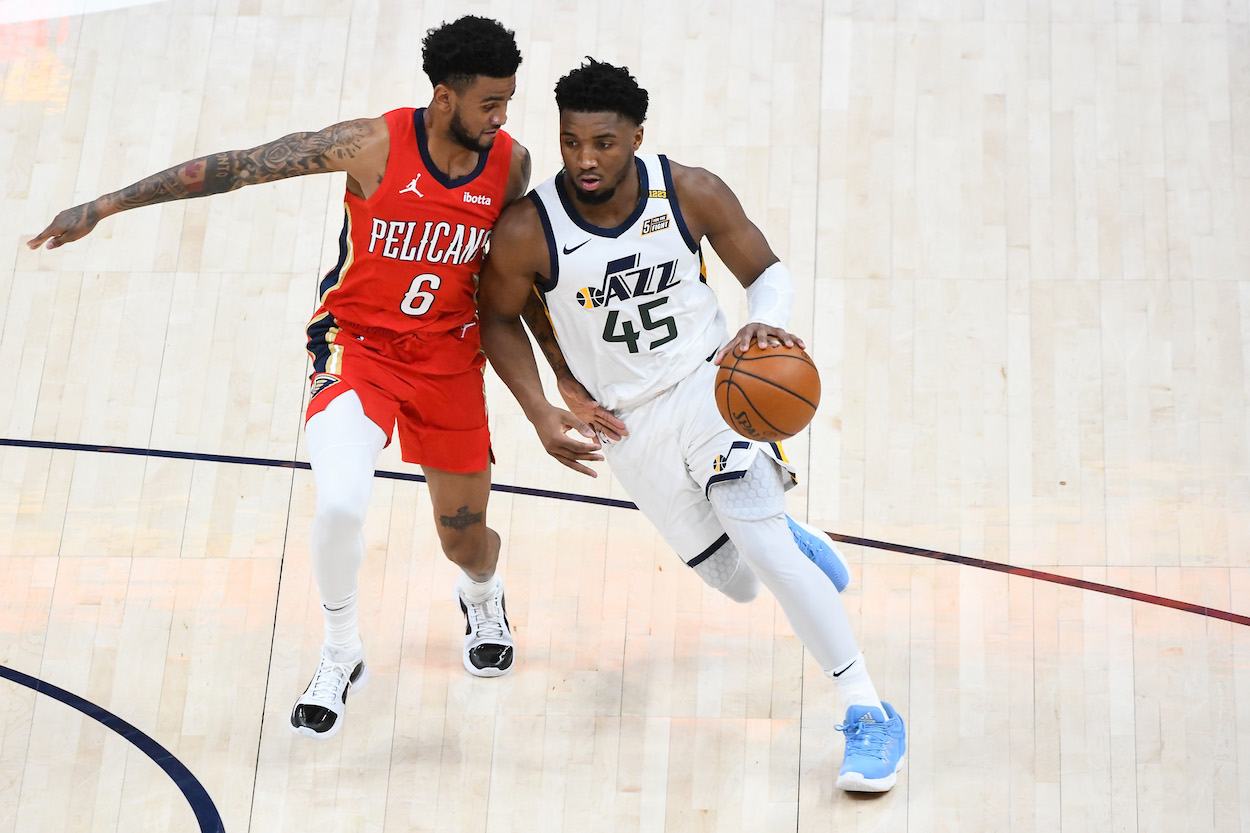 Shaquille O'Neal and TNT Crew Put Donovan Mitchell on Blast and All-Star Guard Responds in Extremely Uncomfortable Interview
Donovan Mitchell earned his first All-Star bid last season but according to the TNT crew on Inside the NBA, he's not a leader. Shaquille O'Neal told Mitchell to his face in an uncomfortable exchange.
Since Donovan Mitchell made his NBA debut in 2017, he's been quite impressive with the Utah Jazz. His points per game average has increased each season, and overall, he's averaging better than 22 points per game. He received his first NBA All-Star nomination last season.
Despite the undeniable success early in his career, Mitchell has his doubters. On Thursday night at halftime of the Jazz-Pelicans game, Shaquille O'Neal and Charles Barkley threw serious shade at the 24-year-old guard questioning his ability to lead the Jazz to anything beyond reaching the playoffs. Mitchell responded later in an extremely uncomfortable post-game interview.  
Donovan Mitchell is one of the top NBA scorers
After two seasons at Louisville, the Denver Nuggets selected Donovan Mitchell with the No. 13 overall pick of the 2017 NBA draft and then promptly traded him to the Utah Jazz. Mitchell made a good first impression his rookie year, averaging 20.5 points per contest and helping the Jazz to the Western Conference semifinals. He earned NBA All-Rookie First Team honors.
During his sophomore season, Mitchell continued to improve and his scoring increased to 23.8 points per game. The Jazz, however, were eliminated in the first round of the playoffs. 
Last season, despite the pandemic dramatically altering the season schedule and play returning in the NBA bubble, Donovan Mitchell's career trajectory continued upward. He finished the season averaging 24 points per contest and made his first All-Star game. Once again, the Jazz bowed out in the first round of the playoffs losing 4-3 in a hard-fought series against the Denver Nuggets.
Shaquille O'Neal and Charles Barkley call out Jazz guard
Early in the 2020-21 season, Donovan Mitchell's offensive production numbers are still ascending. In 15 games, Mitchell is averaging a career-best 24.3 points per game. While his offensive output has never been in question, the crew of TNT's Inside the NBA placed a big question mark on the rest of his game Thursday night.
Kenny Smith opened the discussion, asking if Donovan Mitchell was just an All-Star or a superstar capable of taking his team to the next level and contention for a title. Not surprisingly, Charles Barkley, Shaquille O'Neal, and even Ernie Johnson weighed in.
"He needs to be the second or third option," O'Neal suggested. "He has enough talent to do it." Smith interjected, "I'm seeing that he scores at will, and I'm seeing he's overpowering people." Barkley jumped in, "That's not what a superstar is. A superstar's a guy who can win the game multiple ways.
"A lot of guys are great offensive players, but a superstar's a guy who can win a game; if he's having a bad shooting night, he can get a lot of rebounds or he can play defense… When guys try to explain this type stuff, it seems like it's old guys hating. It's not old guys hating. It's like, 'OK, he's a great scorer.' I will give you that, but he makes zero impact on the rest of the game."
"He's a great scorer, I agree with that," O'Neal responded. "But if he's not scoring, what else can he do?"
As the segment closed, Johnson joined in and offered some less-than-impressive numbers on Donovan Mitchell and his career. "I'll leave you with this. In his career, one double-digit rebound game, one double-digit assist game."
"That's not going to get it done," Barkley admitted. 
Shaquille O'Neal calls out Donovan Mitchell to his face
Following the game, a 129-118 win by Utah and the club's seventh consecutive, Donovan Mitchell, who scored a season-high 36 points, had what can only be described as a very awkward postgame interview where O'Neal called him out directly to his face.
"I said tonight that you are one of my favorite players but you don't have what it takes to get to the next level," the Hall of Famer said. "I said it on purpose because I wanted you to hear it. What do you have to say about that?"
"Alright. That's it," Mitchell curtly replied. After O'Neal acted surprise and questioned if that really was all he had to say, Mitchell continued. "Shaq, I've been hearing that since my rookie year. I'm just going to get better, do what I do."
While O'Neal framed his question as a way to inspire Donovan Mitchell, it didn't appear to connect with the fourth-year player, but instead agitated him. Whether that translates into improved production outside of scoring and overall leadership that takes the Jazz to the next level remains to be seen. 
Like Sportscasting on Facebook. Follow us on Twitter @sportscasting19.