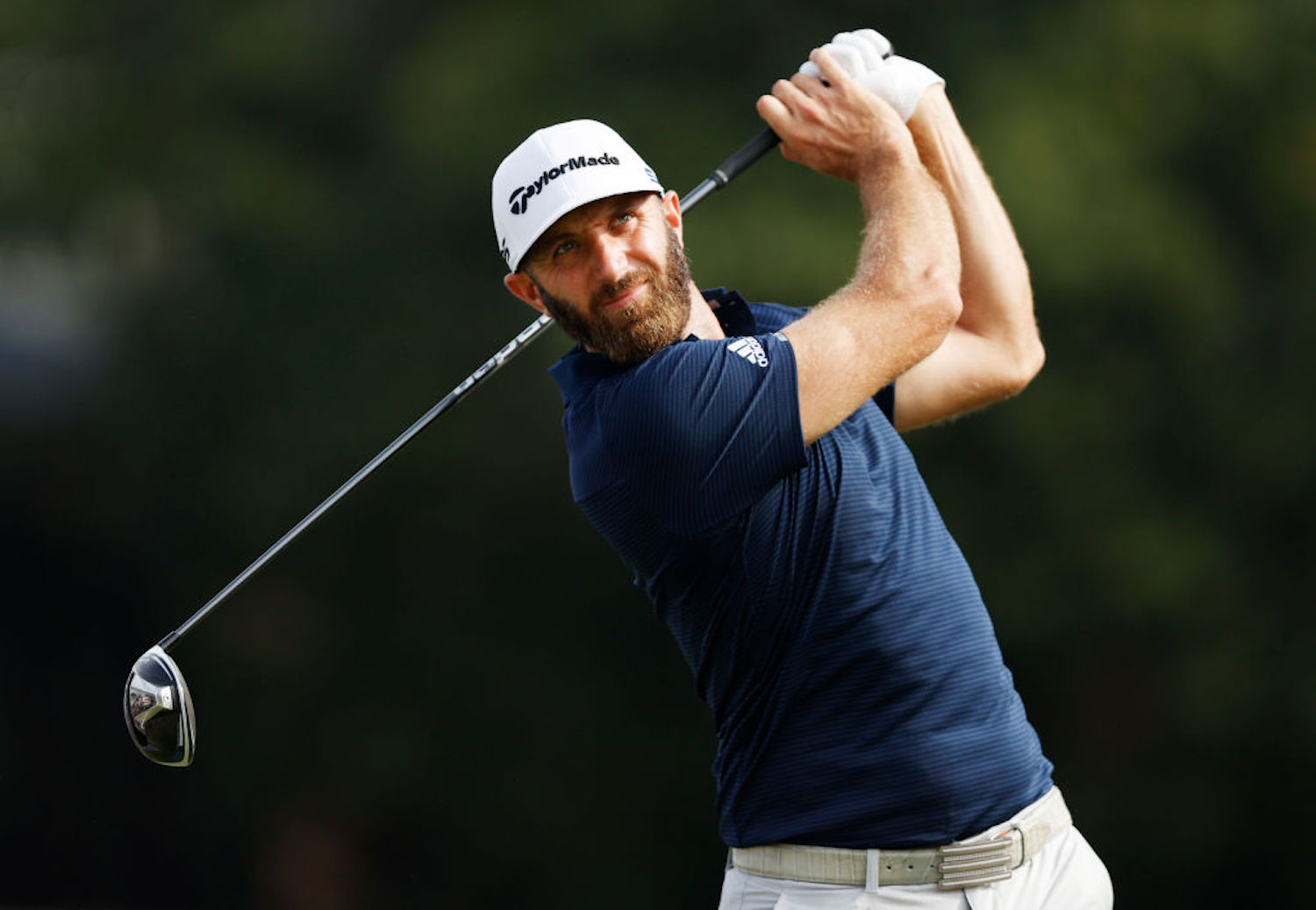 Dustin Johnson Just Sent a Terrifying Message to the Rest of the PGA Tour Ahead of The Masters
Dustin Johnson missed two weeks recovering from COVID-19, but he just proved he's still the best player on the PGA Tour.
Dustin Johnson's 2020 Masters campaign took a scary turn when the No. 1 ranked player in the world tested positive for COVID-19 in October. Johnson spent nearly two weeks quarantining in a hotel room before he was able to return to the course for the Vivint Houston Open this weekend.
Despite missing precious practice time recovering from the virus, Johnson breezed to an 11-under tournament and a second-place finish in his first start since quarantining. With The Masters coming up next weekend, Johnson fired a warning shot to the rest of the PGA Tour ahead of his return to Augusta National.
Dustin Johnson just recovered from COVID-19
The golf community received some stunning news when World No. 1 Dustin Johnson announced he tested positive for COVID-19 in mid-October. The PGA Tour didn't have any major blows relating to the virus before the news, so Johnson was by far the highest-profile player to test positive.
Johnson immediately quarantined in a hotel room and remained isolated for 11 days. He wasn't allowed to play on Tour or even practice while he was sick.
With The Masters less than a month away, Johnson feared he wouldn't be able to play in the major tournament this year. But, thankfully for him, he was able to recover in time to play in the Vivint Houston Open this weekend.
Johnson looked like his normal self in Houston
Golf fans wondered what Johnson would look like after missing nearly two weeks of practice due to COVID-19. He entered the Vivint Houston Open after missing a month and a half of competition on the PGA Tour.
Johnson last played a competitive round on Sept. 20 at the U.S. Open. He shot a final-round 70 to finish T-6 at the first major of the season.
Most players would be rusty returning to PGA Tour competition after a month and a half away from the sport, but not Johnson. He started the Vivint Houston Open with an up-and-down 72, but he found his groove from there. Johnson rattled off two straight four-under rounds of 66, and he capped off the tournament with a five-under 65.
The World. No. 1 fell short of a win by two strokes, but he still finished T-2 in his first PGA Tour event since September.
Johnson sends a terrifying message to the rest of the PGA Tour
If a rusty DJ who just recovered from COVID-19 is that dominant, how good is he going to be at The Masters with a full week of preparation?
Johnson doesn't have a win at The Masters yet, but he has a great track record at Augusta National Golf Club. The World. No. 1 has finished inside the top 10 in four consecutive appearances at The Masters. He's 29-under par during that span.
Johnson finished in solo second place behind Tiger Woods last year at Augusta National. With the way he's been playing this year, he should be the odds-on favorite to button up his first green jacket next Sunday.
If the rest of the PGA Tour thought he wouldn't be a factor this year because of his whirlwind of a past few weeks, they should think again.