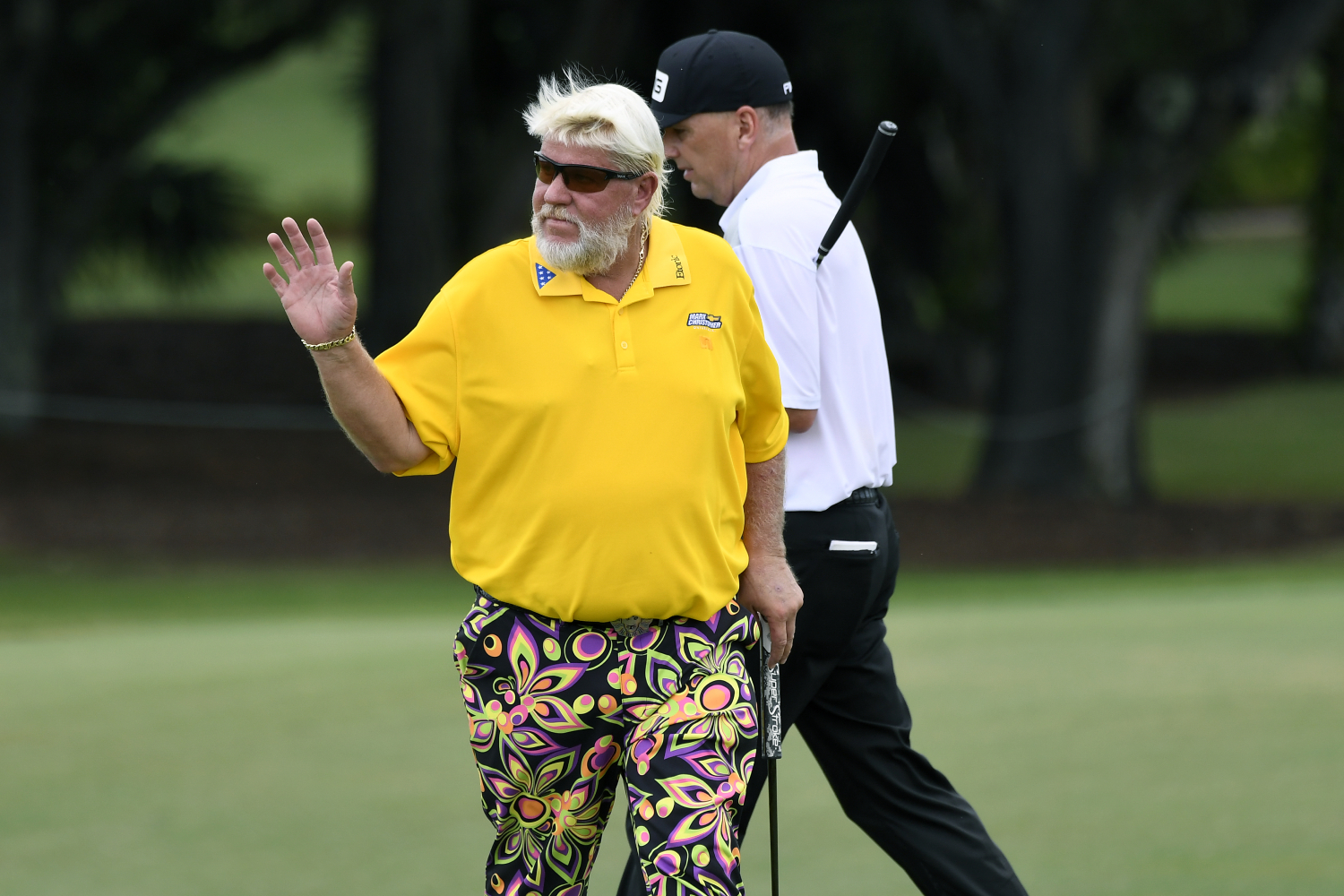 New-Look John Daly Gives Quick Update on His Bladder Cancer
Pro golfer John Daly has a new look but maintains his sense of humor. He gave a quick update on his fight against bladder cancer.
The good news is professional golfer John Daly is still out there taking his hacks on the golf course. The bad news is he's feeling tired and expects a long road of chemotherapy ahead of him. Daly, one of the most popular golfers, announced in early September that he's been diagnosed with bladder cancer. Despite the grim diagnosis, Daly's out there sporting a new look and recently game a quick update on what's going on with his treatment.
John Daly announced he had bladder cancer in September
In early September, John Daly told The Golf Channel he had bladder cancer. He said he had an issue with some kidney stones and back pain and went to see a urologist. The urologist told him there weren't any stones but offered him some tough news.
"(The urologist said) it doesn't look like any stones are in there. But unfortunately, you have bladder cancer," Daly said in September. "After I did the CT (scan) I was fixing to sip on my Diet Coke and he said, 'Don't drink anything. We have to get you back in here and get this cancer out of you.'"
Daly had the procedure to remove the cancer but was told it was very likely to return. "He said there's an 85 percent chance it comes back," he said. "So I've got to go back and see him in three months. They will probably have to cut it out again. It's probably going to come back, and then another three months that you don't know. You just don't know."
Daly has continued to play golf
Despite his bladder cancer diagnosis, John Daly continues to play golf. He's still the same personable guy who wears the flashy outfits. He played in last weekend's TimberTech Championship and was a co-leader with Jim Furyk after the opening round. He wound up finishing the tournament tied for 26th.
Daly maintained his sense of humor, speaking about his multi-colored pants and the bright yellow shirt he wore during Friday's round. His fiance, Anna Cladakis, wore a matching outfit. "That way I can find her," he said to Golf Week.
Daly shot an 8-under 64 that day, taking the lead into the second day of the tournament. Daly was on fire in that first round, but golf in 2020 is a lot different and there were no fans to witness it. The coronavirus (COVID-19) has kept the fans away from the course. "It would have been crazy out here if we had a lot of fans," he said.
Daly gives a brief update on how he's coping
Daly is using a cart and said he's always tired. He said he's trying to drink and eat properly, but "it's hard to take Diet Coke away from me," he said to reporters after Round 1 of the TimberTech Championship. He also said he was proud of the fact he only smoked six cigarettes during the round. "Usually I smoke a pack and a half but hell, who knows. Can't quit instantly."
Daly, who said his next chemo treatment is in a month, has been growing a beard that hasn't been trimmed since he was diagnosed with the bladder cancer two months ago. "If it gets too bad, I might have to trim a little bit, but I'm going to keep it," he said. "It may be down to the ground before this thing gets over with but that means I'm still living."
He said his first chemo treatment was tough. "The only positive is this cancer is treatable, but I'm probably looking at chemo for the next five to seven years," Daly said. "The first chemo kicked my butt. I'm just praying maybe they got it. Everything I love to eat and drink causes the stones that causes the cancer. Alcohol. Beef. Milk. Diet drinks. I've tried to cut back on the smokes. Thank God I don't like energy drinks because they're the worst."