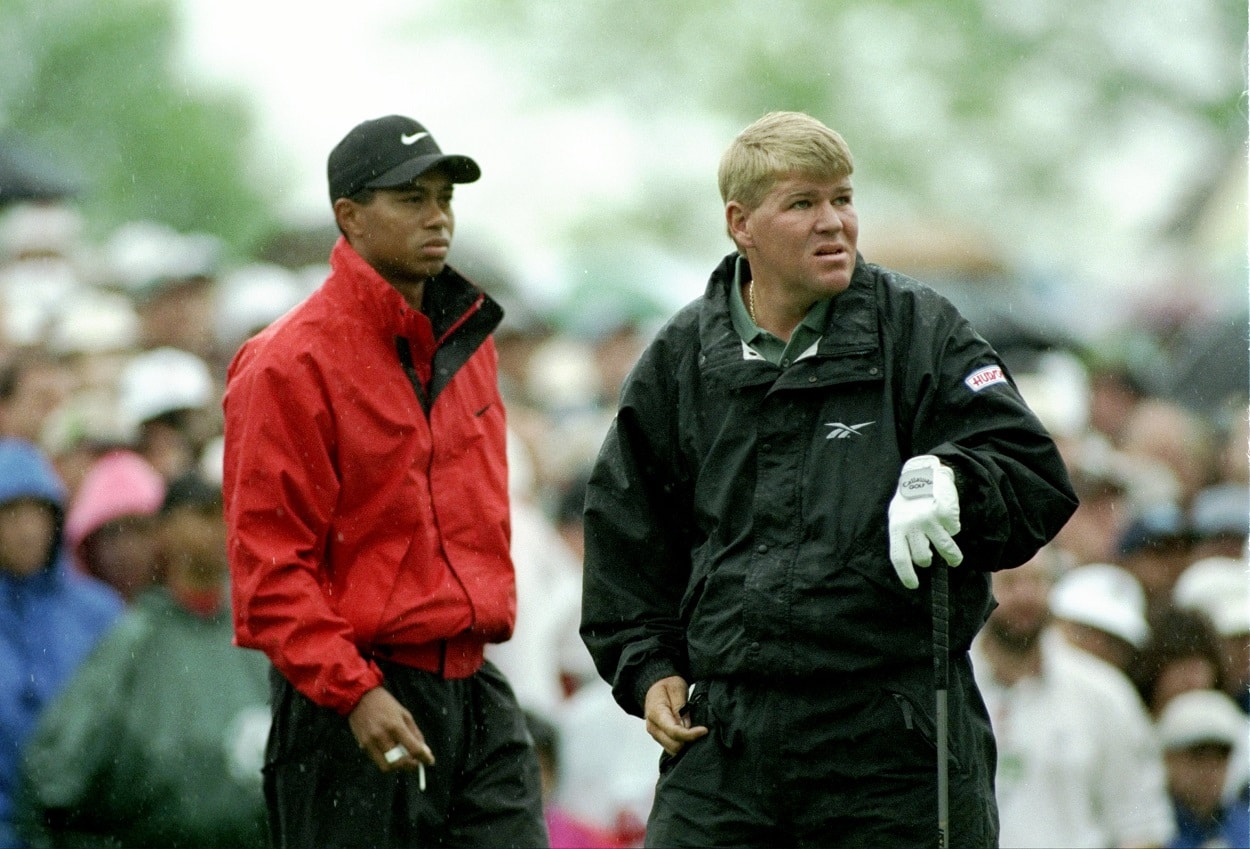 How John Daly Once 'Freaked Out' a 13-Year-Old Tiger Woods
John Daly once revealed that he "freaked out" 13-year-old Tiger Woods the first time the two met at a youth event back in 1989.
Years before Tiger Woods began hitting bombs on the PGA Tour, there was John Daly, the owner of a once-amazing mullet that broke onto the scene with a surprise win at the 1991 PGA Championship as an alternate, the first of two major championship victories. Nearly six years later, 21-year-old Tiger would win his first major championship in record-breaking fashion at the famed 1997 Masters, the first of 15 major titles.
Tiger Woods and John Daly are two of the biggest draws in PGA Tour history, although perhaps for far different reasons. While both would become stars in the '90s, the two actually met back in 1989 at an event that would produce a fantastic story.
John Daly 'freaked out' 13-year-old Tiger Woods the first time they met
John Daly first met Tiger Woods when the future 15-time major champion was just 13 years old. The two were grouped together at the National Insurance Youth Golf Classic at Texarkana Country Club in Arkansas in 1989.
Daly was 23 years old at the time and still two years away from that breakout win in '91 but was called into the event to replace former PGA Tour player Scott Ogrin. The future two-time major champion was from Arkansas and had a few tour starts to his credit, so it made sense.
Daly once told Golf.com the story of how he met young Tiger, saying he got to know him and his parents and immediately saw that this kid would be a star. But he also told an amazing tale of how he "freaked out" young Tiger with somewhat of a Roy Hobbs moment, showing off his insane strength by literally obliterating a golf ball with a 5-iron.
"The ball came unwound. I think that kind of freaked [Tiger] out. He thought it was the coolest thing he'd ever seen in golf, that's what he told his mom and dad. But I had to get a rules official because it just had the little rubber band sitting there in front of the green. I didn't know what to do, can I play it? But luckily I got to replace the ball. I only beat him by [two] shots that day — he was only like 13."

John Daly on freaking out Tiger Woods the first time they met
And yet that still may not be the best Tiger Woods/John Daly story out there.
The time Tiger Woods turned down a beer from John Daly and paid him the ultimate compliment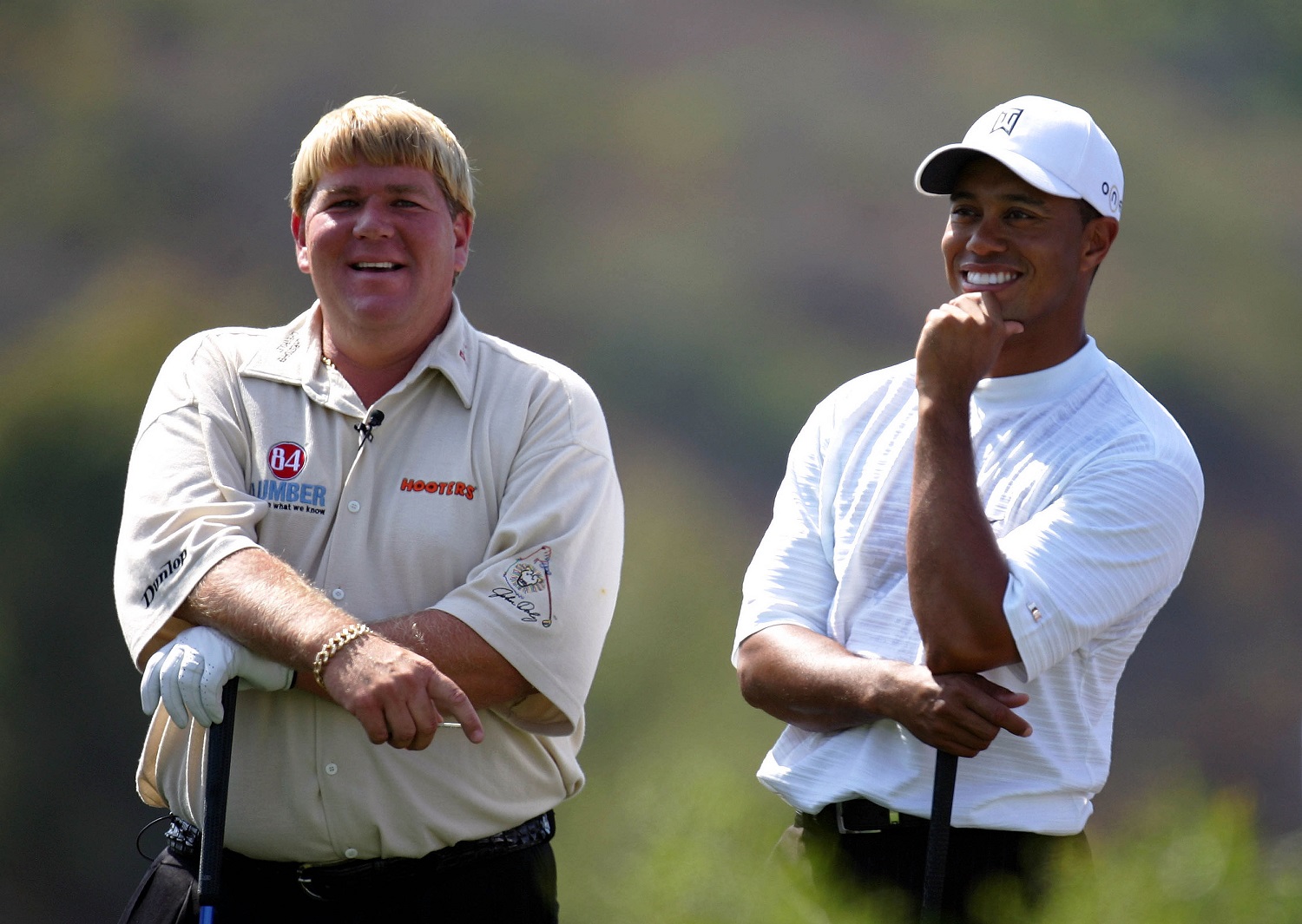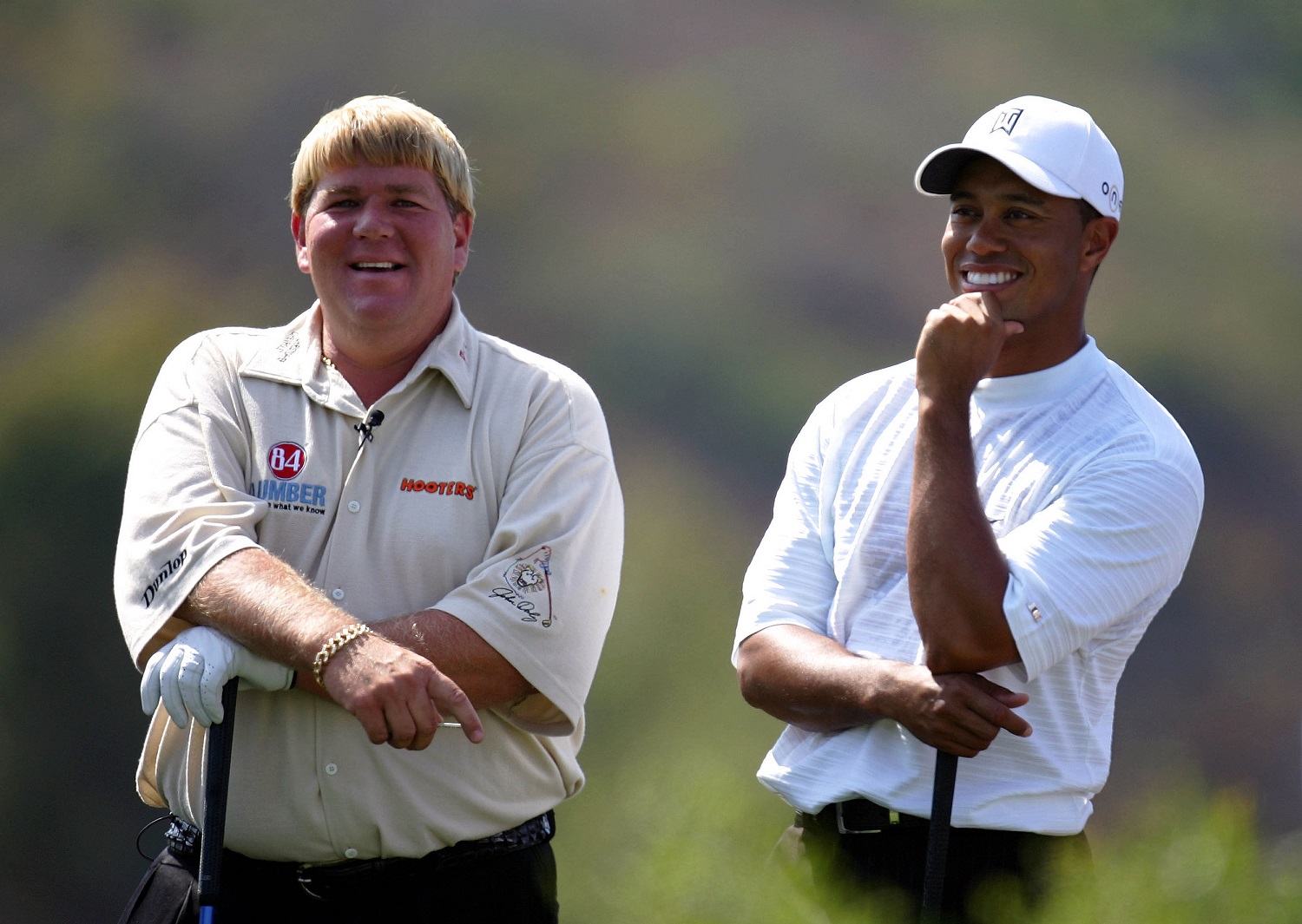 This is the Tiger Woods/John Daly story that most golf fans know, especially since Daly loves telling it, but it's always fun to revisit.
At the 2004 Target World Challenge, the tournament hosted by Tiger to benefit his foundation that's now known as the Hero World Challenge, Daly had finished up his pro-am round on Wednesday and was settling in for a few drinks at the clubhouse. Woods walked by, and Daly asked him if he wanted to sit and have a beer, an offer which Tiger declined as he was on his way to work out. Here's the version of the story that John Daly told Golf Channel.
"Tiger's there in his workout clothes and I said, 'Tiger come have a beer with us, man.'"

John Daly
It was at this point that Tiger Woods told John Daly he needed to hit the gym.
"I go, 'Man, you don't need to work out. You need to drink a little bit with us.'

"He said, 'If I had your talent I'd be doing the same thing you're doing. 'I'm looking at him thinking 'you're crazy, man.'"

John Daly
That's pretty high praise coming from a guy like Tiger Woods. But it's true. John Daly might have had more natural ability than anyone on the PGA Tour in his prime. He was just never able to harness it consistently. Perhaps that's why he had five PGA Tour wins as opposed to Tiger's 82. The two actually did meet in a playoff in 2005 to decide a World Golf Championship event.
The two once battled in a playoff
Less than a year after turning down John Daly's offer to have a few beers, Tiger Woods found himself in a playoff with JD at the 2005 WGC-American Express Championship at San Francisco's Harding Park, which will actually host this year's PGA Championship.
Woods and Daly were both sitting at 10-under after 72 holes and went to a sudden-death playoff to decide a winner. On the first playoff hole, Tiger striped a drive about 350 yards at the par-4 18th, only to watch Daly smoke one about 15 yards past him.
But both made par and moved to the 16th. After watching Woods make his par, Daly had a three-footer to send the playoff to a third extra hole but yanked it left, giving Tiger the win.
Have thoughts on this topic? Keep the conversation rolling in our comments section below.