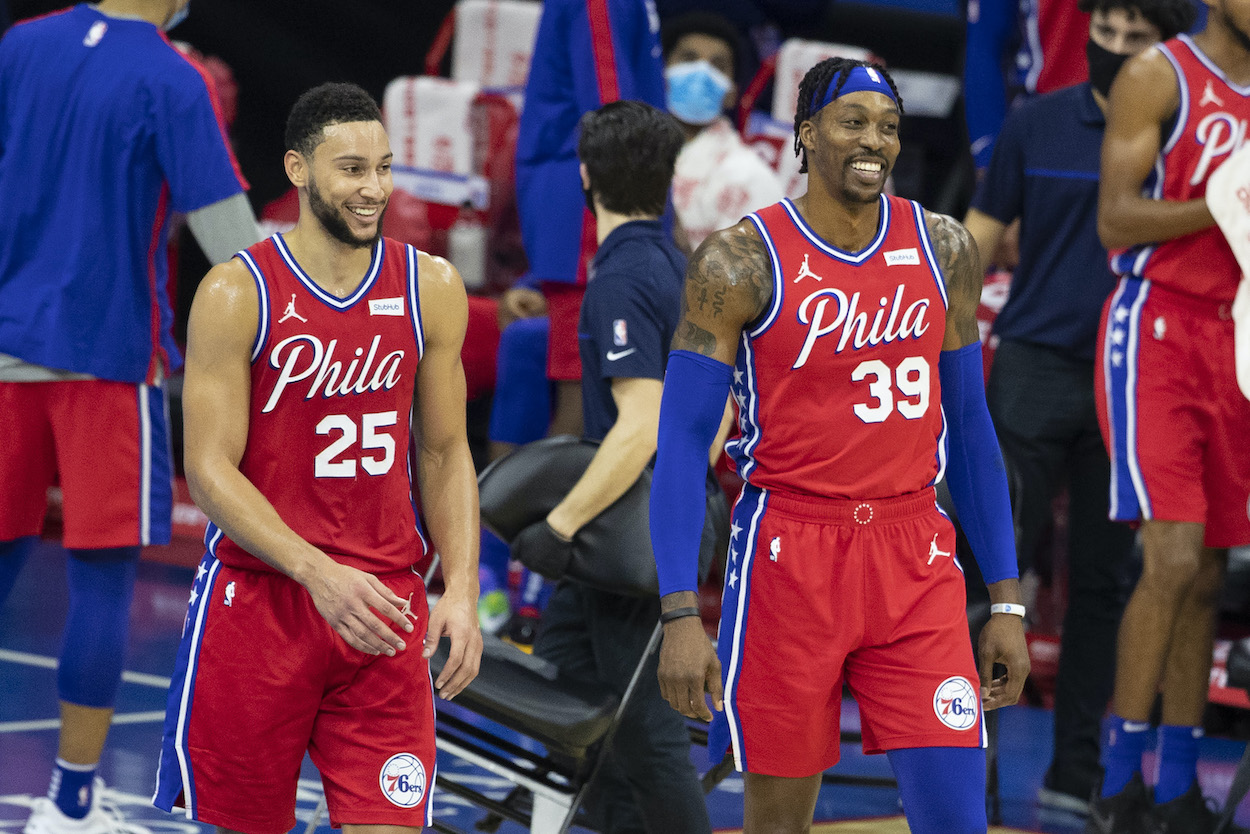 Dwight Howard Fires a Subtle Parting Shot at Ben Simmons on His Way Out the Door With the Sixers
Dwight Howard is leaving the Sixers for the Lakers, but not before trolling Ben Simmons one last time.
Dwight Howard is leaving Philadelphia after just one season with the 76ers. Following the team's disappointing playoff series loss to the Atlanta Hawks, Howard has understandably decided to reunite with LeBron James and chase another championship ring with the Los Angeles Lakers.
On his way out the door, Howard sent a touching message to the Sixers and the city of Philadelphia, but he also threw in a subtle parting shot at Ben Simmons and his free-throw shooting.
Dwight Howard is reuniting with LeBron James after one year with the Sixers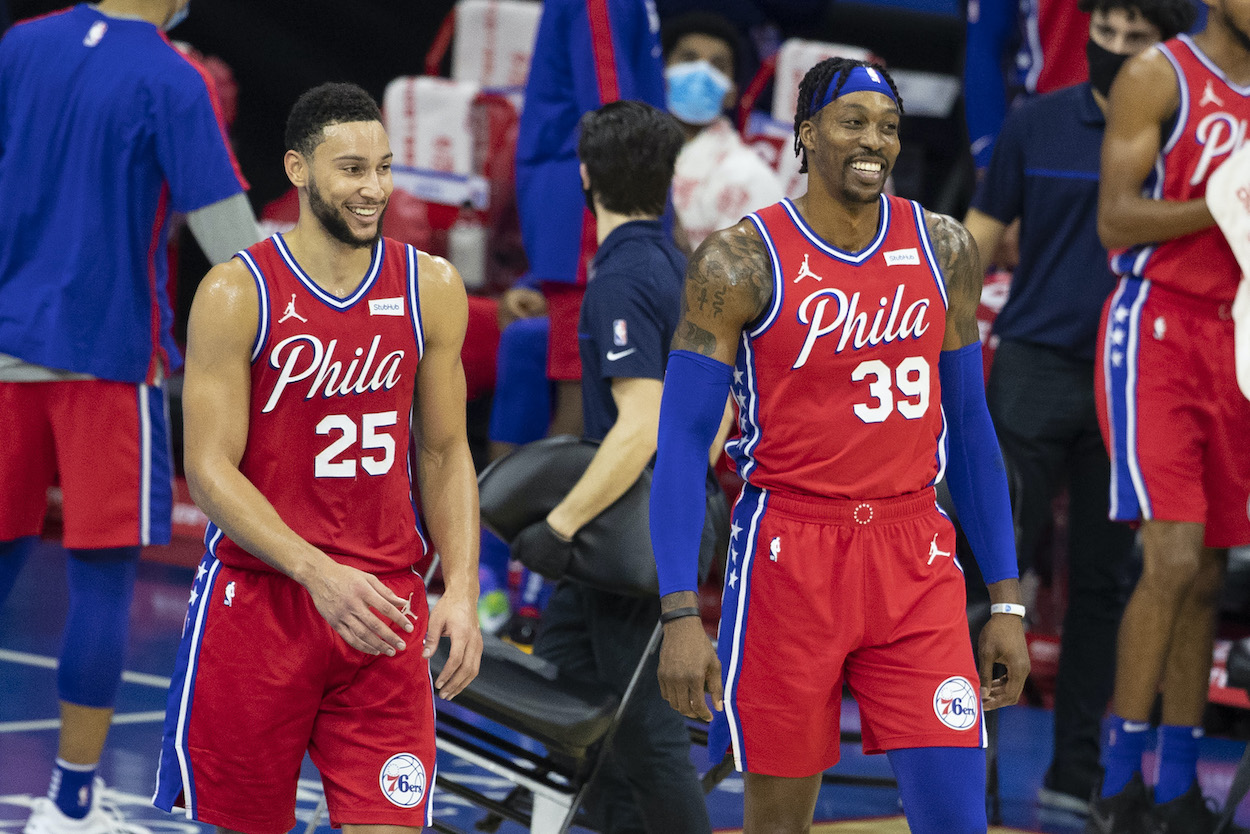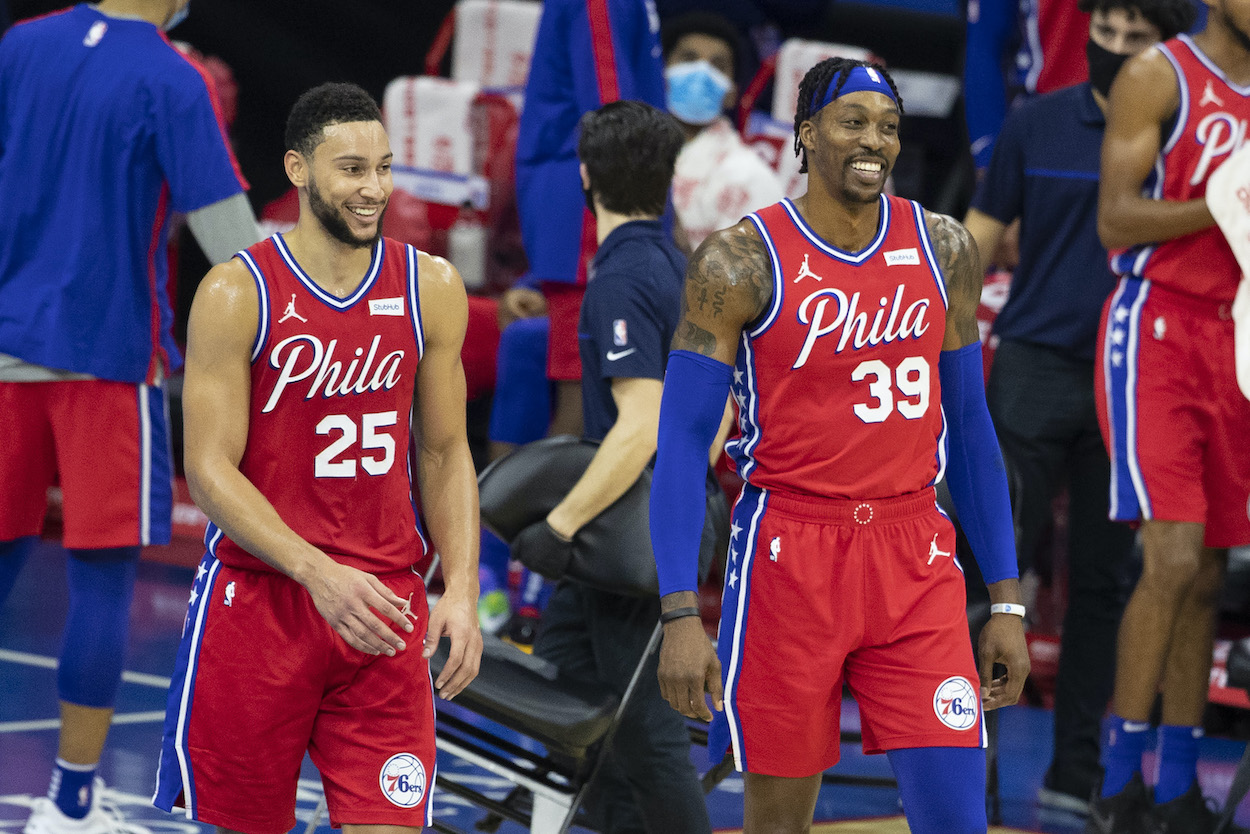 Howard's NBA journey has sure been an interesting one to follow. The 35-year-old center has played for seven different teams throughout his career, and he's now switched teams in each of the last six offseasons.
After winning his first career championship with the Lakers in 2020, Howard signed with the Sixers on a one-year deal. He averaged 7.0 points, 8.4 rebounds, and 0.9 blocks per game off the bench in his lone season in Philadelphia, but he won't be returning to run it back.
On Monday, Adrian Wojnarowski of ESPN reported in a tweet that Howard will be returning to the Lakers to reunite with LeBron James on a one-year, veterans minimum contract.
Howard throws a subtle parting shot at Ben Simmons on his way out the door
Howard surely had a fun time in his one and only season as a Sixer. He loved to engage with the crowd from the bench and root for opposing players to miss two free throws so fans could win a free Wendy's Frosty.
After Howard made his free agency decision to rejoin the Lakers, the NBA veteran sent a touching farewell to the city of Philadelphia via his Instagram. Interestingly, he also took a subtle shot as Simmons' free-throw shooting on his way out of town.
Philly. Philly. Philly. If a picture could describe my experience in Philly this the one. Pure love and joy. I'm sad our time together was short. But I must say I enjoyed every single moment. I am gonna definitely miss Philly and the city and all the fans. Y'all showed me so much love. And it did not go unnoticed. I love you. Thank you to the city of BROTHERLY LOVE. PHILADELPHIA. Imma miss my frosty chants with the crowd. To my brothers. This year we came up short. But we had an amazing season. Thank you to the entire 76er staff. We will always be family.

And Ben. Bend ya kneeeesss #iwantmyparadedammit

Dwight Howard
Hm. That last part seemed a bit unnecessary. Even Simmons' teammates are fed up with his inability to shoot. And if Howard, a career 56.6% free-throw shooter, is making fun of your shooting form, you know you have a real problem.
The Sixers are still holding on to Simmons
Many Sixers fans believed Simmons wouldn't make it past the first few hours of free agency without being shipped to another team. But it's now been three days, and Simmons hasn't gone anywhere.
It hasn't been due of a lack of offers, but Philadelphia seems to have a wildly different valuation of the star point guard than other teams do. President of basketball operations Daryl Morey isn't going to sell Simmons for an underwhelming package just to please the fan base, and he still believes the team can succeed with Simmons on the roster.
It's possible 76ers fans will have to deal with Simmons and his non-bending knees for at least another season.