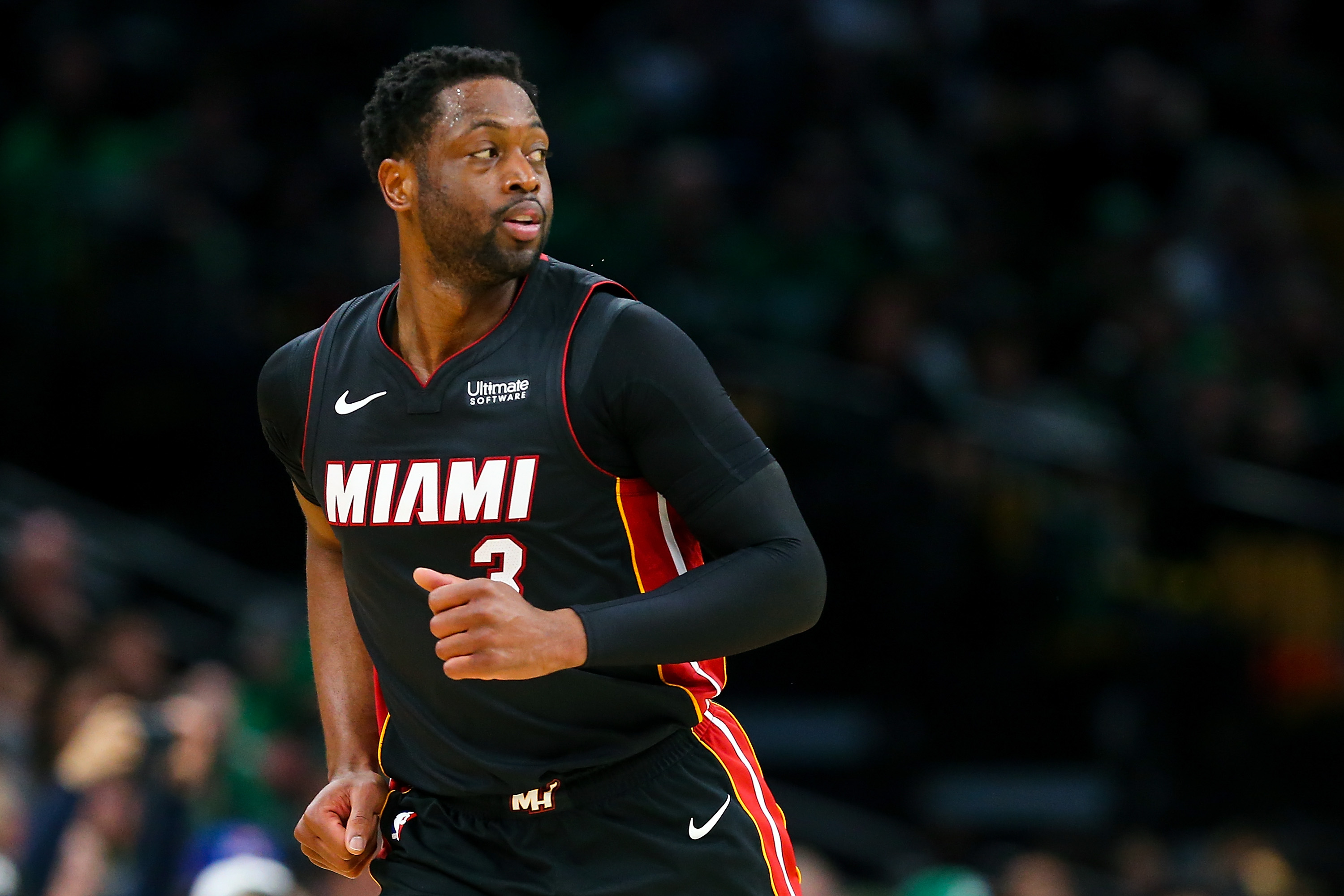 Dwyane Wade Had Close Ties With His Imprisoned Role Model
Former Miami Heat superstar Dwyane Wade had close ties to his imprisoned role model while he was growing up.
Life wasn't always so easy for Dwyane Wade. Wade, who spent 16 years in the NBA and became a three-time champion with the Miami Heat, grew up poor and came from a broken home in Chicago. When he was young, Wade wrote a letter to a prisoner and the two became very close, sparking his journey to greatness.
Dwyane Wade had a Hall-of-Fame career
Dwyane Wade played his college basketball at Marquette and was a first-round pick in the top-heavy 2003 NBA draft. The Miami Heat selected him with the fifth overall pick. LeBron James, Darko Milicic, Carmelo Anthony, and Chris Bosh were taken ahead of him.
Wade finished third in the Rookie of the Year voting behind James and Anthony. He averaged 16.2 points and 4.5 assists in his first season and helped guide the Heat to the second round of the playoffs. For the next seven years, he averaged better than 24 points per game, including a league-high 30.2 during the 2008-09 season.
Wade was a 13-time NBA All-Star, earning the honor for 12 straight years beginning with his second season in the league. He spent 15 seasons with the Heat, winning three championships, and then spent a little time with his hometown Chicago Bulls. He also played 46 games with the Cleveland Cavaliers during the 2017-18 season before being traded back to the Heat to finish his career.
Dwyane Wade gives his father a lot of credit
Dwyane Wade grew up in Chicago playing basketball against players much bigger and stronger than he was. His home life was rough as he watched his mother take drugs and his family struggle financially. His parents divorced when Wade was very young and Wade eventually moved in with his father and stepmother.
Wade credits his father for getting him on the basketball court and instilling his work ethic. In a 2005 Washington Post article, Wade was asked what his biggest basketball victory was. Wade said it was either in the eighth or ninth grade when he finally beat his father in a one-on-one game. "It didn't go over well," Wade said, according to The Washington Post. "It was the toughest win I ever had. On the last point, he fouled me every time I shot."
His father was tough on Wade on the court, but was just a tough off it. He made sure his son was well-behaved and did all the right things. That stuck with Wade even when he made it big. "I always wanted to keep my parents happy, let them know they were raising a good child," Wade said.
Wade's role model was a prisoner
Dwayne Wade watched his mother get sent to prison on several occasions when he was growing up. It was painful to watch, but it also turned out to be a learning experience for him. When his mother, JoLinda, was whisked away to prison on drug-related charges, Wade always kept her in his mind. He still considered her his role model.
"I wrote my mom a letter when I was younger," Wade said to Russell Wilson on the latest episode of Wilson's DangerTalk podcast. "My mom was in prison. In my letter I was telling my mother that she was my role model. My mom, at the time, broken down dope fiend in jail, and she was like, 'what is this kid talking about being his role model?'
"I just let her know like how strong she was. You know, when you grow up inner city, they don't give you no playbook. They don't give you no head start. No money in your account. You get nothing. You gotta figure it out and it's not always easy. To be able to take life head on the way she did…The last time she went to prison, she turned herself in. I thought that to be so courageous and so amazing that she had the strength to say, 'I want to turn myself back in to prison because I want to be able to live the life that I've always dreamed of living.' To have a strong woman in my life and known that that's my mother, I know where I come from and know what I'm built of."