Eagles OT Jordan Mailata Is in Store for an Emotional New Years Day Gift
Jordan Mailata's journey to the NFL was a unique one, to say the least. The Philadelphia Eagles offensive tackle grew up playing rugby in Australia, and he hadn't played a single snap of American football when he was drafted in the seventh round of the 2018 NFL Draft. Four years later, he was named an alternate for the 2022-23 Pro Bowl.
Because Mailata had to leave his home country of Australia to pursue an NFL career, he went three full years without seeing his parents. Maria and Tupa'i Mailata have never even seen their son play football in person. They've only been able to watch Eagles games on television back in Australia.
But when the Eagles face off against the New Orleans Saints in Week 17, Mailata will receive the New Years Day gift of a lifetime.
Jordan Mailata didn't see his parents for three years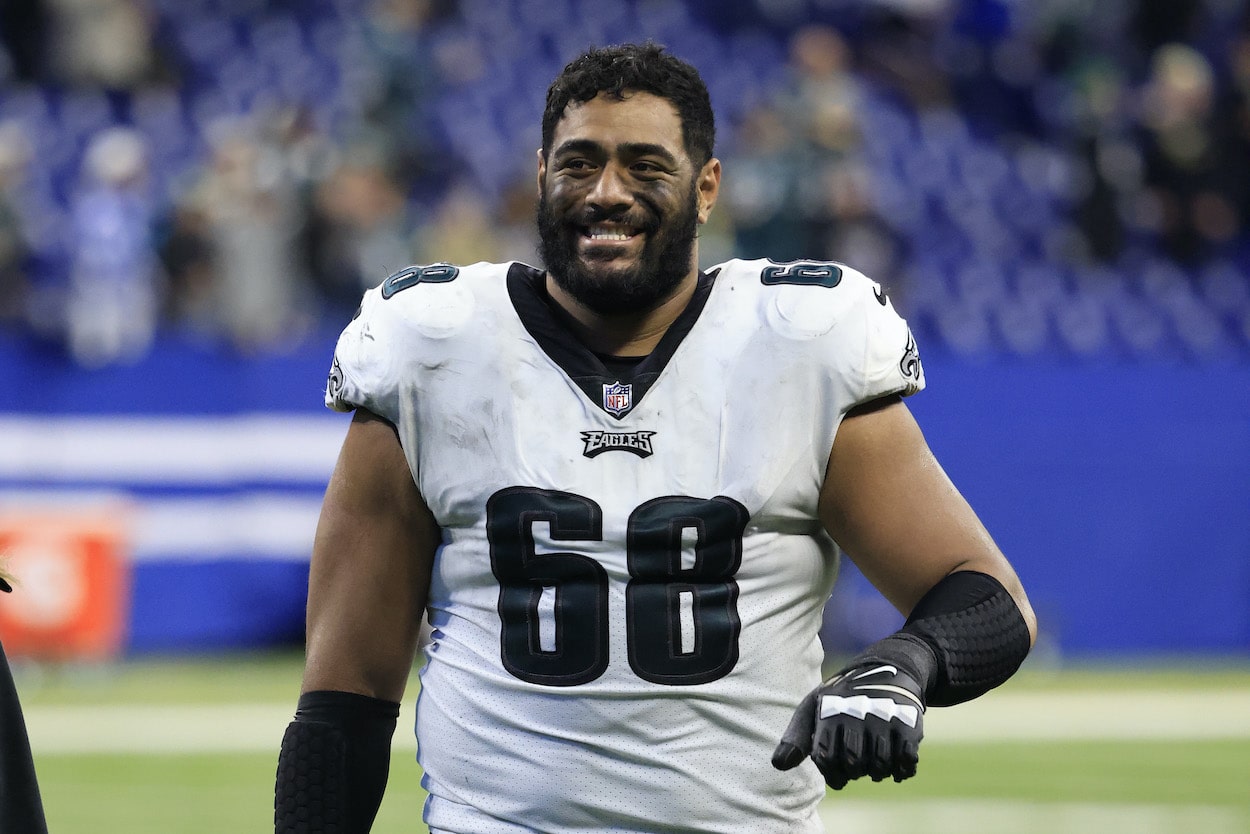 Throughout the peak of the COVID-19 pandemic, countries around the world placed different rules and regulations on travel. Australia was on the stricter end of that scale, so travel in and out of the country was prohibited for years.
Because of those strict travel rules, Mailata wasn't able to see his parents for three years. That wasn't easy for a lifelong Australian still getting used to his new home.
"It was tough, but you get used to it," Mailata told reporters this week, per Sports Illustrated. "You have to learn to adapt. That's what happened, which is why I'm comfortable not seeing them. It's even more tough saying this, but I've gotten used to not having my family around because they were a big part of my support system for most of my life.
"I had to learn all these years here by myself, how to build this system where I don't have to lean on my family. My fiancée, I lean on her a lot, friends and teammates, my recovery team; that keeps me sane."
Now that Australia's borders are open again, Maria and Tupa'i were able to fly to the United States to see their son for the first time in three years. They had no idea how big of a celebrity their son had become in Philly.
"My dad was in for a shock when we went grocery shopping," Mailata said. "We had a handful of fans stop by and say hi. My dad was shocked. I was like, 'Yeah, this is the city, dad. They love their teams.'"
Jordan Mailata couldn't ask for a better New Years Day gift
Not only were Maria and Tupa'i able to see their son this week for the first time since 2019, but they'll also be able to watch him play American football in person for the first time ever when the Eagles face off against the Saints on New Years Day.
And what better way to get the full experience than inside a packed Lincoln Financial Field filled to the nosebleeds with Philly fans hungry for a chance to clinch the No. 1 seed? Be nice, Eagles fans.
"I hope the Linc can give them a good experience, hopefully not too many boos," Mailata said. That would be great for my parents' first game."