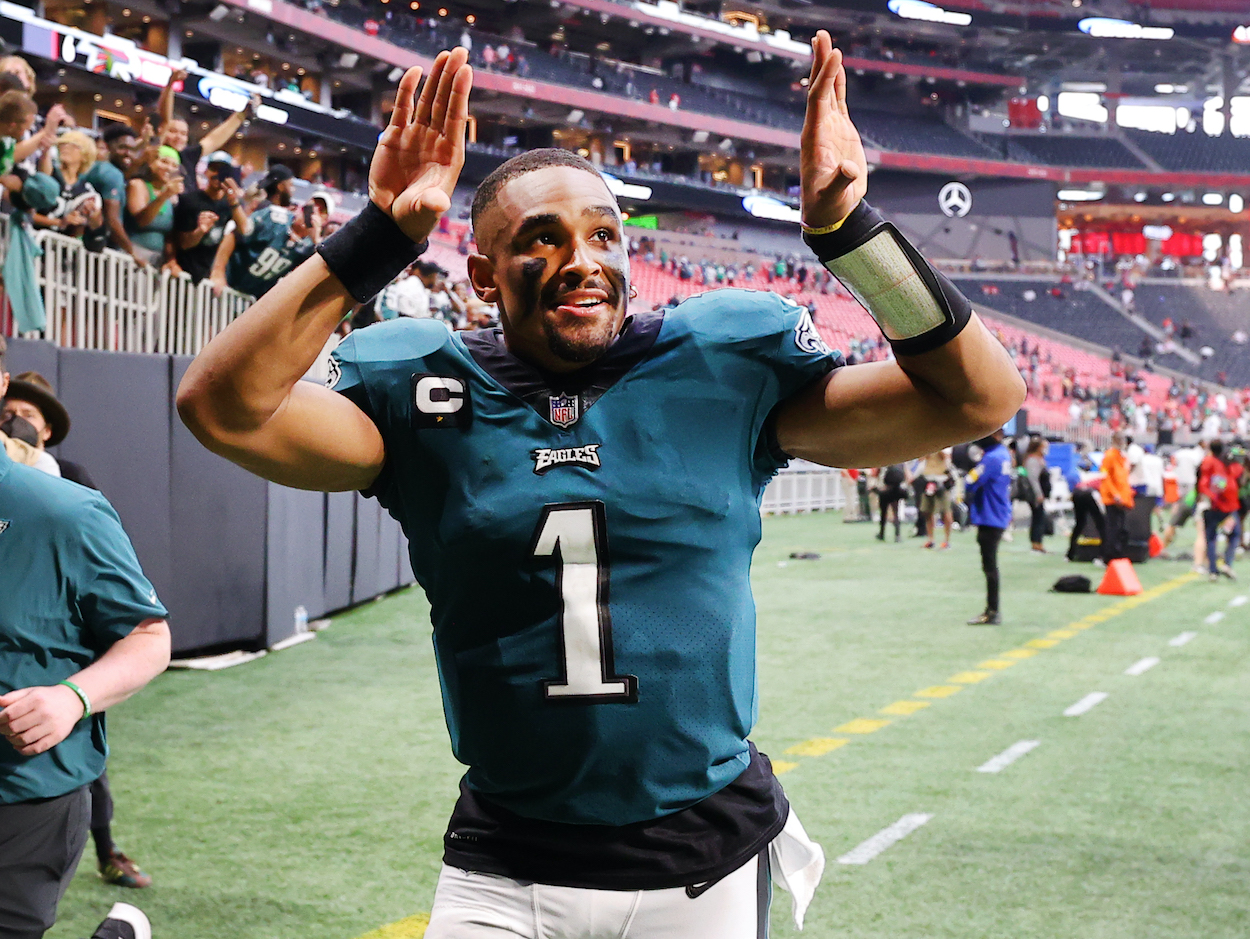 Eagles QB Jalen Hurts Changed a Struggling Family's Life With a Heartwarming $30,000 Gift After Signing His $6 Million NFL Contract
Jalen Hurts made a family's dream come true with a heartwarming gift in his rookie season with the Eagles.
Jalen Hurts is growing into an outstanding dual-threat quarterback for the Philadelphia Eagles, but he's an even better person off the football field. After signing his four-year, $6 million rookie contract in 2020, the young QB reached out to a Philadelphia charity and gifted $30,000 to a family in need. Their lives changed forever that day because of Hurts' incredible benevolence.
Jalen Hurts signed a $6 million rookie contract with the Eagles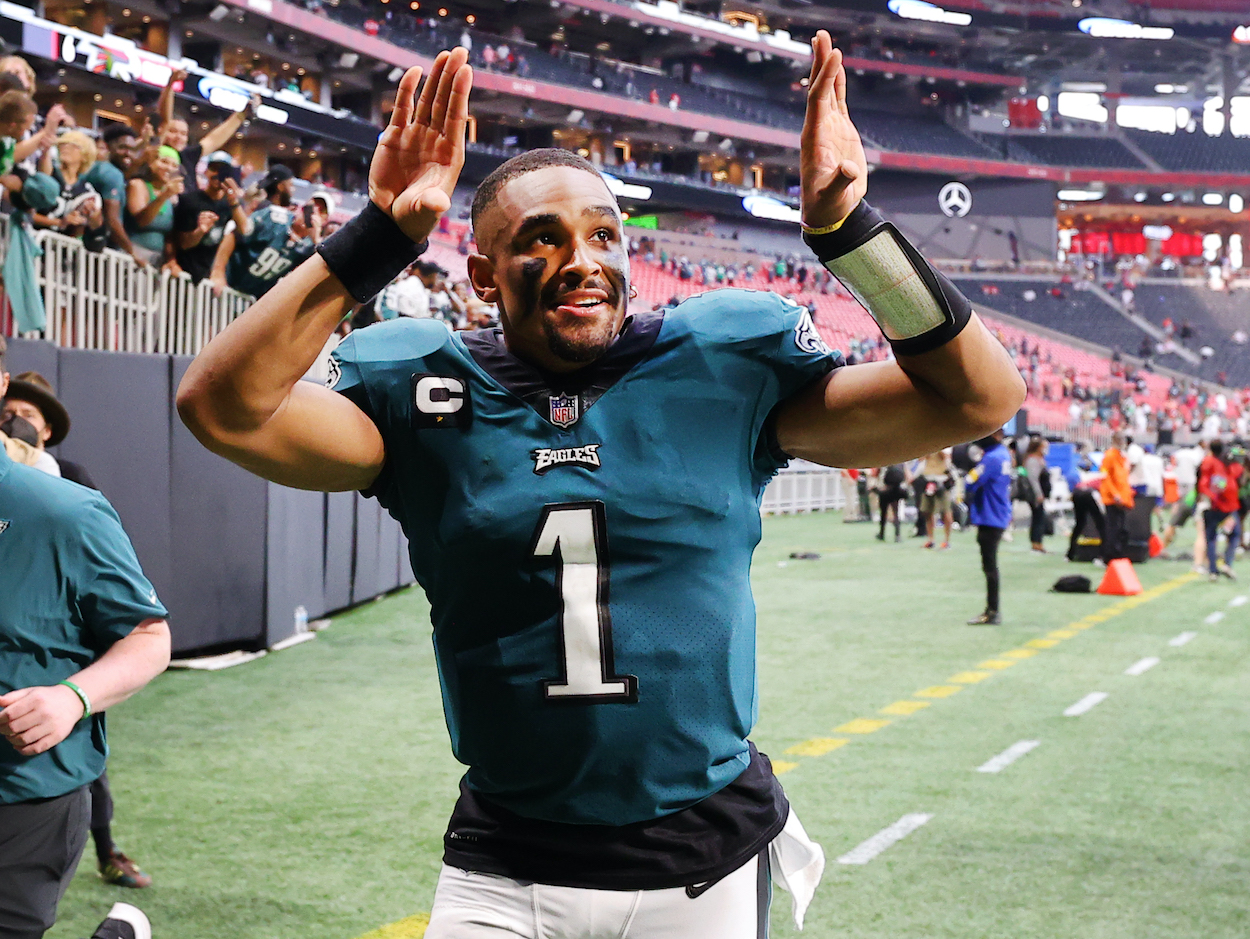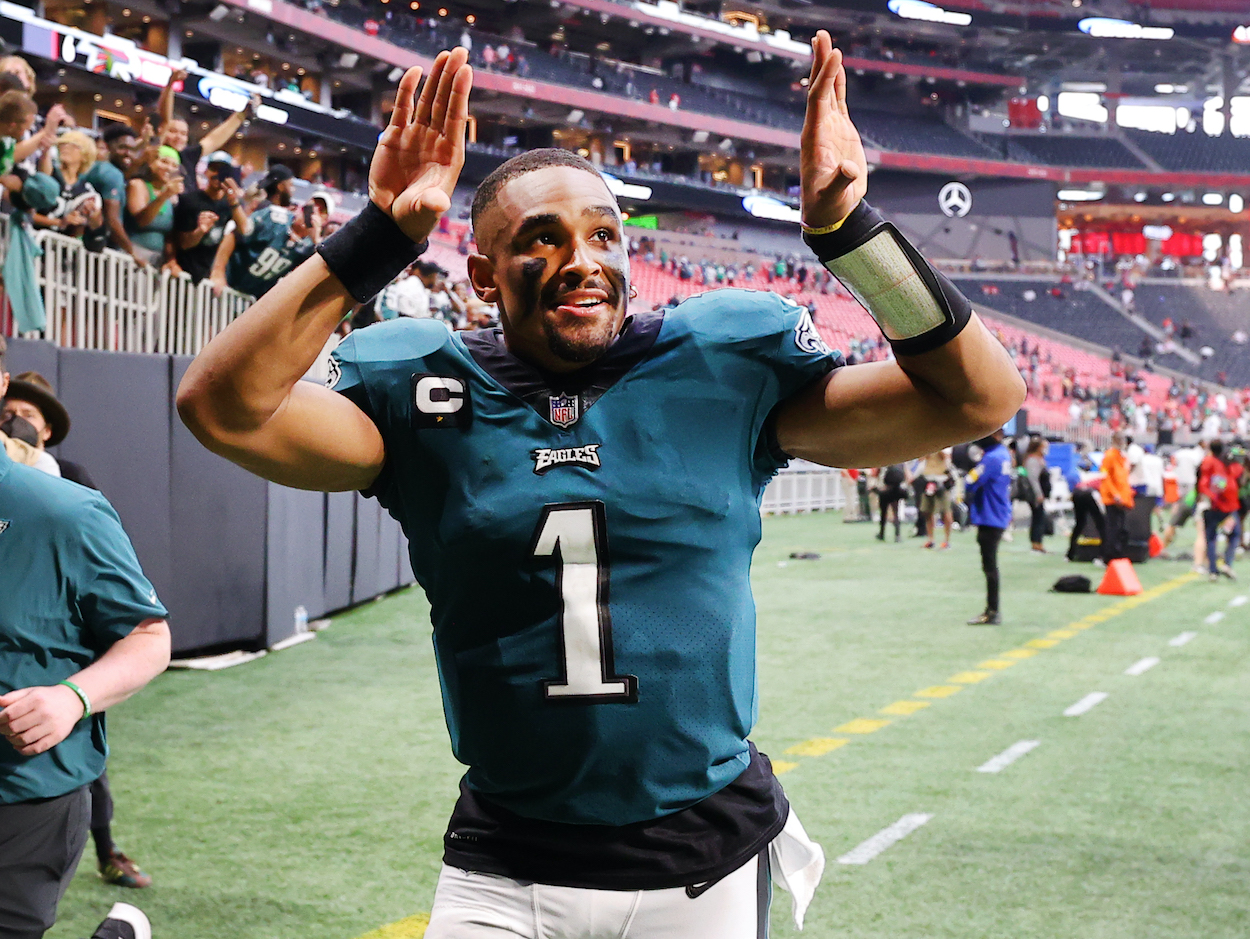 Hurts entered the 2020 NFL draft as a huge question mark compared to the other quarterbacks in the class. He displayed his NFL-caliber talent and winning pedigree at both Alabama and Oklahoma, but many pro scouts doubted his ability to become a capable pocket passer at the next level.
Because of his limitations as a passer, Hurts slipped into the second round of the draft, and what was even more surprising was the team that selected him. The Eagles, who had just signed Carson Wentz to a $128 million deal the year before, called Hurts' name with the 53rd overall pick.
Soon after, Hurts agreed to a four-year, $6,025,171 rookie contract with the team.
Jalen Hurts spent $30,000 of his $6 million contract on a family in need
After signing his first NFL contract and becoming a millionaire overnight, Hurts decided to splurge on a few things and save for a few others. In an interview with GQ Sports earlier this year, the QB admitted he took a $1,000 mall trip with friends, spent $30,000 on clothes and jewelry, and put away $70,000 for his younger sister's future tuition payments.
But one of the first checks he wrote was one for $30,000 to a family living in Nottingham, Pennsylvania. Erick, the oldest of five children, had been diagnosed with a rare form of cancer called Rhabdomyosarcoma, and the family had been struggling to support him while living in a two-bedroom trailer at the time.
"This Christmas toward the end of the year, the holiday season came around. I was in search of a family I just wanted to bless," Hurts told GQ Sports. "Some holiday spirit, trying to give back, show some uplift or some service. I actually met this family through Alex's Lemonade Stand. It's a foundation in Philadelphia that basically supports cancer research. And I got to meet the family, and I got to meet Erick."
"This is what I told Erick," Hurts continued. "I was like, 'Is there anything that you want Santa to come give you or anything that you want to ask Santa?' And he didn't really have much. And I said, 'I'll see what Santa can do.'"
Hurts was so moved by the family and their fighting spirit that he gifted them $30,000 for a down payment on a new house. He even threw in a couple of extra goodies for Erick.
"I pretty much got him every game you can imagine," he said. "Every system. New TV."
A life-changing gift
Almost a year after Hurts' selfless gift blessed a family in need with a new home, Erick is now cancer-free and back in school with his classmates, per his GoFundMe page. The family is back to living a normal life with a bright future thanks in large part to Hurts and his kind heart.
As much as we love praising athletes for their on-field accomplishments, these are the stories we should be celebrating the most.
Like Sportscasting on Facebook. Follow us on Twitter @sportscasting19.