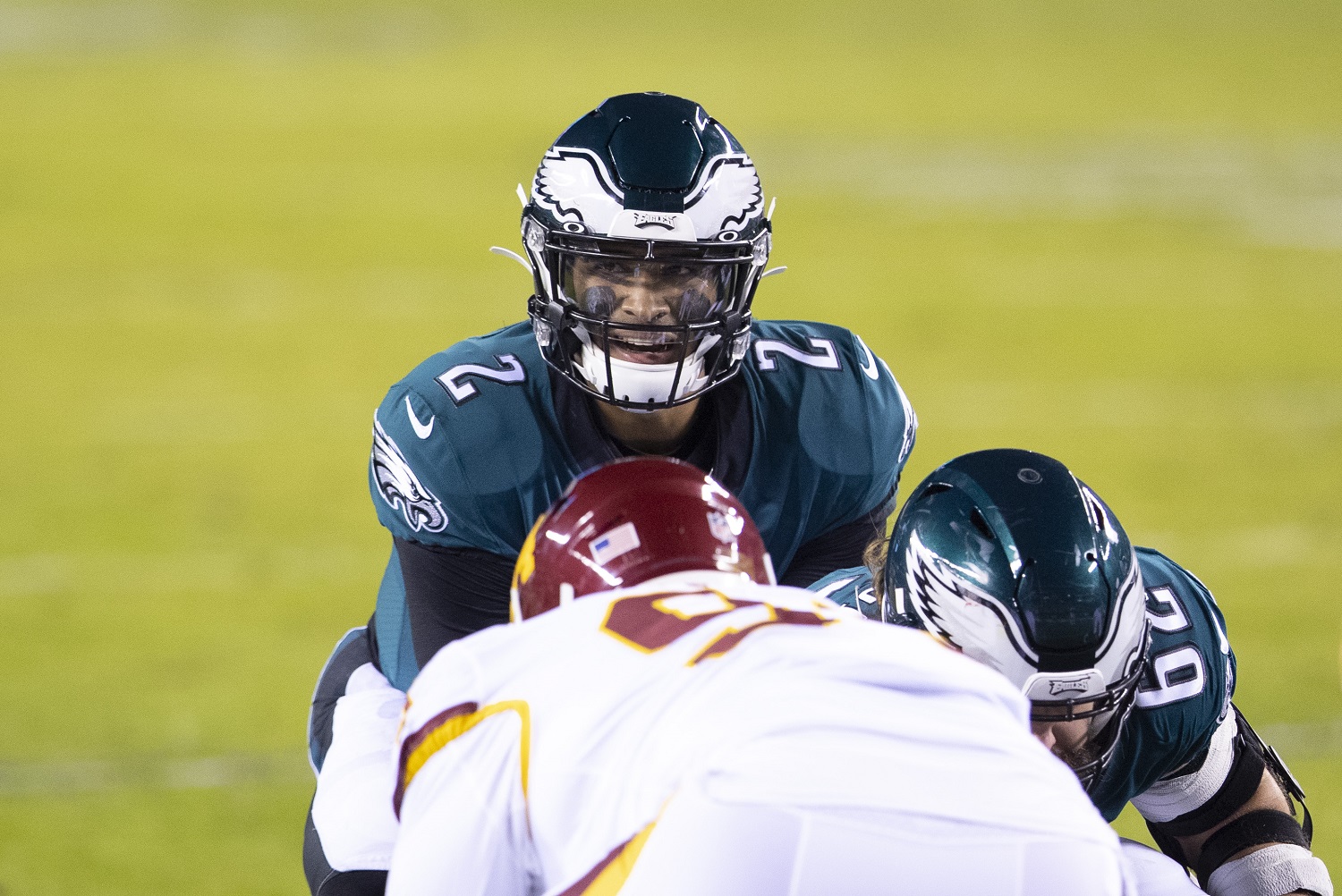 Chris Simms Claims Jalen Hurts Misses Throws That High School Quarterbacks Make
'Pro Football Talk' analyst Chris Simms doesn't rate Philadelphia Eagles player Jalen Hurts as one of the 40 best quarterbacks in the NFL.
Chris Simms identified Jalen Hurts as an easy target and drilled him between the numbers with a verbal dart. The NFL analyst believes it would take the Philadelphia Eagles quarterback two or three tries to display comparable accuracy.
Hurts enters Year 2 of his NFL career as the Eagles' likely quarterback. But Simms believes guys buried behind starters on other teams' two-deeps are better.
Chris Simms says Philadelphia Eagles QB Jalen Hurts doesn't rate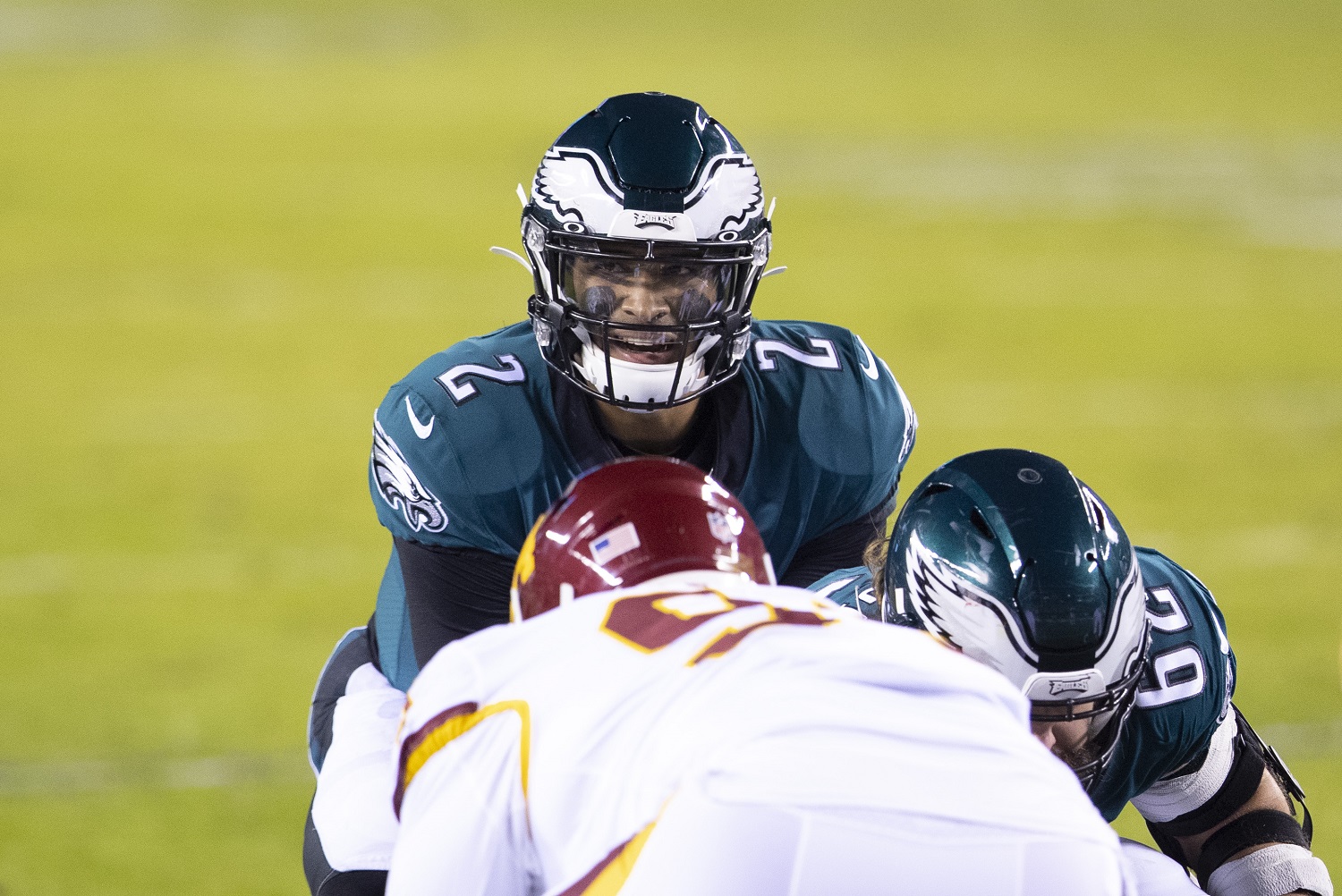 Chris Simms has carved out a second career in football. After washing out as an NFL quarterback five years after the Tampa Bay Buccaneers selected him in the third round of the 2004 draft, he moved on to a media career that has seen Simms do NFL game analysis for CBS and NBC, work on Notre Dame telecasts, and hold down a prominent role with Pro Football Talk.
One of Simms' offseason fixtures is his ranking of quarterbacks. It's always thought-provoking, and Simms usually attracts more criticism than praise because fans hate seeing their guy ranked behind some no-good so-and-so from another team.
This year's proverbial hornets' nests have been Simms' decision to rate Tom Brady as his No. 10 quarterback, one spot behind Dak Prescott, and to slot Josh Allen at No. 2 ahead of Aaron Rodgers (third) and Russell Wilson (fifth).
Simms ranks 40 quarterbacks, and none of them are named Hurts or Joe Flacco, the two realistic candidates to line up under center when the Eagles open on Sept. 12 vs. the Atlanta Falcons.
Jalen Hurts draws an unflattering comparison
Saying, in effect, that Hurts ranks behind several rookies and several backups who might not even get on the field this fall is bold considering that Hurts does have four starts under his belt from his own rookie season.
Understandably, that rankled some fans and compelled Simms to offer his explanation. After all, Kellen Mond (No. 37) is a rookie. Barring an injury, Marcus Mariota (No. 36) isn't getting off the bench unless Derek Carr looks far worse than half the league's fans wrongly believe he is.
"When you go back and watch some of the throwing and decision-making and all of that … I had to put him on the outside looking in there," Simms said on The Howard Eskin Show, as transcribed by Audacy.com. "There's way too many slam-dunk, easy completions that I would expect a good senior high school quarterback to make that are not made.

"And we're talking about defenses, again, where he has the advantage of, 'Hey, we're trying to stop him from running. Let's make a pass defense really easy because we're gonna be all about stopping him from the running game and doing those things.'"
As a thrower, the quarterback makes a pretty good runner
Simms does throw Hurts a compliment. Unfortunately, it sounds backhanded since players carrying the "dual-threat quarterback" label often face criticism that they don't throw as well as they run.
While he only completed 52.0% of his throws in 2020, Hurts did rush 63 times for 354 yards and three touchdowns. That showed elusiveness that wasn't necessarily apparent while taking 13 sacks.
"Running? Pretty damn good. Better than I thought it would be coming out of Oklahoma or Alabama," Simms said. "I wasn't sure he'd be able to do quite what he did last year, so that impressed me. But, when you go back and watch some of the throwing and decision-making and all of that … I had to put him on the outside."
They Eagles may have helped themselves just enough in the offseason to win the NFL's worst division. Hurts could be the source of their greatest improvement now that he has experience behind him and can go through an offseason not shuttered by the pandemic.
If he can get the Eagles to 9-8 (or even close), Simms would undoubtedly look more favorably upon Hurts in next summer's quarterback rankings.
All stats courtesy of Pro Football Reference.