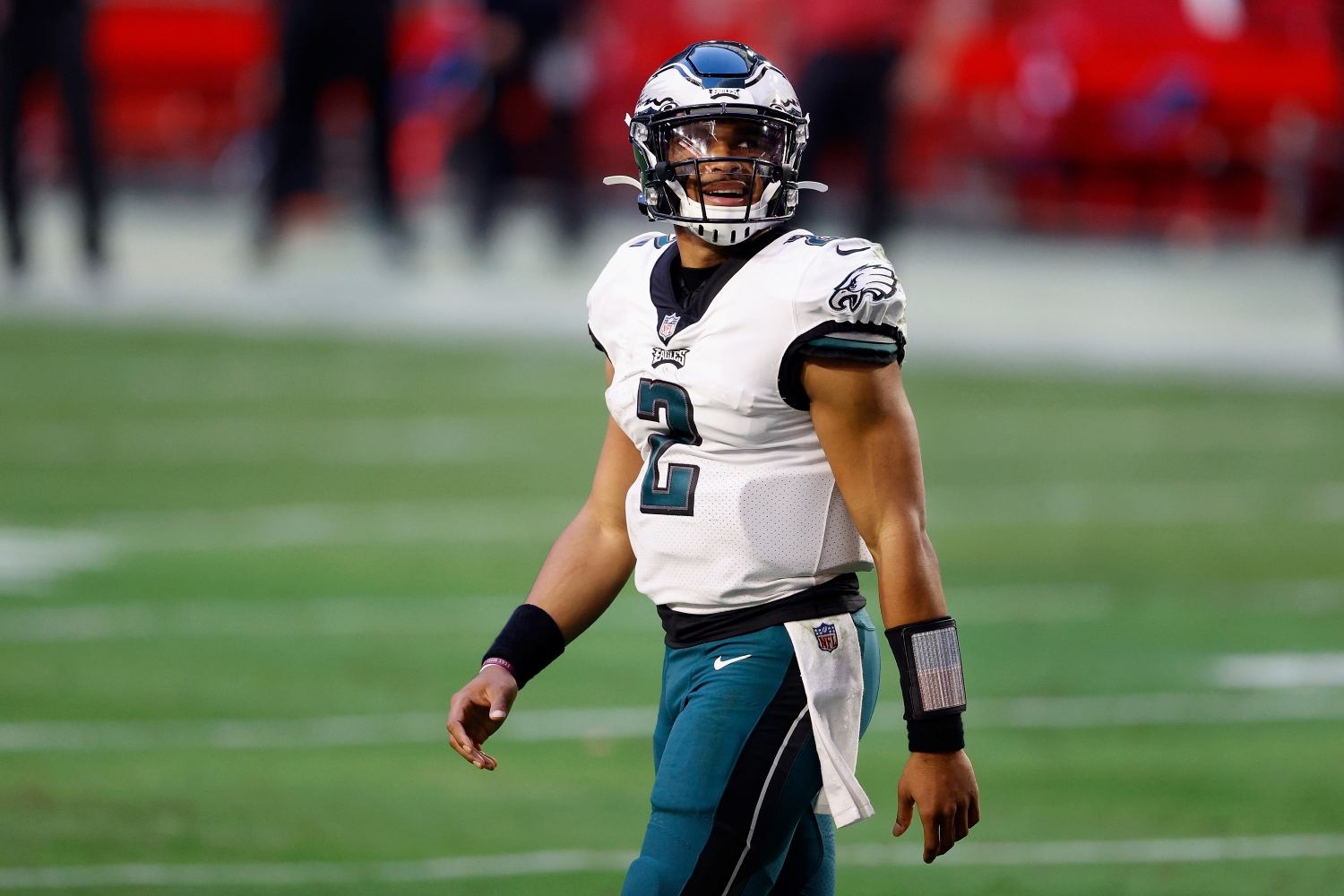 Jalen Hurts' Job Security Just Took a Hit With the Eagles' Latest Signing
Jalen Hurts suddenly has another quarterback to worry about in Philadelphia. Can Nick Mullens convince the Eagles to give him a shot to start?
By trading Carson Wentz to the Indianapolis Colts back in March, the Philadelphia Eagles essentially handed the keys to the franchise over to Jalen Hurts.
Sort of.
Although the second-year quarterback possesses intriguing potential, he hasn't come close to cementing his status as the guy in Philadelphia. And while Hurts remains the odds-on favorite to start the Eagles' season opener, his job security took a hit with the team's latest signing.
Jalen Hurts needs to prove he belongs at the top of the depth chart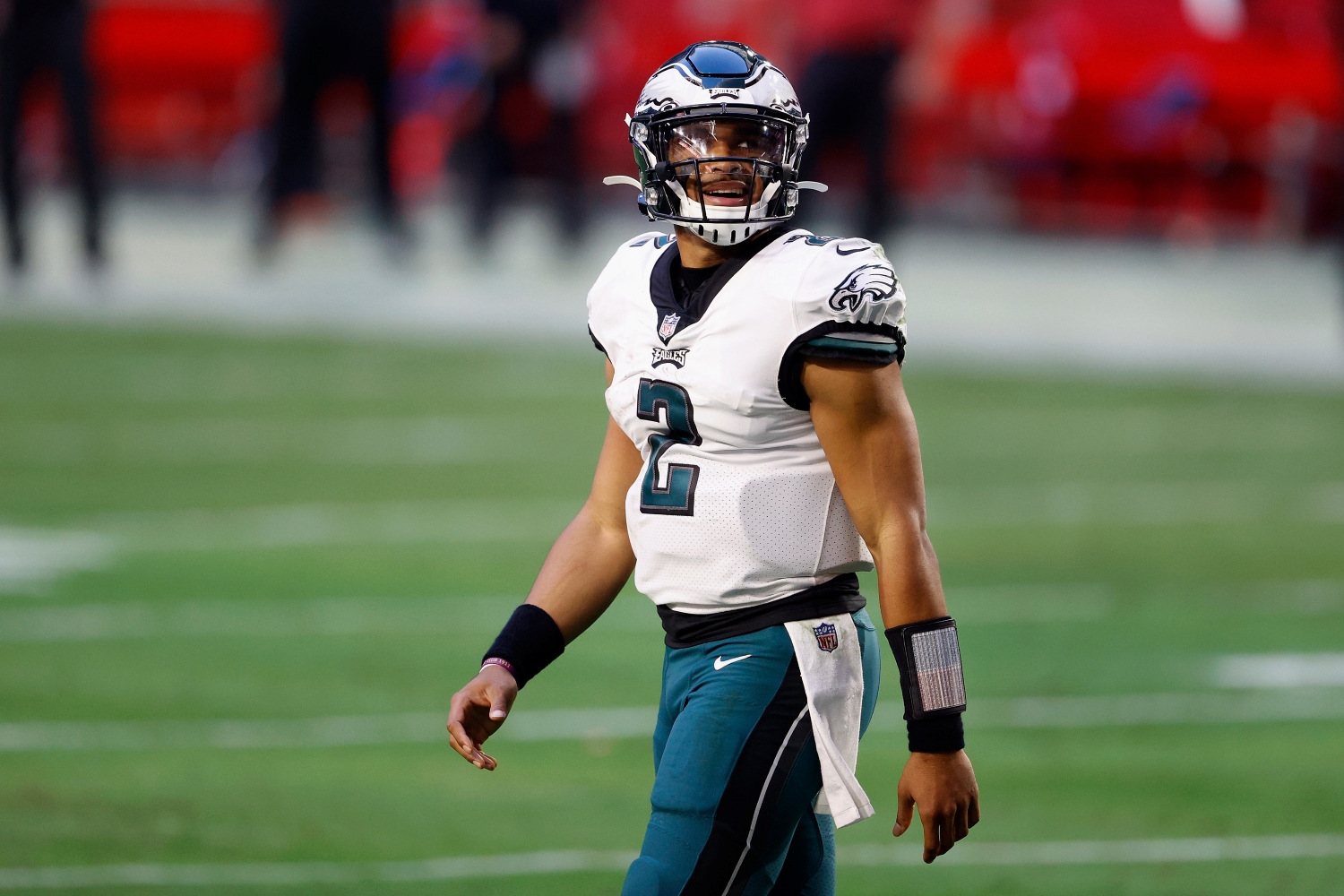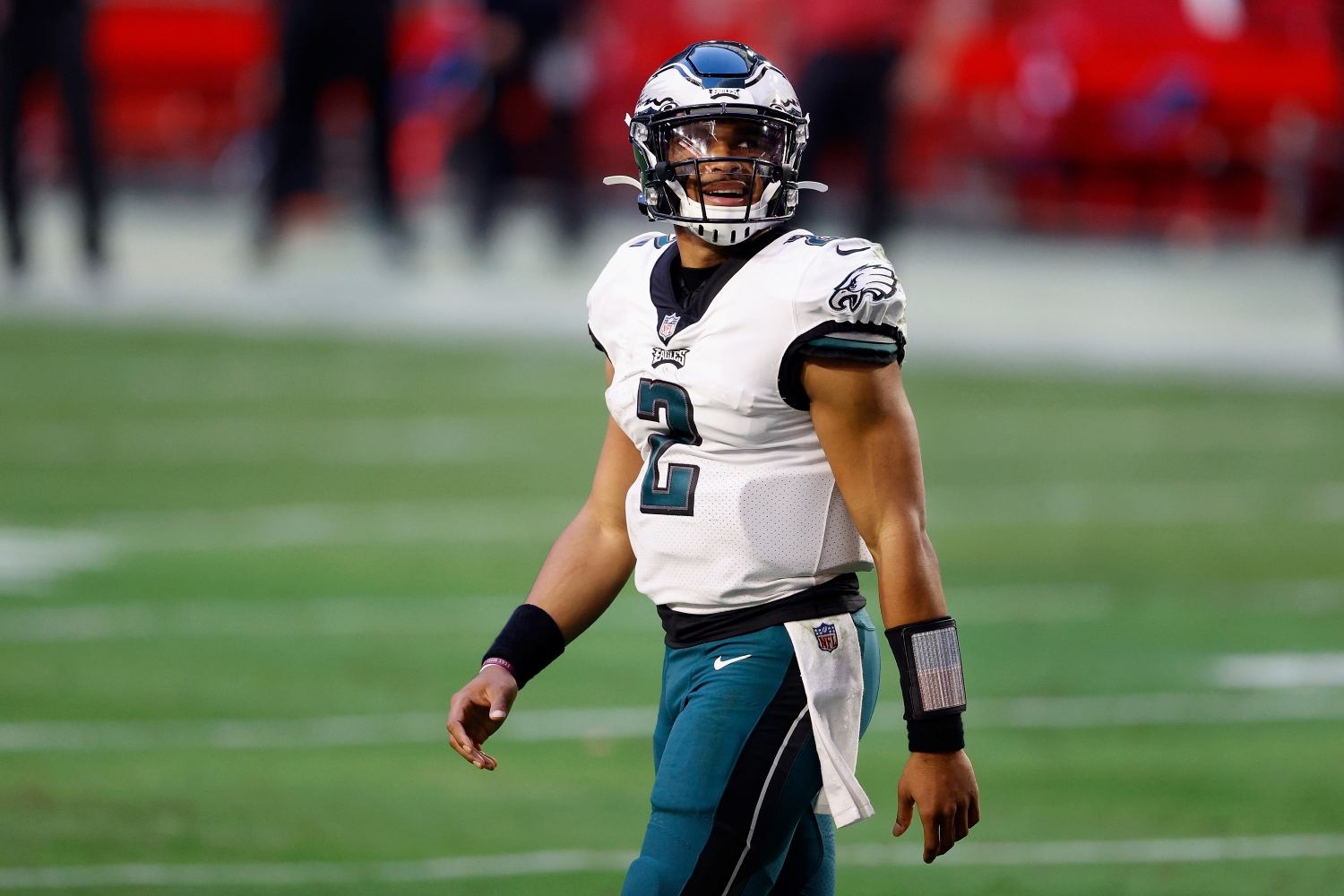 Like the Green Bay Packers, the Eagles raised eyebrows during the 2020 NFL draft by using an early-round pick on a quarterback. With Wentz struggling to live up to his $128 million contract extension, Philadelphia took a shot on a signal-caller with quite a different stature and skill set than the 6-foot-5, 237-pound former North Dakota State star. The Eagles selected Hurts with the 53rd overall pick — a surprising move given their expensive investment in Wentz's future.
The 6-foot-1, 223-pound quarterback shined for two of the biggest programs in college football. Yet, despite winning SEC Offensive Player of the Year honors at Alabama and finishing as the Heisman runner-up in his lone year at Oklahoma, Hurts still fell to the second round. His unconventional build, decision-making in the pocket, and inconsistencies as a passer gave some teams concerns about his pro potential. Obviously, though, the Eagles felt Hurts' running ability (he racked up 3,274 yards and 43 rushing touchdowns in college) and overall athleticism made him too good to pass up.
Hurts got an opportunity to showcase his skills earlier than expected. However, after completing 52% of his passes for 1,061 yards, six touchdowns, and four interceptions in 15 games (four starts) as a rookie, the Houston native enters his second NFL season with a thin resume. Hurts may have racked up 354 rushing yards in a limited role, but he will have to show marked improvement as a passer to solidify his status as Wentz's long-term successor.
The second-year pro's job security just took a hit with Philadelphia's latest signing
The Eagles signed 36-year-old Joe Flacco earlier this offseason as a veteran complement to Hurts. However, the longtime Baltimore Ravens quarterback doesn't seem like a major threat to take his younger teammate's job. At this stage of his career, Flacco looks destined to serve a mentor-type role in Philadelphia.
On Monday, though, the team secured a quarterback who does have the potential to start over Hurts. The Eagles formally announced they agreed to terms with Nick Mullens on a one-year contract. He appeared in 19 games for the San Francisco 49ers from 2018-20 after going undrafted out of Southern Mississippi in 2017. Mullens completed 64.2% of his passes for 2,277 yards, 13 touchdowns, and 10 interceptions in eight starts in 2018. He posted a similar stat line (64.7/2,437/12/12) while going 2-6 as a starter last season.
Though Mullens' overall record of 5-11 doesn't look great, he shouldn't be completely written off as a starting option. He displayed solid accuracy playing in Kyle Shanahan's scheme. At times, he looked more capable of running his system than the oft-injured Jimmy Garoppolo. Don't forget that Mullens often had to play under less-than-ideal circumstances since San Francisco suffered so many injuries on offense in recent years.
Coming off elbow surgery, the former 49er has plenty of motivation to prove himself in Philadelphia. Mullens joined the Eagles on a one-year deal, so he needs to do everything possible to increase his value moving forward. If he performs well this summer and Hurts struggles, the team could pivot to the veteran. And even if Hurts opens the year as the starter, Mullens should be considered a legitimate option to take over if the second-year quarterback doesn't live up to expectations early on.
Will the Eagles be forced to hit the reset button at quarterback after the season?
Philadelphia clearly has a complicated quarterback situation. Hurts has upside, but he could just as easily play himself out of a job. And as much as Mullens may have earned Shanahan's trust in San Francisco, he didn't exactly light it up when he got on the field, and he has to prove himself to a new coaching staff. Meanwhile, Flacco's days as a full-time starter ended several years ago.
The Eagles obviously have high hopes for Hurts, but it doesn't seem unfathomable that the team could hit the reset button and start from scratch next offseason. If he doesn't take a noticeable leap forward, it makes little sense to continue the experiment. Instead, the Eagles should utilize their arsenal of 2022 draft picks (they hold multiple selections in Rounds 1 and 2) to land a true franchise quarterback.
Of course, the Eagles tried that back in 2016.
And if they have to go that route again, hopefully history doesn't repeat itself.
After all, if Wentz had worked out, they wouldn't be in this situation in the first place.
Like Sportscasting on Facebook. Follow us on Twitter @sportscasting19.