Philadelphia Eagles Schedule, Record Prediction for 2021: Temper Expectations for Jalen Hurts in Year 2
The Philadelphia Eagles are ready to get their 2021 season underway in just under two weeks. With a completely revamped coaching staff and an inexperienced quarterback under center, not many experts or fans are giving the Eagles a chance in the lowly NFC East this season. They'll need a superhuman performance out of Jalen Hurts if they want to make any noise in the division, but it will still be interesting to see how their young players develop in what seems to be a rebuilding year.
So, let's check out Philly's schedule and try to predict where they finish up come January.
Philadelphia Eagles schedule
Sept. 12 at Atlanta Falcons
Sept. 19 vs. San Francisco 49ers
Sept. 27 at Dallas Cowboys
Oct. 3 vs. Kansas City Chiefs
Oct. 10 at Carolina Panthers
Oct. 14 vs. Tampa Bay Buccaneers
Oct. 24 at Las Vegas Raiders
Oct. 31 at Detroit Lions
Nov. 7 vs. Los Angeles Chargers
Nov. 14 at Denver Broncos
Nov. 21 vs. New Orleans Saints
Nov. 28 at New York Giants
Dec. 5 at New York Jets
Dec. 19 vs. Washington Football Team
Dec. 26 vs. New York Giants
Jan. 2 at Washington Football Team
Jan. 9 vs. Dallas Cowboys
Eagles record prediction for 2021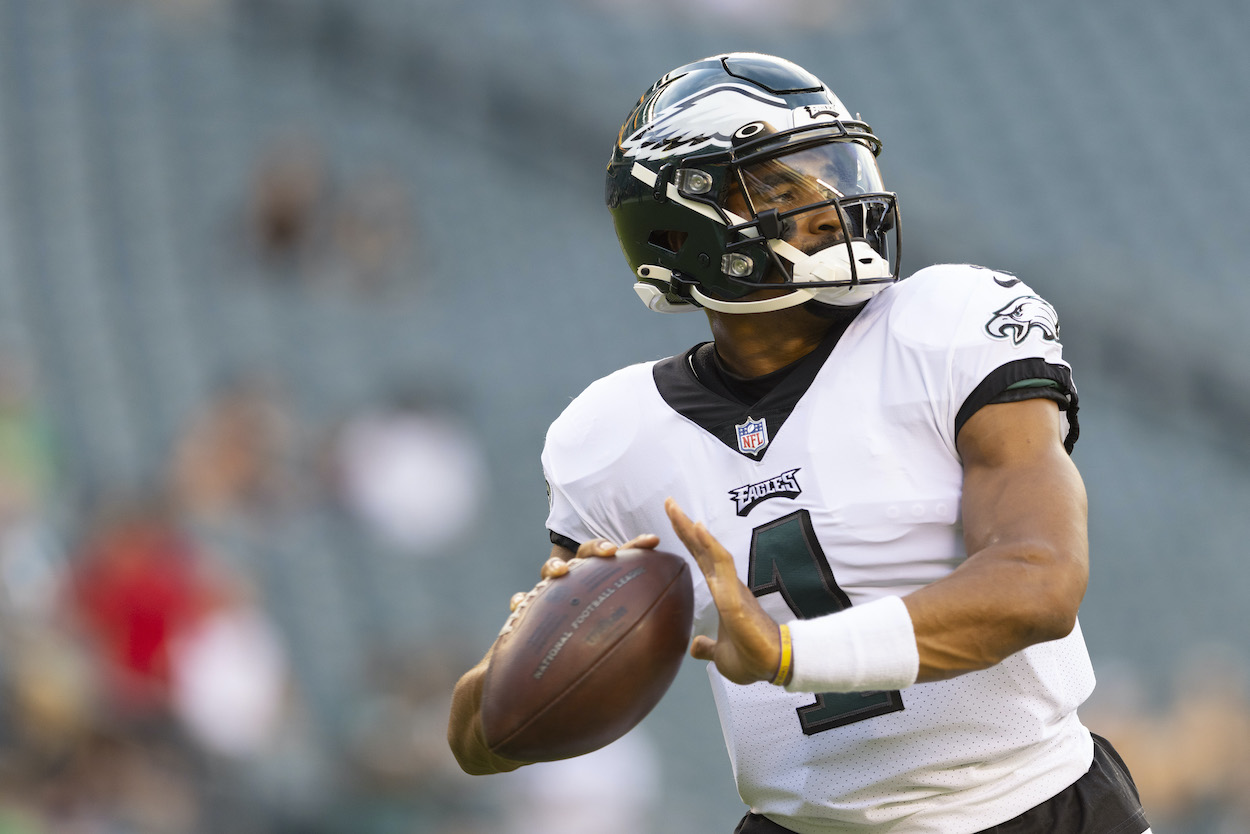 Week 1 at Falcons: Win
The season-opener could be a concern with most of Philadelphia's starters sitting out the preseason, but the Falcons aren't an impressive team in 2021. Hurts should have his way with this defense behind a healthy offensive line.
Week 2 vs. 49ers: Loss
The 49ers should be able to control the Eagles in the trenches and turn Hurts over a few times in this one. A strong start comes to a halt in Week 2.
Week 3 at Cowboys: Loss
The Eagles' defense has no answers for a healthy Dak Prescott in this Cowboys' offense. Dallas could run up the score at Jerry World for an early divisional win.
Week 4 vs. Chiefs: Loss
No analysis needed in this one. Just start Patrick Mahomes in all your daily fantasy football lineups in Week 4.
Week 5 at Panthers: Win
After three straight losses, the Eagles head to Carolina and shut down Sam Darnold and company. Contain Christian McCaffrey even a little bit and Philadelphia should be able to come back home with a victory.
Week 6 vs. Buccaneers: Loss
Tampa Bay is far too talented and far too balanced for this Eagles roster to keep up with. The Buccaneers hand Philly its third home loss in three tries.
Week 7 at Raiders: Win
The Eagles get back on track with a road win over the Raiders. Darren Waller should have a big game, but if the defense can limit big plays and find a way to turn Derek Carr over once or twice, Philly can steal this one.
Week 8 at Lions: Win
This will be one of the few games in which the Eagles are favored to win in 2021. They better not screw it up.
Week 9 vs. Chargers: Win
Hey, they have to win a home game at some point, right? Hurts has the biggest game of his young career as he outduels Justin Herbert in a shootout.
Week 10 at Broncos: Loss
The Mile High altitude is too much for Hurts to overcome in his first start in Denver. Von Miller will be a problem in this one if the Eagles' offensive line is as beat up as it always is by this point in the year.
Week 11 vs. Saints: Loss
The Saints will be excellent in the trenches this season. Philadelphia will need to be fully healthy on both sides of the line if it wants to compete in this one.
Week 12 at Giants: Loss
The Eagles have owned the Giants in recent years, but a healthy Saquon Barkley can win this game by himself. If Daniel Jones holds onto the ball in Week 12, New York will pick up a much-needed NFC East victory.
Week 13 at Jets: Win
The Eagles stay travel across the bridge for a second straight New Jersey matchup in Week 13, and this time they come home with a win.
Week 14: BYE
Week 15 vs. Washington: Loss
The Eagles get Washington for the first time after a bye, but we don't know how this new coaching staff will perform in its first go-around. Either way, no bye week can properly prepare for a player like Chase Young.
Week 16 vs. Giants: Win
The Eagles get revenge on their cross-state rival in Week 16. With the NFC East title still up for grabs, Hurts steps up and has his cleanest game of the season.
Week 17 at Washington: Loss
Washington just has Philly's number in 2021. Ryan Fitzpatrick won't be afraid to air it out against this secondary, and that's exactly where the Eagles can be beat.
Week 18 vs. Cowboys: Win
We don't know if the Eagles will still be in the mix for the NFC East crown by Week 18, but they just have a thing for spoiling the Cowboys' chances in the season finale.
2021 record prediction: 8-9
Philly has a win total of 6.5 this season
Hurts is going to surprise some people in 2021. He might not have enough firepower to lead the Eagles to the playoffs this year, but they could easily be in the NFC East mix by the end of the season. An 8-9 record would put Philly firmly above their 6.5 win total.
The Eagles are +100000 longshots to win the Super Bowl and +500 underdogs to win the NFC East.
What's the best bet for the Eagles in 2021?
All betting odds courtesy of DraftKings