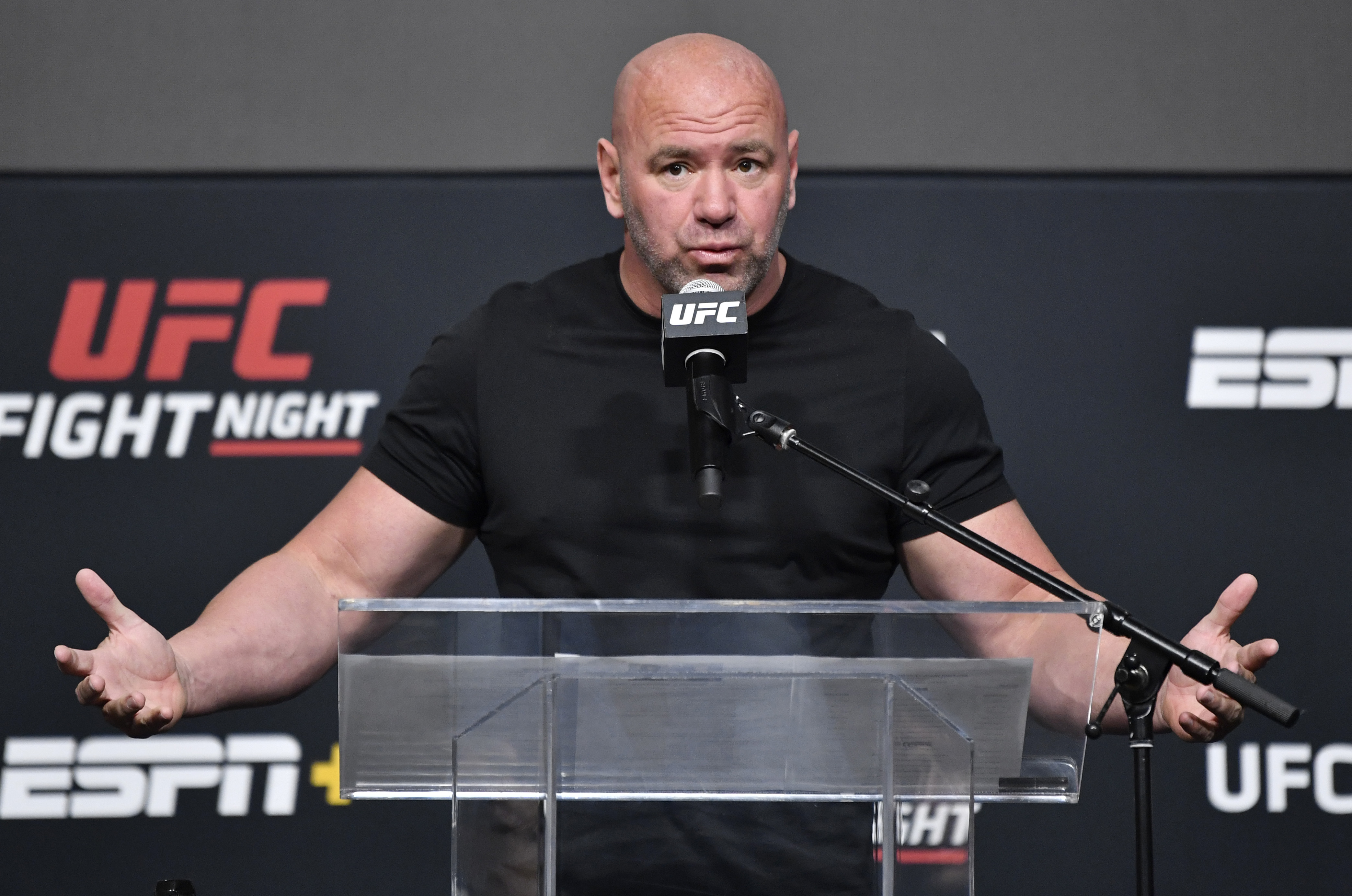 Eminem Rips Dana White in Contentious ESPN Interview Previewing UFC 257
Dana White has never shied away from sharing his opinions on UFC fighters. Rap superstar Eminem confronted White about those criticisms in a contentious SportsCenter interview.
Dana White has never been one to shy away from sharing his opinions on everything UFC and beyond. As the face and leader of the organization, White has a platform and willingly uses it to discuss everything about MMA, which sometimes includes taking positions that are abrasive toward his very own fighters. 
Because the fighters have very little leverage and don't want to bite the hand that feeds them, most ignore White and go about their business despite his stinging criticism. On Friday night, a very unlikely source in superstar rapper Eminem came to the defense of the fighters during an intense ESPN interview and ripped White for his behavior.
Dana White criticizing his own fighters
UFC President Dana White has always been opinionated. Interestingly, White's opinions oftentimes are critiques that take direct aim at the fighters who make him money. 
Through the years, White has had beefs with some of the legends in UFC, including Frank Shamrock, Tito Ortiz, Randy Couture, and Cris Cyborg. In 2020, White had various fighters in his sights, including former UFC fighter Paige VanZant, and the one fighter many consider to be one of the greatest of all time, Jon Jones.
In May 2020, Dana White targeted Jones, who had been considering a move to the heavyweight division. 
"He can do whatever he wants. He wants to sit out, fight, he can do whatever. He can say whatever he wants publicly," White told reporters. "It's his God-given right in America. He can say whatever he wants. When he's ready to come back, he can. In one of his tweets, he said I tarnished his name. I tarnished you? You've done a very good job of tarnishing you."
White's last remark was taking a shot at Jones and his various issues outside of the Octagon.
Eminem rips White during SportsCenter interview
Eminem and the UFC have been connected for years. In addition to being a well-known fight fan, numerous fighters have entered the arena with intro music from the famous rapper. 
Heading into UFC 257, that connection between the two franchises is even more transparent with Eminem posting a video to Twitter in December that promoted the fight featuring the new track "Higher" from his latest album Music To Be Murdered By – Side B as the background music.
All week ESPN has been promoting the upcoming UFC 257 event with SportsCenter anchor Michael Eaves interviewing pundits discussing the rematch of Conor MacGregor and Dustin Poirier. On Friday night, Eminem and UFC president Dana White appeared as guests, and things got inexplicably contentious as the rapper called out White for the way he has treated his fighters in the past.
"The best part about your opinion is that it doesn't matter," the rapper told White. "And if every fighter that you had listened to your opinion when you doubted them, you wouldn't have a fu—– league."  
Eminem debuts video with Dana White cameo and full ESPN interview 
On Saturday, the video for "Higher" premiered during ESPN's pre-show for UFC 257 and the interaction during the SportsCenter from the night before made more sense. In the video, the rapper is cast as a fighter preparing for a battle against his own demons, with various clips from UFC fighters as the backdrop. 
Inserted into the middle of the video is the extended and edited version of the SportsCenter clip that aired on Friday night. ESPN described the interaction on Twitter as an "imagined SportsCenter interview." After White questions Eminem's ability to conquer his demons, the rapper responded.
"I think that people like you give people like me the fuel that they need to succeed in the first place. So I think the best part about your opinion is that it doesn't matter and if every fighter that listened to your opinion when you doubted them, you wouldn't have a fu—– league. You're an as—– and I'm out." 
All of it was a combined promotion of UFC 257 and Eminem's latest album. Despite that creative marketing ploy, it's a safe bet to assume there are still plenty of UFC fighters who don't care for Dana White and his criticism but will keep their mouths shut as long as he's paying the bills.
Like Sportscasting on Facebook. Follow us on Twitter @sportscasting19.