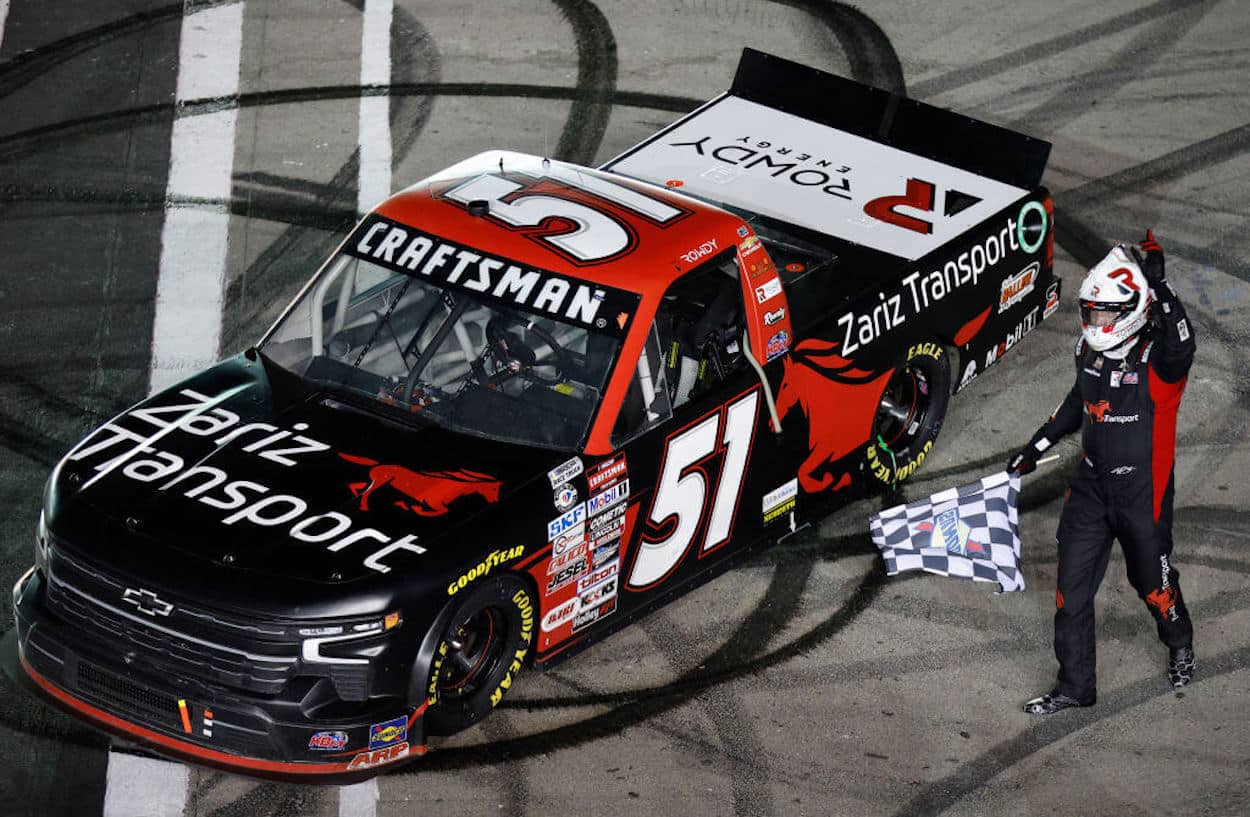 Enough is Enough: Kyle Busch Must Stop Running Truck and Xfinity Series Races Forever
Kyle Busch is one of NASCAR's biggest names, but that doesn't give him license to make the Xfinity and Truck series his personal sandbox.
Since March Madness is upon us, it seems appropriate to begin this NASCAR essay with an example from basketball. Ever watched a game where one team was slaughtering the other and — rather than the winning team attempting another shot on the final possession just to rub it in the losers' face — they opted to hold the ball until the time ran out?
That's what you call not running up the score, and it's done in the name of good sportsmanship and simply trying to be as classy and decent as possible.
Similarly, in racing, a NASCAR Cup Series driver — and especially one with multiple Cup championships — shouldn't even consider continuing to pile up win after win at the sport's lower levels once they've had enough success there to graduate to the sport's premier division.
Like in basketball, or football for that matter, just about any driver who's made it to Cup has, in all probability, done enough winning in the NASCAR Xfinity Series or the NASCAR Craftsman Truck Series that they don't need to continually go back and run up the score just because they can.
To do so would really be a slap in the face of those who are still trying to make it to the top level and establish a name for themselves in the sport.
Yet, at least a few times every year, one of the Cup Series' best active drivers — and arguably one of the greatest drivers of all time — dips a toe back into the Xfinity Series and Truck Series waters and makes a mockery of the competition.
That driver, of course, is Kyle Busch, and it's high time for him to give it up. Forever.
Kyle Busch remains persistent in his pursuit of padding total in the Xfinity Series and Truck Series
With a dominant win in last weekend's NASCAR Craftsman Truck Series race at Las Vegas Motor Speedway, Kyle Busch went to Victory Lane for a record 63rd time in NASCAR's No. 3 division. Busch — who is running select truck races this season as he customarily does for the organization he co-owns with his wife Samantha — has actually held the record for most all-time truck wins since February 2019 when he snapped a two-way tie at 51 wins apiece with retired NASCAR Hall of Famer and four-time truck champion Ron Hornaday Jr.
That means Busch's last 11 truck victories have essentially been gravy — or icing on the cake, if you want to use a different food analogy — because he's in no danger whatsoever of anyone catching him anytime in the foreseeable future. That's even more so the case in the NASCAR Xfinity Series, where Busch owns a record 102 triumphs — a record that, in all probability, will stand forever.
Yet, there was Busch last weekend at Las Vegas, running both the Truck and Xfinity race leading up to Sunday's Cup Series event — otherwise known as his real job. 
Kyle Busch's motivation for continuing to steal others' thunder is clear but unjustified
So, how can a 19-year veteran of the Cup Series and the all-time wins leader in NASCAR's No. 2 and No. 3 divisions be so greedy and self-serving that he'd keep running a limited schedule in each of the lower leagues each year? Did I forget to mention he's also a two-time Cup Series champion, former Xfinity Series champion, winner of 61 Cup races, and the all-time leader in total victories across NASCAR's three national divisions?
OK, I digress.
Let's start with the Truck side. Busch's primary interest in continuing to compete is making sure Kyle Busch Motorsports, the organization he founded in 2009, stays financially afloat. And he's the only KBM driver with enough brand and name recognition to attract the sponsors necessary for the company to remain in business (Who's ever heard of KBM's two full-time drivers, Chase Purdy and Jack Wood?). In other words: If Kyle Busch doesn't make at least a few truck starts each year, there won't be any more Kyle Busch Motorsports. He has to personally enter enough races to appease the sponsors of the organization, and if he doesn't, they likely take their dollars and move on.
And that's not conjecture on this writer's part. Busch has said as much himself in past interviews and press conferences of which I've been a part. But does wanting to keep KBM alive and well really justify stealing the thunder of 18-year-olds, 19-year-olds, and 20-year-olds in search of that one win that might get the attention of a major sponsor or a Cup Series team owner?
Of course it doesn't. Yet the Truck Series remains Kyle Busch's personal sandbox that everyone else has to play in. 
As for the Xfinity Series, well, Busch has no current ownership interest (Kyle Busch Motorsports did have a presence in the Xfinity Series from 2011-2013). He drives for other people, but his proclivity for dominating and taking all the spoils of victory for himself is every bit as strong, if not stronger. Meanwhile, drivers who might already have a quality Cup ride remain stuck in NASCAR's second-tier division because they've finished second to Busch more times over the years than they can count.
Thankfully, several years ago, NASCAR finally put a limit on how many Truck and Xfinity races a full-time Cup Series driver could run in a single season. As a result, Busch is no longer running and winning races in NASCAR's lower divisions practically every weekend as he once did.
But he's still running up the score all for the sake of personal gain, as opportunity allows. And he needs to stop it before all the fans of Truck and Xfinity Series racing finally say, "enough's enough," and stick to watching basketball. 
Thank heavens for college hoops and March Madness.