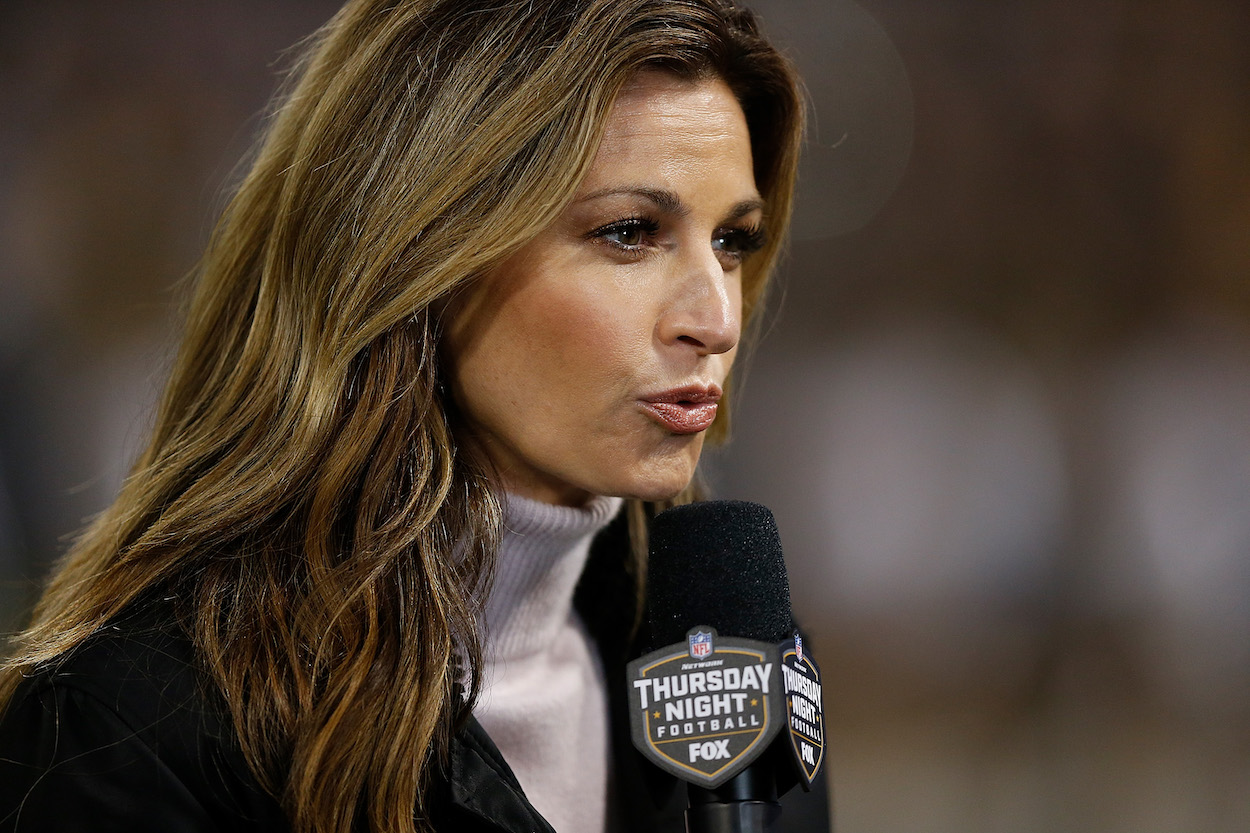 Erin Andrews Goes off on Profanity-Laced Tirade During Podcast About Something You'd Never Expect
Erin Andrews is no stranger to cursing covering the NFL. On a recent episode of her podcast, the Fox reporter dropped multiple f-bombs during a profanity-laced tirade about a rather innocuous subject.
Erin Andrews knows cursing is a standard thing in her line of work. As a veteran reporter who has worked the NFL sidelines for years, she's witnessed the emotion of players and coaches up close. She's heard anything and everything. 
This week on her podcast Calm Down with Erin and Charissa, the Fox sideline reporter did not calm down and flipped the script. She went off on a profanity-laced tirade of her own, dropping f-bombs and other curse words in a passionate conversation with co-host Charissa Thompson about what many might consider an otherwise innocuous subject. 
Erin Andrews no stranger to f-bombs
Erin Andrews has worked the sidelines for hundreds of NFL games in her career but last year found herself in a different and eerily quiet environment, covering contests with no fans in the stands. Her first assignment of the 2020 campaign featured Drew Brees and the New Orleans Saints hosting Tom Brady and the Tampa Bay Buccaneers.
After the contest, Andrews appeared on the podcast 10 Questions with Kyle Brandt and shared her experience of what she saw and heard in the fan-less Superdome from her perch sitting in the stands.
"Two things [Sunday], I never really knew how much s***-talking there was until (Sunday)," Andrews said. "You could hear it so clear. And I can't imagine if I was down there what that would have been like."
She said Brady, who didn't have a good performance, was one of the most vocal.  
"The other thing is after Tom threw the first interception – I mean, we all know, we've seen the video of him get so fired up, but again, it was silent in there and you just heard two f-bombs clear as day and you're like, oh boy," she said. "This is what we're going to hear all season. So it was interesting."
Goes off on a profanity-laced tirade of her own
Erin Andrews has heard foul language from players and coaches and reported on it, but she's never produced any of it herself – at least not on camera. That changed recently during an episode of her podcast when the 43-year-old reporter went off on a profanity-laced tirade about her new face wash ruining towels. 
"And the next couple of days, I look at the towel that's hanging on my door, and then I look at the towel that's on his door. There's bleach marks on it from a face, and it ain't my husband's. Damn it!" she said animatedly. "I've already ruined two of these f****** towels. 
"And you know what it is. It's like a new face wash. I was 'give it a whirl,' and it's got hydrogen peroxide in it. And you know, sometimes up in your hairline, you don't always get it out. I f****** stain the two damn freaking towels. And now we got the s***** ones back with the bad smell because I can't have nice things." 
Erin Andrews gets personal on podcast
Erin Andrews is the consummate professional when on-air at Fox, but since the launch of her podcast with Thompson earlier this year, she hasn't hesitated to reveal a much more personal side. 
In a recent episode, she talked about how her pregame preparation includes conference calls with the teams and can last for more than an hour. During that time, nature can sometimes call, and she admitted that she takes her phone into the bathroom. 
"But sometimes, I got to pee during them," she openly confessed. "I got to go to the bathroom and it's like it doesn't matter if it's so and so or so and so. So it's like I'm always holding the phone as I pee because I don't want to A, miss anything, and B, like I always have this crazy feeling like what happens if I get a text and it accidentally hits the unmute button and I'm flushing the toilet and Aaron Rodgers is going over like, why they've struggled on third downs. They could never prove it's me, but I would always just be afraid or I would say something like, 'We're out of toilet paper,' or something like that."
Or even worse, she might be cussing when she looks at the towel hanging on the door and discovers that it's stained with bleach.
Like Sportscasting on Facebook. Follow us on Twitter @sportscasting19.