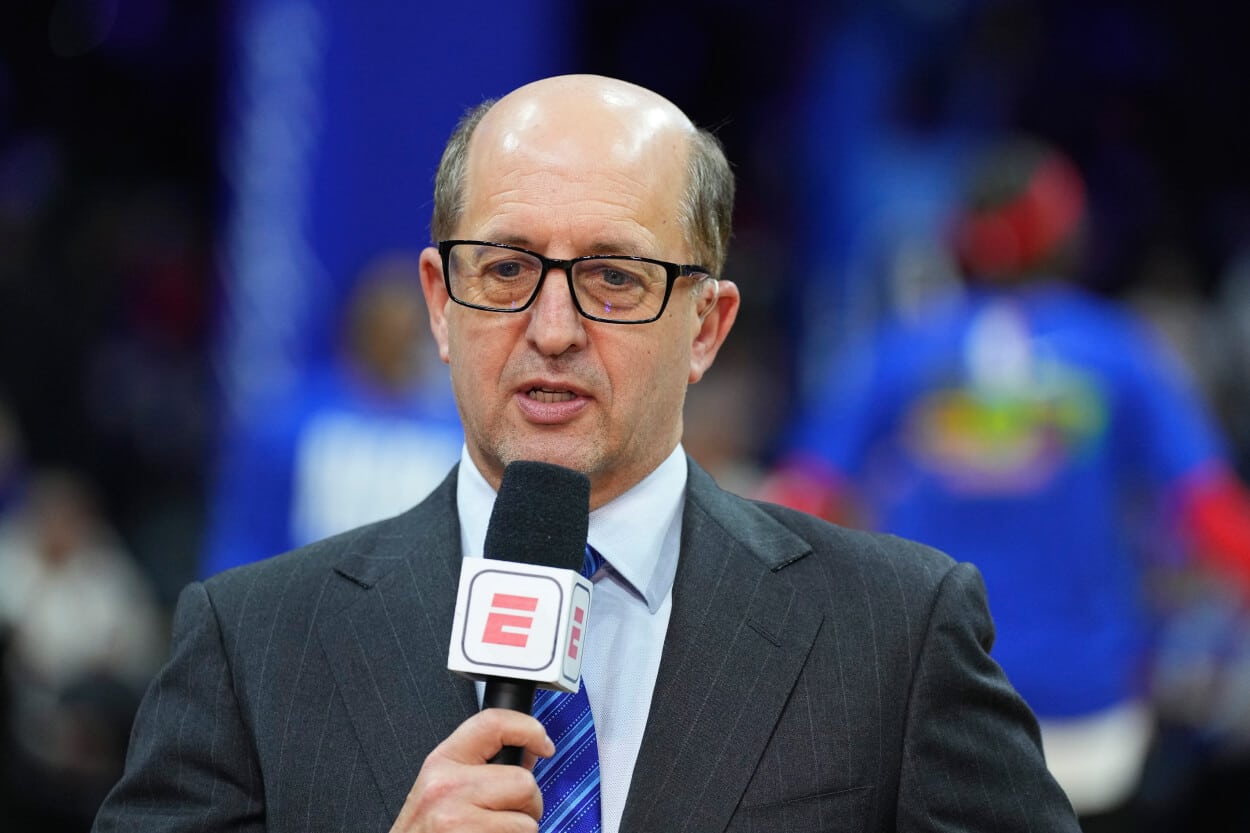 ESPN Dismisses Jeff Van Gundy, and George Karl Has the Perfect Response
ESPN made some drastic cost-cutting moves, and Jeff Van Gundy is out after 16 years.
Jeff Van Gundy, one of the NBA's top game analysts, is out at ESPN, according to The New York Post. The Post reported that the sports network laid off roughly 20 on-air personalities in a cost-cutting move.
Van Gundy had been with ESPN for 16 years. He teamed with Mike Breen and Mark Jackson to make for an entertaining threesome. After it was announced Van Gundy was no longer with ESPN, former NBA head coach George Karl took to Twitter with a classic response.
Jeff Van Gundy has a healthy NBA resume
Van Gundy spent 11 seasons as a head coach in the NBA. He began his NBA coaching career in the 1989-90 season as an assistant with the New York Knicks. After seven years as an assistant in New York, he took over for Don Nelson as head coach and remained there until the 2001-02 season.
As head coach of the Knicks for six-plus seasons, Van Gundy compiled a record of 248-172. He guided the Knicks to a berth in the NBA Finals in the lockout-shortened 1998-99 season. Van Gundy abruptly resigned from his position after 19 games in the 2002-02 season, saying he "lost focus" as a coach, according to ESPN.
"In my heart, I knew what was right, but it was still a difficult decision to come to," Van Gundy said then. "I didn't feel my focus was at its best, and I didn't want to hurt our team. I certainly don't regret the effort I put forth, but I just think it's time to step back and let the team move on."
In June 2003, the Houston Rockets named Van Gundy head coach, and he immediately guided the team to its first playoff berth in five years. He lasted four seasons in Houston, finishing with a 182-146 record.
Van Gundy then took his talents to the NBA broadcasting booth, where he served as a color commentator for ESPN for 16 years.
Van Gundy was one of several big names let go by ESPN, and George Karl had a classic response
Van Gundy wasn't let go because of anything he did wrong. He just made too much money. According to the Post, the move was made in an effort to help save tens of millions of dollars. The Post also reported that Jalen Rose, another top NBA analyst, was let go.
Among some of the other cost-cutting casualties were Suzy Kolber, Steve Young, Max Kellerman, Keyshawn Johnson, Matt Hasselbeck, and Todd McShay.
Van Gundy was known for his wit and humor. He worked well with Breen and Jackson, so his loss was somewhat surprising. One person who was clearly surprised was Naismith Memorial Basketball Hall of Fame coach George Karl. Karl took to Twitter with a classic comment after hearing the news.
"Letting go of JVG but not the guy who left Jokic out of his top 5 MVP candidates??" Karl tweeted.
In case you forgot, Jackson embarrassingly left Denver Nuggets center Nikola Jokic off his MVP ballot this season. Jokic, who had won the award the previous two seasons, finished second to Philadelphia 76ers center Joel Embiid. Jackson, however, didn't even give Jokic a vote. He did, however, own up to the mistake.
"I apologize to the Denver Nuggets," Jackson said, per ESPN. "I apologize to Nikola Jokic, who is not only in the MVP discussion and deserved to be on my ballot, but he is one of the greatest players in the history of this game and a top-10 center of all-time. So I own it. If you want to take away my vote or do whatever, more than welcome. I made a mistake."