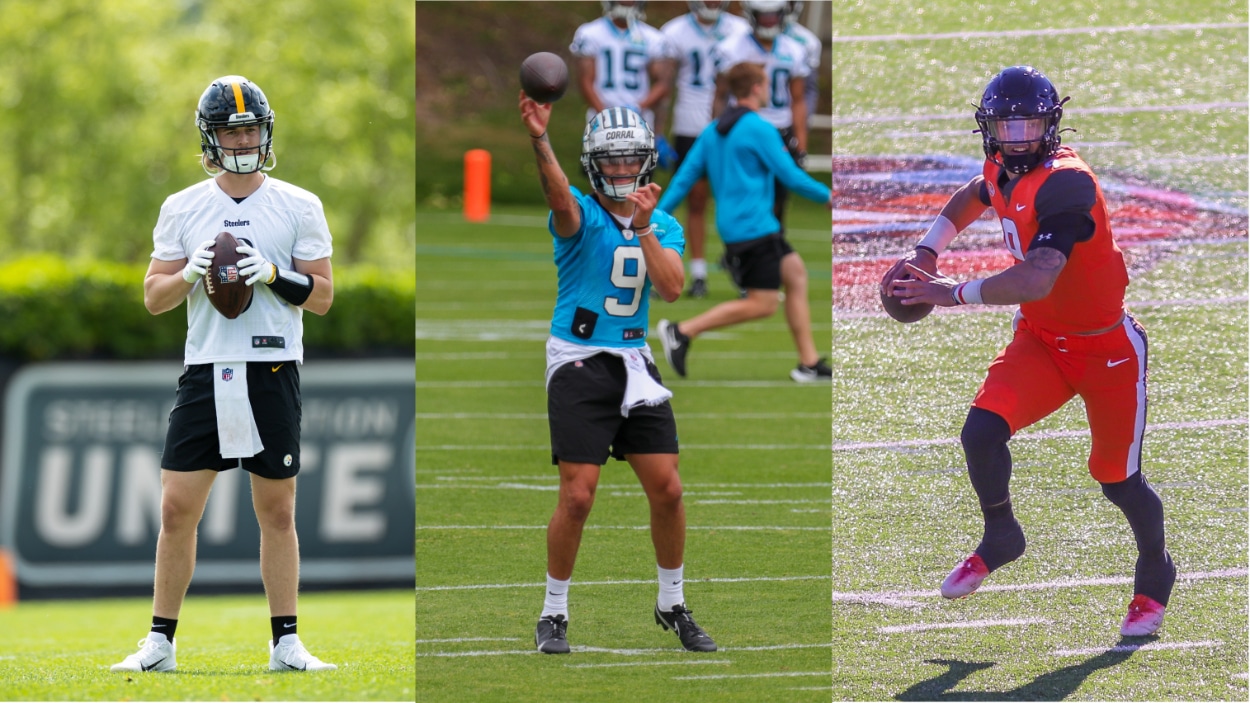 ESPN Panel Makes Surprising Prediction for Which NFL Rookie QB Will Start First in 2022
There were four NFL rookie QBs drafted in the first three rounds of the 2022 draft, but the signal-caller picked first may not start first.
The 2022 NFL Draft was a strange one for quarterbacks. Only one NFL rookie QB (Kenny Picket to the Pittsburgh Steelers) went in the first round. But three signal-callers went in Round 3. Desmond Ridder went to the Atlanta Falcons, Malik Willis to the Tennessee Titans, and Matt Corral to the Carolina Panthers.
ESPN's panel of NFL Nation beat reporters just released predictions for when each rookie would start during the upcoming season. And their answer as to which we will see first may surprise you.   
ESPN's NFL Nation predicts the Carolina Panthers' Matt Corral will start before other NFL rookie QBs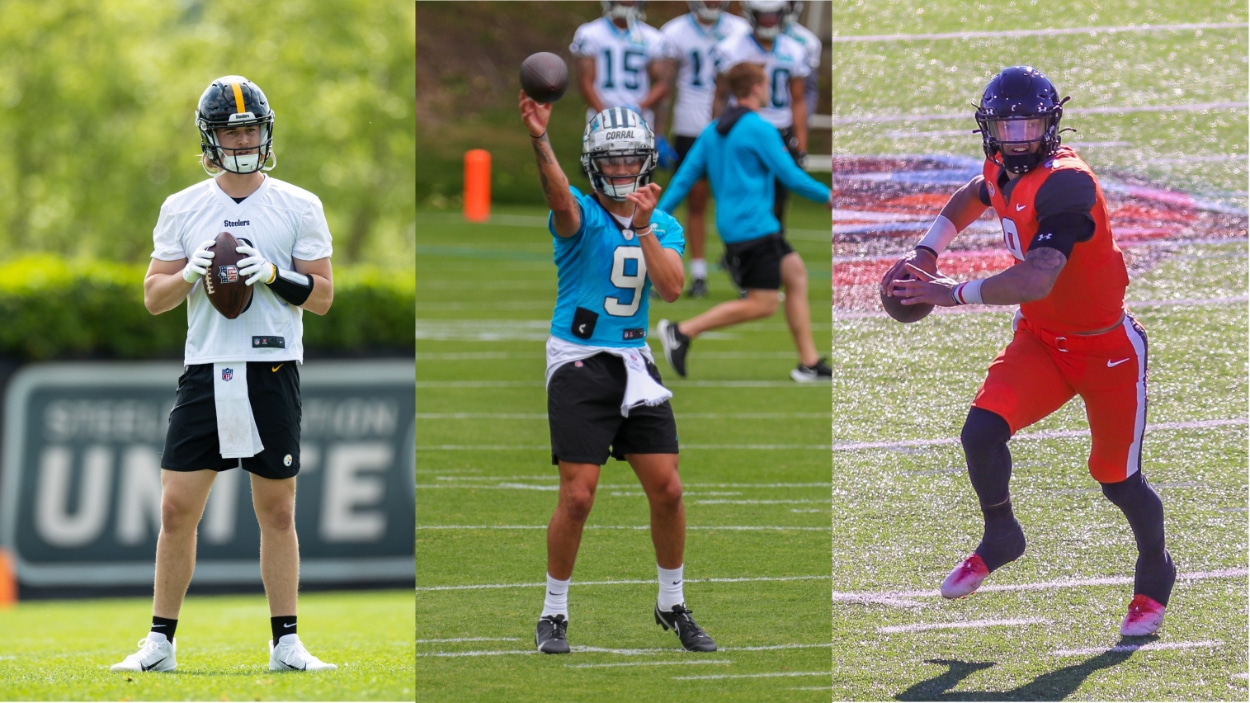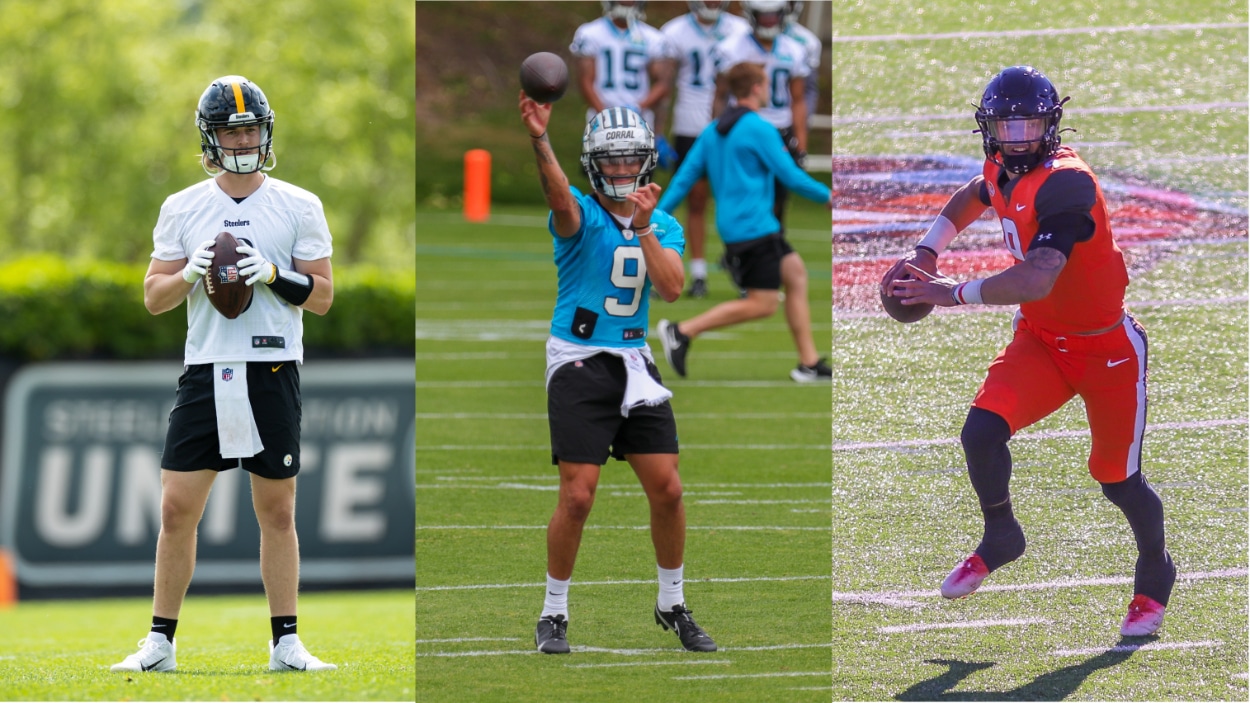 In a recent ESPN article, NFL beat reporters gave their best guess as to when the team they cover's rookie QBs will get on the field for their first start. 
Brooke Pryor (Pittsburgh Steelers), Michael Rothstein (Atlanta Falcons), Turron Davenport (Tennessee Titans), and David Newton (Carolina Panthers) all wrote about their team's rookie's chance of starting in Week 1. They also projected the chance of not starting all season, and gave their "best prediction for first NFL start."
The only first-round pick, Kenny Pickett, didn't top any of those categories. Pryor gave the Steelers signal-caller a 2% chance of beating out Mitchell Trubisky in training camp and a 40% chance of holding the clipboard all year. 
All the other rookie QBs got a 5% chance of winning the job outright, and Malik Willis got a 75% possibility of sitting all season behind Ryan Tannehill. 
As for when the QBs will likely start, the NFL Nation reporters believe that Pickett, Desmond Ridder, and Willis are all looking at Week 15 or later. 
The NFL rookie QB with the best chance of starting early seems to be Matt Corral. Newton predicts that the former Ole Miss signal-caller could get his shot as early as Week 6. That would be against the defending Super Bowl champion LA Rams. The Panthers beat reporter writes: 
The early schedule is tough, and five games is plenty of time to see whether Darnold or another veteran can win. So while starting Corral against the defending Super Bowl champs on the road might seem harsh, the expectations for him to win would be low, and that would ease the pressure. Plus, his mobility against the Rams' front could be useful. 

ESPN's David Newton on when Carolina Panthers rookie QB Matt Corral could start
Although most probably think the first-rounder, Pickett, would be the most logical choice to start soonest, ESPN nation is probably right. Corral (currently) has the least competition with Sam Darnold. Plus, the Panthers have zero playoff aspirations. The Titans have serious expectations, and the Steelers and Falcons have at least slim hopes. 
Like Sportscasting on Facebook. Follow us on Twitter @sportscasting19 and subscribe to our YouTube channel.