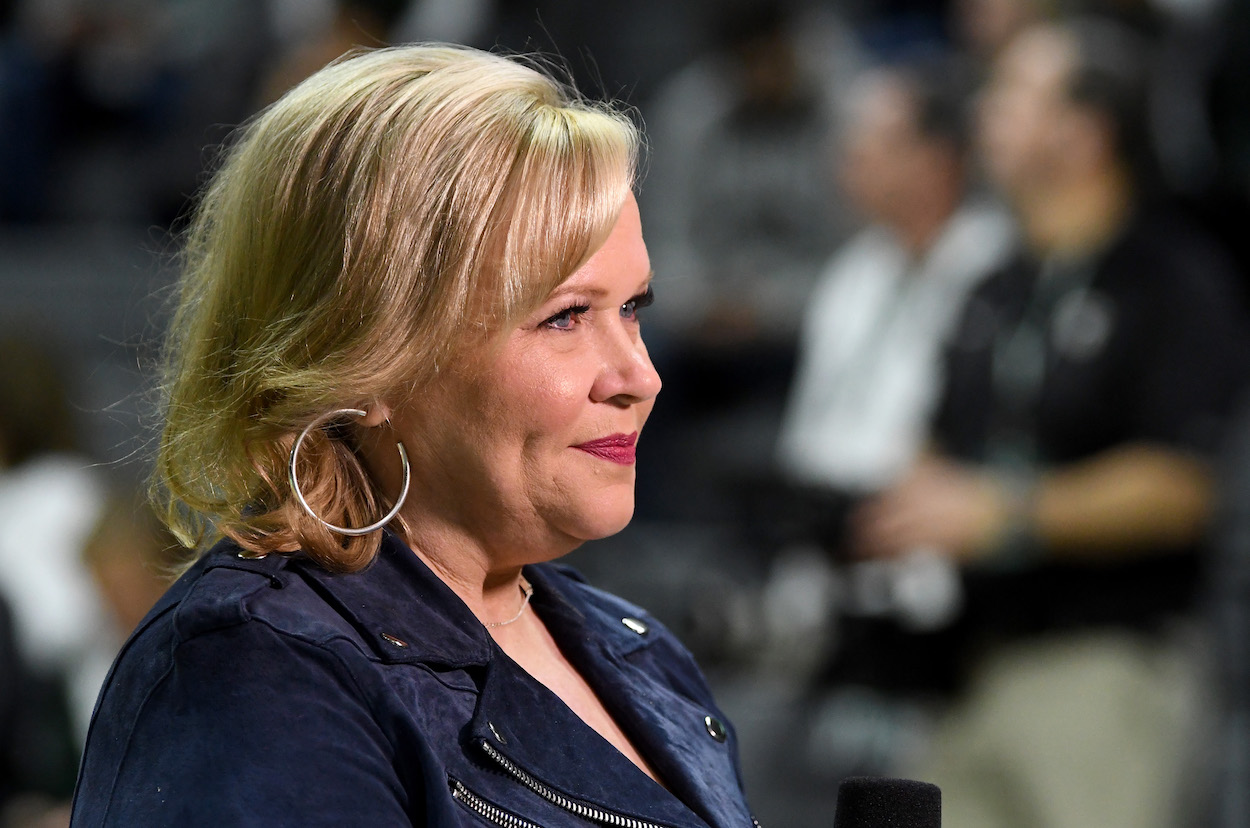 ESPN's Holly Rowe Piles on a Texas Longhorns Basketball Program Where Shaka Smart Has Lost Control After Star Players Get in Fight During Game
Shaka Smart has lost control of the Texas Longhorns basketball team. On Saturday, the team's top two scorers got into an altercation during the game and had to be separated, and then the team blew a 19-point second half lead and lost. ESPN's Holly Rowe then piled on, taking a shot at the program for a completely separate issue in Austin.
Shaka Smart and the Texas Longhorns men's basketball team are in trouble. A season that started with so much promise has been on a steady decline for weeks. Saturday's loss at home to West Virginia after blowing a 19-point second-half lead was bad enough. Adding insult to injury, two of the Longhorns top players got into an altercation during a timeout and had to be separated by coaches and teammates. The final straw came late in the game when ESPN's Holly Rowe took a shot at the program and called out its incompetence for a completely separate issue. 
Shaka Smart and Texas Longhorns get off to strong start
Shaka Smart and the Texas Longhorns entered the 2020-21 college basketball season with high expectations. With most of the starting lineup returning, including the top offensive weapons in Andrew Jones and Courtney Ramey, plus the addition of freshman sensation Greg Brown, many predicted the Longhorns had a shot to claim the Big 12 title and make a deep run in the NCAA Tournament.
Starting the season ranked No. 19, the Longhorns impressed early, defeating Davidson, Indiana, and North Carolina to win the Maui Invitational Championship. After a loss to a tough Villanova squad at home, the Horns went on an impressive run, winning six straight games, including a dominant 84-59 blowout win over the-then No. 3-ranked Kansas Jayhawks at Allen Fieldhouse. 
That win propelled the Longhorns to No. 4 in the polls in early January. After a couple of wins over Iowa State and West Virginia, Shaka Smart's squad has struggled mightily, losing five out of its last eight games. 
Shaka Smart gets very sick from COVID-19 
While it's easy to look at the Texas Longhorns' season and just dismiss it as the team fell apart, the team, like most other teams in the nation, endured a rough period when Shaka Smart and numerous players from the team tested positive for the coronavirus and missed action.
During that stretch, the Longhorns played one game against rival Oklahoma, where the team only had eight scholarship players available because multiple players sat out due to COVID protocols. 
However, COVID-19 did more than affect the team's overall performance. The virus served as a sobering wake-up call for Shaka Smart, who experienced "significant" symptoms from the illness. He said it made him take a step back and figure out the important things in life. 
"But there's a lot up there for me and I think just to sum it up — maybe a prioritization of what matters most, both as it relates to our team and also as it relates to my family, loved ones," Smart said in a call with reporters. "The one thing when you have this thing is, and I'm sure other people maybe went through this is, it certainly gives you a little bit of a second sight to see some things a little more clearly."
Holly Rowe takes shot at basketball program after Texas players brawl
With Shaka Smart's ability to see things more clearly, what he saw on Saturday from his team was alarming. Against the visiting No. 13-ranked West Virginia Mountaineers, the No. 12-ranked Texas Longhorns took a 19-point lead early in the second half. Then, everything fell apart moments later when the team's leading scorers, Andrew Jones and Courtney Ramey, got into an altercation on the bench during a timeout with teammates and coaches intervening to separate the pair. 
Unsurprisingly, the Longhorns fell apart and ended up losing the contest 84-82, dropping their record to 13-6. Late in the game, ESPN's Holly Rowe took a shot at the Texas Longhorns on Twitter, but it wasn't for their play on the court. 
"Dear @TexasMBB the crowd noise pumped in is very distracting," Rowe wrote. "Normal crowd noise has ebbs and flows. Not constant. Perhaps can stop it at times. This is a brutal listen on TV." 
The Texas Longhorns' product on the court Saturday was ugly as two of the team's top players got into a nasty altercation, which resulted in a complete collapse in the second half and an embarrassing defeat after surrendering a 19-point lead. Add in the bad sound mix, and it made watching the game even more unbearable.
Where the Longhorns go from here is anyone's guess. But based on the direction they've headed recently, it doesn't look good. Up next, Texas hosts Kansas on Tuesday.
Like Sportscasting on Facebook. Follow us on Twitter @sportscasting19.