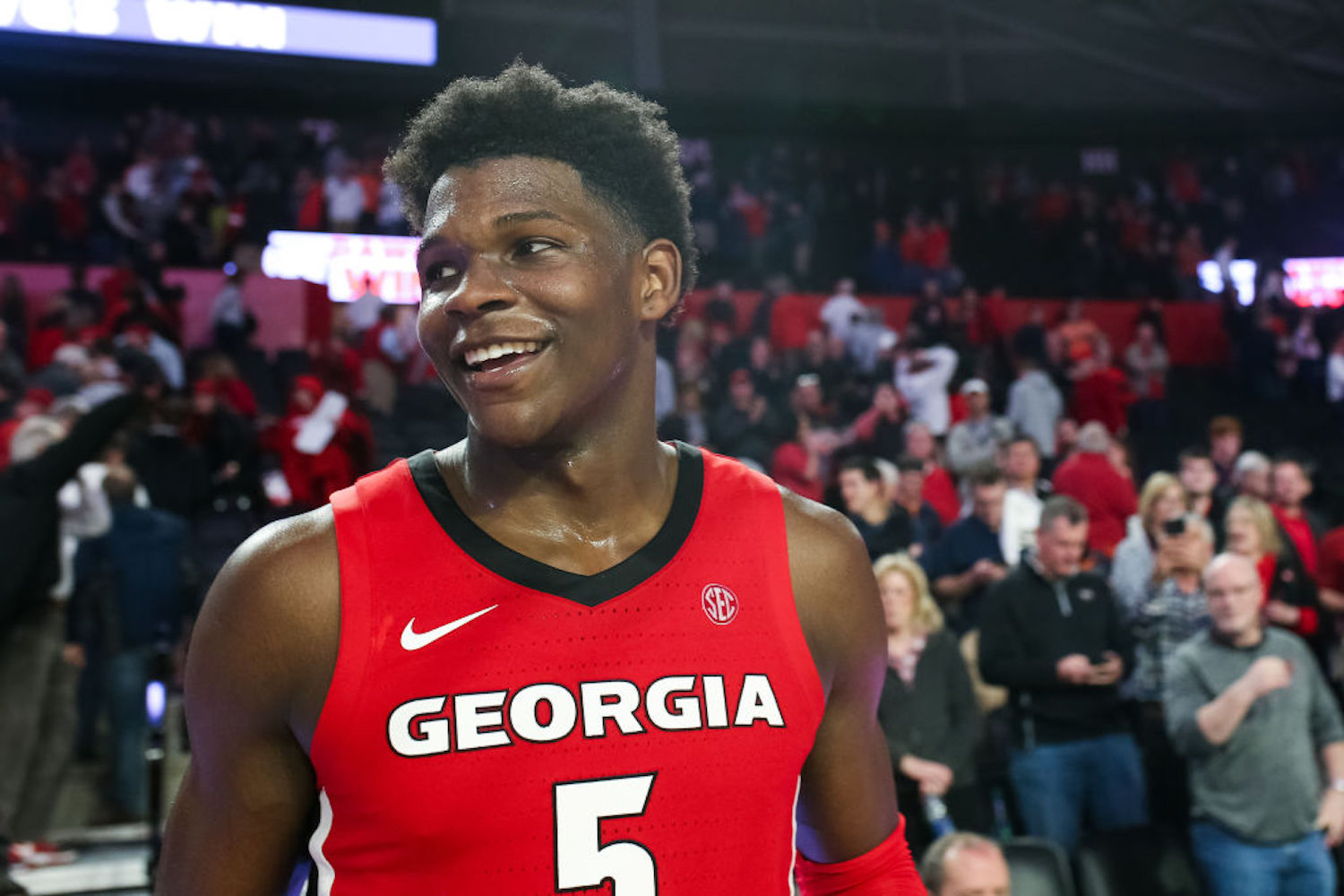 Everything You Need to Know About NBA Draft Prospect Anthony Edwards
Anthony Edwards is projected to be a top-three NBA draft pick in 2020. Here's everything you need to know about the star prospect.
The 2020 NBA draft is just around the corner, and one lucky team is about to make Anthony Edwards' childhood dream come true.
Edwards entered the draft after just one season at Georgia, and he's projected to be the possible No. 1 overall pick come Wednesday night. So, who is Anthony Edwards, and what is his potential in the NBA?
Anthony Edwards had a tough childhood
Anthony Edwards was raised by his mother and grandmother in the heart of Atlanta, Ga. He spent most of his childhood in Atlanta, and he always had dreams of becoming an NBA player.
When Edwards was just 14, his entire life changed as he knew it. His mother and grandmother both passed away due to cancer in the same year, and Edwards' older brother, Antoine, became his legal guardian. With no parental figure all throughout his high school career, Edwards still managed to pave his own path to greatness.
Edwards was a top high school recruit
Anthony Edwards didn't exactly come out of nowhere to become a top NBA draft prospect. He was a promising recruit ever since his high school days. As a senior at Holy Spirit Preparatory School in 2019, Edwards was rated the No. 2 high school recruit in the nation by 247Sports.
He received college offers from Kentucky, Kansas, Michigan State, and North Carolina, among others, but he decided to stay home and attend the University of Georgia.
He had an inconsistent college career at Georgia
There are two ways to look at Edwards' brief college career. The highs were exceptional, which is why he finds himself at the top of draft boards heading into Wednesday night. But the lows were worrisome, and they might make the Minnesota Timberwolves think twice about selecting Edwards first overall.
In his lone season at Georgia, Edwards averaged 19.1 points per game to lead the SEC. He scored 37 against Michigan State, 36 against South Carolina, and 32 against Florida. Edwards was a microwave scorer for the Bulldogs. When he was feeling it, he could put the ball in the basket at will.
But there were more than a couple of red flags that popped up during his freshman season. Edwards tried to do it all for Georgia, so his shot selection was extremely poor at times. He chucked up 7.7 threes per game even though he was stronger and more athletic than most guards covering him in the SEC.
Edwards also struggled on the defensive end all season, and some of it was due to a lack of effort. Georgia had a 110.3 defensive rating when Edwards was on the court, but it improved to 103.0 when he went to the bench. Edwards' questionable decision making on offense and inconsistent effort on defense raise valid questions about his NBA potential, but the flashes he showed at his best make him a possible No. 1 pick.
Who does Anthony Edwards compare to in today's NBA?
Edwards possesses a unique combination of size, strength, athleticism, and finishing ability that can make him a star in the NBA. NBAdraft.net had a glowing review for Edwards coming out of college.
"A rangy, 6'5 225 guard prospect with a truly formidable combination of size, strength and quick twitch athleticism on the perimeter … Somewhat of a physical freak, possessing an imposing frame that is mature well beyond its years and that he knows how to use to his advantage … A powerful and explosive leaper, particularly off of 2 feet, and is pretty light on his feet for his size, making him an absolute terror for defenses when he's slashing to the rim in the half court or running the floor in transition."
Edwards can most accurately be compared to Donovan Mitchell or Victor Oladipo in today's NBA, but he could become an even more dominant inside scorer than both players if he increases his aggressiveness.