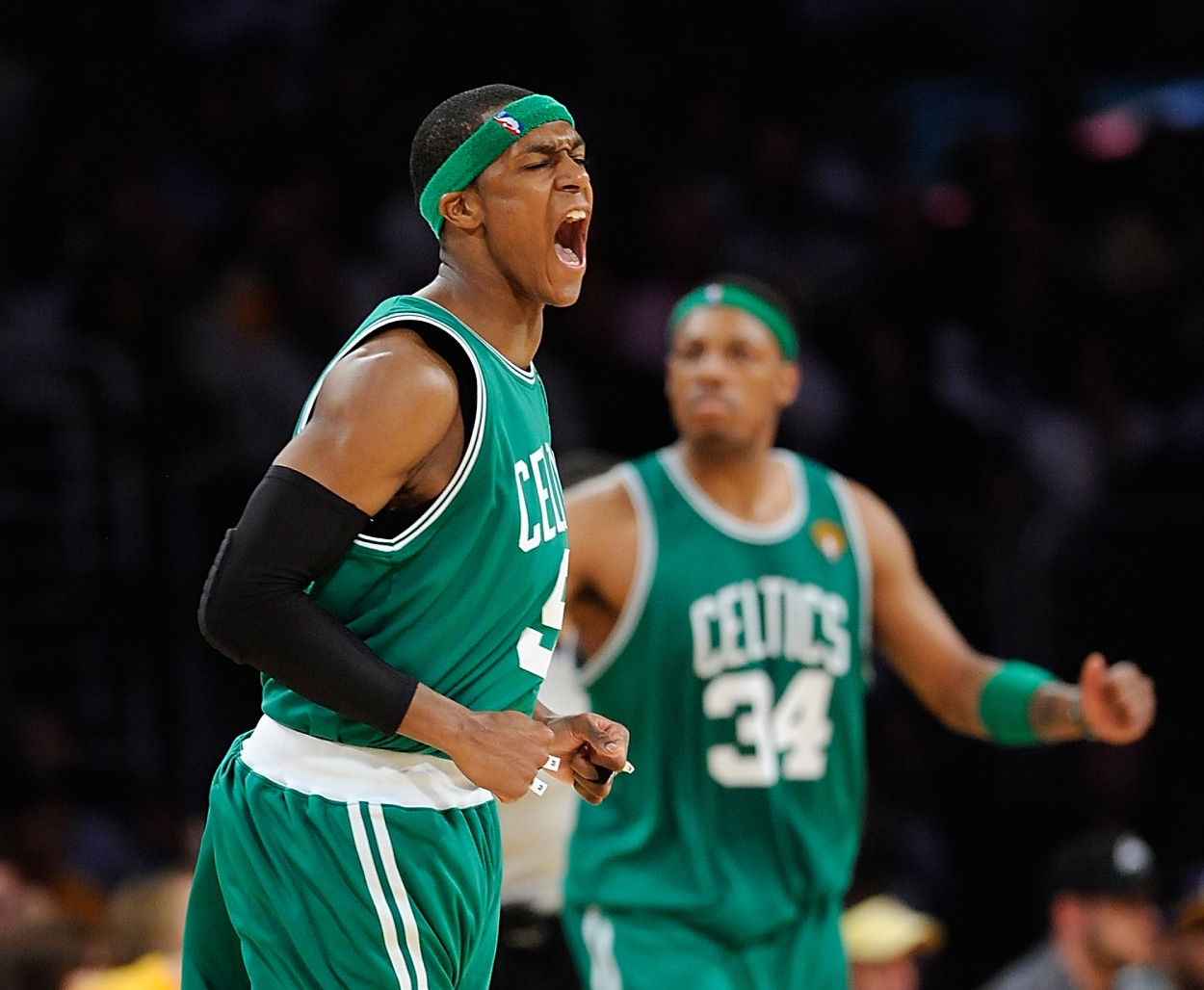 Eyeing Larry Bird's Record, Rajon Rondo Was a Painful No-Go After a Surprising ACL Tear
Rajon Rondo eyed a record held by Larry Bird, but an ACL tear prevented him from possibly breaking the mark.
Veteran point guard Rajon Rondo was rolling. He had Larry Bird in sight. Rondo was Boston's new triple-double star and was aiming to break one of Bird's many Boston Celtics records.
During a game against the Atlanta Hawks on Jan. 25, 2013, Rondo injured his knee but finished the game and recorded his second straight triple-double. Rondo aimed to tie Bird's team mark of three straight triple-doubles against the Miami Heat in two days and then go on a break the record against the Sacramento Kings. He never got the chance.
Rajon Rondo recalls falling short of Larry Bird's record after suffering an ACL tear
Rajon Rondo was coming off a game in which he led the Celtics in scoring with 23 points in a loss to the New York Knicks. He also finished with 10 rebounds and 11 assists for yet another triple-double.
The Celtics then traveled to Atlanta and dropped a double-overtime decision to the Hawks. In that one, Rondo went for 16 points, 10 rebounds, and 11 assists. He kept playing most of that game despite suffering a knee injury in the contest that turned out to be a torn ACL.
"I tore my ACL in Atlanta," Rondo told J.J. Redick during a recent appearance on The Old Man & the Three podcast. "I believe I had a triple-double in that game. They called a timeout, and I believe it was (Kyle) Korver who was going crazy, so I'm like, 'I got him,' and this was after I tore my ACL.
"My adrenaline is going so crazy that I don't even feel it at the time. I just thought it was maybe a little bit of a hyperextension. We come out of the time out, and I'm like, 'I got Korver.' Next thing you know, he comes off a double screen, lights me up. I'm like, 'Oh, I don't have him.'
"I think I had three consecutive triple-doubles (actually two), and I'm trying to break Bird's record. I get on a plane, and it's swelling up on me. I'm so young and I'm thinking I'll bounce back. Next day I go into practice, and I can't even make it to the door. I'm limping.
"We have Miami the next day, I think on ABC, and those are the games where I play really well. I'm excited. It's Miami. I got a chance to (tie) Bird's record, blah, blah, blah. (Sunday) We go to the arena. I got like seven heat packs on me. I do my pregame, get out of the shower and one of the docs is like, 'Come sit on the table.' He does, you know, the little ACL check. He's like, 'You're not playing today. Go to the hospital.'"
Rondo never got a fair chance at Bird's record
Rondo missed the rest of the season and didn't play in the first 52 games of the 2013-14 season. Boston brought him back slowly, and he played just 19 minutes in his return, putting up eight points, four assists, and two rebounds.
Rondo finished with 22 triple-doubles in his Celtics career. He's fourth on the all-time list in Boston. Bird is No. 1 with 59, followed by Bob Cousy (33) and John Havlicek (31).
Rondo played 22 games during the 2014-15 season before the Celtics traded him to the Dallas Mavericks. Boston was clearly headed in a different direction and building for the future. In 2013, the Celtics traded veterans Paul Pierce and Kevin Garnett in a franchise-altering deal with the Brooklyn Nets that eventually helped piece together the team that exists today.
Rondo goes down as one of the top point guards ever to play for the Celtics. He'll also go down as one of the toughest.