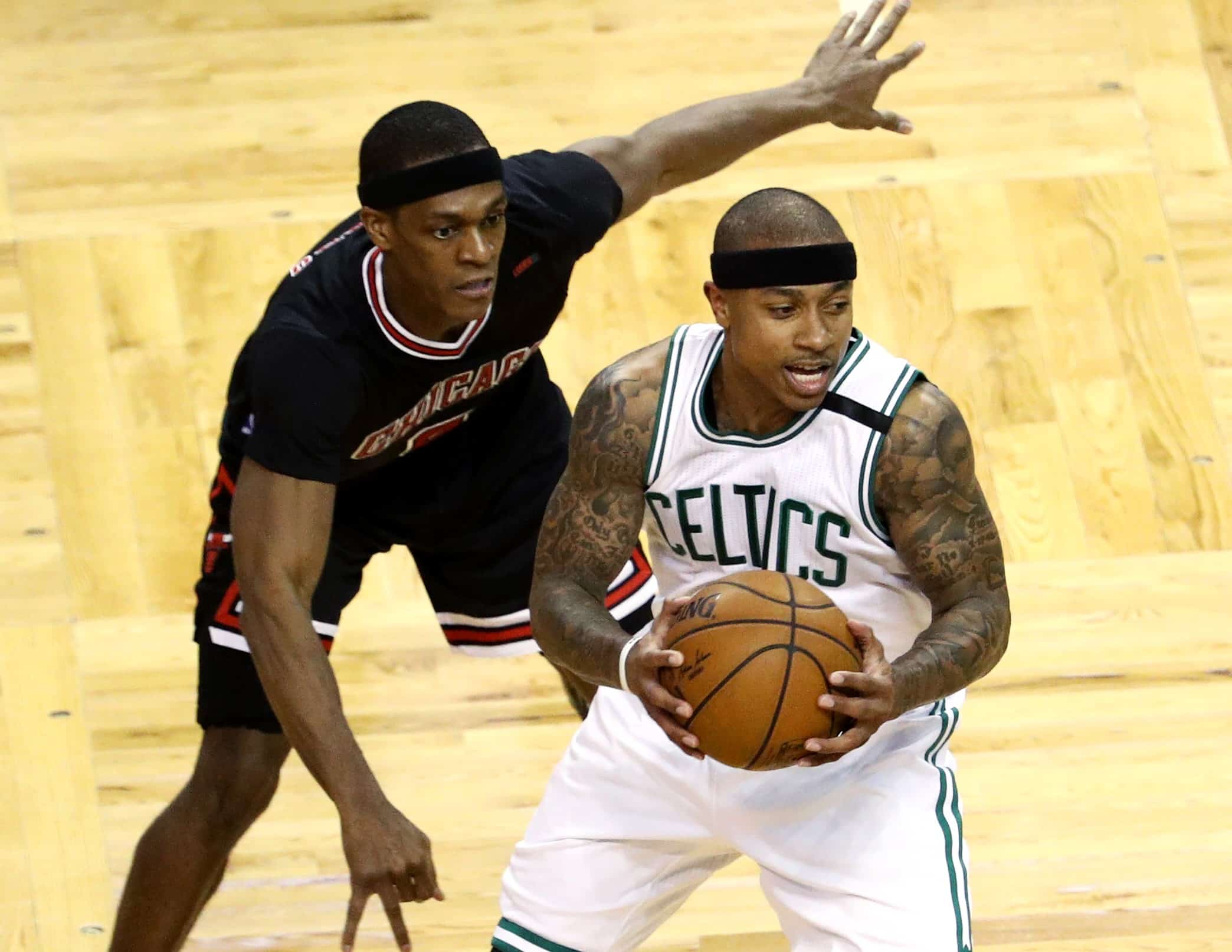 Rajon Rondo's Basketball IQ Is on Another Level, and He Revealed His Unique Mindset When Facing the Boston Celtics
It sounds cliché, but Rajon Rondo was literally a coach on the floor while running the point.
Rajon Rondo is clearly a top-five point guard in Boston Celtics history. The 6-foot-1 star out of Kentucky spent the first nine seasons of his 16-year NBA career in Boston. While Bob Cousy, Dennis Johnson, and JoJo White may go down as better Boston point guards, none had better basketball smarts than Rondo.
During a recent appearance on J.J. Redick's The Old Man & the Three podcast, Rondo spoke about his basketball IQ. He even revealed his mindset when he faced his former team while playing for the Chicago Bulls.
Rajon Rondo was the unsung hero on the 2008 Boston Celtics championship squad
The Boston Celtics hadn't won a championship since 1986. During the 2006-2007 season, they won 24 games. Danny Ainge, then the team's president of basketball operations, needed to do something. He actually did two things.
First, he swung a deal with the Seattle SuperSonice, getting veteran sharpshooter Ray Allen. Then, he brought in Kevin Garnett. Allen and Garnett teamed with Paul Pierce to form Boston's best Big Three since Larry Bird, Kevin McHale, and Robert Parish. In their first season together, the Celtics went 66-16 and captured the 2008 NBA Finals.
While Pierce, Garnett, and Allen get plenty of well-deserved credit, the forgotten one is Rajon Rondo. Rondo was in his second NBA season when Boston won its title. He started all 77 games he played and averaged 10.6 points and 5.1 assists. Rondo ran the show.
By his fourth season, he was an All-Star, guiding the Celtics to another berth in the championship round. Rondo made four straight All-Star appearances with the Celtics. He led the league in assists during two of those seasons.
Rondo averaged 11.0 points and 8.5 assists during his time in Boston. He also turned things up a notch in the postseason, earning the nickname "Playoff Rondo."
Rondo explains what his mindset was when he faced the Celtics
Rondo has always had a reputation for being an intelligent basketball player. During his recent appearance on Redick's podcast, Redick played against Rondo and said he always knew what play was coming and was always one step ahead of everyone else. He asked Rondo how he defined basketball intelligence.
"For me, basketball intelligence, for one, is being an extension of the coach on the floor," Rondo said on The Old Man & the Three podcast. "When I'm playing a game, I'm not playing against the players."
The example he used was when he faced the Celtics as a member of the Bulls during the 2017 playoffs.
"A great example of this is when I was going against the Celtics when I played for the Bulls," he said. "My whole mindset in that series was to beat Brad Stevens. I don't think many players are even thinking that way when they're out there on the court. I'm pretty sure none are thinking that way when they're on the court.
"I think it was Game 1, a shootaround, and I asked Jimmy (Butler) and D-Wade to stay back. I was working on fourth-quarter execution plays that we could run in the fourth that Brad hadn't seen us play yet. When we did run those plays, they weren't able to make those counters or adjustments. For me, I think I watched about four or five of his games for the fourth-quarter plays they were calling — sets that they ran for Isaiah (Thomas), (Al) Horford — to get ahead of the curve.
"My midset is thinking how can I beat the coach? How can I outcoach the coach? I feel like I have the power, and I'm involved in the games, so I have more of an impact that I can make versus a coach yelling from the sideline."
For the record, the Bulls won the first two games in Boston before Rondo fractured his thumb and missed the rest of the series. The Celtics went on to win the next four games.