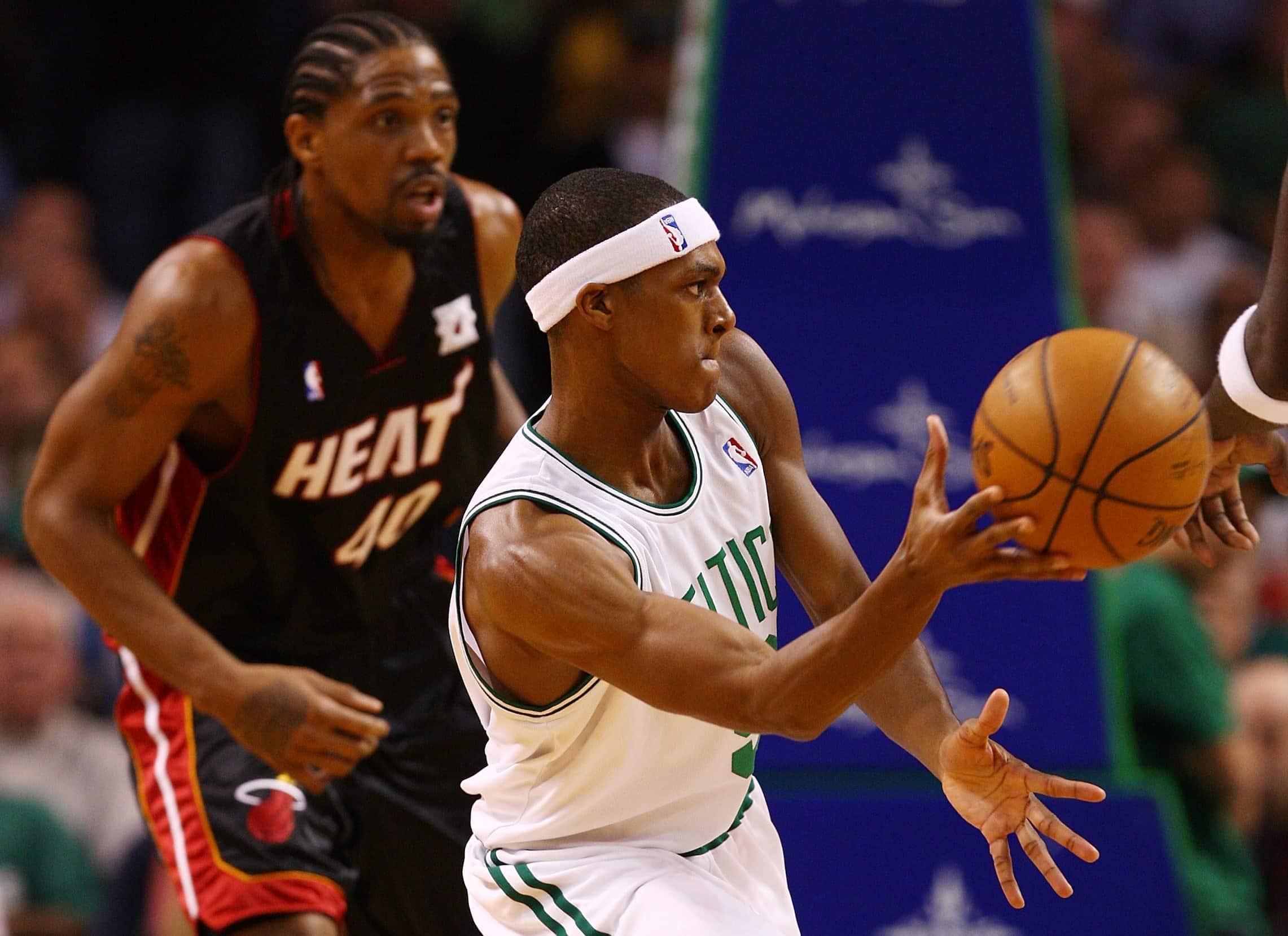 Rajon Rondo Is Happy His Bold Request Never Transpired as a Rookie With the Boston Celtics
As a rookie with the Boston Celtics, Rajon Rondo wasn't too happy with all those losses.
Rajon Rondo had quite the wake-up call as a rookie in the NBA. After winning 47 games over two seasons at Kentucky, Rondo was selected by the Phoenix Suns with the No. 21 pick in the 2006 NBA Draft and was immediately traded to the Boston Celtics. Let's just say things didn't go so well for Rondo in his first year in Boston.
Rajon Rondo asked for a trade during his first year with the Boston Celtics
As an NBA rookie, Rajon Rondo averaged 23.5 minutes while putting up 6.4 points and 3.8 assists on a team that finished 24-58. Rondo struggled so much with all the losing that he boldly requested a trade during his first season.
"We lost 18 straight, and I just wanted an opportunity," Rondo told J.J. Redick on The Old Man & the Three podcast. "Doc (Rivers) was telling me things, then come game time, it didn't happen, so I was frustrated in that process as a young guy coming from Kentucky. I wasn't used to losing like this, and I wanted to help the team.
"Every day in practice, I would bust my butt and try to figure things out, but I still wasn't getting a chance to produce in the game. So, I asked for trades. I'm glad I didn't (get traded), obviously.
"I didn't actually go to the front office, but I talked to my agent Bill Duffy and then my mentor Doug Bibby. They always told me the cream always rises to the top."
Things clearly worked out for Rondo and the Celtics. The following season, Danny Ainge, then Boston's president of basketball operations, swung a pair of deals that vastly altered the team. Ainge brought in Ray Allen and Kevin Garnett, and Boston immediately won 66 games and their first championship since 1986.
Rondo almost got his trade wish
Ainge recently explained how he was able to pull off the deals for both Allen and Garnett before the 2007-08 season. He said Garnett was willing to come to Boston, but he didn't think the Celtics had enough to win a championship. That prompted Ainge to trade the fifth overall pick in a deal for Allen. Then, he traded five players and two first-round picks to land Garnett.
Rondo revealed he was nearly one of those players headed back to Minnesota in the Garnett deal.
"During that summer, I was in the trade talks, going to Minnesota," Rondo told Redick. "Luckily, I didn't go, and I was fortunate to stay there.
"Going into that summer, I just wanted to work my butt off, just to try to get better each day, talking to a lot of different players, a couple of my mentors on how to be a better player and how to be a better leader at such a young age."
Rondo went on to play for eight more teams in his 16-year career but never had the success he did in Boston. He's living proof that sometimes it's better when wishes don't come true.