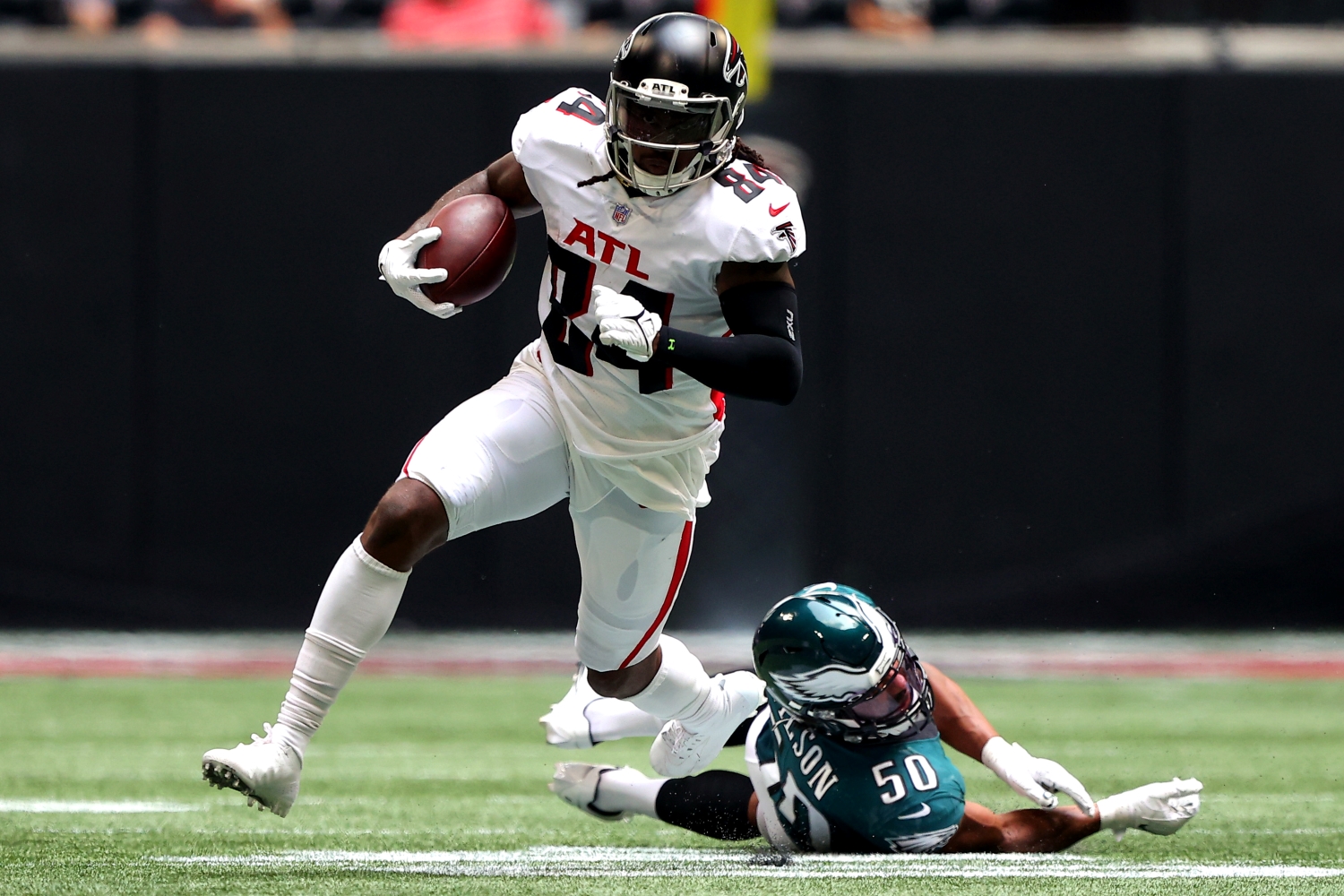 Falcons Breakout Star Cordarrelle Patterson and His Partner Suffered a Tragic Loss That Gives Special Meaning to His Week 13 Cleats: 'You Never Think it Can Happen to You'
Years before he broke out with the Falcons, Cordarrelle Patterson and his partner suffered a tragic loss that's inspired him to wear special cleats in Week 13.
Before the 2021 season began, nobody expected Cordarrelle Patterson to provide the type of production he has in his first season with the Atlanta Falcons.
Then again, considering he's been used sparingly on offense for the majority of his NFL career, how could anyone have predicted he'd become one of the league's most electrifying playmakers in his age-30 campaign?
Luckily for Patterson, he seems to have found a coach who knows how to maximize the rare athletic gifts that helped him become a first-round pick nearly a decade ago.
Unfortunately for the ninth-year pro, his long-winding journey to realizing his potential included a heartbreaking moment that made football seem far less important. And by using his cleats to spread awareness about an issue he and his girlfriend understand all too well, Patterson will let his feet do the talking when he takes the field against the Tampa Bay Buccaneers in Week 13.
Cordarrelle Patterson's breakout campaign has been one of the most surprising storylines of the 2021 season
You can't talk about the 2021 NFL season without mentioning Cordarrelle Patterson. After all, he's gone from being an All-Pro returner with a limited offensive role to doing just about everything to help the Falcons put points on the scoreboard.
An elite athlete with an impressive combination of size and speed, the 6-foot-2, 220-pound veteran has made a major impact as a pass catcher and as a ball carrier in his first year playing for first-year head coach Arthur Smith. Patterson has racked up 411 rushing yards and four touchdowns on 93 carries (4.4 yards per attempt), caught 41 passes for 500 yards and five touchdowns, and averaged 23.7 yards on 14 kick returns.
Needless to say, the four-time first-team All-Pro has proven he can do more than just star on special teams.
While Patterson has enjoyed tremendous individual success, his team look bound to finish the season with a losing record. Still, he's provided Falcons fans with plenty of exciting moments and quickly earned the respect of teammates and coaches for his versatility, selflessness, and humility.
And for someone who suffered a parent's worst nightmare not long ago, it's only fitting that Patterson has found a way to send an important message with his Week 13 footwear.
A tragic loss has inspired the NFL veteran to send an important message with his Week 13 footwear
Donning custom cleats isn't anything new for the fleet-footed playmaker who goes by the nickname "Flash." But when the Falcons face the Buccaneers this Sunday, his shoes will hold a particularly special meaning.
As told by Michael Rothstein of ESPN, Patterson and his partner, Taylor, lost their son, Zyan, in 2017, roughly 18-20 weeks into her pregnancy. Taylor still delivered the child even after the couple learned they lost their son.
"Every day goes by we still think about our son and what happened," the NFL veteran said. "It happens every day in life, honestly. Some people don't understand that some ladies only have one chance to get pregnant and they lose their baby and never have that opportunity to do it again."
Patterson's experience with losing a child has inspired him to don multi-colored cleats with butterflies on them and the words "Pregnancy & infant loss awareness" written on the side for Week 13. According to the March of Dimes, approximately 10-15% of pregnancies end in miscarriage, which highlights the importance of the devoted father's visible message.
"You never think it can happen to you," Patterson said. "It makes you look at life different. People don't think it can happen to them, but it happens every day in life, and when it happens to you, that's when it hits home."
After overcoming adversity on and off the field, Patterson's future looks brighter than ever
Obviously, no obstacle on the football field measures up with the challenge of overcoming the loss of a child. So, even though his ability to make NFL defenders look overmatched has helped him earn respect and admiration from Falcons fans, Cordarrelle Patterson deserves even more respect and admiration for his ability to handle a tragedy with such wisdom and grace.
Luckily for the well-traveled do-it-all weapon, he's enjoyed a terrific year that should help him secure a lucrative contract that will help support his family even further.
By racking up yards and finding the end zone as a running back and as a receiver, Patterson has made himself a valuable commodity in Atlanta. Whether the franchise wants to extend his stay remains a major storyline to follow as the offseason inches closer. After playing for a paltry $3 million in 2021, he should receive a substantial raise from some NFL team.
Ultimately, Cordarrelle Patterson's football future looks brighter than anyone could have expected a few months ago. But he certainly won't forget the life-altering tragedy that's shaped him into the man he is today.
All statistics courtesy of Pro Football Reference.