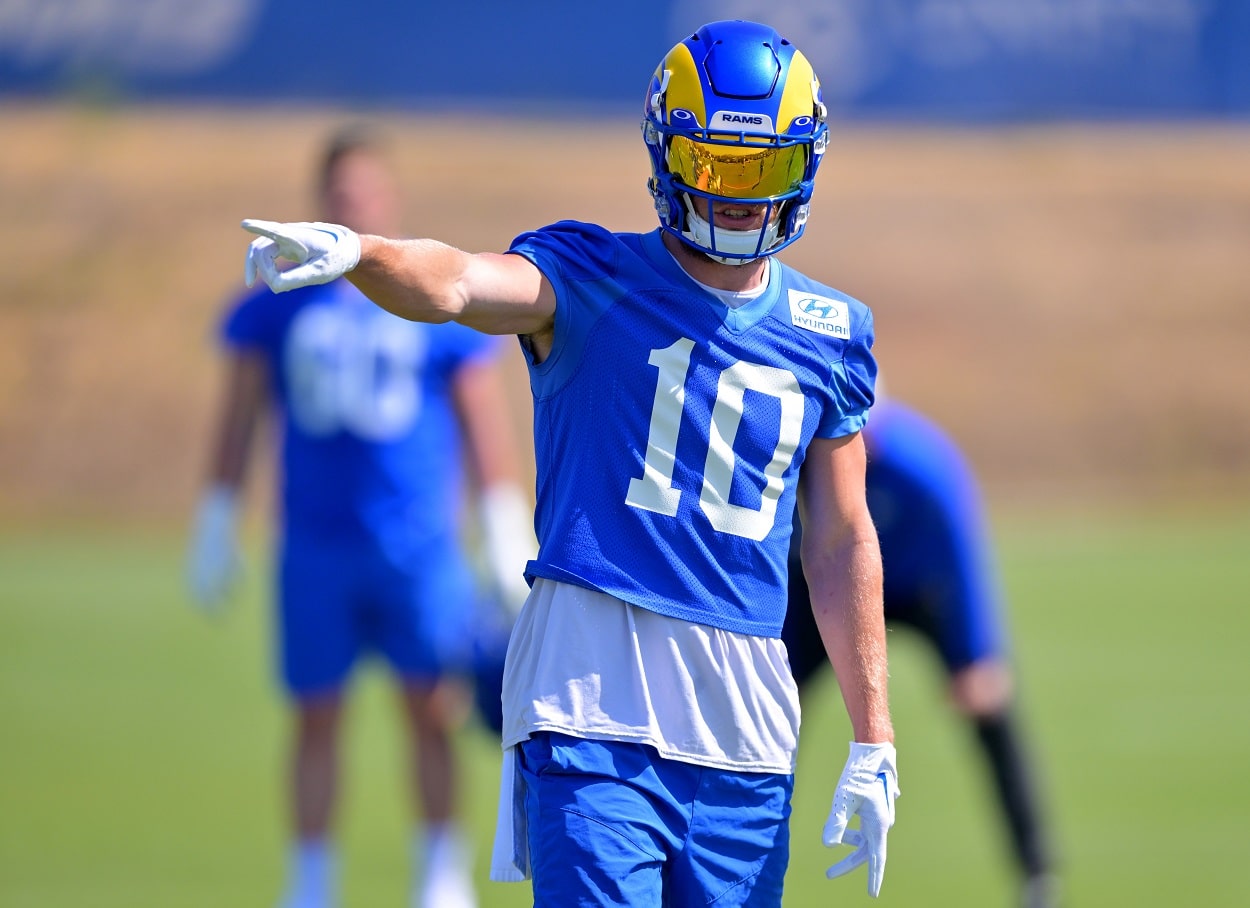 Fantasy Football 2022: 5 Big Gambles Who Could Make or Break Your Season
A look at five NFL players who could make or break your fantasy football team.
Your fantasy football draft is all about value – getting the best player for the best value at his draft position. Weighing risk versus reward is a big, big part of the game.
Fantasy owners want to avoid spending too much draft capital for too little return. Spending too much for too little can wreck a season unless that calculated risk pays off, then it can win a championship.
So, which NFL players are the most likely to either be a wrecking ball to your fantasy hopes or deliver eternal glory – or at least in-your-face bragging rights for the better part of a year – to your doorstep?
Saquon Barkley has sunk the hopes of fantasy football owners the past two seasons
The hype around a healthy Saquon Barkley has piqued the interest of fantasy owners hoping two straight seasons of injury woes are behind the Giants' former No. 1 pick out of Penn State.
In his first two NFL seasons, Barkley ran for over 2,300 yards, averaging nearly five yards per carry and 23 total touchdowns. That's been followed up by two injury-marred seasons that have left Barkley far from the fantasy sure thing he once was.
Barkley's early draft status has reflected that. In CBSSports.com drafts, Barkley started as a third-round pick, but as he continues to show glimpses of his old, healthy self and buzz around the Giants' new offense under first-year head coach Brian Dabold grows, Barkley's ADP has improved 10 positions to 28.4. 
So, he's being selected in the mid-to-late third round in most drafts, about the same time as Chargers WR Keenan Allen and Bucs RB Leonard Fournette.
Neither Fournette nor Allen are considered gambles at that ADP, but Barkley is due to his injury history.
According to CBSSports.com, he has been drafted as high as No. 15 overall and as late as No. 65. Wherever he's being drafted, it's a considerable risk to count on Barkley as an RB 1, one that could ruin your season.
But as RB 2 or a Flex, he has the potential to turn your team into a contender.
Why does it feel like Ezekiel Elliott has burned fantasy owners?
Cowboys RB Ezekiel Elliott may offer the most significant conundrum in fantasy football this season.
On the surface, it looks – or maybe feels – like Elliott has been a fantasy bust lately.
But then you look at the stats and wonder if maybe he's the victim of the expectations of his once-lofty ADP. Fact is, Elliott had just over 1,000 yards last season (4.2 yards per carry) with 12 total touchdowns.
But he really didn't pass the eye test. His burst didn't seem quite what it used to be. Backfield mate Tony Pollard looked faster and, at times, more effective in the running and passing game.
Still, Elliott's lowest season rushing total since entering the NFL in 2016 is 979 yards (4.0 ypc) in 2020.
In 2016 and 2018, Elliott's numbers made him inarguably worthy of the No. 1 overall pick in fantasy drafts. In those two seasons, he ran for over 3,000 yards and scored 25 total touchdowns, and his fantasy draft reflected those impressive numbers.
He carried the Cowboys through their seasons and a lot of fantasy owners to championships. 
Now, owners seem to believe the old Zeke is lost to highlight reels. His ADP in CBSSports.com leagues is 3.8, and given the timeshare with Pollard and the eye test, that seems fair.
But he is said to be in better shape for 2022, and this is the last year of guaranteed money on his hefty Cowboys contract, so he may be playing for one more payday – somewhere.
That could make him a steal in the fourth or fifth round that could pay off big time for fantasy owners – or he could just be a guy to handcuff with Pollard and hope you stream the right guy in at No. 2 RB or Flex.
If you're targeting him believing he can conjure the Old Zeke, it could be a devastating mistake for your fantasy team.
Jalen Hurts — top 10 or fantasy football bust?
With a quarterback-heavy NFL Draft expected for 2023, Jalen Hurts is faced with a make-or-break year with the Eagles.
But in fantasy football, Hurts was a top-10 QB in 2021, averaging 24 points per game. He threw for 3,144 yards with 16 touchdowns and nine interceptions to go with 782 rushing yards and 10 touchdowns. He led the Eagles in red zone carries and, by comparison, starting RB Miles Sanders didn't score once in 137 carries.
Critics say Hurts has to improve his accuracy and decision-making as a passer this season, or the Eagles could be looking for their next franchise quarterback.
None of that is really a concern for fantasy owners, who are looking for a repeat of his top-10 performance from last season if they draft Hurts as a QB1, and they may get it with the Eagles' addition of former Titans star wideout A.J. Brown.
But if Hurts were to struggle and the Eagles, who have no huge investment in him, pull the plug and go with charismatic backup Gardner Minshew (stranger things have happened in the NFL), owners had better be ready with a solid QB2 or on the waiver wire for Minshew.
Will that really happen? Probably not. 
Fantasy owners are showing faith in Hurts with an ADP of 48.7 or in the mid-to-late fifth round. That may be a little early on average, and his ADP has fallen by 14 spots recently on CBSSports.com.
Cooper Kupp can't do it again — can he?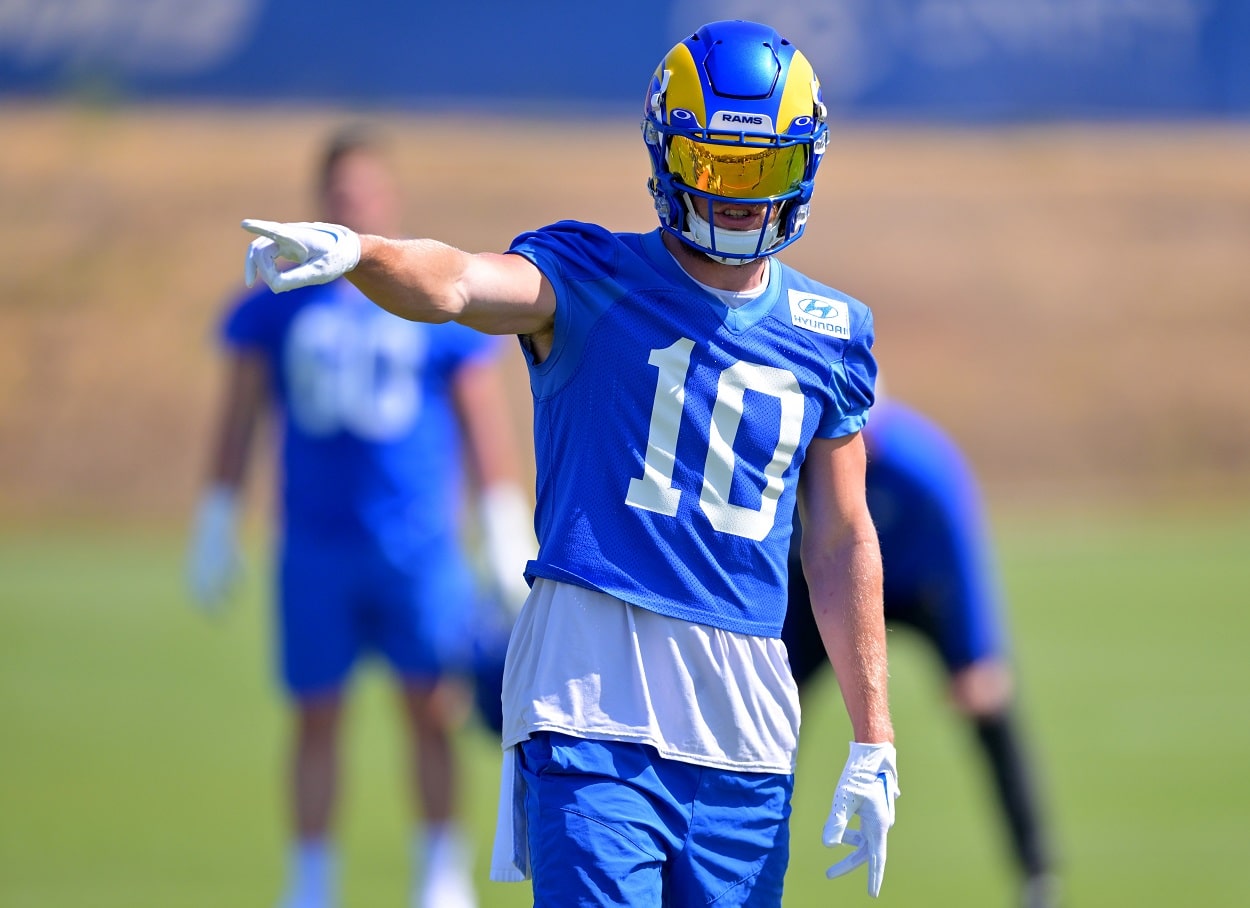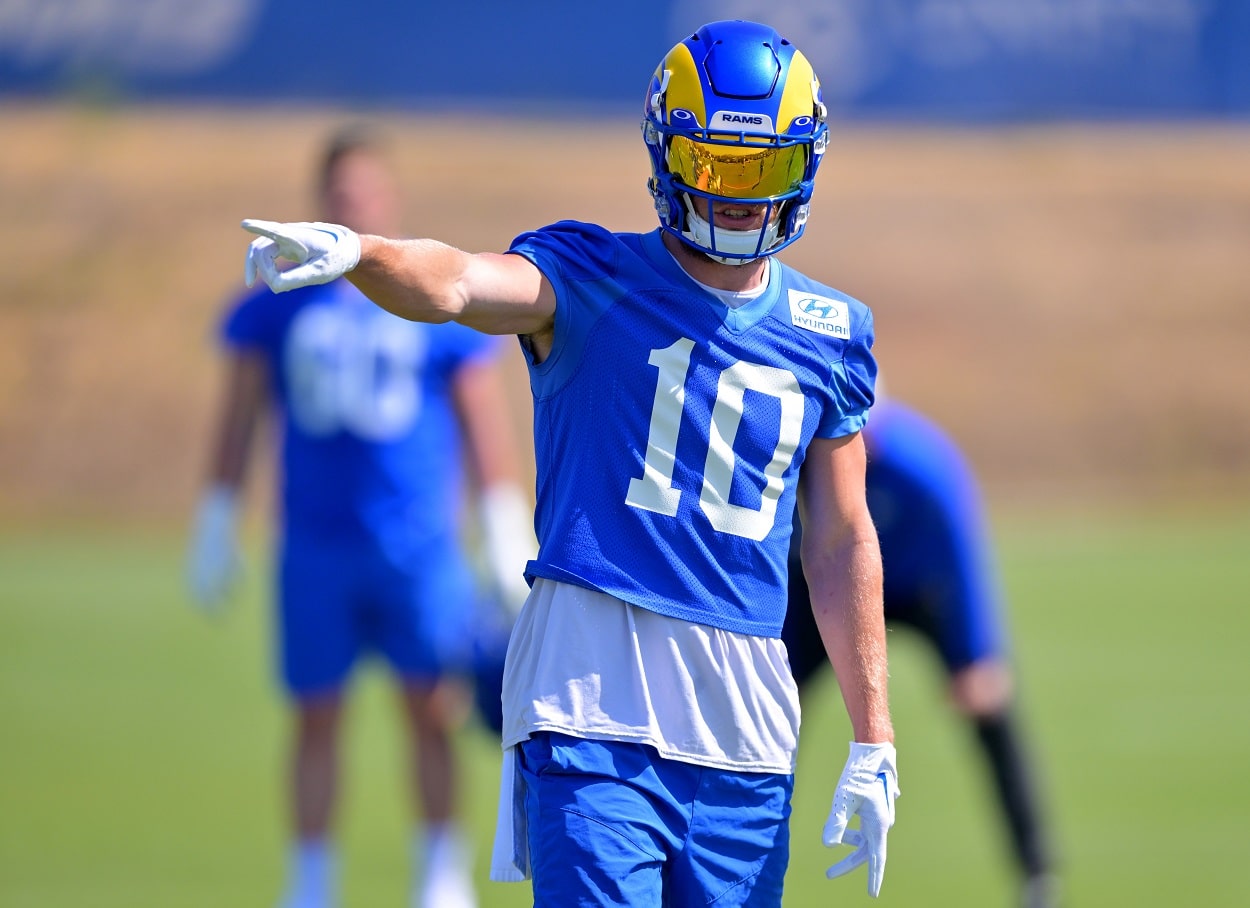 In horse racing, baseball, or football, triple-crown winners are rarities, so to think Rams WR Cooper Kupp can replicate his 2021 season is a Buster Douglas-like longshot at best.
Kupp's fantasy season was monstrous – 449.5 points per game in PPR leagues (294.5 in standard) last year. He scored 20 points or more 14 times in PPR leagues and hit at least 30 points six times. He led the NFL in receptions (145), receiving touchdowns (26), and receiving yards (1,947) for the triple crown at the position.
There has to be a regression, right? Rams QB Matthew Stafford has a balky right elbow that has been described as a "baseball" like injury, so that doesn't bode well for Kupp or anyone else hoping to catch passes from him – or their fantasy owners.
Kupp is understandably the first receiver off of fantasy draft boards this season with an ADP of 7.2, ahead of Ja'Marr Chase and Justin Jefferson. In CBSSports.com drafts, he's been taken as high as No. 3 overall, and there are arguments to be made for taking him at No. 1 or No. 2 overall as well.
Last year, fantasy owners could pick Kupp up in the eighth round on average, and he led many of them to championships.
This year, there's more risk, and if Stafford's elbow becomes a problem, that risk will be realized by a steep decline in Kupp's on-field and fantasy numbers.
Fantasy owners betting on Trey Lance's ceiling
Former San Francisco 49ers starting QB Jimmy Garoppolo didn't exactly have fantasy owners salivating at the possibilities of him being their QB1, even as he led the 49ers to the Super Bowl.
Trey Lance, however, is another matter.
The second-year QB out of North Dakota State has NFL pundits talking of Lance as a darkhorse MVP candidate, and some fantasy owners have been willing to take a chance that he will live up to the preseason hype and be a championship-level QB1 for them despite only two previous NFL starts.
Lance seems to be the total package for fantasy owners – a dual threat with a great arm that will stretch opposing defenses as a passer and dice them up with his legs as head coach Kyle Shanahan's offense evolves around him.
In CBSSports.com drafts, Lance is the 15th quarterback taken on average with an ADP of 96.2, right behind proven commodities Kirk Cousins and Derek Carr and just ahead of former MVP Matt Ryan and much-heralded Trevor Lawrence, the top pick in the 2021 NFL Draft in which Lance was drafted third overall.
Lately, Lance's ADP has improved by 10 spots as the hype train began to leave the station. It will probably continue to go up, and more owners who missed out on the likes of Lamar Jackson, Justin Herbert, or Jalen Hurts are looking for a big payoff for a mid-to-late-round pick.
Lance could deliver.
But he has only two NFL starts after playing only 19 college games at the NCAA FCS level. His two starts in place of the injured Garoppolo in 2021 were certainly acceptable but not special.
Preseason highlights do not make the quarterback, but they can certainly make fantasy owners go all-in on a talent like Lance.
Stats courtesy of Pro Football Reference
Like Sportscasting on Facebook. Follow us on Twitter @sportscasting19 and subscribe to our YouTube channel.