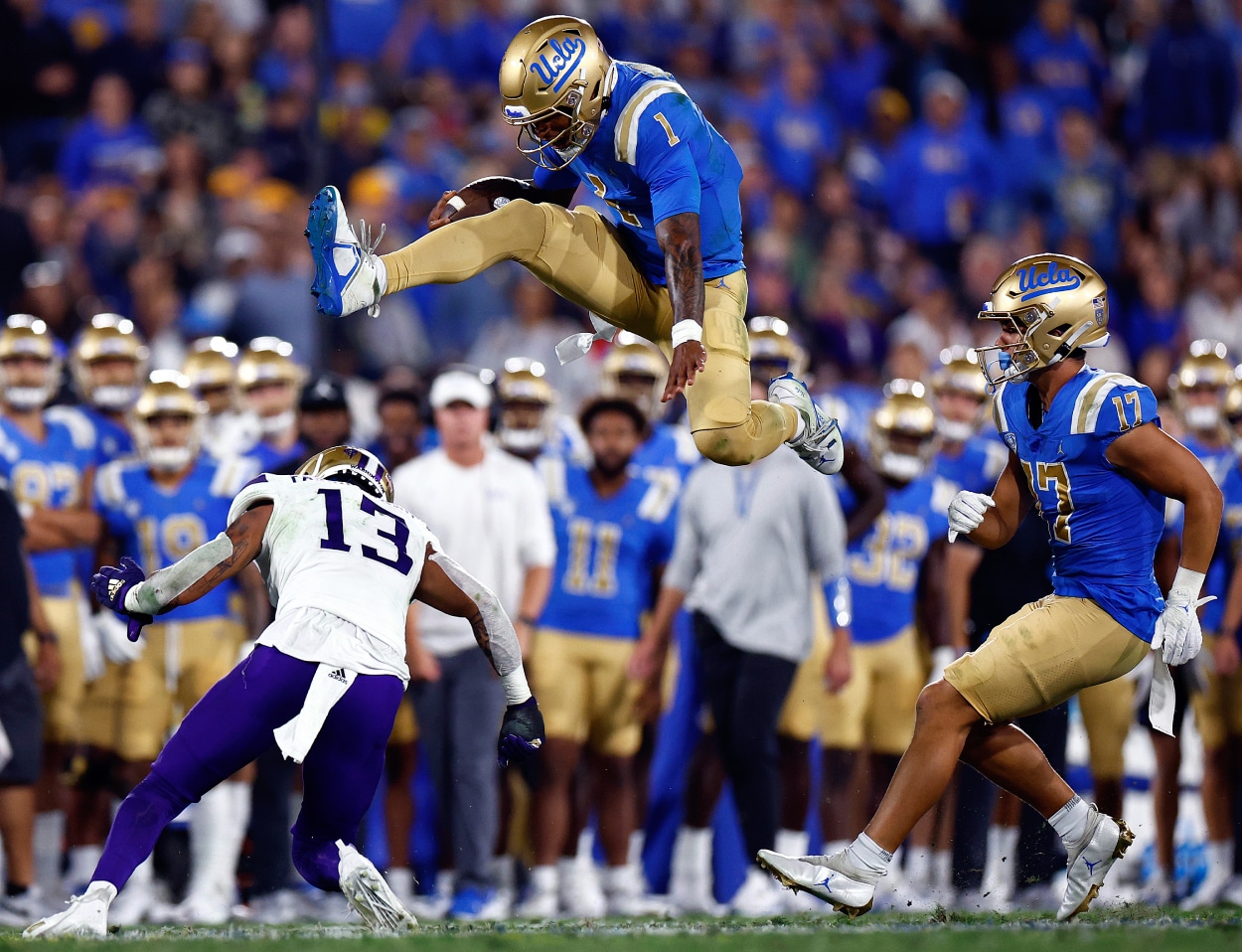 For Cleveland Browns Rookies Dorian Thompson-Robinson and Cedric Tillman, the Hall of Fame Game Will Rekindle the Past
Former high school teammates Dorian Thompson-Robinson and Cedric Tillman will make their Cleveland Browns debuts Thursday in the Hall of Fame Game.
Many young players build for their NFL future when they take part in the annual Hall of Fame Game. For Cleveland Browns rookies Dorian Thompson-Robinson and Cedric Tillman, Thursday's game is a chance to relive the past.
Thompson-Robinson, a quarterback selected in the fifth round out of UCLA, and Tillman, a former Tennessee wide receiver taken in Round 3, were high school teammates at Bishop Gorman High School in Las Vegas. On Thursday against the New York Jets, they begin their NFL careers together.
Dorian Thompson-Robinson and Cedric Tillman hooked up for seven TD receptions as high school seniors
At Bishop Gorman High School, Dorian Thompson-Robinson and Cedric Tillman were actually both wide receivers during their junior season. According to the Cleveland Browns website, Thompson-Robinson was ahead of Tillman on the WR depth chart as a junior. He finished the year with eight touchdown receptions. Tillman had two.
Thompson-Robinson became the full-time quarterback as a senior, providing Tillman with a bigger opportunity as a wideout. Tillman caught seven of Thompson-Robinson's 38 touchdown passes as a senior. Thompson-Robinson went on to play at UCLA. Tillman headed to Tennessee, where he blossomed as a junior after redshirting as a freshman.
"Cedric, we would say, was a little bit of a late bloomer," Thompson-Robinson said in May. "But once he got to Tennessee, he took off from a growth spurt, to the speed, to just everything you could ask for as a receiver. And you guys have obviously seen what he is now, and he's gotten picked because of it."
As a junior with the Volunteers, the 6-foot-3 Tillman caught 64 passes for 1,081 yards and 12 touchdowns. He was hampered by an ankle injury as a senior, limiting him to six games.
Thompson-Robinson and Tillman hope to make an early impact with the Browns
Thompson-Robinson is expected to see plenty of action Thursday, but Kellen Mond is expected to get the start. Deshaun Watson won't play, and the Browns want to see Mond and Thompson-Robinson play bigger roles. After Watson, Joshua Dobbs is listed as the backup, with Mond and Thompson-Robinson No. 3 and No. 4 on the depth chart.
For Thompson-Robinson, training camp has been a learning process. He understands that being a first-year player in the NFL requires plenty of work, he feels he's coming along nicely.
"I think I've done really well just grasping the playbook and learning my teammates and learning how Coach (Kevin) Stefanski wants things done, both on the field and off the field," Thompson-Robinson told ClevelandBrowns.com. "So (I'm) just trying to become a complete pro and making sure that I'm setting an example."
Tillman, too, is taking it all in and hoping to learn from the veterans before making his debut in Thursday's Hall of Fame game.
"I'm just going to try to look after those older guys and try to fall after them, but I definitely do think I bring something to the table my size, my ability, what I can do," Tillman said. "So just trying to make plays for this offense."