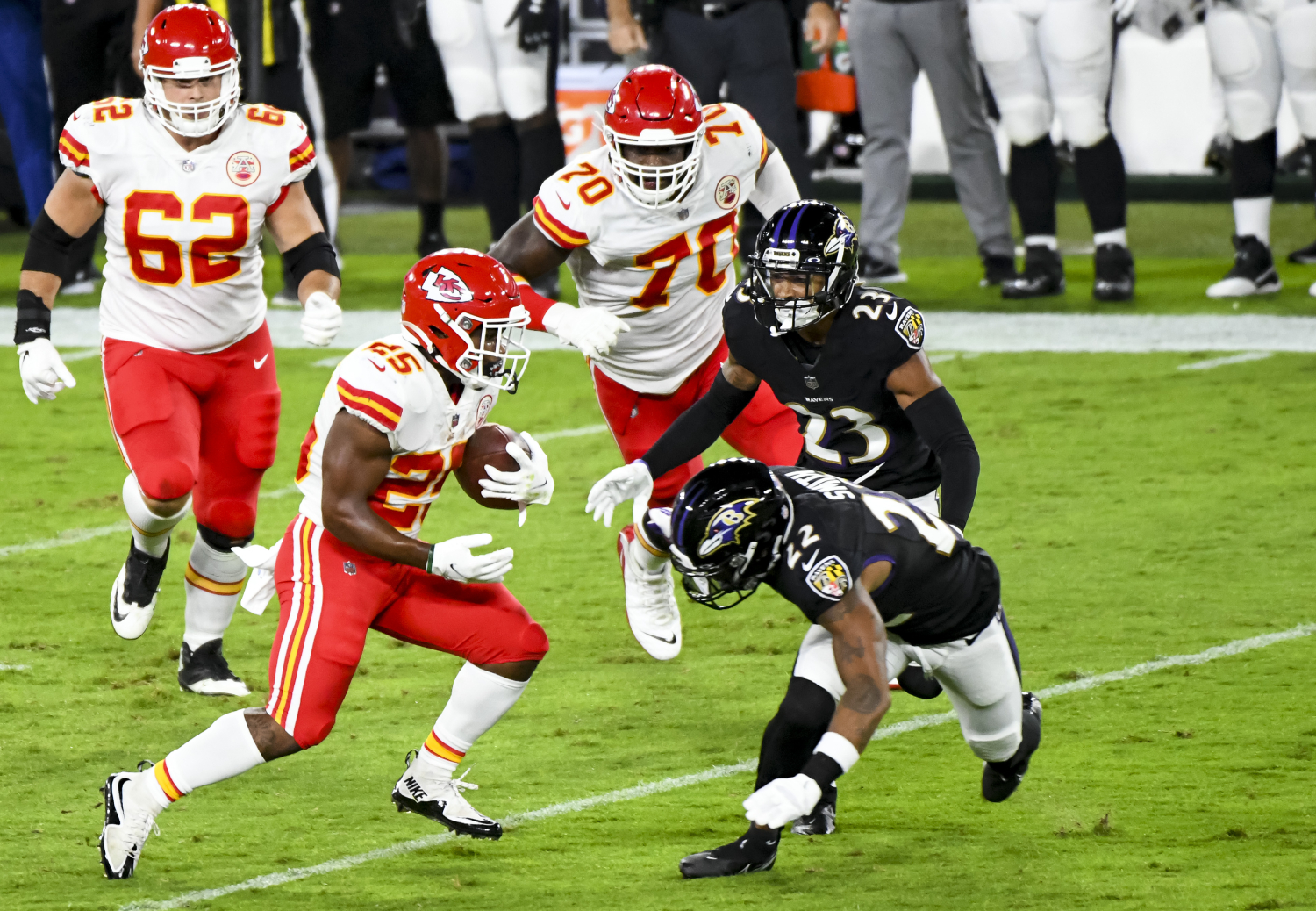 For Kansas City Chiefs RB Clyde Edwards-Helaire, It's Heart Over Height
For Kansas City Chiefs 5-foot-7 rookie running back Clyde Edwards-Helaire, it has always been heart over height.
Clyde Edwards-Helaire always knew he could play with the big boys even when others said he couldn't. He heard the knock ever since he picked up a football – he was too short to play. Edwards-Helaire, the rookie running back for the Kansas City Chiefs, has never let size play a role in his determination to become a great football player.
Clyde Edwards-Helaire making a name for himself
Clyde Edwards-Helaire played three seasons of college football at LSU. He was only the starting running back during his junior year when he rushed for 1,414 yards and 16 touchdowns. Edwards-Helaire helped guide the Tigers to a national title when he rushed for 110 yards in LSU's 42-25 victory over Clemson.
The 5-foot-7, 207-pound running back was selected in the first round of the 2020 NFL draft when he left college after his junior year. The Kansas City Chiefs selected him with the final pick in the first round. With last year's running back Damien Williams opting out of the 2020 season due to the coronavirus (COVID-19) pandemic, Edwards-Helaire was inserted into the starting role from Day 1.
While quarterback Patrick Mahomes is the one who makes the Chiefs offense go, Edwards-Helaire helps take some pressure off Mahomes. In Week 1, Edwards-Helaire rushed for 138 yards and a touchdown in a 34-20 win over the Houston Texans. He had 64 yards rushing in Monday's win over the Baltimore Ravens, but also had five catches for 70 yards out of the backfield.
Edwards-Helaire off to a good start, but has work to do
The 2020 NFL season has been challenging to say the least. There were no preseason games, so rookies like Clyde Edwards-Helaire were thrown right into the fire. Although Edwards-Helaire was the league's leading rusher after the first week of the season, he still has a long way to go.
"Clyde's got to do a better job of making (the blockers) right," said Chiefs offensive coordinator Eric Bieniemy after the Week 1 win. "He understands that. He has to be disciplined and sound with his footwork, and he saw that. I know, if anything, he's probably the most critical person of his own performance. Although it was a good performance, he knows he left some things out there on the field that could have helped us to be better."
"He is as advertised, as far as being able to make guys miss, run with a low center of gravity, contact balance, different things like that, vision," Chiefs running backs coach Deland McCullough said of Edwards-Helaire. "But also on the flip side, we found out he's a rookie. It was his first game he played. No preseason. So there was a bunch of things going on all at once in that game."
For Edwards-Helaire, it's heart over height
Clyde Edwards-Helaire has always heard he's too small to play football. When he was playing football at LSU, Edwards-Helaire sought out the Tigers' director of player development for some advice. The person he went to was Kevin Faulk, another small back who played running back at LSU before going on to play in the NFL.
Faulk was a guy Edwards-Helaire could relate with and the two established a pretty good connection. "He can understand a lot of the things that I've been going through, as far as from a height standpoint, as far as a running back standpoint," Edwards-Helaire said, according to The New York Post. "I can pick his brain about anything. We see so many things that are identical. It's kind of a weird combination how much it works so well. I give so much praise to K-Faulk and (credit for my) success."
Edwards-Helaire knows he's small. When he hears people tell him that, it just fuels his fire. "It was something I dealt with on a day-to-day basis," said Edwards-Helaire. "I would test off the walls. I would do everything that I needed to do. It was everything amazing about me in an article and they would say, 'But his stature.' I always had a flame lit in me."