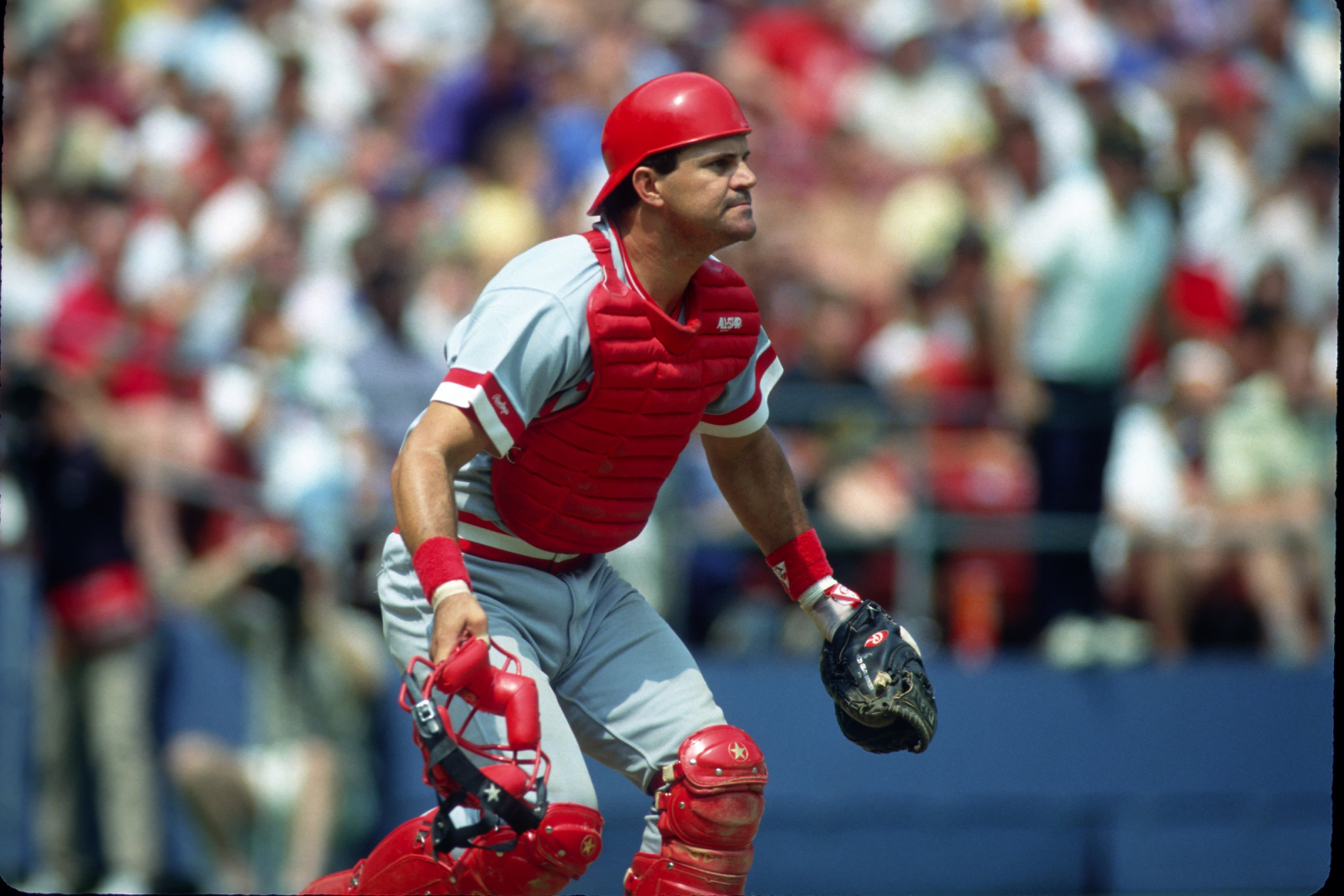 Former Cincinnati Reds All-Star Bo Diaz Was Tragically Crushed to Death by a Satellite Dish Amid an MLB Comeback Attempt
Bo Diaz proved to be a successful catcher with the Reds, Indians, and Phillies. However, his life and baseball career ended way too soon.
Bo Diaz proved to be a pretty successful MLB catcher. He ultimately earned two All-Star selections with the Cincinnati Reds and Cleveland Indians in addition to having success with the Philadelphia Phillies.
Diaz last played in 1989, but while he was attempting to return to MLB after the 1990 season, his life sadly came to an end.
Bo Diaz first found success with the Cleveland Indians
Diaz first appeared in two games for the Boston Red Sox in 1977. Then, in 1978, he got a significant amount of playing time with the Cleveland Indians. Diaz appeared in 44 games that season and hit .236 with two home runs, 11 RBIs, and 12 runs scored.
He only appeared in 15 games in 1979, but after hitting .227 in 76 games in 1980, Diaz became an All-Star in 1981 with the Indians. He ultimately hit .313 in 63 games that season and had seven home runs with 38 RBIs and 25 runs scored.
After that season, though, Diaz played for the Philadelphia Phillies and was a part of some pretty successful teams. He went .288 at the plate in 144 games in 1982 with the Phillies. He also hit 18 home runs that year and had 85 RBIs with 69 runs scored. Philadelphia went 89-73 that season.
However, in 1983, the Phillies went to the World Series. Diaz hit 15 home runs and had 64 RBIs to go with 49 runs scored. He also had a 98.6% fielding percentage in 134 games as a catcher. Diaz only went 2-for-13 at the plate in the NLCS, but in the World Series loss to the Baltimore Orioles, Diaz hit .333 and scored one run.
In 1984, he only played in 27 games for the Phillies.
Diaz became an All-Star again with the Cincinnati Reds
Diaz played for the Phillies and Cincinnati Reds in 1985. He ultimately appeared in 77 total games that season, went .245 at the plate, and brought home 31 runs. The Reds were also pretty good that year, as they went 89-72.
Diaz had one of his best seasons while with the Reds in 1986. He went .272 at the plate, hit 10 home runs, scored 50 runs, and had 56 RBIs. Cincinnati also went 86-76 that year. In 1987, though, he earned the second All-Star selection of his career. In 140 games, Diaz went .270 at the plate and hit 15 home runs. He also brought in 82 RBIs and scored 49 runs. The Reds were, of course, pretty good again that season as they went 84-78.
Diaz appeared in 92 games for the Reds in 1988 but only went .219 at the plate. He then played in 43 games in 1989 and only hit .205. The 1989 season was his last in the MLB, and Cincinnati only went 75-87 that year. In 1990, though, the Reds won the World Series after going 91-71 in the regular season.
For his career, Diaz had a .255 batting average to go with 87 home runs, 452 RBIs, and 327 runs scored.
A satellite dish tragically crushed Bo Diaz to death
According to the LA Times, Diaz, from Venezuela, was playing for the Caracas Lions in a winter league in Venezuela. He had wanted to get back into shape to try to return to the MLB.
However, in November 1990, Diaz had been trying to adjust a satellite dish on the roof of his Caracas, Venezuela, home. It had reportedly been knocked aside due to high winds. The dish then reportedly collapsed and crushed his neck and skull against the base of it. The New York Times reports that he died instantly. He was only 37 years old.
Diaz was survived by his wife and two sons.
It's tough knowing that a player who was part of some really good teams didn't get to finish his baseball career the way he wanted. Bo Diaz proved a pretty valuable player in his 13-year MLB career. Sadly, his career and life ended way too soon.
Stats courtesy of Baseball Reference