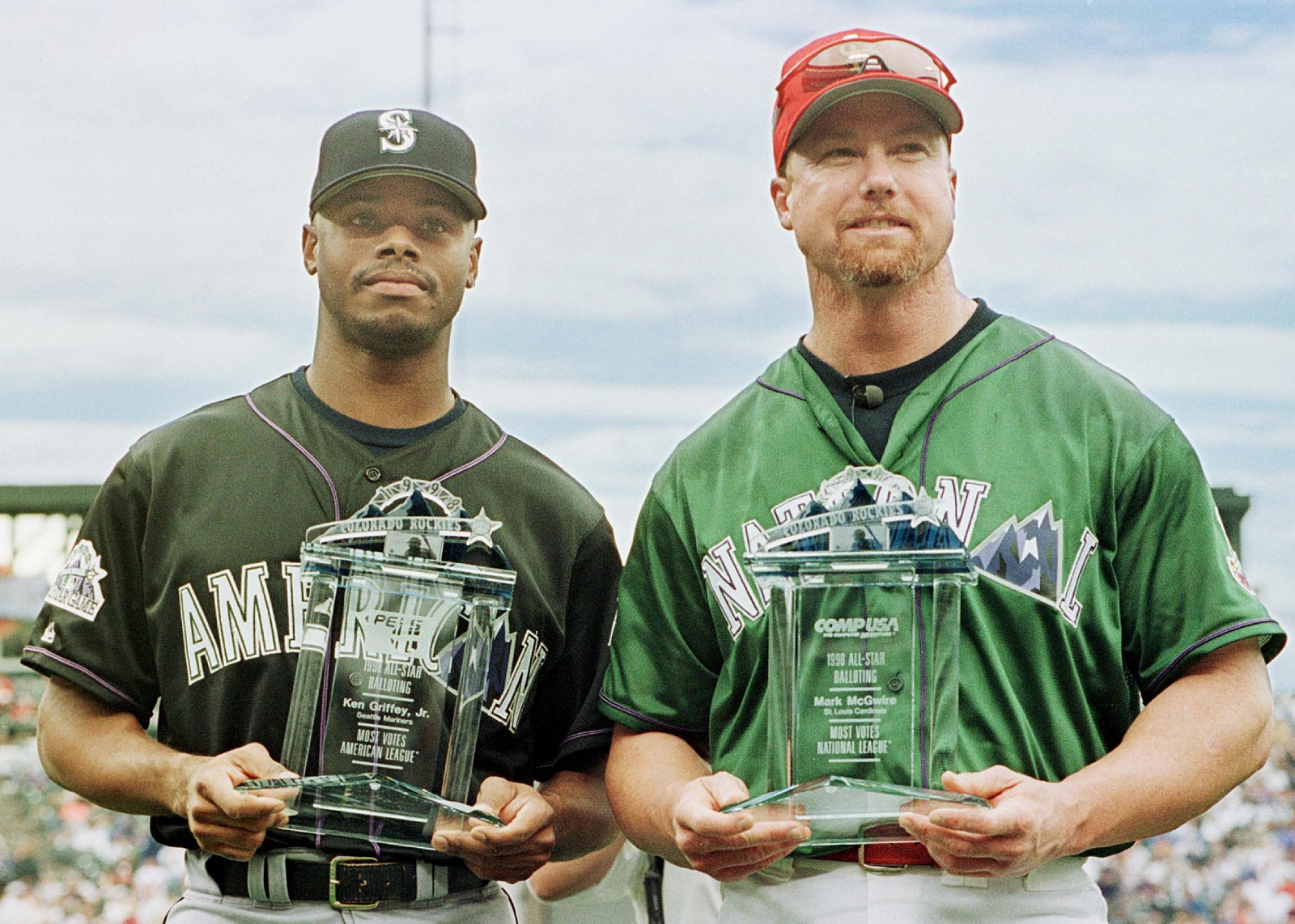 Ken Griffey Jr. Reveals Why He Didn't Take Steroids During His Legendary Career
Ken Griffey Jr. was one of the best players to ever play in the MLB. He also went his career without taking steroids. Why did he stay clean?
Ken Griffey Jr. was one of the greatest baseball players to ever play. The greatest thing about about Griffey, though, wasn't just the numbers that he put up. The fact that he stayed clean during baseball's steroid era is a reason why many people respect what he was able to do. So, what does Griffey think about the steroid era? He recently revealed his thoughts.
Ken Griffey Jr. was a clean star during the steroid era
Ken Griffey Jr. came into the MLB at 19 years old and as the son of a great baseball player, Ken Griffey Sr. He became a star in his own right very quickly, though. Griffey Jr. hit 16 home runs and had 61 RBIs during his rookie season with the Seattle Mariners in 1989.
He then continued to just become a flat-out superstar while with the Mariners. He had 22 home runs in 1990 and 1991, 27 home runs in 1992, and in 1993, he had 45 home runs, 109 RBIs, and had a .309 batting average.
"The Kid" ended up becoming one of the best baseball players in the game in his years with the Mariners. During his 13 years in Seattle, he hit 417 home runs, to go with 1,843 hits, and 1,216 RBIs. He even won the AL MVP award in 1997, and was the AL's home run leader in four different seasons while in Seattle.
However, Griffey went back home to Ohio when the Mariners traded him to the Cincinnati Reds in 2000.
He didn't have as much success while in Cincinnati, but he still had some great years. He had 40 home runs and 118 RBIs in 2000, 35 home runs and 92 RBIs in 2005, and 30 home runs and 93 RBIs in 2007. Griffey ultimately concluded his career by spending some time with the Chicago White Sox and then returning to the Mariners for one season and part of another.
For his career, Griffey hit .284 to go with 630 home runs, which is seventh in MLB history. He also had 1,836 RBIs and 1,662 runs scored. Griffey ultimately earned 13 All-Star selections in his career, as well as 10 Gold Glove awards, and seven Silver Sluggers.
Ken Griffey Jr. reveals why he didn't take steroids
Griffey recently appeared on Shannon Sharpe's Club Shay Shay. Sharpe ultimately asked him about why he didn't get caught up in the steroid era in the 90s.
"My dad was always saying, 'Hey, you're not going to be the biggest. You're not going to be the strongest. You're not going to be the fastest. Just don't let nobody outwork you,'" Griffey said.
Griffey then revealed that he was actually surprised by some of the names on the Mitchell Report, an investigation into steroid and human growth hormone use in the MLB that got released in 2007.
"It wasn't like you see these guys in the middle of a locker room with a needle and syringe," Griffey said. "They did it behind closed doors. … Now, if you see a guy come in and he was 175 one year and 225 the next year, you can say, 'OK [he did something]'."
Is he mad about players taking steroids?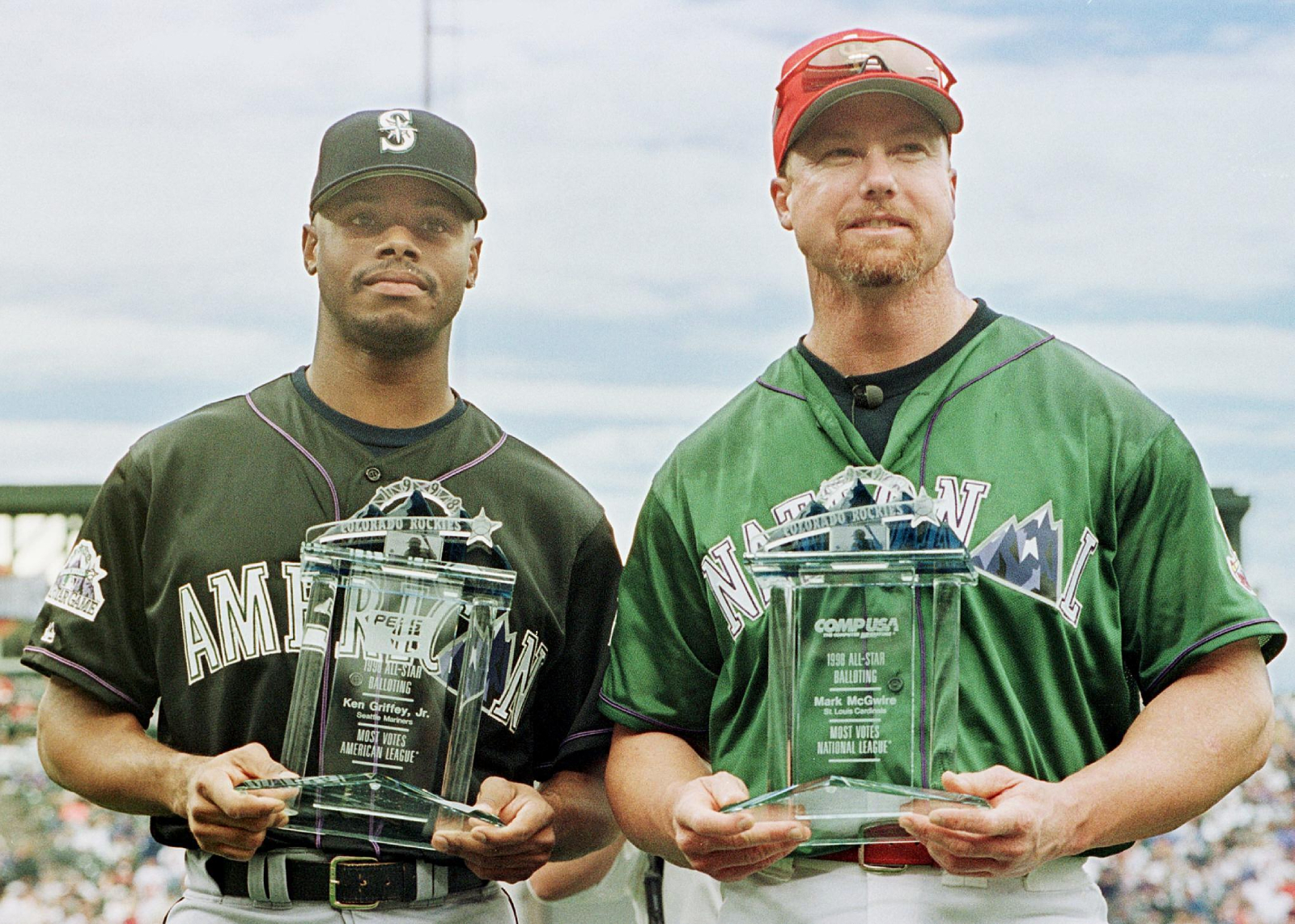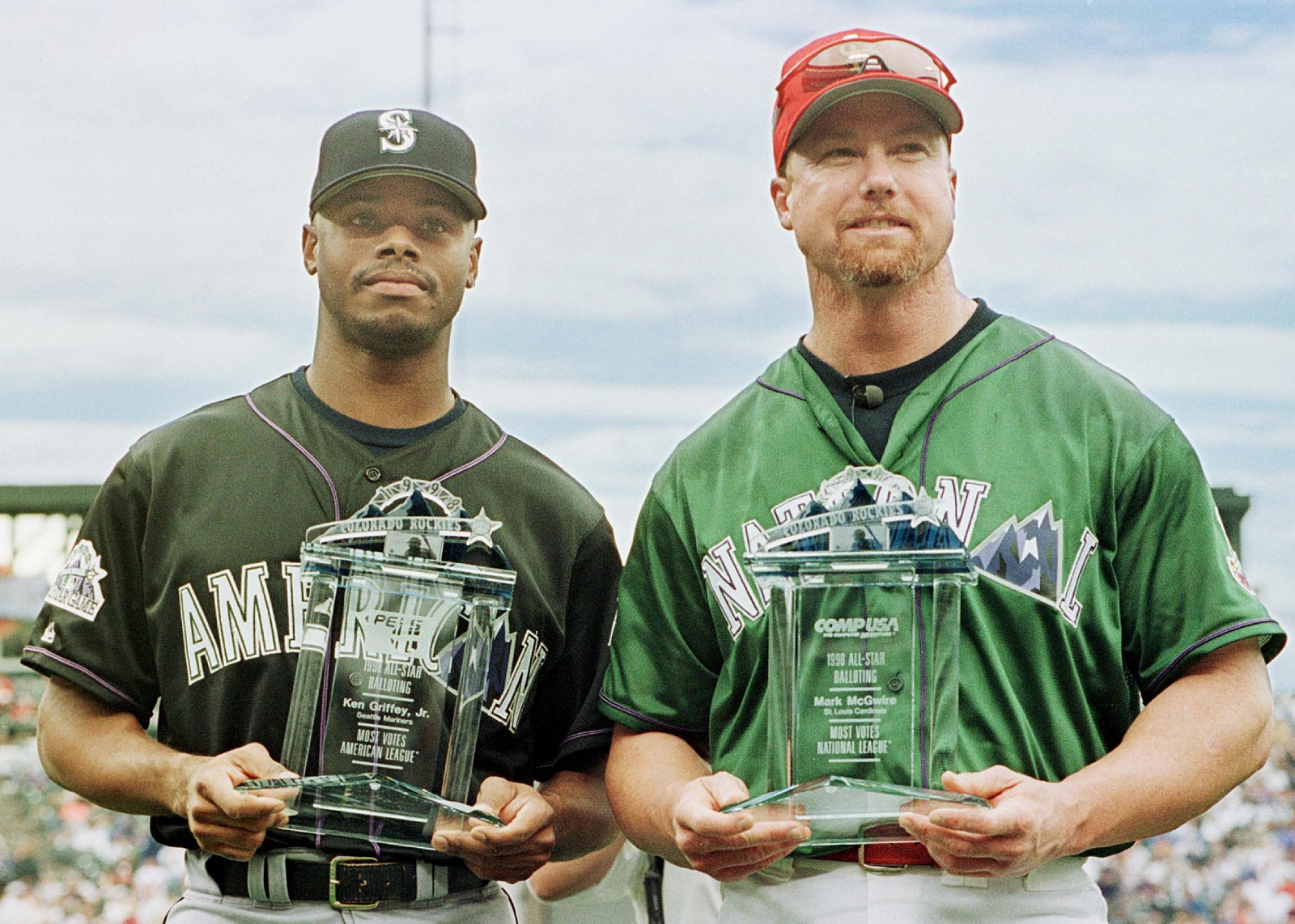 So, since there were guys like Mark McGwire, who hit 70 home runs in a season, and Barry Bonds, who hit 762 home runs in his career (the most all-time), is Griffey mad at those guys?
"No," Griffey said. "It used to [make me upset], but now people see that: 'OK, look what he did, and that's who I want my kids to be like.' That's what I wanted."
He also understands why some guys maybe chose to take them.
"You're 25 years old. You have two kids. You're up and down, Triple-A, big leagues," Griffey said. "This $100 vile of steroids can keep you in the big leagues to make a half-million dollars. What do you think people are going to do?"
So, Griffey seems to have a good mindset when it comes to the steroid era, despite essentially being cheated by some of the players who used them. This continues to further prove why he is one of the greatest baseball players of all-time.
Stats courtesy of Baseball Reference