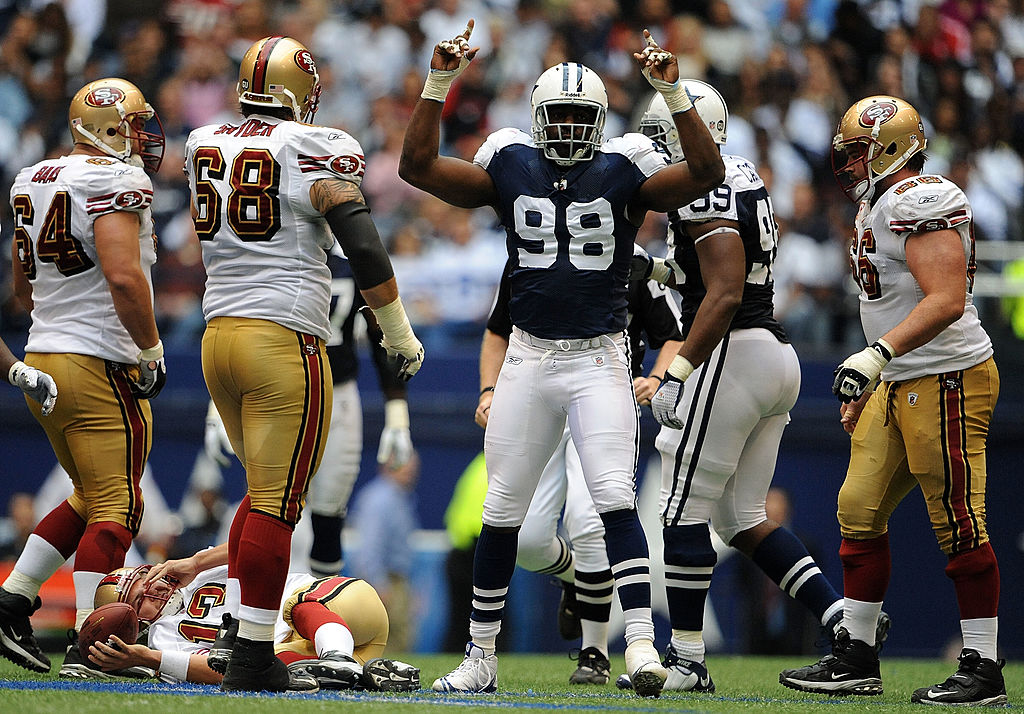 Former Dallas Cowboys Defensive Star Greg Ellis Debuts Play He Wrote and Directed on Juneteenth
Former Dallas Cowboys defensive star Greg Ellis retired from football in 2009. He launched a production company soon after. Tonight he's debuting a play on Juneteenth in which he wrote, directed, and starred.
Greg Ellis was a force on the defensive front of the Dallas Cowboys for 11 seasons around the turn of the century. Since Ellis retired from the NFL in 2009, he launched a production company that has produced numerous projects including the film "Carter High" starring Vivica A. Fox. Tonight, Ellis is using his platform to debut a play he wrote and directed about Juneteenth in which he stars and will be streamed on the Internet.
Greg Ellis becomes defensive stalwart for the Dallas Cowboys
The Dallas Cowboys selected Greg Ellis out of the University of North Carolina with the No. 8 selection in the 1998 NFL draft. Ellis came in and started all 16 games his rookie season where he registered three sacks.
Ellis's second-season production numbers dramatically increased to 7.5 sacks as well as an interception he returned 85 yards for a touchdown. For the next nine seasons, Ellis remained a fixture for the Cowboys defense averaging around 50 tackles and eight or nine sacks a season. 
In 2007, Ellis had his best season for America's Team recording an impressive 12.5 sacks. He was named to the Pro Bowl. After playing one more season with the Cowboys, Ellis joined the Oakland Raiders for a season. He retired after the 2009 campaign.
Greg Ellis produces 'Carter High' starring Vivica A. Fox
Greg Ellis didn't wait long to decide on what his post-football life would look like when he launched his own production company in 2009. Ellis invested money, built a studio, and rented out the space. Taking it a step further, the company started filming commercials and local shows, including a Dallas Cowboys football show called "Inside the Huddle." The business grew from there.
That growth included the production of the movie "Carter High," a film that chronicles the sensation and scandal surrounding the Dallas Carter High School football team that won the 1988 Texas 5A state football title, only to be stripped of the championship later. It starred Charles Dutton and Vivica A. Fox. Ellis told Sports Illustrated he has a purpose when he commits to a production like "Carter High."
"I like to help people, and I think one of the biggest ways to help people is to entertain them. When people can be entertained, you have a chance to get whatever message you are trying to get across to an audience. It can be well received if you are being entertained when you are learning something. It's a good way to help people."
Ellis writes, directs, and stars in Juneteenth play
"Carter High" was the perfect fit for Greg Ellis because of his football background. His latest project, however, couldn't be any more different. "Juneteenth the Stage Play," which debuts tonight online, is his baby. He wrote and produced it three years ago. Due to the COVID-19 pandemic and the inability to use a live crew and cast, tonight's show is from an earlier performance in Lufkin, Texas.
With the current events going on around the nation, as well as an awareness of Juneteenth and its meaning, the timing couldn't have been more perfect for Ellis to release the play.  
"I know a lot of people are looking for answers. Other ethnic groups are looking for answers, and this will supply a lot of those answers they're looking for when it comes to oppression and racism," Ellis told ESPN.com. 
Greg Ellis said the play, which he also stars in, is just one way he is joining the conversation on racism. He's also actively trying to make Juneteenth a national holiday and encourages anyone interested in that cause to sign the petition on the website. The original petition received around 400,000 signatures.
In this time, when more and more athletes are using their platforms to speak out about racial inequality, Ellis has found his voice years after retiring from the game and is using his business as a tool to further that cause. The plays starts at 8:30 p.m. ET.