Former Green Bay Packers RB Alex Green Details His 62 Days of Sobriety and Focuses on the Future That May Include the XFL
Former Green Bay Packers running back Alex Green is counting. He's at 62. Green is a one-day-at-a-time guy, and there's no rush to get to 63.
He's been sober for 62 days — no alcohol, no marijuana. He recalls his rock-bottom moment when he sobbed in his car on Nov. 9, 2021. That moment led to Day 1. Green is on the road to recovery and wants to become a better person and a better father. He wants to help others but knows he needs to help himself first. He's on the right path and shared his story Wednesday afternoon with Sportscasting.
Alex Green's rookie season with the Green Bay Packers was marred by an ACL injury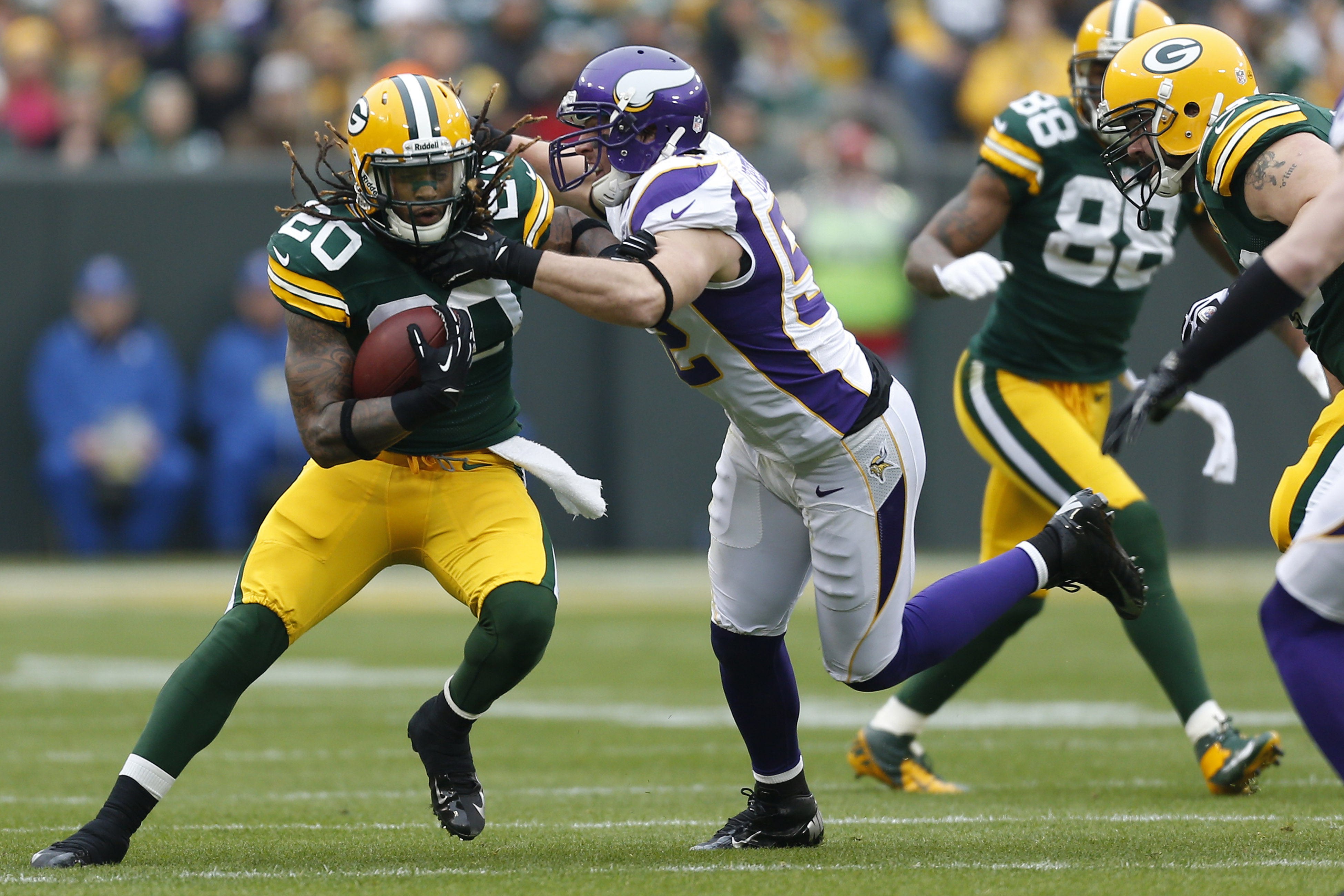 The Packers selected Green in the third round of the 2011 NFL Draft. Green played his college football at Hawaii, where he rushed for 1,199 yards and 18 yards in 2010.
"That was my first wake-up call," Green said of going from Hawaii to Green Bay, Wisconsin. "We played a Bowl game on Christmas Eve and it was like 97 degrees out. Now I'm in Green Bay."
Green remembers that Week 7 game at Minnesota on Oct. 23, 2011, like it was yesterday. He also recalls the play in that game that changed the path of his career.
"It was a kick return," he said. "Me and Randall Cobb were deep. Cobb got the ball and I was blocking. I engaged with my guy, and Cobb got tackled right into my left knee. I was in a lot of pain, but 15 seconds later the pain went away and I thought I was OK.
"Went in for an X-ray and nothing was broken. I remember people whispering to each other and then was told it was a torn ACL."
Green admits to pushing his rehab too fast. He wanted to show the Packers he could play, but it's a move he now regrets.
"I was healing fast. Within five, six months, I was cutting," he said. "I was ready in terms of running and cutting but wasn't ready for the full workload."
Green played 12 games in 2012, rushing 135 times for 464 yards. He sat out the final two regular-season games and the postseason because of lingering effects from the knee injury. The Packers cut him prior to the 2013 season.
"I should have sat out," Green admits today. "I should've taken more time to heal."
Alex Green discusses his battle with addiction
What started out as recreational use turned into something much bigger for Green.
"It's been going on for a while," Green admitted of his battle with addiction. "It's one of those things that started as a party thing, recreational. I smoked weed in high school and college, and I eventually became dependent on it, especially with the liquor. I was doing things that wasn't in my nature."
Green is lucky he was able to see big picture through all this. His three children drew his attention. He knew he wasn't being the father they needed.
"It got to the point where I was not the father I wanted to be. Felt like I wasn't a great dad, and that made me drink even more. I was not as committed to my kids as I should be, and I want to be present. I had broken up with my girlfriend, and I just wasn't where I needed to be."

Alex Green
On Nov. 9, 2021, he called for help and wound up at a treatment center in Jacksonville, Florida. It's the best call he ever made.
Green has a new outlook and a new mindset after going through treatment and continuous therapy. He realized something needed to be done, and he made that all-important call.
"You need to be willing to change," he said.
Green is hoping to help others dealing with addiction
Green said his "world was chaotic" when he made that call to get help. When he finally spoke to the program manager, he broke down and spilled his guts. Green knows that first call for help is a tough one to make, and he wants to help others who find themselves going through a similar situation.
He realizes the first step is to take care of himself, but he said he eventually wants to start a foundation dealing with addiction. He said there is something in the works.
Green is reading books these days. He's saying his prayers each morning. He said he may even give football another shot when the XFL starts up again this season. There's a new bounce in Green's step these days, and he's eager to see how far those steps will take him.
"I'm 62 days sober and feel like I'm getting my life back," he said. "I want to see how great I can be. I feel great, I'm working out more, and I'm emotionally grounded."
How to get help: In the U.S., contact the Substance Abuse and Mental
Health Services Administration helpline at 1-800-662-4357.
All stats courtesy of Pro Football Reference.