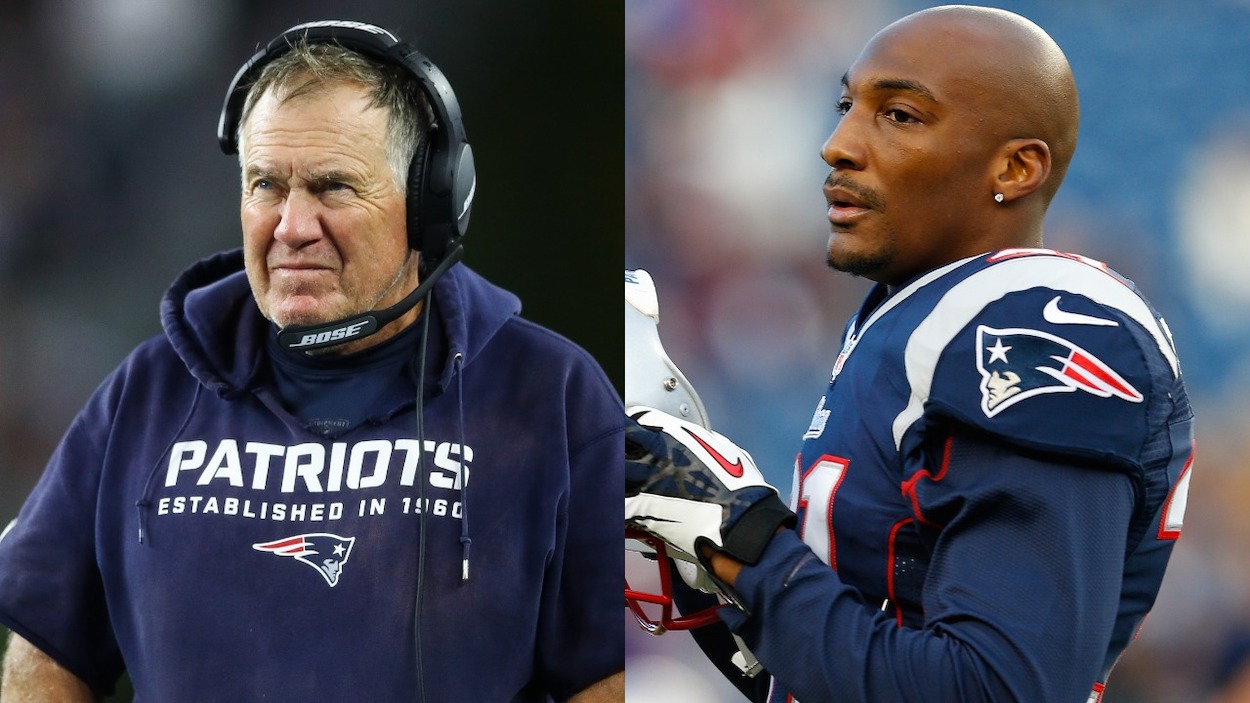 Former New England Patriot Aqib Talib Shares the Secret to Bill Belichick's Success: 'Bill Don't Got Those Rules, Man'
Former cornerback Aqib Talib played for several NFL teams and he says there is one major thing that sets the Patriots' Bill Belichick apart from other coaches he played for.
For the last two decades, New England Patriots head coach Bill Belichick has established himself as one of the greatest NFL coaches of all time. Aqib Talib, the former cornerback and current NFL commentator, played for Belichick during his 12-year career.
As a player who played for four teams and even more head coaches, Talib has a unique perspective on what makes Belichick so great, and it is something you might not expect from the buttoned-up coach.  
Aqib Talib was a well-traveled NFL player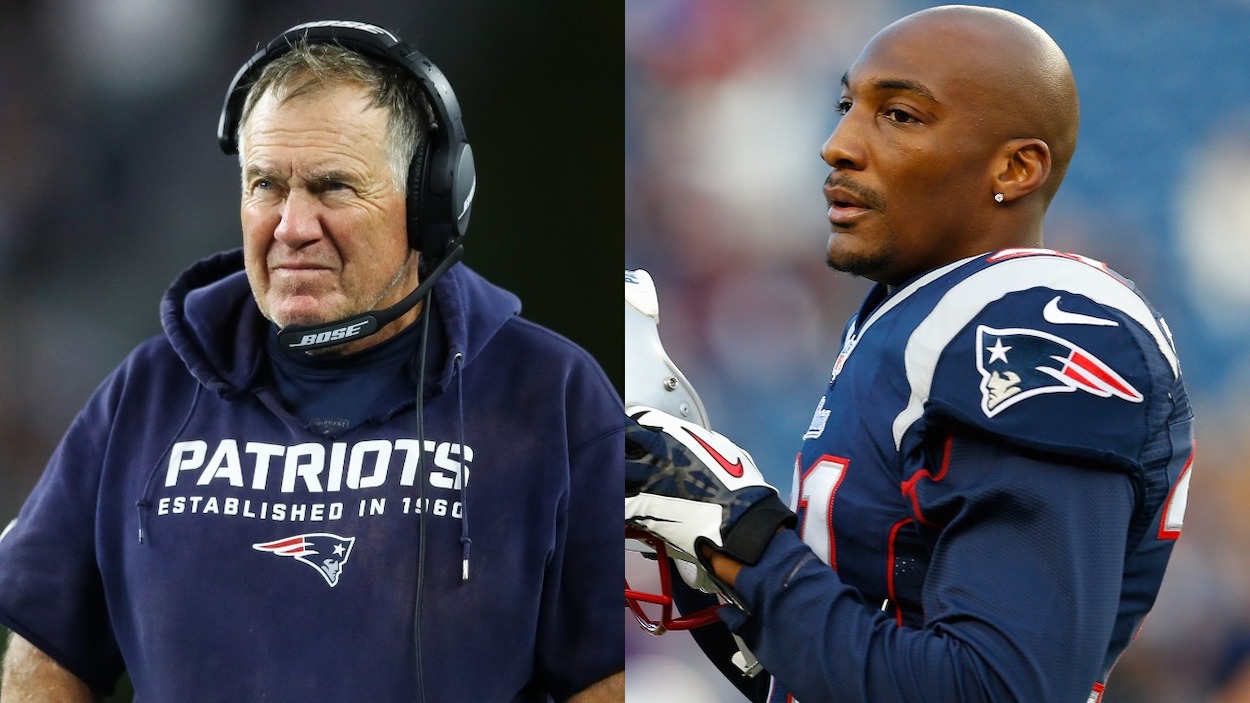 Aqib Talib is one of the most interesting voices in the NFL broadcasting booth today. There are plenty of reasons for this, but one is that he isn't a one- or two-team player like many of the current color commentators.
Talib played (and starred) for four different teams in his pro football career.
The Tampa Bay Buccaneers drafted the eventual five-time Pro Bowl cornerback out of Kansas with the No. 20 overall pick in the 2008 NFL Draft. Seven games into his fifth season in Florida (and three games into a four-game suspension for violating the league's performance-enhancing substances policy, per ESPN), the Bucs traded Talib to the New England Patriots.
Under Bill Belichick's tutelage, Talib made his first Pro Bowl in his only full season in New England.
During the 2014 offseason, the former Jayhawk signed a six-year, $57 million free-agent deal with the Denver Broncos. In the Mile High City, the DB had his best years, making the Pro Bowl in each of his four Broncos seasons. He was also voted first-team All-Pro in 2016, the same year the team won the Super Bowl.  
Talib played his final two seasons for the Los Angeles Rams after the Broncos traded him for a fifth-round pick in 2018.
The All-Pro-corner-turned-commentator technically was a member of the Miami Dolphins in 2019 after a trade from LA, but he was on injured reserve and never suited up before his retirement in 2020.
Talib explained what makes Bill Belichick such a special and successful head coach
On a recent appearance on The Ringer video series Slow News Day, host Kevin Clark asked Aqib Talib about several NFL coaches, including Bill Belichick.
"When you play for Bill Belichick," Clark asked. "Give us some insight, give us a story on what separates him from any other coach." Talib responded:
He keep the main thing — which is football — the main thing more than any other coach. You have some coaches who got rules, 'wear this stuff to practice,' all whatever team-issued gear. They got a bunch of rules, 'don't eat in here,' and, 'no food in the meeting rooms,' and it's a bunch of rules that you wouldn't even think NFL players have, right. Bill don't got those rules, man. Bill got 'be on time,' 'don't play around with the media,' and 'know your stuff.'

Aqib Talib on Bill Belichick
Talib then relayed a story about how a typical workday went in New England and how it was completely focused on knowing and understanding what you are supposed to do on Sunday. He also added that "you can come in onesie pajamas" and "Bill could care less what you got on."
Most fans would probably assume that Belichick, whose father coached football at the U.S. Naval Academy, would be much stricter when it came to everything in the building. The fact that he's not and actually is incredibly loose around most things outside of football makes his success all the more fascinating.
Belichick gets to face his favorite team to torment in Week 7
Somewhere in an alternate universe, Bill Belichick took to the podium in New Jersey on Jan. 4, 2000, and the New York Jets announced him as their next head coach. In this alternate universe, maybe the Jets organization won six Super Bowls in the last two decades, not the New England Patriots.
Alas, that was not what happened 21 years ago.
That morning, Belichick mysteriously rushed out of the Jets facility, per ESPN, and, hours later, handed in his handwritten resignation as "HC of the NYJ."
He then took the Patriots job, New York Jets linebacker Mo Lewis knocked his starting QB Drew Bledsoe out of a game a year later, the No. 199 pick of the 2000 draft took over under center, and the rest, as they say, is history.
Since that fateful day, Belichick is 34-11 against his former employer. He's also won the last 11 in a row versus the New Jersey-based outfit.
The last time Belichick and the Jets faced off — in a 2021 Week 2 matchup — the defensive guru flummoxed New York's No. 2 overall pick, QB Zach Wilson. The young signal-caller threw four picks, including two on his first two throws. Belichick and the Patriots won the game 25-6.
The coach and his former team face off again in Week 7. The Jets come in 1-4 while the Patriots are just 2-4. Despite the similar records, Belichick is looking to build on his stellar 23-6 record against rookie QBs and will likely once again make it a long afternoon for Wilson.
All stats courtesy of Pro Football Reference