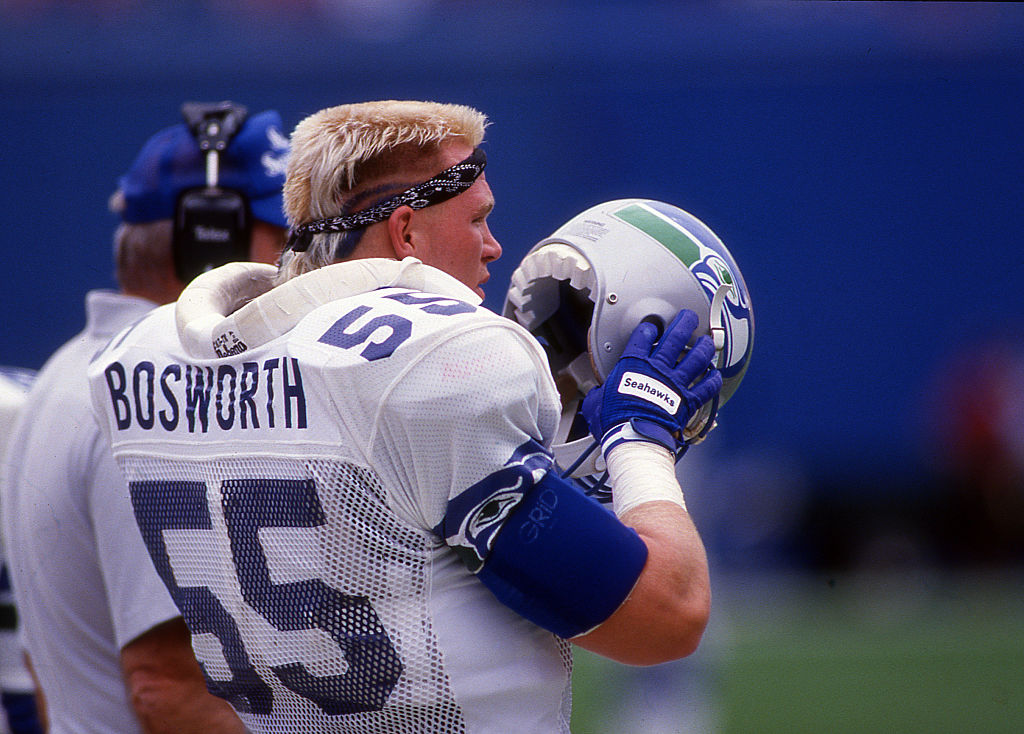 Former Seattle Seahawks Linebacker Brian Bosworth Apologizes to Cashier 30 Years Later
Former Seattle Seahawks flamboyant linebacker Brian Bosworth issues an apology to a cashier 30 years later.
Brian Bosworth admitted when he was a young player in the NFL, life was all about him. He was just drafted by the Seattle Seahawks in the 1987 NFL supplemental draft after a wildly successful college career at the University of Oklahoma. As a member of the Sooners, The Boz was a two-time unanimous All-American in 1985 and 1986. He came into the NFL with an ego and an attitude.
Bosworth rights a 30-year wrong
Prior to Seattle's regular-season finale this year, the Seahawks had asked Bosworth to help raise their traditional 12th-Man flag before their game against the San Francisco 49ers.
The decision to have Bosworth raise the flag sparked some outcry from fans, who weren't overly crazy about having the self-centered player taking part. Back in his playing days, Bosworth made it clear he didn't want to play for the Seahawks. He eventually signed with the team, but only played two seasons because of injury.
One fan, in particular, remembered her day as a local cashier when she tweeted about her interaction with Bosworth back in his playing days, saying he was extremely rude and she was not a fan of his because of that moment.
Less than three hours later, Bosworth responded to her via Twitter, apologizing for his actions and crediting finding God with helping him turn his behavior around.
Brian Bosworth's football career
While in college, Bosworth has a rocky relationship with the NCAA. Bosworth was banned from playing in Oklahoma's Orange Bowl in 1987 after failing a steroids test. During the Orange Bowl, Bosworth was on the sidelines wearing a t-shirt that read: "National Communists Against Athletes." The Boz was eventually kicked off the Sooners' football team, although it was widely assumed he was going to forego his senior year to enter the NFL draft.
Bosworth, a Heisman Trophy finalist in 1986, had himself quite a career at Oklahoma as he was a two-time All-American, a two-time Butkus Award winner, and a member of the Sooners' National Championship team in 1985.
Bosworth, known for his blond mohawk haircut, intentionally missed the deadline for applying for the 1987 NFL draft in order to take part in the supplemental draft. By doing so, he would have a better chance of playing for a team of his liking, preferably a team in a large market. Bosworth let certain teams know in advance that he didn't want to play for them.
Seattle, one of the teams on Bosworth's do-not-call list, selected him and he eventually went on to sign with the Seahawks. Injuries and subpar performances resulted in Bosworth only playing 24 games over three seasons. The Seahawks waived him in 1990.
Life after football
After Bosworth's short-lived football career, he went on to become a football analyst and an actor.
As an analyst, he worked games for the XFL and then was later hired as a college football studio analyst. As an actor, Bosworth starred in the 1991 film Stone Cold and also had a role in the 2005 remake of the movie The Longest Yard.
In 2014, Bosworth was the subject of an ESPN documentary titled Brian and the Boz that premiered as part of an ESPN 30 for 30 series.