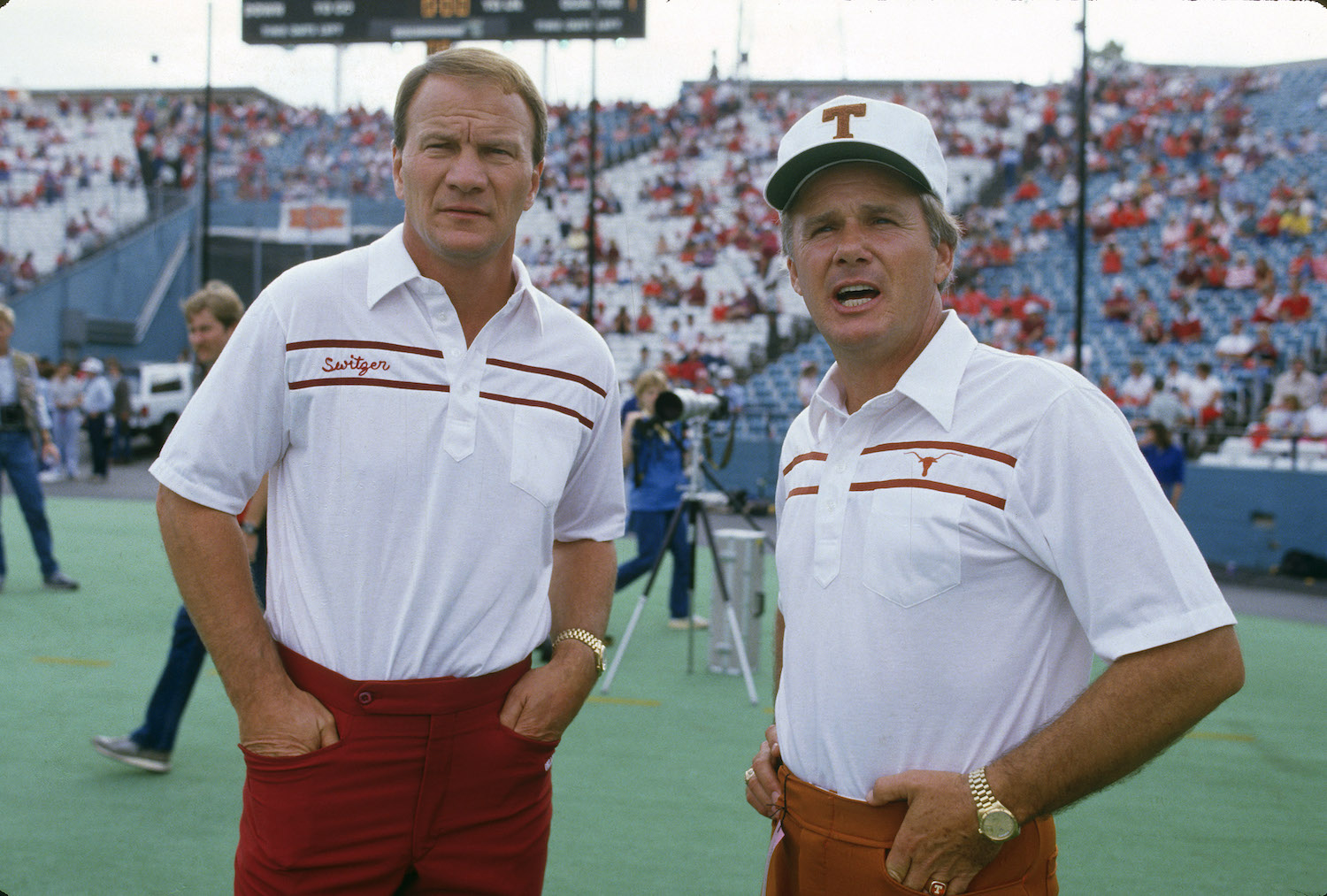 Former Texas Longhorns Football Coach Fred Akers Dies at 82
Fred Akers was one of the greatest football coaches in Texas Longhorns history compiling an 86-31-2 record in 10 seasons. He died on Monday at the age of 82.
When most college football fans think of the Texas Longhorns, two coaches generally come to mind. Darrell Royal and Mack Brown are most recognized because they are the two coaches who took the Longhorns to national titles. While Longhorns fans think highly of those two, they also fondly remember another coach who did pretty well in between their tenures on the Forty Acres in Fred Akers. Akers, who guided Texas to an impressive 86-31-2 record during his 10 seasons in Austin, died on Monday at age 82. 
Fred Akers worked with Darrell Royal before coaching at Wyoming
Fred Akers got his first taste of success with the Texas Longhorns starting in the 1960s as an assistant working with head coach Darrell Royal. During his nine years under Royal, the Longhorns won national titles in 1969 and 1970. 
In 1974, as the co-offensive coordinator, Akers had the opportunity to coach freshman running back Earl Campbell, who rushed for a freshman school record 928 yards. Despite a bright future with the running back, Akers left Austin in 1975 to become the head coach at the University of Wyoming. 
His first season in Laramie was a struggle as the Cowboys finished with a 2-9 record. Akers promptly turned the program around the following year as Wyoming finished with an 8-4 mark and earned a berth in the Fiesta Bowl. 
Coaches Texas to top of national rankings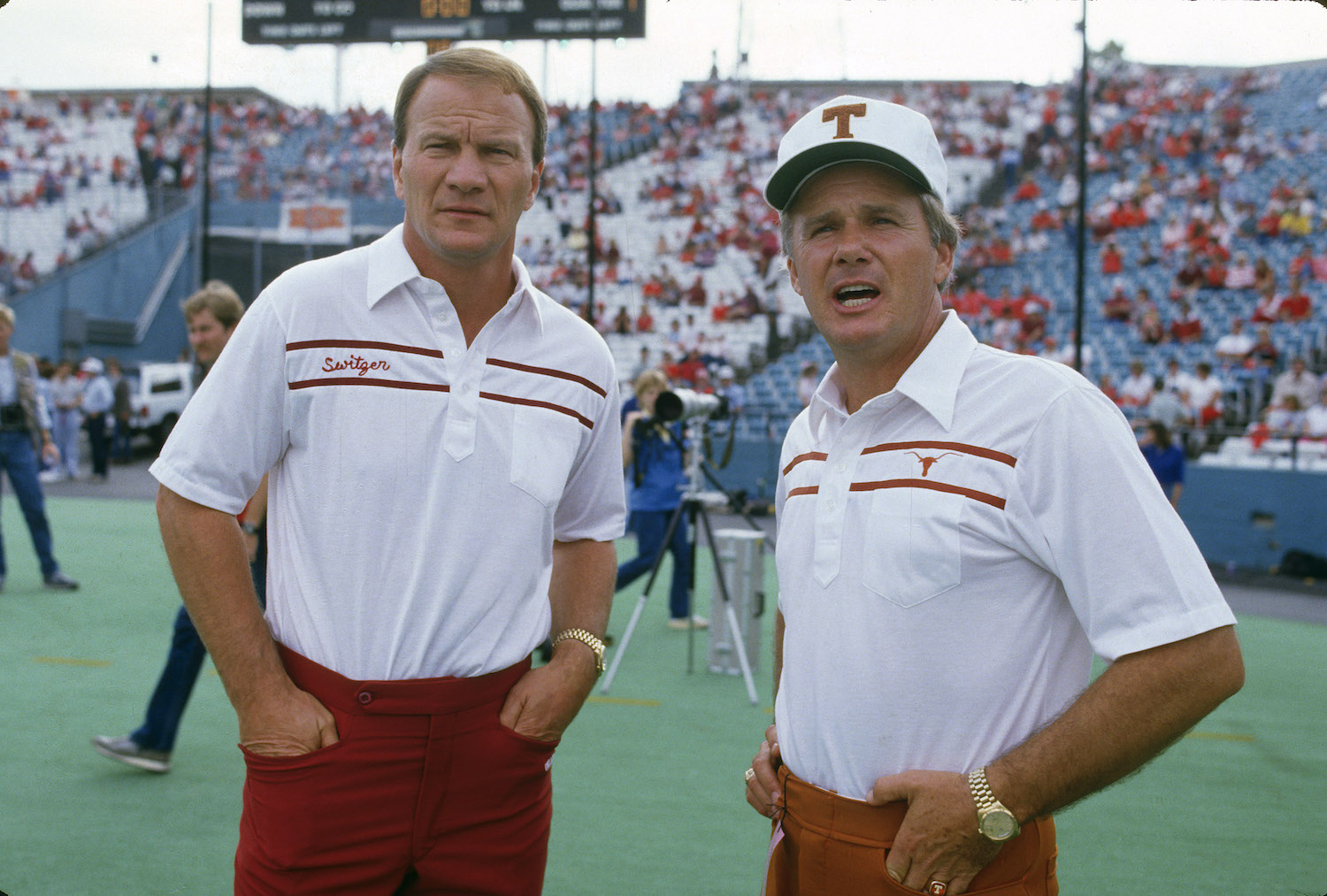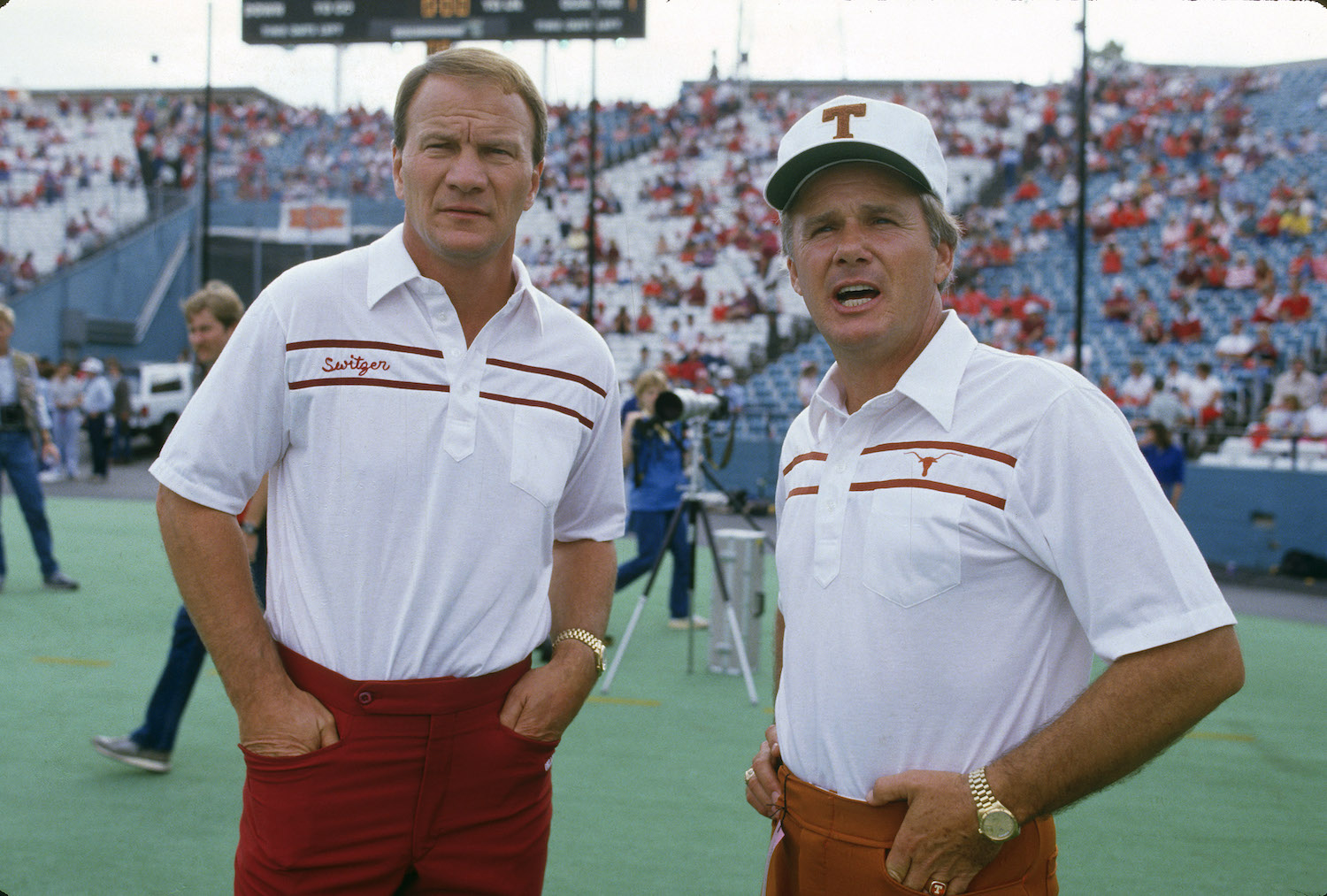 After two seasons in Wyoming, Fred Akers returned to Austin to replace the retiring Darrell Royal in 1977, Earl Campbell's senior year. Akers was there on the sidelines when Campbell made his way into the record books, rushing for an impressive 1,744 yards and 18 touchdowns. He earned the first Heisman Trophy in school history.
More impressively, the Texas Longhorns finished the regular season ranked No. 1 with an 11-0 record and a berth in the Cotton Bowl against Notre Dame. However, the No. 5-ranked Fighting Irish and quarterback Joe Montana won going away, 38-10, to claim the national title.
Fred Akers guided the Texas Longhorns to two more 10-plus win seasons in Austin, including the 1977 season, where the Horns finished No. 2 in the final rankings, including a Cotton Bowl win over the third-ranked Alabama Crimson Tide. 
Two years later, Akers returned the Longhorns to the top of college football with an 11-0 record and another SWC title, only to be denied again in the 1983 Cotton Bowl, losing in a heartbreaker to Georgia, 10-9. 
Fred Akers dies at age 82
Fred Akers was forced out at Texas following the 1986 season, his only losing season in Austin. He coached for four years at Purdue before retiring in 1990. After he retired, he returned to the Austin area, where he was a regular visitor at Texas football practices. He was inducted into the Texas Hall of Honor in 2015.
In recent years, Akers struggled with dementia. His family admitted him into a memory care facility earlier this year. He died on Monday at age 82. Following his death, many in the Longhorn community fondly remembered the coach, including his star running back Earl Campbell.
"There is so much to say about the relationship I had with Fred. As a coach, he believed in me more than I did when he took over the team. I remember running for over 200 yards one evening in College Station and he told me that the Heisman was all mine.
"He was so well dressed and carried himself in such a smooth way, too, I am really going to miss him. His wife, Diane, is a special lady and I want to send my condolences to her and his entire family. My brothers and I tell people all of the time to go back and look at the talent Fred coached at The University. Not sure if he gets the proper acknowledgment he deserves, but he did a lot of great things for Texas football." 
He did a lot of great things, indeed.